5 of the Worst Sugary Drinks You Can Buy for Your Kids
A shocking 96% of parents purchased or provided sugary drinks for their child in the last month, reports a study published in Public Health Nutrition Journal. The study points out that such purchases tend to be guided by parents' misconceptions about the high sugar contents in sports drinks, flavored waters, and other popular beverages.
To give you a better idea of just how much sugar you or your kids are consuming, here is how five popular drinks stack up against sweet snacks and decadent desserts from fast food chains.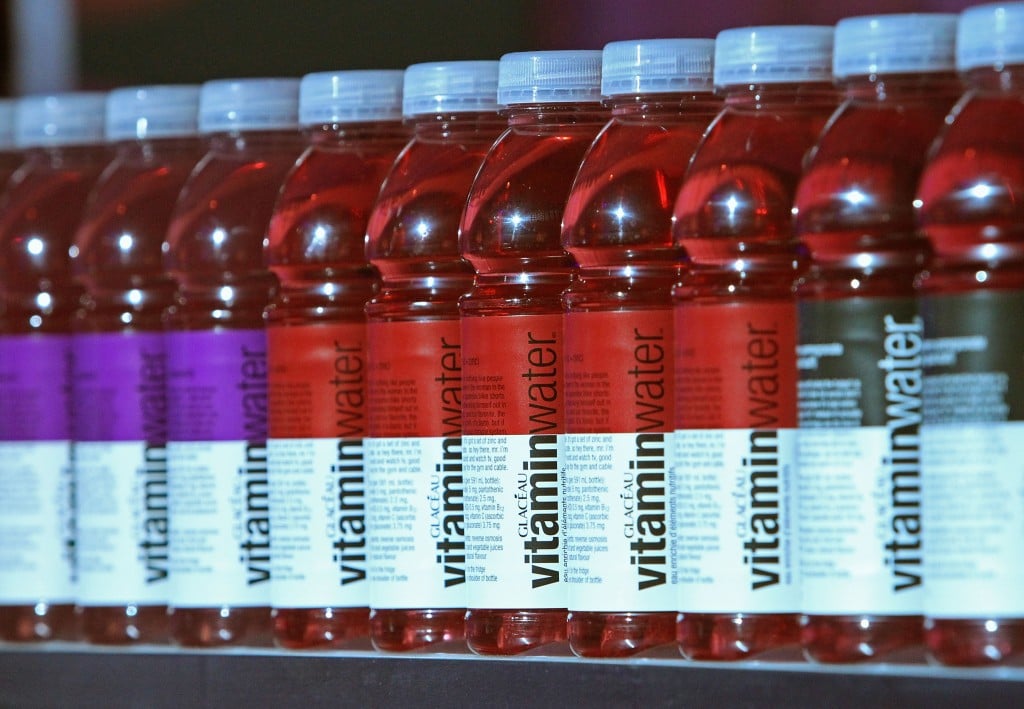 1. Flavored waters
The Public Health Nutrition Journal study reported that 56% of parents rated Vitamin Water as "healthy" or "somewhat healthy." That statistic leapt to 78% among parents who had recently purchased the product. Vitamin Water's sleek appearance and healthy-sounding name likely contribute to the assumption that the beverage offers nutritional advantages.
You may be surprised to learn that each 20-ounce bottle of Vitamin Water contains between 29 and 31 grams of sugar (excluding Vitamin Water Zero, which uses Stevia sugar substitute) — roughly the same amount you'd find in 2 full orders of the Strawberry & Crème Pie from McDonald's.
2. Sodas
Although fewer than 10% of parents considered soda a "healthy" option for their child, 66% of them reported having provided their children with soda in the past month. When faced with this contradiction, some parents cited a reluctance to make their children "unhappy" or to make meals "less enjoyable," the study noted.
While it may give the kids a degree of pleasure to sip on their favorite sweet and fizzy drinks, parents should keep in mind that one 12-ounce can of Coca-Cola contains a whopping 39 grams of sugar — the equivalent to 3 full-sized chocolate-frosted donuts from Dunkin Donuts.
3. Fruit drinks
Branding proves itself to be a major factor in parents' perceptions of soda and fruit drinks. For instance, the study discovered that while only 30% of parents surveyed rated general fruit drinks as healthy or somewhat healthy, 43% of those same parents believed that popular fruit drink Sunny D offered nutritional value.
To put things in perspective, a 16-ounce bottle of Sunny D contains 27 grams of sugar — the same amount you'd find in a Junior Chocolate Frosty from Wendy's!
4. Sweetened iced teas
About 42% of parents reported providing sweetened iced teas for their children in the last month, despite only 12% of them believing it to be healthy or somewhat healthy, the study showed. In another telling statistic, 24% of parents believed that Snapple iced tea could offer health advantages where generic iced teas didn't.
Realistically, one 16-ounce bottle of Peach Snapple contains 39 grams of sugar, while flavors such as Mango Madness contain a staggering 44 grams. That's equivalent to the sugar content of 2 slices of Hershey's Sundae Pie from Burger King!
5. Sports drinks
Sports drinks tend to be advertised as helpful hydrators and electrolyte-containing energy boosters, but these beverages aren't as healthy as the commercials might have you think. The study in Public Health Nutrition Journal indicated that 51% of parents had purchased sports drinks for their children in the last month, while only 27% of parents surveyed believed that such drinks had healthy or somewhat healthy qualities. That number rose to 40% when parents were questioned about Gatorade specifically.
The standard 32-ounce bottle of Cool Blue gatorade contains 52.5 grams of sugar. That's about twice the amount of sugar you'd find in KFC's Valley Bakery Chocolate Chip Cake.
More from Life Cheat Sheet:
Want more great content like this? Sign up here to receive the best of Cheat Sheet delivered daily. No spam; just tailored content straight to your inbox.