5 Recipes That Transform Vegetables Into Pasta
Pasta. As an ingredient it is infinitely adaptable, with prep time and effort ranging from boiling water to complex dishes. But it isn't always the healthiest choice. Unless the pasta is 100 percent whole grain, it will have refined grains. Registered Dietitian Joy Bauer explains how refined grains affect the body on her website. "Refined grains are quickly digested into simple sugars and absorbed into your bloodstream; this can cause blood-sugar levels to spike and then quickly crash. These rapid swings in blood sugar can drain your energy and leave you feeling moody and tired."
Higher quality carbohydrates have the exact opposite effect. Those carbohydrates "are rich in fiber, which helps temper blood sugars by slowing the absorption of sugar into your bloodstream after meals." One example is whole grains, but vegetables are another good source for energy-sustaining carbohydrates. They can also be made into "pasta" dishes.
In addition to being a better carbohydrate source than refined grain pasta, vegetables are naturally gluten-free. So making vegetable-based pastas can be diet-friendly for those who have given up grains or gluten, and sneaks more vegetables into daily eating habits. Check out the following 5 recipes to see how to turn your vegetables into a noodle dish for your next meal.
1. Eggplant
By now, most people are probably familiar with eggplant parmesan. For those sticking to a gluten-free, or grain-free life style, the regular recipe would have to be adapted to find a substitute — or a way around — the breadcrumbs in the dish. Another option is to try something different entirely, with this recipe for Eggplant Pasta by Alton Brown. It serves 4, has 10 minutes of prep time, and 40 minutes cooking time.
Ingredients
2 medium-large eggplants
Kosher salt, for purging
4 tablespoons olive oil
1 teaspoon garlic, minced
1/2 teaspoon chile flakes
4 small tomatoes, seeded and chopped
1/2 cup cream
4 tablespoons basil chiffonade
1/4 cup freshly grated Parmesan
Freshly ground pepper
Directions: Peel each eggplant leaving 1-inch of skin at the top and bottom unpeeled. Slice the eggplant thinly lengthwise, about 1/4-inch thick. Evenly coat each slice with the salt and purge on a sheet pan fitted with a rack for 30 minutes. Rinse with cold water and roll in paper towels to dry. Slice the pieces into thin strips to resemble pasta.
In a large sauté pan, heat the oil. Add the garlic and chili flakes and toast. Add the eggplant "pasta" and toss to coat. Add the tomatoes and cook for 3 minutes. Add the cream and increase heat to thicken sauce. Finally add the basil and Parmesan and toss to combine. Season with pepper, no salt needed as the eggplant will have residual salt from the purge. Serve immediately.
2. Carrots
When purchased whole, carrots can be peeled down into ribbons. Depending on how thick you peel the carrots, you can have a thicker or thinner noodles. Also like pasta, how long you cook the carrots will determine the firmness of the noodle. The Kitchn's Carrot Ribbon Fettuccine uses rainbow carrots to add even more color to this "pasta" dish.
Ingredients
5-6 medium sized carrots
4 tablespoons olive oil
1 lemon (with zest removed for garnish)
1/4 cup shredded parmesan (plus a little more for garnish)
1 sprig of fresh basil (for garnish)
Coarse sea salt
Directions: Peel the carrot skin and discard. Then, working from top to bottom, peel thin ribbons from the carrots. Spin the carrot as you go to get similar width strips. You will be left with the core, which you can cut up and use in a salad, or eat as a snack. In a large skillet, sauté the carrot ribbons with 2 tablespoons of olive oil and a pinch of salt until they become just slightly limp (about 3 minutes on medium heat). Add the juice from 1 lemon, 2 more tablespoons of olive oil and 1/4 cup shaved parmesan. Toss to combine, then plate. Garnish each serving with a pinch each of lemon zest, coarse salt, basil, and parmesan. Enjoy!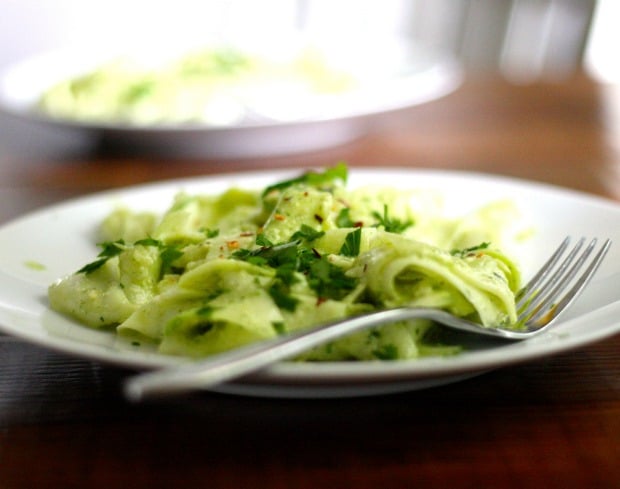 Starting with the most adaptable, this is the most basic recipe for zucchini pasta. It is a take on the classic "spaghetti and meatballs." You can use any meatball recipe you like, or if you prefer to omit that entirely, you can make the recipe as is. Whatscookingamerica.net explains that the noodles can be formed using a mandolin or spiral vegetable peeler to slice the zucchini lengthwise into long, thin strands. If you do not have either of those, you can peel lengthwise, like with the carrots, or cut lengthwise using a knife.
Ingredients:
1-3 zucchinis, julienned
2 tablespoons of olive oil
1/2 teaspoon minced
Directions: Cut up several large zucchini into long strips using a julienne peeler. You can even peel off the green skin for a more authentic looking "noodle." Sauté the zucchini quickly in a bit of olive oil, salt, and minced garlic. Toss until tender. Remove from pan and place in a serving dish. Top with your favorite pasta sauce.
3. Zucchini, redux
The vegetable pastas are just as adaptable as the regular pastas. If you are feeling a little more adventurous, start by preparing your zucchini using one of the previously mentioned techniques. Then, noodles in hand, you can try this recipe for
Paleo Pad Thai
.
Ingredients
1/4 cup butter (or coconut oil)
2-3 zucchinis
1 onion, finely diced
4 cloves garlic, minced
1 tablespoon apple cider vinegar
2 tablespoons fresh ginger, minced
3 tablespoons almond butter
1 tablespoon chili garlic sauce
1 tablespoon fish sauce
1 lime, juiced
salt and pepper
Directions: Slice the zucchini into thin strips, just like the shape of a spaghetti noodle. Another option, for speed, lack of the proper tools or sheer laziness, you can just chop the zucchinis into chunks. Not quite the same effect, but same flavor. Over medium heat, melt your fat of choice. Sauté the onion, garlic, and ginger until soft. Add the fish sauce, chili sauce, vinegar, lime juice, almond butter, and a bit of salt. Stir to combine. Add the noodles to the sauté pan. Stir them around to get the sauce incoporated onto the "zoodles". The point here is get the zoodles hot and very slightly cooked through (just like an al dente noodle), about 10 minutes. Serve hot. Any kind of grilled or pan seared meat or seafood would go really well with this.
After it is cooked, the strands of the spaghetti squash will closely resemble its noodle counterpart. This is another vegetable that pairs well with marinara sauce, and if you'd like, you can follow the baking ingredients for the squash and substitute your own sauce. The baking time may vary by size of squash, and over.
Ingredients
1 spaghetti squash, halved lengthwise and seeded
2 tablespoons vegetable oil
1 onion, chopped
1 clove garlic, minced
1 1/2 cups chopped tomatoes
3/4 cup crumbled feta cheese
3 tablespoons sliced black olives
2 tablespoons chopped fresh basil
Directions: Preheat oven to 350 degrees Fahrenheit (175 degrees Celsius). Lightly grease a baking sheet. Place spaghetti squash with cut sides down on the prepared baking sheet, and bake 30 minutes in the preheated oven, or until a sharp knife can be inserted with only a little resistance. Remove squash from oven and set aside to cool enough to be easily handled.
Meanwhile, heat oil in a skillet over medium heat. Cook and stir onion in oil until tender. Add garlic; cook and stir until fragrant, 2 to 3 minutes. Stir in tomatoes and cook until tomatoes are warmed through. Use a large spoon to scoop the stringy pulp from the squash and place in a medium bowl. Toss with the vegetables, feta cheese, olives, and basil. Serve warm.