5 Salads Combining Spring Flavors With Warm Grains and Greens
With spring comes more sunshine, longer days, blooming flowers, and of course, fresh seasonal produce. Unfortunately, the beginning of spring does not always signify hot weather, meaning you may not be quite ready to give up your warm winter dishes. If you'd like to continue serving hot dishes and get a taste of spring's freshest produce, we recommend preparing warm seasonal salads. A perfect combination of light flavors, fresh ingredients, and warm grains and greens, these 5 salad recipes are the perfect way to kick-start spring!
1. Warm Farro Salad With Asparagus, Peas, and Feta
Serious Eats presents a warm farro salad that's packed with spring peas, asparagus, kale, and almonds. A tangy lemon-mustard vinaigrette and feta cheese top off this highly satisfying dish, creating a warm meal that tastes just like spring. You'll notice the recipe incorporates both cooked and raw asparagus; this gives the salad a variety of textures and flavors. If you'd prefer your salad to be cold, prepare this dish as normal, chilling in the refrigerator prior to serving.
Ingredients:
6 tablespoons extra-virgin olive oil, divided

1 bunch asparagus, ends trimmed and cut into 2-inch pieces (about 2¼ cups), divided

Pinch dried red chili flakes, or more as desired

Kosher salt and freshly ground black pepper

1 cup farro

1 quart homemade vegetable stock or low-sodium vegetable broth

1 cup fresh or frozen peas

1 bunch kale, trimmed, washed, and cut into 2-inch ribbons (about 1½ cups)

2 tablespoons fresh lemon juice from 1 lemon

1 tablespoon Dijon mustard

¼ cup slivered almonds

4 scallions thinly sliced, white and light green parts only

½ cup crumbled feta
Directions: Heat 2 tablespoons olive oil in a Dutch oven or large saucepan until shimmering. Add 2 cups of asparagus and chili flakes, and cook until lightly browned, about 4 minutes. Season with salt and pepper and set aside. In the same saucepan, add the farro and stock and bring to a simmer. Season with salt and cook until farro is tender, about 30 minutes; add water if necessary to keep farro covered. Drain farro and transfer to a large bowl.
Stir in peas and kale and let stand until peas are tender and kale is wilted. Meanwhile, in a medium bowl, whisk together the remaining 4 tablespoons olive oil along with the lemon juice and mustard. Season with salt and pepper. Fold vinaigrette into farro, add the cooked asparagus, almonds, scallions, feta, and remaining ¼ cup raw asparagus. Let stand 5 minutes, then toss and serve.
2. Quinoa Salad with Asparagus, Peas, Avocado and Lemon Basil Dressing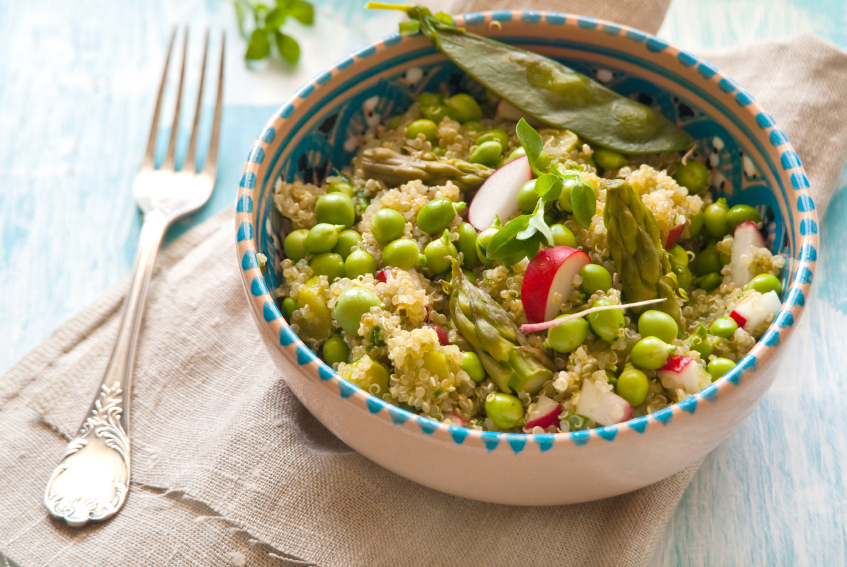 Two Peas & Their Pod's quinoa salad with asparagus, peas, avocado and lemon basil dressing is the perfect dish to help you transition from winter to spring. It's filled with delicious spring flavors, including asparagus, peas, and a light lemon dressing, which contrast perfectly with the recipe's hot and hearty quinoa. It yields 4 to 6 servings.
Ingredients:
Dressing:
3 tablespoons extra-virgin olive oil
3 tablespoons fresh lemon juice
1 teaspoon honey or agave nectar
1 clove garlic, minced
1 tablespoon finely chopped fresh basil
Salt and freshly ground black pepper, to taste
Salad:
2 cups water
1 cup quinoa
½ teaspoon salt
2 teaspoons olive oil
1 small bunch asparagus, about 15 spears, cut into 1-inch pieces
1 tablespoon fresh lemon juice
1 cup frozen peas
1 avocado, chopped
Salt and freshly ground black pepper, to taste
¼ cup chopped basil
Directions: In a small bowl or medium jar, combine the dressing ingredients. Whisk to combine or shake with the jar lid on tight. Set aside. Add water, quinoa, and salt to a medium saucepan and bring to a boil over medium heat. Boil for 5 minutes. Turn the heat to low and simmer for about 15 minutes, or until water is absorbed. Remove from heat and fluff with a fork.
While the quinoa is cooking, cook the asparagus. In a large skillet, heat the olive oil over medium heat. Add the asparagus and fresh lemon juice. Cook until tender, about 5 minutes. Stir in the peas and cook for an additional 2 minutes. In a large bowl, combine quinoa, asparagus, peas, and avocado. Pour the dressing over the salad and stir until well coated. Season with salt and pepper, to taste. Stir in the fresh basil and serve.
3. Warm Spring Salad with Shrimp, Lemon, and Mint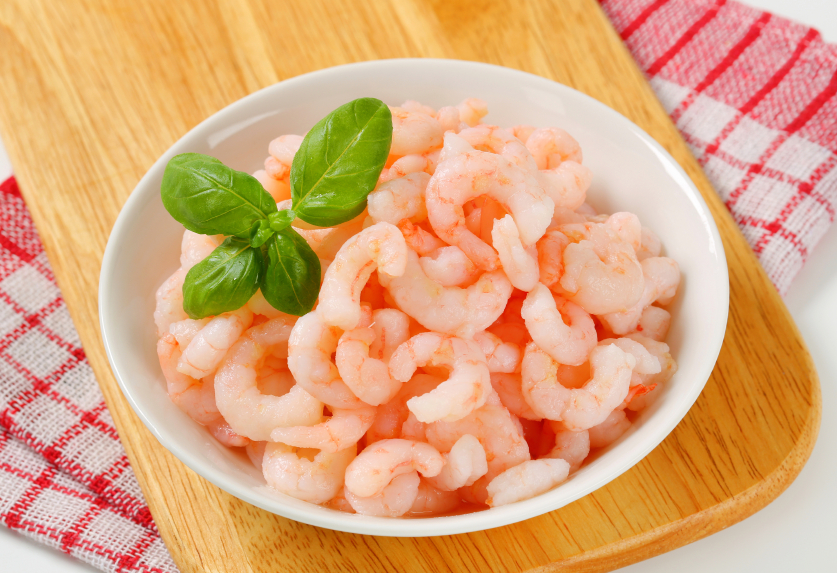 Quinoa makes its way into another warm spring salad, but this time its flavors combine with shrimp, lemon, and mint. To prepare For the Love of Peaches's recipe, toss the red and white quinoa and spring greens with mint and a touch of lemon, and top the salad off with a hearty serving of shrimp. Feel free to omit the mint if you'd prefer; cilantro also works wonderfully in this dish!
Ingredients:
1 pound shrimp, sustainable, peeled and deveined
½ cup red quinoa
½ cup regular quinoa
1 cup water
1 bunch scallions or green onions
3 cloves garlic
3 tablespoons olive oil
½ cup broccolini or baby broccoli shoots, optional
1 small baby bok choi
1 handful mint leaves
1 lemon, juice and zest
¼ cup white wine
1 tablespoon butter
Coarse sea salt
Fresh cracked black pepper
Directions: Place quinoa and water in a small saucepan and heat over medium heat until it comes to a boil. Let simmer 5 minutes. Turn off the heat and cover with a lid. Meanwhile, heat 2 tablespoons oil in a sauté pan over medium heat. Chop white and light green parts of the scallions. Set longer green stems aside for later use in broth or discard. Mince garlic and add to saucepan. Cook, stirring occasionally, until it becomes fragrant. Add the scallions. Cook, stirring occasionally, until the scallions begin to crisp.
Add broccolini, stir, and cook 1 minute. Remove to a bowl and set aside. Carefully deglaze the pan with the white wine, loosening any bits. Add shrimp and cook until it begins to turn opaque. Add butter and season with salt and pepper. Cook 1 minute and remove from heat. Peel the leaves back from the bok choi and stack together. Finely slice the white and light green parts. Add the scallion mixture and bok choi to the quinoa and stir together. Season with salt and pepper to draw out the flavors. Add ½ teaspoon lemon zest and juice of half a lemon. Stir and taste for flavor. Divide between serving bowls. Add shrimp and garnish with 1 teaspoon chopped mint per serving.
4. Warm Spinach Salad With Oranges and Kalamata Olives
Eat the Seasons notes that while spinach is available year-round, it is freshest in the spring. Take advantage of its tender flavors by preparing Oregon Live's warm spinach salad with oranges and kalamata olives, which is infused with fresh rosemary, toasted walnuts, and a light, fruity olive oil. To toast your nuts, bake them in a 375 degree oven for 5 to 8 minutes or until brown. The recipe yields 4 servings.
Ingredients:
¼ cup fruity olive oil
¼ to cup toasted walnuts (see note)
2 to 3 small sprigs fresh rosemary
1 (6 ounce) bag trimmed baby spinach leaves
¼ small red onion, thinly sliced
⅓ cup pitted kalamata olives
Salt and freshly ground black pepper
Juice of ½ orange
1 orange, peeled and sectioned
Directions: Place small saucepan over low heat, and add the olive oil, toasted walnuts and rosemary sprigs. Simmer gently, stirring occasionally until flavors meld. In the meantime, combine spinach, onion, and olives in a large salad bowl. Season with salt and pepper to taste. Just before serving, drizzle greens with olive oil mixture. Add a healthy squeeze of orange, add the orange segments, and toss well to combine. Serve immediately.
5. Warm Spring Salad with Meyer Lemon and Green Garlic Vinaigrette
Nothing says spring quite like a salad that's chock-full of dandelion greens, kale, broccolini, asparagus, peas, and lemons. Food 52's recipe yields four servings. Eating dandelions may sound like a strange concept, but Mercola.com notes that they're packed with nutrients, including vitamins A, B-6, C, K, thiamin, riboflavin, calcium, iron, and manganese.
Ingredients:
Greens:
1 

small bunch dandelion greens, washed and ends trimmed

1 

small bunch red kale, washed and stemmed

1 

small bunch brocollini, washed and ends trimmed

16 

thin asparagus spears, washed and ends trimmed

1 

pound fava beans, shucked

1 

stalk from the green garlic, thinly sliced

A handful or two of golden pea shoots

A few shavings of Parmesan, for garnish

Extra-virgin olive oil for pan

Salt and pepper, to taste
Vinaigrette:
4 

tablespoons extra-virgin olive oil

1 

tablespoon champagne vinegar

3 

cloves finely chopped green garlic

2 

tablespoons freshly squeezed Meyer lemon juice

1 

tablespoon toasted pine nuts

A pinch of sugar

Salt and pepper, to taste
Directions: In a blender or food processor, put all the ingredients together and blend or pulse until dressing is emulsified and pine nuts are pulverized. Blanch the fava beans for about 2 minutes, and submerge them into an ice bath to cool. Shuck them by zipping the seam off and exposing the shells. Then tear a bit of the top corner of the outer shell and pinch together until the green fava pops out, and set aside. Coat the bottom of a large sauté pan with olive oil and heat.
Add the asparagus and broccolini, and stir them for 3 to 4 minutes or until they are just tender-crisp. Then add in the kale, dandelion greens, the thinly sliced stem of the green garlic, fava beans, salt and pepper and continue to stir until the greens are just wilted, about 2 minutes. Divide onto plates and place the pea shoots on top, then drizzle with the dressing, shavings of Parmesan and salt and pepper to taste.
More from Culture Cheat Sheet: