5 Spaghetti Squash Recipes That Deserve a Spot at Your Breakfast Table
Spaghetti squash, which has flesh that bears a resemblance to spaghetti pasta, is a healthy vegetable that deserves a spot on your breakfast menu. Livestrong notes that spaghetti squash contains several vitamins, including A, B, C, and K, and minerals such as manganese, iron, potassium, copper, phosphorus, sodium, zinc, and selenium. In addition, a 1-cup serving has 2.2 grams of fiber, which can also help you lose weight. Spaghetti squash may not seem like a traditional breakfast item, but it tastes great in a wide variety of dishes, including quiche, casseroles, and pancakes. Keep reading to discover 5 spaghetti squash breakfasts that will make your morning.
1. Chorizo and Spaghetti Squash Casserole
Waking up to a Chorizo and Spaghetti Squash Casserole is the perfect start to any morning. Because you can easily make this dish in advance, it's also a great meal to prepare any time you have overnight guests. I Breathe I'm Hungry says this recipe "lends itself perfectly to being made the night before, which is great if you have guests or a large family. Double the recipe, put everything but the eggs together in a large casserole dish the night before, and the next morning make little dents and break your eggs into it and bake for 20-22 minutes." Filled with spicy, cheesy, and hearty ingredients, this comforting casserole won't disappoint! As an added bonus, it is low-carb and gluten-free.
Visit I Breathe I'm Hungry for this recipe.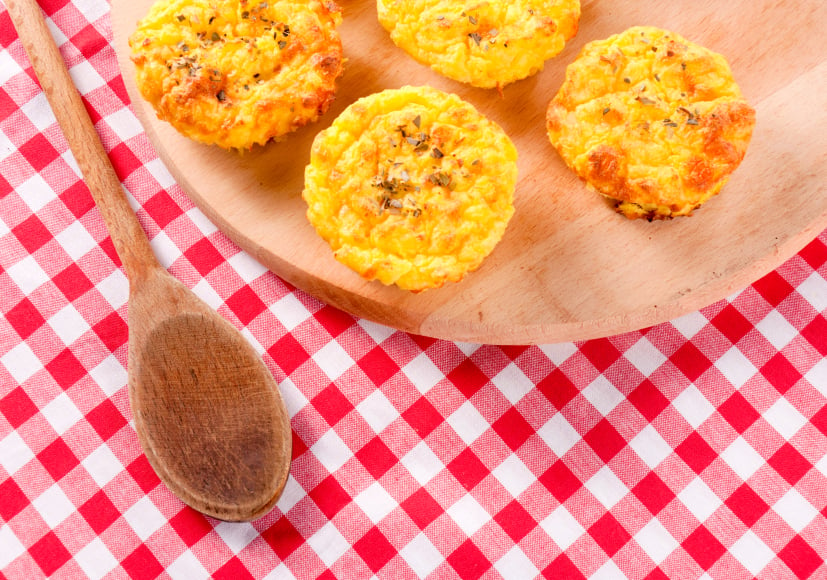 2. Spaghetti Squash Breakfast Cups
Busy weekday mornings require a breakfast dish you can eat on the go. My Heart Beets' Spaghetti Squash Breakfast Cups can easily be stored in the freezer, ensuring you have a grab-and-go breakfast that manages to be sturdy "but also soft and creamy. The texture is unlike any other breakfast cup I've had before — every bite melts in your mouth."
You'll need to bake your spaghetti squash prior to preparing this 4-ingredient recipe. Cut the squash in half, scoop out the seeds, and add a touch of oil, salt, and pepper to it. Place the squash cut side down in a baking dish and bake in a 375 degree Fahrenheit oven for about 45 minutes. Once your spaghetti squash is cooked, you can proceed with the rest of the recipe, which includes browning ground pork, combining the ingredients, and baking in a greased muffin pan. There's no need to reach for an unhealthy muffin when you can enjoy a nutritious breakfast cup instead!
Visit My Heart Beets for this recipe.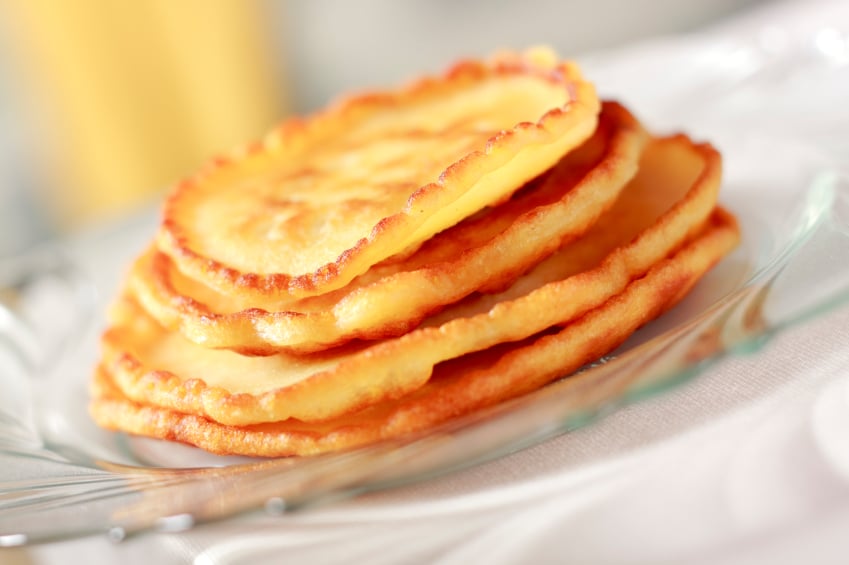 3. Spaghetti Squash Pancakes
Don't let your leftover spaghetti squash go to waste! Instead, use it to make Half Baked Harvest's Spaghetti Squash Pancakes: "Seriously, if you do not have any leftover spaghetti squash it is worth making just so you can make these pancakes. They come together so quickly. Bonus, they are full of protein! But really and most importantly, they are so ridiculously goood!"
These pancakes are just as nutritious as they are delicious. The Next explains that spaghetti squash is a rich source of vitamin A, which helps maintain normal vision and healthy skin. In addition, spaghetti squash is able to boost your immune system and can help your body fight free radicals. Great flavors and extraordinary health benefits make these pancakes a morning must!
Visit Half Baked Harvest for this recipe.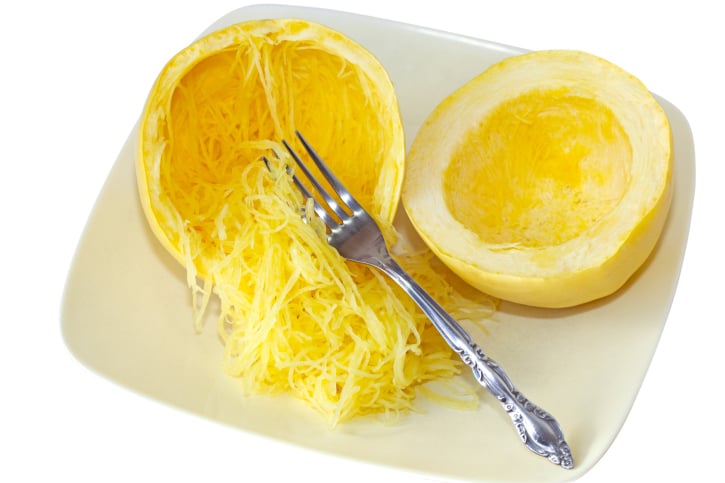 4. Spaghetti Squash Hash Browns
B. Britnell wanted these Spaghetti Squash Hash Browns to be "super simple and (most importantly) EASY. I love the idea of being able to throw this together quickly in the morning to eat before work." In fact, with the help of pre-cooked spaghetti squash, you can have this dish whipped up in just 15 minutes. Combine your spaghetti squash with garlic powder and chopped chives, stir in 1 egg, and then cook your squash in a lightly greased pan. Top with a little cheese and enjoy a plate of perfectly crisp, healthy hash browns!
Visit B. Britnell for this recipe.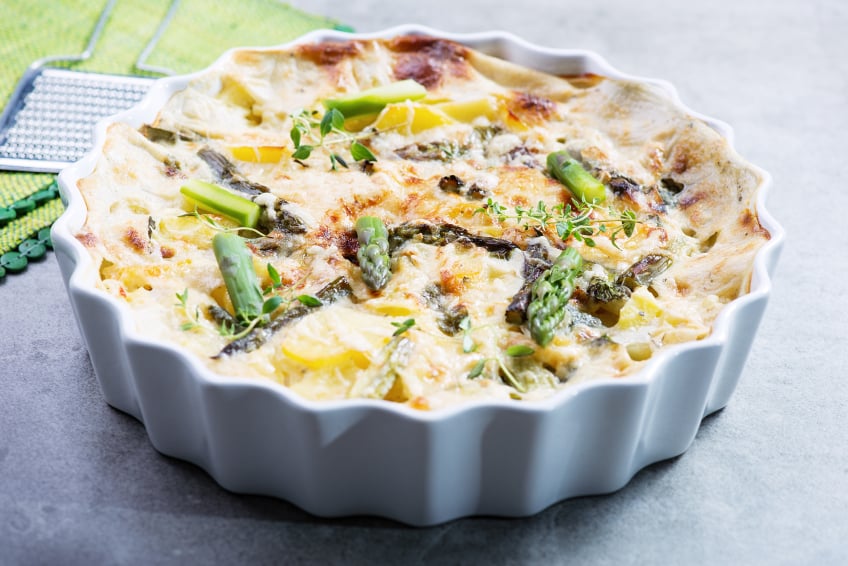 5. Asparagus and Mushroom Spaghetti Squash Quiche
This quiche may take a little extra time to make, but the end result is well worth the effort! Paleo Leap notes that "if you've been hankering for something with a real crust to it, spaghetti squash is the perfect answer. It's mild enough to stand in for pastry dough without adding any unexpected flavor, and so much healthier than a nut-flour crust."
As with many egg dishes, you can easily personalize this recipe to meet your specific tastes. Add in extra vegetables, toss in a little pre-cooked meat, or include a few extra seasonings. Whatever you decide to do to this versatile dish is guaranteed to taste terrific!
Visit Paleo Leap for this recipe.
More from Life Cheat Sheet:
Want more great content like this? Sign up here to receive the best of Cheat Sheet delivered daily. No spam; just tailored content straight to your inbox.