Tasty Ways to Upgrade Basic Banana Bread
When bananas go on sale, it's easy to go a little bit overboard. They make perfectly portable snacks and offer plenty of potassium, manganese, and vitamin C. But after a few days, that pile of once-gorgeous fruit starts to sag and turn brown. When that happens, baking up a loaf of banana bread offers a great solution.
While a basic quick bread recipe pleases nearly any palate, you might find yourself tiring of the same recipe. We've found 5 excellent recipes to give your banana bread a serious boost. When baked goods taste this good, you might want to skip eating the fruit and go right to the oven instead.
1. Triple Chocolate Banana Bread
Banana bread often skirts the line between dessert and breakfast. This decadent baked good definitely puts it in the after-dinner category, with plenty of chocolate in the loaf and drizzled on top. Holly Nilsson started with a basic recipe from Allrecipes.com, then turned it on its head. "I have tried several chocolate banana bread recipes, but I usually find them heavy and dense," she says. "So, I created this one, which has a much lighter texture."
The secret to getting the texture just right comes from keeping an eye on the loaf while it's in the oven. "Be sure to check your bread at 50 minutes to be sure it doesn't overbake," Nilsson says. Follow her advice, and you'll end up with a spectacular treat. Chocoholics rejoice!
Visit Spend with Pennies for the recipe. 
2. Peanut Butter Banana Bread
It's not all that unusual to make a peanut butter sandwich with a little bit of banana tucked inside, so it's a little ridiculous that no one seems to fold the sweet and salty spread into banana bread. Joy Wilson certainly thought so. She started with a Cooking Light recipe and added her own spin. "Peanut butter and banana are a combination as old as time, so this bread just makes sense," she says. And the results were so good, she encourages everyone else to join her.
While this recipe calls for flaxseed meal, don't fret if you can't find any. "I've also baked this bread without the flaxseed meal, because I forgot, and the bread was still moist and delicious," she says. Though this recipe is pretty wonderful as it is, adding a few chocolate chips to the batter definitely wouldn't hurt.
 Visit Joy the Baker for the recipe. 
3. Whole-Wheat Oatmeal Banana Bread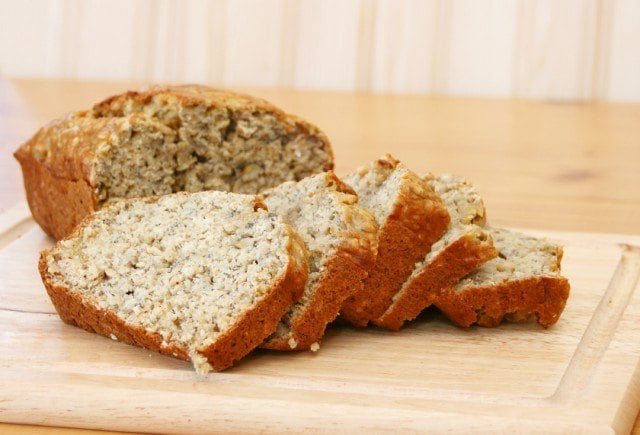 While a slice of buttery, gooey bread might taste fantastic for breakfast, it's hardly a healthy morning meal. Monique Volz decided it was time to give one of her favorite treats a healthy makeover, and came up with this hearty version featuring oats and whole-wheat flour. She also cut down on the fat and sugar by using applesauce. "This helps to naturally sweeten the bread, but also replaces the oil in the recipe," she says.
Although it's perfectly tasty to eat a slice of this bread while it's still warm from the oven, Volz says the flavor is even better the next day. And don't feel left out if you're sticking to a vegan or gluten-free diet — she has suggestions for variations to fit your needs. This sounds like it might be the perfect recipe.
 Visit Ambitious Kitchen for the recipe. 
4. Bananas Foster Banana Bread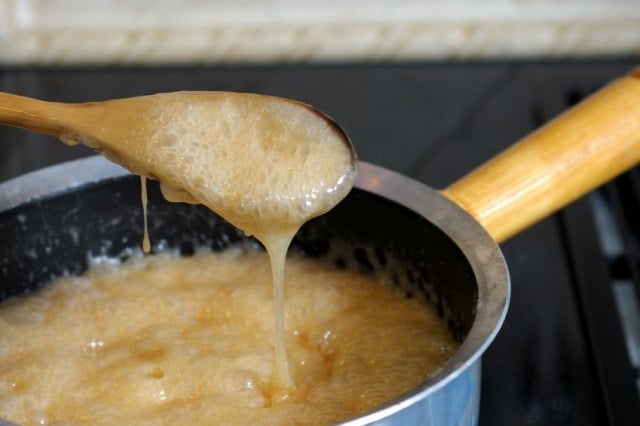 When you really want to impress your friends, put this bread on your to-bake list. Michelle Lettrich takes banana bread from fine to fabulous by topping the batter with a nutty streusel, then dousing the top with a rum glaze. She drew inspiration from her grandmother's recipe, but wanted to make something a little more fun. "I started thinking of streusel, and then my mind somehow drifted to the land of bananas foster," she says.
The recipe might look a bit intimidating, but don't let it scare you away. "Although the ingredient list looks long, this is a really simple recipe that only involves a couple extra steps than your standard banana bread," Lettrich says. This bread is already pretty decadent, but you may as well guild the lily with a dollop of whipped cream.
 Visit Brown Eyed Baker for the recipe.
5. Cream Cheese-Filled Banana Bread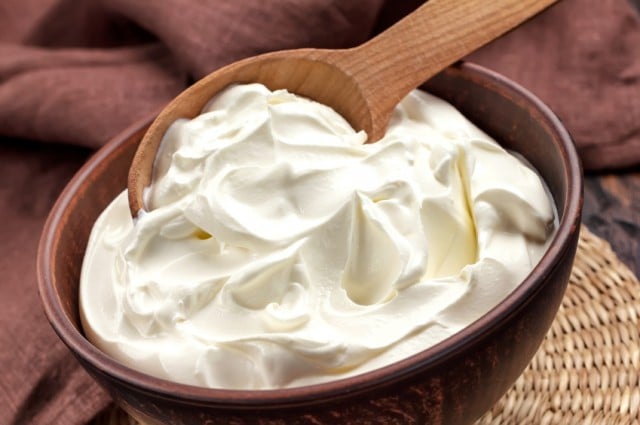 If you've ever found yourself tempted by a leftover slice of cheesecake in the wee hours of the morning, this treat is for you. Averie Sunshine had some spotty bananas and cream cheese in danger of going bad, which prompted her to create this spectacular loaf. "The bread is soft and moist, and the cream cheese layer is like having a layer of cheesecake baked into banana bread," she says. She only wonders why she didn't come up with it sooner.
Most banana breads call for butter, but Sunshine prefers to use something else. "Oil keeps bread softer and springier than butter, and I prefer the taste," she says. A little bit of sour cream helps to keep the loaf moist. With basic ingredients and an easy method, this could be breakfast tomorrow.
 Visit Averie Cooks for the recipe.