5 Tips For Frizz-Free Summer Hair
Warmer months are upon us, and summer is on its way; bringing with it the potential for sun and surf we so desperately crave during winter. While getting outside is practically part of a mandatory summer itinerary, the elements can sometimes cause problems for our hair.
Read on to find out the best ways to manage your hair toward a frizz-free summer.
1. Tame that frizz
Battling the summer elements while retaining smooth hair is no easy feat for anyone — we all have frizz. Yet hope is not lost. For a frizz-free summer, start by preparing your hair for the elements with moisturizing shampoo and conditioner, which will help to keep your hair healthy when sun, saltwater, and chlorine come into play. Shampoo every other day with moisturizing formula if you've got curly or coarse hair, and always remember to be gentle no matter what type of hair you have: Instead of drying your hair roughly with a towel, simply squeeze the towel around your strands to soak up the excess moisture. If you blow dry, apply a serum before to help coat your hair and protect against frizz-causing moisture.
2. Condition, condition, condition
If your hair is dry, it's more likely to absorb the elements that can do it harm. To better protect your hair, spritz — or coat it — with leave-in conditioner, which will act as a barrier to sunlight, salt water, and chlorine. This process can also help you add some more color to your tresses, too: If you want summer highlights, simply skip certain strands; leaving them bare of conditioner. Because they're less protected, they'll lighten up naturally.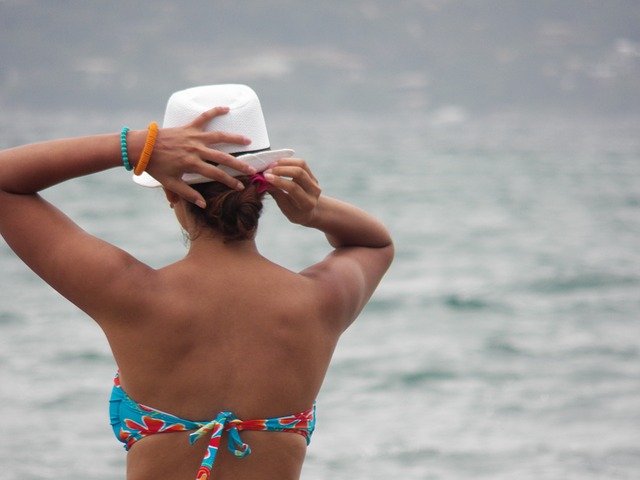 3. Wear a hat
A hat can be a great summer accessory and can even help to shield your face from the glares of the hot sun. It can also serve a purpose on those days when you feel taming your hair is more trouble than it's worth. To minimize the effects of the dreaded "hat hair" once your hat comes off, make sure you first choose a hat that is loose and light — it will minimize indentations. Other tips include avoiding putting a hat on wet hair, and to wear a scarf underneath your hat to better protect your hair. When you finally do take your hat off, embrace the tousled look and simply run your hands through your hair; adding a volumizing spray or beach spray to pump up the volume.
4. Less is more
It's already hot outside, so why add more heat with hot irons, blow dryers, and curling irons? Skip these and style your hair naturally: Run a no-frizz crème through your damp hair, style it loosely with your fingers and let it set. In addition to toning down the heat-styling, think of summer as a stressful season for your hair, and avoid chemical processing such as coloring, bleaching, stripping, or excessive salon styling — summer is one of the least friendly hair seasons to undergo harsh treatments.
5. Go for summer styles
Forget sleek and present a beachy, bohemian vibe with your summer hairstyles. Turn messy into your ally with a summer braid; get the tousled, coveted "beach hair" look; or pile up your hair into a messy bun. Above all? Embrace the fact that flyaways work in your favor, and that looks should be kept simple and relaxed — just like summer.
More From Wall St. Cheat Sheet: