5 Unforgettable Bacon-Eating Experiences in the U.S.
According to Meat Trade News Daily, Americans consume 1.7 billion pounds of bacon each year. With bacon being as heavenly as it is, this statistic hardly comes as a surprise.
Restaurants around the country have been angling to keep pace with bacon's rapid growth in popularity: J&D's Foods in Seattle sells everything from bacon shaving cream to Baconnaise. Bacon festivals have been popping up nationwide, and more and more restaurants are becoming veritable shrines to the food's greatness, seemingly every day. We aren't complaining.
Check out any of the below dining experiences to get your bacon fix. Sweet and savory lovers alike — we've got you covered!
1. BarBacon (New York, New York)
The Big Apple really does have something for everyone. Gothamist credits acclaimed chef Peter Sherman as the mastermind behind BarBacon. Sherman doesn't just slap bacon on dishes without thought (though that does usually work in a pinch) — according to Thrillist, "They'll always rotate a bacon tasting menu that aims to highlight a handful of surprisingly distinctive meaty strips that they literally scoured the country for — including Nueske's from Wisco, Nodine's pepper bacon, and Father's maple bacon from an actual cabin in the middle of nowhere, KY."
Highlights from the menu include a lobster roll with freshly chopped bacon and chives ($20), Shani's BLT (with avocado and a sunny side up egg, $12), and BarBacon Banh Mi (Vietnamese spiced Soy & Anise glazed Bacon, Cucumber, Carrot and Cilantro, Nuoc Nam Sauce, $12). BarBacon also specializes in Bacon Tastings ($12 for generous samples of four artisanal bacons) and Bacon and Beer Flights ($20). Check out their website for a full menu and contact information, and see Thrillist's article for some high-quality pictures of menu items.
While you're in the city, stop by the Baconery (temporarily undergoing renovations) for some sweet and salty bacon-centric confections.
2. Sabuku (San Diego, California)
For an interesting change of pace — not that bacon really needs it — head to San Diego's Sabuku for one of their seven specialty bacon rolls. The So Cal's a Bacon ($9) consists of spicy crab, bacon, and avocado — a porky spin on your typical California roll.
If you're looking to splurge for the sake of bacon, try the Bacon Your Pardon ($19): spicy crab, asparagus, seared scallops and bacon topped with Chilean sea bass. The Bacon Your Pardon comes with a glazed bacon and garlic aioli sauce, as well as a sweet mandarin and Sriracha option for dipping. All this is topped with candied garlic, tempura crunchies, scallions, and kuro goma. Sounds well worth the money to us.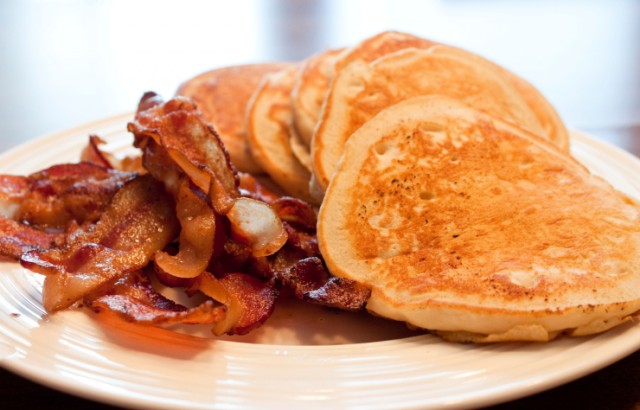 3. PYT (Philadelphia, Pennsylvania)
Philadelphia's PYT has numerous bacon offerings on the menu, with their Bacon Taco Shell Burger (yes, a shell made entirely out of bacon) being a past favorite. PYT's current menu has everything from the Doh! Nut (beef patty, american cheese, and chocolate-covered bacon on a glazed donut bun, $13) to a Peanut Butter Bacon Time adult milkshake (vanilla ice cream, vanilla vodka, real bacon, creamy peanut butter, and whipped cream, $13).
While you're in the city, stop by Grubhouse for its award-winning bacon pancakes ($8.50) and crowd-favorite Bacon-Wrapped Jalapeno Tater Tots* ($4-$5.50, depending on size). While you're at it, polish everything off with some Bacon Chocolate Chip Cookies from Cookie Confidential.
*Those of you from the midwest can enjoy a similar treat at the High Life Lounge in Des Moines, Iowa: Bacon tater tots and jalapeños wrapped in thick bacon, then fried and topped with cheddar & jack cheese, served with ranch — all for the down-home price of $6.99.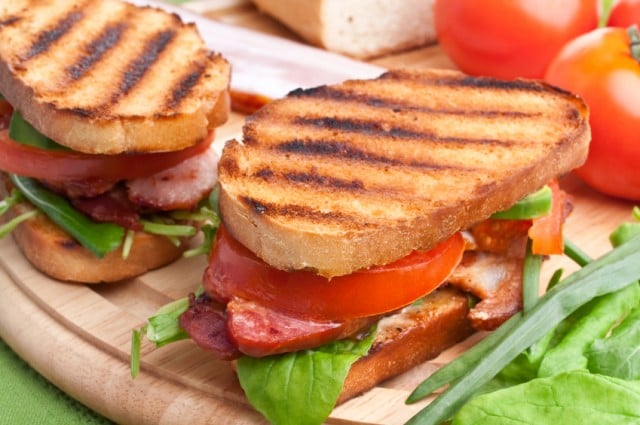 4. Paddy Long's (Chicago, Illinois)
Paddy Long's is a chiefly bacon-devoted restaurant, so it's hard to pick out just the highlights from this star-studded menu. To experience the fullest possible scope of their offerings, we suggest starting with a Bacon Board (Irish bacon, hickory smoked bacon, cracked pepper bacon, and Danish Bacon; served with gherkins, Dusseldorf Mustard, and toasted Irish soda bread, $12.95). Other highlights from the Bacon Specialty Menu include the 3 Bacon BBQ Burger ($12.95) and the Gigantor BLT $(13.95), whose name speaks for itself.
If you're feeling particularly gluttonous, spring for the Bacon Bomb Challenge: down 5 pounds of ground beef and pork, a cracked pepper bacon center, and a brown sugar bacon weave, plus a heaping side of fries — all in 45 minutes.
For an extra-special — and perhaps less sickening — visit, book a Beer and Bacon Tasting ($36). With it, you'll enjoy five cuts of delicious bacon paired with five craft beers.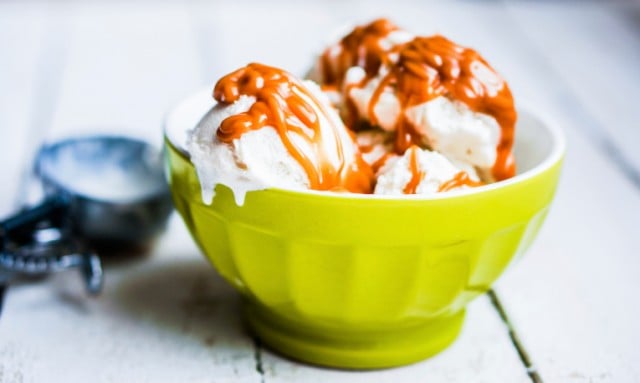 5. Sweet Rose Creamery (L.A.)
Bacon has been featured in a number of Sweet Rose Creamery's menu specials. The Bacon Caramel Sundae is a standout (a scoop of vanilla ice cream topped with bourbon-bacon caramel sauce), and the Bacon Sliders (spicy cinnamon sauce, creamy vanilla ice cream, and bacon on a bun) are impossible to resist. There's nothing like a dessert shop that understands the true value of bacon. We don't know what they'll come up with next, but we're sure we'll love it!
More from Wall St. Cheat Sheet:
Want more great content like this? Sign up here to receive the best of Cheat Sheet delivered daily. No spam; just tailored content straight to your inbox.