5 Valentine's Day Décor Ideas to Complete This Afternoon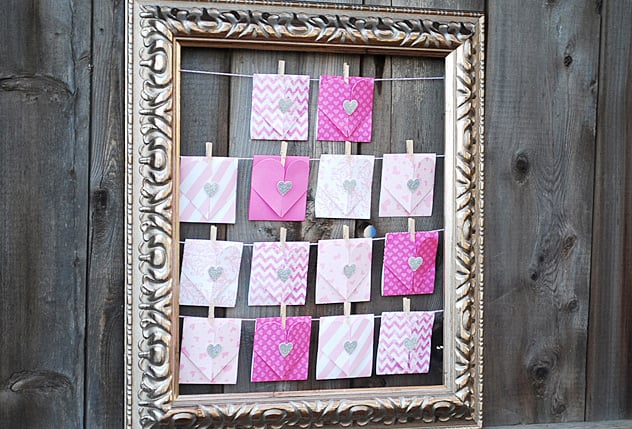 [sc_inpost_bigbox ad_name="design-decor" position="alignright"]Valentine's Day is all about romance, but rather than buy it with flowers, candy or dinner, create your own romance by DIYing it at home. There are so many Valentine's Day DIY projects you can do in one afternoon, but few give your loved one a prouder feeling to be your Valentine than the five décor ideas below.
1. Valentine's Day Countdown
Other than calling for reservations, there is little to do before Valentine's Day. Why not built momentum for this romantic holiday by creating your own Valentine's Day countdown?
Our friend at A Pumpkin & A Princess tried the Valentine's Day Countdown and as you can see from the picture above, there are few projects more romantic than this. Rather than buy the special note cards, you can make your own. All you need are post-it notes, regular note cards, some twine, an open frame, and clothespins or paper clips. See the full project here.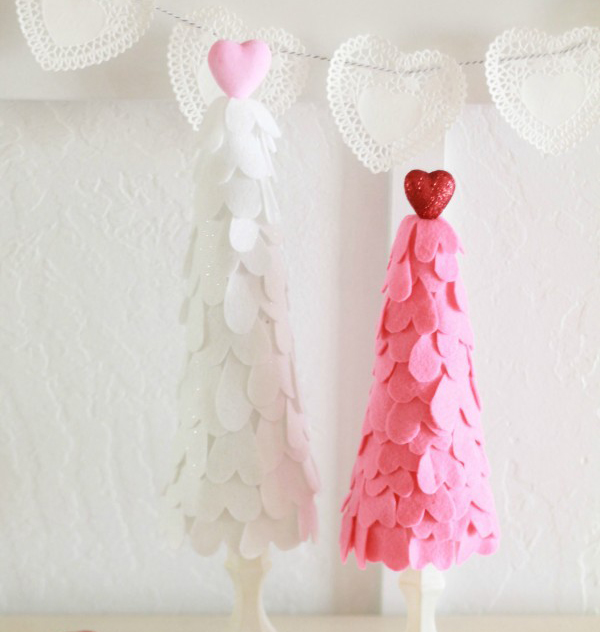 2. Heart Valentine's Day Trees
As you will see later on, there is a Christmas vibe to many of these projects. Both holidays are meant to spend with family and easy to decorate without breaking the bank. Heart Valentine's Day trees are perhaps one of the easiest Valentine's Day projects one can make. As long as you have Styrofoam cones, pink or red sheets of felt, heart cutouts, a scissors and glue, you are golden.
As Lolly Jane points outs, if you are making more than one tree, fold both sheets of felt in half and cut out heart-shaped pieces. Pin the hearts upside down starting from the bottom. You can see all the steps and images here.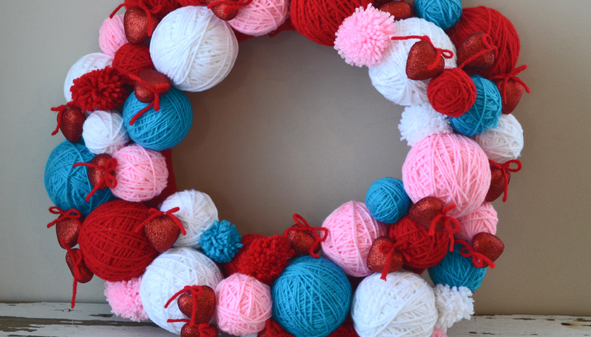 3. Valentine's Day Wreaths
The most popular DIY Christmas project is making your own wreath. Well, you can apply the same skills and creativity to a Valentine's Day wreath.
A Pretty Life In The Suburbs showcased this DIY project with a few balls of yarn, a circular Styrofoam wreath, and some glue. After gathering all the materials, wrap the plain piece of Styrofoam with one of your colorful yarns. Then, glue your other yarn balls around the wreath, covering every last inch. See more details here.
4. Love Note Pillows
This has to be my favorite Valentine's Day DIY project since it is a décor item you can use for months—or even years—following Valentine's Day.
To complete this project, all you need is pillow form or cotton duck, red felt, a sharpie, yarn for sewing, and liquid stitch if you so desire. Start writing your poem, love note, or whatever you'd like on the pillow form. Make sure you are on a solid surface. Then, cut two hearts out of the red felt. Cut the second heart in half to use as a folder for a small piece of pillow form. Sew the hearts onto the pillow form and then place over pillow. Sew to make sure it sticks. See the entire process at Days Of Chalk & Chocolate.
5. Glitter Candle
I saved the easiest project for last. If you love arts and crafts, you are going to love this one. All you need is a candle, double-sided tape, and colorful glitter. To start, clean your candle jar. Then, take a thick piece of tape and place one strip around the jar. Place the candle on its side and apply glitter. Once clean, place second strip of tape right below and repeat the same steps. Continue down the candle until you have used every glitter color. See more details at A Glimpse Inside.
[sc_inpost_ad ad_name="design-decor"]
More From Life Cheat Sheet:
Want more great content like this? Sign up here to receive the best of Cheat Sheet delivered daily. No spam; just tailored content straight to your inbox.