5 Vivid Vegetarian Soups That Boost Nutrition
Everyone is sniffling. It's still cold and flu season, and your immune system is, we hope, fighting the good fight. When it comes to feel-good meals, nothing beats a hot bowl of soup. Science has proven that chicken soup is, in fact, great for cold. It soothes your throat, opens up your nasal passages, and helps inhibit inflammation caused by immune responses that don't really help viruses anyway. But it's not the only game in town. Orange soups made from carrots, squash, and sweet potatoes are loaded with vitamins for all around health, repair your body, and lift spirits in the dead of winter. These 5 sunny soups can brighten up these dark, cold, winter days and keep you kicking through until spring. Eat up!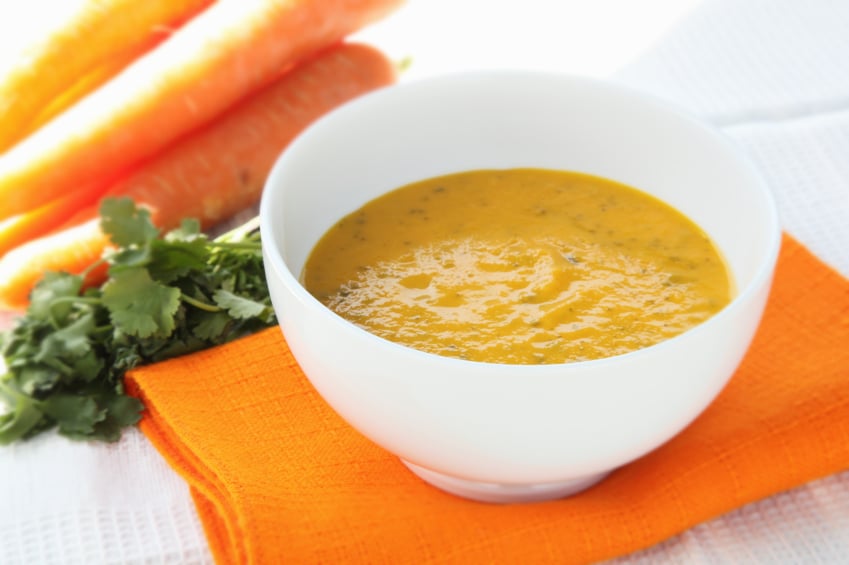 1. Vegan Carrot Jalapeño Soup
Need to vacate a stuffy nose? To give mucus the boot, you'll need some heat. Even better, some heat and a non-dairy way to make a soup delightfully creamy. Clear your sinuses with Joy the Baker's carrot jalapeño soup. There's just enough of a kick to help you breathe, but not enough to make you sweat. The cashew cream helps to bulk up the soup with healthy minerals like manganese, potassium, copper, iron, magnesium, zinc, and selenium, while the carrots provide a wallop of beta carotene and much needed vitamins C and K.
Ingredients:
2 tablespoons olive oil
1 large onion, diced
2 cloves garlic, minced
2 teaspoons fresh thyme, coarsely chopped
2 celery stalks, diced
1 pound carrots, peeled and sliced
2 jalapeño, seeds and ribs removed and sliced
4 cups vegetable stock
Salt and pepper, to taste
½ cup raw cashews soaked in 1 cup water for 1 hour
¾ cup water
Directions: In a large saucepan, heat olive oil over medium heat. Add onions and cook, stirring occasionally, until onions are tender and translucent, about 5 minutes. Add the garlic, thyme, and celery. Stir and cook for 2 minutes. Stir in the carrots and jalapeño.
Add the vegetable stock and stir to combine. Reduce heat and simmer uncovered until carrots are completely soft, about 30 minutes.
Drain water from the raw cashews. In an upright blender, combine cashews and ¾ cup water. Blend until smooth. Place in a small bowl and set aside.
Once the carrots are soft, remove the soup from the heat and use an immersion or upright blender to blend smooth. Stir in the cashew cream. Taste and season with salt and pepper, to taste.
2. Sweet Potato-Peanut Bisque
This west African inspired soup from Eating Well also has the zip of chilis, but with a different take than Joy Wilson's soup. The creaminess of the blended sweet potatoes feels great on a sore throat, and the chilis help mitigate stuffy noses. The addition of peanuts boosts protein as well as plenty of antioxidants, vitamins E and B6, and niacin. Even if you're not a fan of sweet potatoes at Thanksgiving, try them in this soup for a totally new flavor profile.
Ingredients:
2 large sweet potatoes
1 tablespoon canola oil
1 small yellow onion, chopped
1 large clove garlic, minced
3 cups reduced-sodium tomato-vegetable juice blend or tomato juice
1 (4-ounce) can diced hot green chiles, drained
2 teaspoons minced fresh ginger
1 teaspoon ground allspice
1 (15-ounce) can vegetable broth
½ cup smooth natural peanut butter
Freshly ground pepper to taste
Chopped fresh cilantro leaves for garnish
Directions: Prick sweet potatoes in several places with a fork. Microwave on high until just cooked through, 7 to 10 minutes. Set aside to cool.
Meanwhile, heat oil in a large saucepan or Dutch oven over medium-high heat. Add onion and cook, stirring, until it just begins to brown, 2 to 4 minutes. Add garlic and cook, stirring, for 1 minute more. Stir in juice, green chiles, ginger and allspice. Adjust the heat so the mixture boils gently; cook for 10 minutes.
Meanwhile, peel the sweet potatoes and chop into bite-size pieces. Add half to the pot. Place the other half in a food processor or blender along with broth and peanut butter. Puree until completely smooth. Add the puree to the pot and stir well to combine. Thin the bisque with water, if desired. Season with pepper. Heat until hot. Garnish with cilantro, if desired.
3. Vegan Pumpkin Soup
The sauteed kale-sesame topping on this pumpkin soup from Minimalist Baker packs in plenty of vitamin C to help boost your immune system. The deep flavor of roasted pumpkin with the nuttiness of toasted sesame seeds and the warm, comforting spice blend of black pepper, cinnamon, and nutmeg make this soup the equivalent of your best fuzzy blanket on a cold night. You can either roast your own pumpkin if you have the time to spare with instructions from Oh She Glows or use canned pumpkin puree. Just don't get pumpkin pie filling by mistake!
Ingredients:
Soup
2¼ cups pumpkin puree
2 shallots, diced
3 cloves garlic, minced
2 cups veggie stock
1 cup light coconut milk
2 tablespoons maple syrup, honey, or agave nectar
¼ teaspoon each sea salt, black pepper, cinnamon, nutmeg
Garlic Kale Sesame Topping
1 cup roughly chopped kale
1 large garlic clove, minced
2 tablespoons raw sesame seeds
1 tablespoon olive oil
pinch of salt
Directions: To a large saucepan over medium heat add 1 tablespoon olive oil, shallot, and garlic. Cook for 2 to 3 minutes, or until slightly browned and translucent.
Add remaining ingredients, including the pumpkin, and bring to a simmer.
Transfer soup mixture to a blender, working carefully and in batches, or use an immersion blender to puree the soup. Pour mixture back into pot. Continue cooking over medium-low heat for 5 to 10 minutes and taste and adjust seasonings as needed.
While the soup is simmering, make the kale-sesame topping. In a small skillet over medium heat, dry toast sesame seeds for 2 to 3 minutes, stirring frequently until slightly golden brown. Be careful, as they can burn quickly. Remove from pan and set aside. To the still hot pan, add olive oil and garlic and sauté until golden brown, about 2 minutes. Add kale and toss, then add a pinch of salt and cover to steam. Cook for another few minutes until kale is wilted and then add sesame seeds back in. Toss to coat and divide among bowls of soup.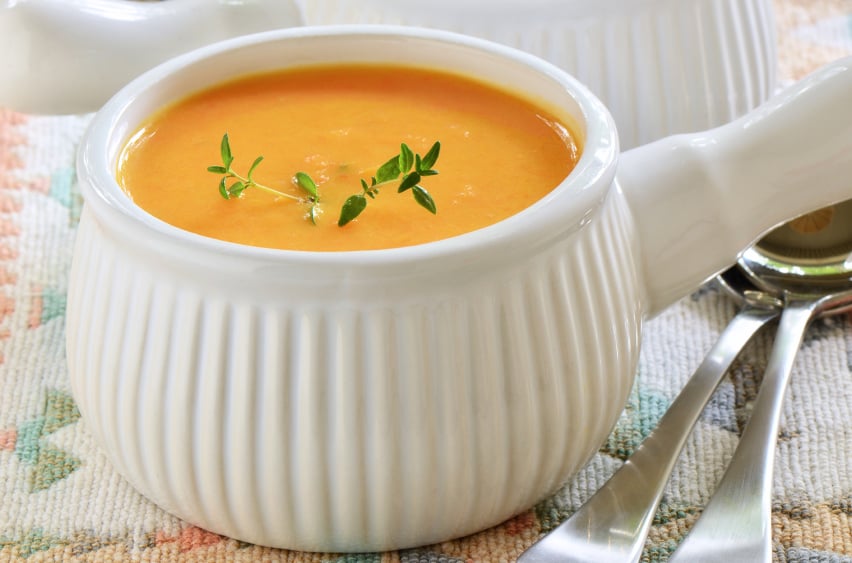 4. Sweet Potato Soup With Miso and Ginger
High in fiber, protein, vitamins A and B12, as well as a score of healthy minerals, miso is a superstar ingredient that packs a savory punch in this sweet potato soup from The Kitchn. The warming spice of ginger in this soup helps with sore throats, nausea, and stuffy noses and is considered by some to be good as a fatigue fighter.  If you're not a vegetarian, consider swapping out the vegetable broth for chicken stock to get the full range of cold-fighting benefits soup has to offer. If you're having problems with mucus, consider leaving out the yogurt drizzle and switching the whole milk for a non-dairy substitute, as dairy can aggravate the problem.
Ingredients:
Soup
Olive oil
1 large yellow onion, chopped
4 cloves garlic, minced
1 2-inch piece fresh ginger, peeled and thinly sliced
3 cups mashed sweet potato
3 tablespoons white or yellow miso
4 cups chicken or vegetable broth
½ cup whole milk
salt and pepper
Spiced Yogurt Drizzle
½ cup whole milk yogurt
½ teaspoon garam masala
½ tablespoon maple syrup
Directions: Cook the onion and garlic in the olive oil over medium heat until soft and translucent. Raise the heat a little and add the ginger. Cook until the ginger is fragrant, but don't let the onions and garlic brown. Add the sweet potato mash and miso, and continue cooking until the puree is warmed.
Add the broth to the pan and stir to combine. Bring to a simmer, then cover, turn the heat to low, and let the soup cook for about 5 minutes to bring the flavors together. Remove from heat and puree in a blender or with an immersion blender.
Return to the heat and warm, whisking in the milk. Salt and pepper to taste. If the soup is too thick, whisk in a little extra milk until you get the desired consistency.
Whisk together the yogurt, garam masala, and maple syrup. Drizzle over the sweet potato soup to garnish.
5. Orange-Ginger Carrot Soup
The most serendipitous thing about cold and flu season is that it's exactly when good citrus fruits are in season. With a pound of carrots, plenty of ginger, and blast of vitamin C from a fresh-squeezed orange to brighten up the flavor, this soup from the Food Network is a nutritional powerhouse (and tasty to boot!). When grating the orange, avoid the white pith, which can add an undesired bitterness to the soup. By adding the juice at the end of cooking, you retain all the fresh vitamins and antioxidants that can be damaged by cooking.
Ingredients:
1 pound carrots
1 medium onion
6 garlic cloves
1 2-inch piece fresh ginger
3 tablespoons vegetable oil
1 large orange
4½ cups chicken stock or vegetable broth
1 bay leaf
salt and pepper, to taste
1 bunch cilantro or fresh parsley
¼ cup sour cream or plain yogurt
Directions: Peel and thinly slice the carrots. Finely chop the onion. Peel and chop the garlic cloves. In a large saucepan, heat oil over medium heat. Add carrots, onion, garlic, and ginger and cook, stirring occasionally, until onion is golden, 6 to 8 minutes. Meanwhile grate the orange to yield 2 teaspoon grated zest. Juice orange to yield ½ cup orange juice.
Add chicken stock, orange zest, and bay leaf to cooking vegetables. Bring to a boil. Reduce heat to medium-low, cover and cook, stirring occasionally, until carrots are tender about 20 minutes.
In a food processor or blender, puree soup in batches until smooth; return to saucepan. Stir in orange juice and season with salt and pepper to taste. Cook over medium heat, stirring occasionally, until heated through, 2 to 3 minutes. Mince cilantro or parsley to yield 2 tablespoons. Garnish each soup bowl with a dollop of sour cream or yogurt and sprinkling of cilantro and serve.
More from Life Cheat Sheet:
Want more great content like this? Sign up here to receive the best of Cheat Sheet delivered daily. No spam; just tailored content straight to your inbox.