5 Ways to De-Clutter Your Kitchen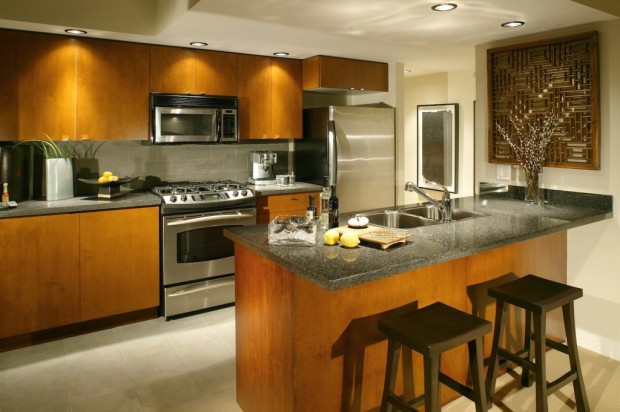 The holidays are right around the corner, and this week is more important than ever to de-clutter your kitchen so you can have a relaxing and joyous holiday season. Ensuring a clean kitchen takes organization and creative wit. We completed the second half of that formula and listed five ways to ensure your kitchen looks as new and organized as the day it was built.
1. Dual-Purpose Cabinet Base
Islands are the new fad in home remodeling, but understandably so, not all homeowners have the space. As a result, you are left with little to no counter space to prepare your amazing Thanksgiving feast. That is, until you install a dual-purpose cabinet.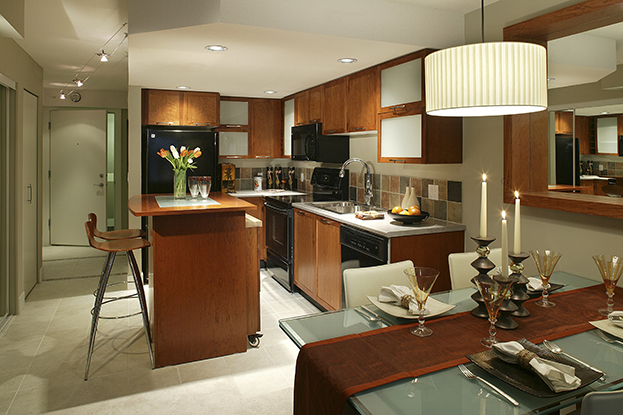 As you can see from the image above, the cabinet pulls in and out from under the island. The homeowners swapped the top of the cabinet with a chopping block to add an extra workstation. Even better, the actual cabinet provides extra storage without taking up valuable square footage. If you're thinking about installing these cabinets yourself, be sure to check out our cabinet cost estimators to see the average price in your area.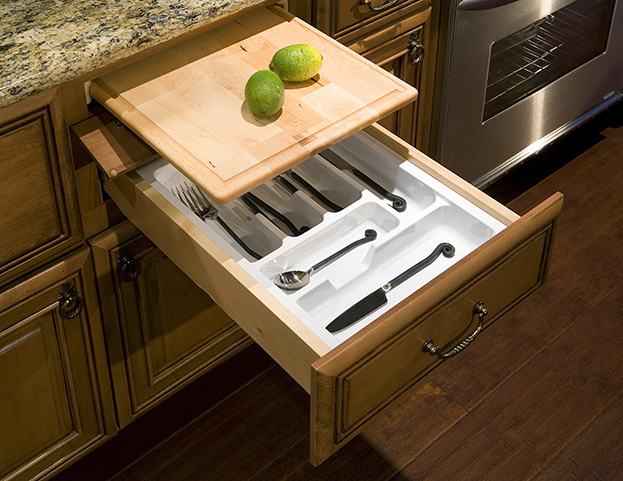 2. Built-In Cutting Board
Much like the cabinet base above, another small way to de-clutter your kitchen is to install a built-in cutting board. This doesn't only provide easy storage to your cutting board, but it also ensures your silverware is only an arm's length away, making your food prep more efficient.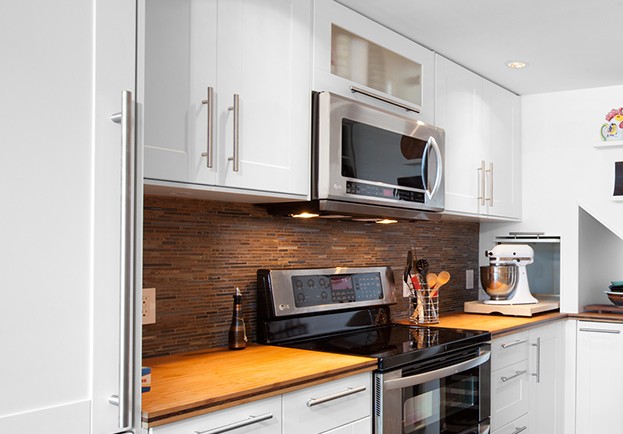 3. Appliance Garage
You can never see what's behind a wall until you open it up, but oftentimes, the answer is nothing. As a result, most homeowners are presented with hidden storage gems right in their kitchen.
If you take a close look in the back right corner of the image above, you will see an appliance garage with a slide-out tray. Borrowing space between the studs is not only clever, but it also lets you hide small appliances you don't often use. Additionally, the slide-out design ensures you won't throw out your back the next time you use your crockpot or mixer.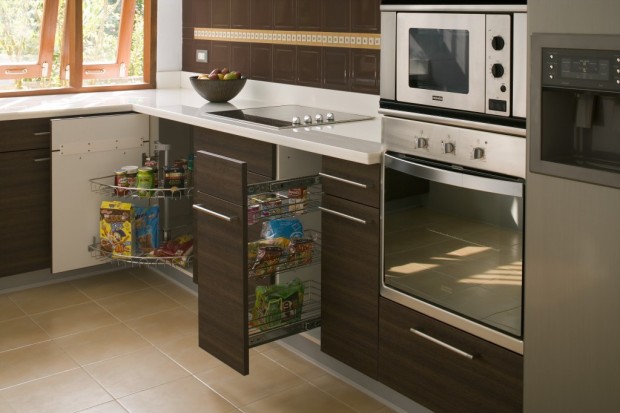 4. Pullout Pantry
As you saw above, there are many hidden storage gems in your kitchen. Another secret is the space between your fridge and the adjacent cabinet. In most cases, you will find a 10-inch gap. Bathroom contractors can easily install a large pullout pantry, de-cluttering your pantry and leaving more room for your kitchen appliances.
5. Baskets Above Cabinets
When remodeling, many homeowners think horizontal as opposed to vertical. Well, if your kitchen abides, the space between your top cabinets and the ceiling can become a terrific storage equalizer. Use baskets to add a rustic look or paint some old drawers and use those instead. Not only will they de-clutter your kitchen, but they could also provide a unique design element to your remodeled and organized kitchen.
More From Life Cheat Sheet: