6 Best Recipes for Making Meals Healthier With Lentils
Lentils are the power legume. Not only are they chock-full of protein, according to the Mayo Clinic, they are also high in fiber and low in fat, which makes them an ideal substitute for meat. On their own, lentils can be chalky and tasteless, but when prepared correctly, they shine. Here are six hearty lentil recipes that will help warm you up this winter. Whether you're attempting to cut back on the animal protein or just want to try something new, these heart-healthy recipes will yield dishes you feel good about eating — and they are even easy to prepare.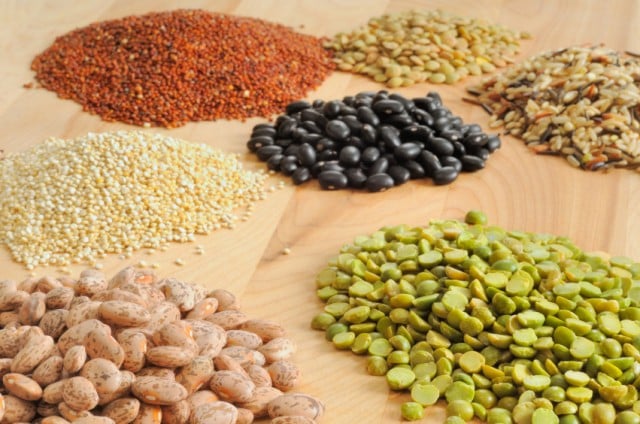 1. Curried Red Lentil Soup With Dried Cherries and Cilantro
Here's a soup from Cookie and Kate with "bold Indian flavors" that will turn the heat up this winter. If you're new to the lentil game, this vegan soup will start you off on the right foot, and it's all thanks to the complementary combination of red lentils, curry powder, and coconut milk. This vegan dish sounds complicated but is actually quite simple, and it will impress both your vegetarian and meat-eating guests.
Ingredients:
1 tablespoon olive oil
1 piece (about 2 inches) fresh ginger, peeled and finely chopped
6 garlic cloves, finely chopped
1 large shallot, finely chopped
2 large carrots, peeled and finely diced
1¼ teaspoons salt
2 teaspoons curry powder
¾ cup unsweetened coconut milk (reduced fat or regular), divided
5 cups water
1 cup dried red lentils, picked over and rinsed
⅓ cup coarsely chopped tart dried cherries
3 tablespoons finely chopped cilantro stems, plus 3 tablespoons cilantro leaves for garnish
Directions: Heat oil in a medium Dutch oven or saucepan over medium heat. Add chopped ginger, garlic, shallot, and carrots. Sprinkle a dash of the salt over the vegetables and cook until softened, stirring often, about 7 minutes. Add curry powder and cook, stirring continuously, until fragrant, about 1 minute. Add the rest of the salt, ½ cup of the coconut milk, the water, and lentils, and bring to a boil. Reduce heat, cover, and simmer until lentils and carrots are tender, about 8 to 10 minutes.
Pass 2 cups of soup through a fine sieve into a bowl to separate the solids from the liquids. Reserve the solids for later and return the strained liquid to the pot of soup. Let the soup cool slightly, then puree the soup in a blender until smooth. You may need to do this in batches, as you do not want to fill the blender jar more than halfway.  Reserve some cherries for garnish and stir the remaining into the soup, along with the cilantro stems. Ladle soup into four bowls and swirl in remaining ¼ cup coconut milk (1 tablespoon coconut milk per bowl). Garnish with cherries and cilantro leaves.
2. Lentil Stew
Next up is a hearty lentil stew recipe from Nourished Kitchen that is the perfect meatless dish for Sunday supper. After an indulgent weekend, cook up this healthy dinner and start off your week on the right foot. Combining winter vegetables, green lentils, and seasonings, this recipe is earthy, fresh, and seasonal.
Ingredients:
1½ cups

French green lentils

2 tablespoons

apple cider viengar

1 tablespoon

bacon fat

1 medium

yellow onion, finely chopped

2

bay leaves

¾ pound

celeriac

¾ pound

carrots

½ pound

parsnips

1 teaspoon

unrefined sea salt

1½ quarts

chicken stock

1

dried red chili pepper

2 bunches

mustard greens

Unrefined extra virgin olive oil

Balsamic vinegar
Directions: Pour the lentils into a large mixing bowl, cover with warm water by 2 inches, and stir in vinegar. Cover the bowl loosely with a kitchen towel and leave it in a warm spot in your kitchen for 8 to 12 hours. Drain the lentils and rinse them well. Melt the bacon fat in a heavy-bottomed stock pot over medium heat.
Toss the onions into the bacon fat and cook them until fragrant and translucent. Stir in celeriac, carrots, and parsnips. Sprinkle the vegetables with salt, cover the pot, and sweat for 6 to 8 minutes, stirring occasionally. Stir in lentils, chicken stock, chili pepper, and bay leaves. Simmer, uncovered, for 30 to 35 minutes, until lentils are tender.
Pluck out the chili pepper and bay leaves. Turn off the heat and stir in mustard greens. Cover and allow the greens to wilt in the residual heat of the lentils for about 5 minutes. Serve with olive oil and balsamic vinegar.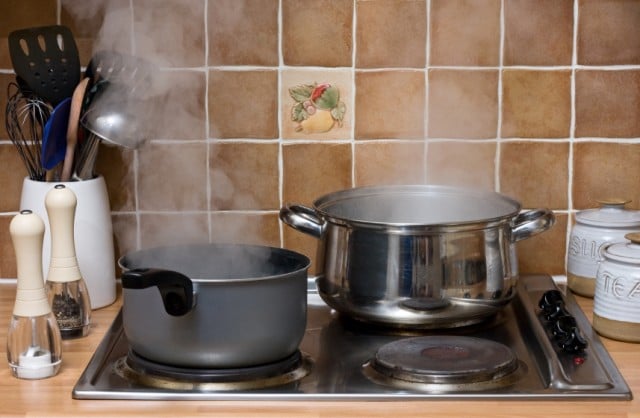 3. Lentil Salad With Feta
Another good detox dish starring lentils is this Lentil Salad With Feta adapted from the Williams-Sonoma Food Made Fast Series, Vegetarian, by Dana Jacobi, via Williams-Sonoma.com. This salad can be eaten as a light lunch or a side dish at dinner, and it packs in green lentils along with a handful of veggies. The only time-consuming step of this recipe involves cooking the green lentils, but once you have your legumes prepared, it's all smooth sailing.
Ingredients:
1 pound green lentils
1 carrot, halved
1 celery stalk, cut into 3 pieces
1 yellow onion, peeled and halved
5 fresh flat-leaf parsley sprigs
1 red onion, chopped
1 roasted red bell pepper, seeded and chopped
⅔ cup chopped fresh flat-leaf parsley
2 tablespoons red wine vinegar
1 tablespoon olive oil
½ cup crumbled feta cheese
Salt and freshly ground pepper, to taste
Directions: In a large saucepan over medium-high heat, combine the lentils, carrot, celery, yellow onion, parsley sprigs, and 8 cups water. Bring to a boil, reduce the heat to medium-low, cover, and simmer until the lentils are tender and the liquid has been absorbed, 30 to 35 minutes. Remove and discard the vegetables. Spoon out 2½ cups of the lentils for the salad. Set aside the remaining lentils to cool before storing for later use.
In a bowl, stir together the red onion, bell pepper, chopped parsley, and the 2½ cups lentils. Stir in the vinegar and olive oil. Add the feta and toss to combine. Season with salt and pepper and serve immediately. Serves 4 (makes about 6 cups cooked lentils total).
4. Mushroom Lentil Burgers
Here's a vegetarian dish from Cooking Light that will have your carnivores forgetting all about their beef. Mushroom Lentil Burgers are  proof that meat-free dishes can be both satiating and satisfying. These patties are packed with flavor thanks to juicy mushrooms, black beluga lentils, tart goat cheese, and garlic.
Ingredients:
1 tablespoon extra-virgin olive oil, divided
¾ cup chopped onion
2 garlic cloves, chopped
5 regular or whole-wheat hamburger buns, toasted and divided
6 ounces presliced cremini mushrooms
1 (8-ounce) pouch precooked black beluga lentils
4 teaspoons Dijon mustard, divided
2 teaspoons chopped fresh thyme
½ teaspoon freshly ground black pepper
¼ teaspoon kosher salt
1 large egg, lightly beaten
1 ounce goat cheese, crumbled
1½ tablespoons canola mayonnaise
½ cup baby arugula
Directions: Preheat broiler. Heat a large nonstick skillet over medium-high heat. Add 1 teaspoon oil to pan; swirl to coat. Add onion and garlic; sauté 3 minutes or until onion is tender. Remove from heat. Place one bun in a food processor; process until coarse crumbs form. Remove breadcrumbs from food processor; set aside. Combine mushrooms, lentils, 2 teaspoons mustard, and the next three ingredients (through salt) in food processor; pulse to combine.
Combine onion mixture, breadcrumbs, mushroom mixture, and egg in a large bowl, stirring well. Divide mixture into four equal portions, gently shaping each into a ½-inch-thick patty. Heat a large nonstick skillet over medium-high heat. Add the remaining 2 teaspoons oil to pan; swirl to coat. Add patties; cook for 4 minutes on each side or until browned. Remove patties from pan; arrange in a single layer on a baking sheet. Sprinkle patties evenly with cheese. Place under broiler for 2 minutes or until cheese is softened.
Combine canola mayonnaise and remaining 2 teaspoons mustard in a small bowl. Spread the top half of each of the remaining 4 buns with 2 teaspoons mayonnaise mixture. Top each bottom half of bun with a patty. Divide arugula evenly among burgers; top with top half of bun, mayonnaise-coated side down.
5. Red Lentil Curry
Next, we come to this rich dish of Red Lentil Curry from All Recipes. Red lentils, spices, seasonings, and tomato puree are all you need for lentil curry success, and then it's time to eat the fruits of your labor.
Ingredients:
2 cups red lentils
1 large onion, diced
1 tablespoon vegetable oil
2 tablespoons curry paste
1 tablespoon curry powder
1 teaspoon ground turmeric
1 teaspoon ground cumin
1 teaspoon chili powder
1 teaspoon salt
1 teaspoon white sugar
1 teaspoon minced garlic
1 teaspoon minced fresh ginger
1 (14.25-ounce) can tomato puree
Directions: Wash the lentils in cold water until the water runs clear. Put lentils in a pot with enough water to cover; bring to a boil, place a cover on the pot, reduce heat to medium-low, and simmer, adding water during cooking as needed to keep covered, until tender, 15 to 20 minutes. Drain. Heat vegetable oil in a large skillet over medium heat; cook and stir onions in hot oil until caramelized, about 20 minutes. Mix curry paste, curry powder, turmeric, cumin, chili powder, salt, sugar, garlic, and ginger together in a large bowl; stir into the onions. Increase heat to high and cook, stirring constantly, until fragrant, 1 to 2 minutes. Stir in the tomato puree, remove from heat, and stir into the lentils.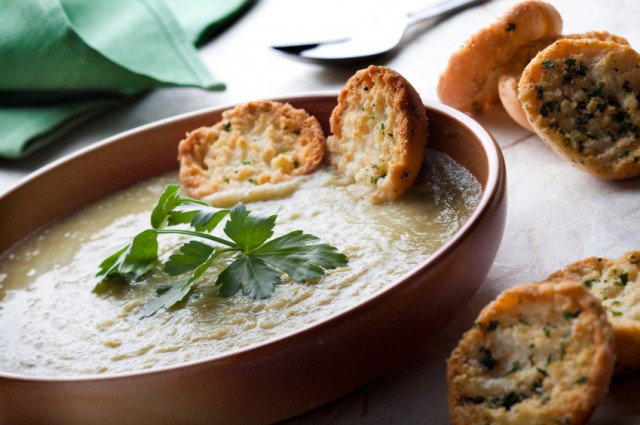 6. Lentil Soup With Cauliflower and Cheese
This Lentil Soup With Cauliflower and Cheese from Martha Stewart promises to warm your bones this winter, and it'll do so without promising to put fat on them. Brown lentils, the least expensive kind of lentil, are used in this recipe, and aside from those, the other stars on the ingredient list are likely already in your pantry.
Ingredients:
2 tablespoons extra-virgin olive oil
1 small onion, finely chopped (about 1 cup)
1 stalk celery, finely chopped (about ½ cup)
1 medium carrot, finely chopped (about ½ cup)
3 sprigs thyme, plus more for garnish
Coarse salt and freshly ground pepper
1 cup brown lentils, rinsed and drained
4 cups chicken broth
½ head cauliflower, cored, trimmed, and cut into small florets (about 3 cups)
3 ounces Gruyere and/or Parmesan cheese, shredded (1 cup)
Directions: Heat oil in a medium pot over medium-high heat. Add onion, celery, carrot, and thyme. Season with salt and pepper and cook, stirring occasionally, until vegetables are softened, about 8 minutes. Add lentils and broth; bring to a boil. Reduce heat, cover, and simmer until lentils are tender, about 30 minutes. Stir in cauliflower, increase heat to medium-high, and simmer just until cauliflower is crisp-tender, about 3 minutes. Remove thyme; season with salt and pepper.
Preheat broiler with rack 6 inches from heating element. Divide soup among 4 broilerproof ramekins or soup bowls. Top with cheese and broil until golden and bubbling, 3 to 4 minutes. Garnish with thyme and serve immediately.
More from Life Cheat Sheet: