6 Breakfast Dishes to Make for Dessert
With ingredients like eggs, potatoes, meats, and cheeses, it is easy to see how breakfast can become dinner; plus, who doesn't want to eat breakfast for dinner? But while the meal's savory nature gets promoted as a dinner dish, its sweet side can pull off a similar move by landing on your dessert table. Because, let's be honest, some of the breakfast recipes swirling around would need a serious sweet tooth to be able to stomach them first thing in the morning. Here are six breakfast recipes that really would make great desserts.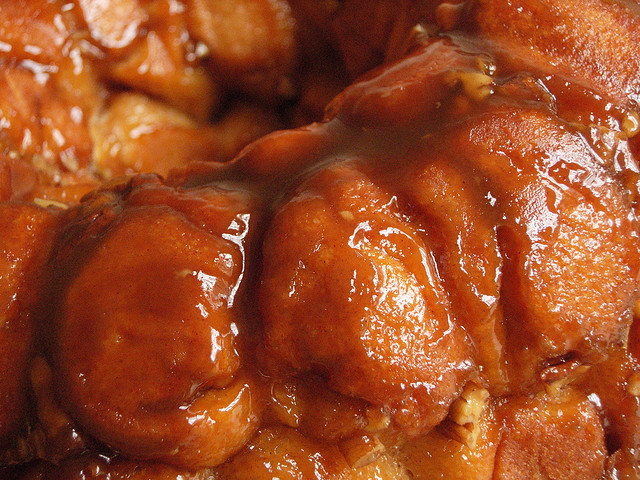 1. Cream Cheese Stuffed Monkey Bread
On its own, the sticky-sweetness of monkey bread could qualify as a dessert, but Pillsbury has taken it to another level of sweetness by stuffing the baked good with cream cheese in this recipe. Leftovers need to be stored in the fridge.
Ingredients:
¼ cup granulated sugar
½ teaspoon ground cinnamon
1 container (8 ounce) plain, honey-nut, or fruit-flavored cream cheese
2 cans (8 ounces each) Pillsbury refrigerated crescent dinner rolls or Crescent Recipe Creations refrigerated seamless dough sheet
¾ cup packed brown sugar
½ cup butter, melted
Directions: Heat oven to 350 degrees Fahrenheit. Grease 12-cup fluted tube cake pan with shortening or cooking spray. In small shallow bowl, mix granulated sugar and cinnamon. Unroll each can of dough into 1 large rectangle; if using crescent roll dough, press perforations to seal. Cut each rectangle into 8 rows by 3 rows, to make 24 pieces per rectangle (48 pieces of dough total).
Place about ½ teaspoon cream cheese on center of dough piece. Fold dough over cream cheese, and gently crimp it around cream cheese; roll in sugar-cinnamon mixture. Repeat with remaining dough pieces. Place cream cheese-filled dough balls in pan. Sprinkle with remaining sugar-cinnamon mixture. In small bowl, mix brown sugar and melted butter; pour over crescent pieces.
Bake 35 to 40 minutes or until golden brown. Cool in pan 10 minutes; run knife around edge of pan to loosen. Place heatproof serving plate over pan; carefully turn plate and pan over. Remove pan. Cool 10 minutes longer. Cover and refrigerate any remaining bread.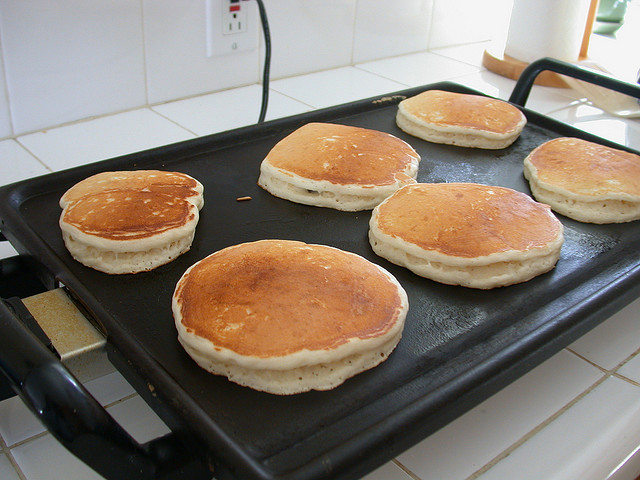 2. Pancake Cake with Maple Cream Frosting
A stack of pancakes resembles a layer cake anyway, but that is actually the goal in this recipe from Epicurious. Layers and layers of pancakes are stacked together with a decadent maple cream frosting filling. The cake can be made and assembled two hours before serving.
Ingredients:
1 cup spooned and leveled all-purpose flour
⅓ cup rye or whole wheat flour
2 tablespoons cornmeal
¼ cup granulated sugar
2 tablespoons light brown sugar
2 teaspoons baking powder
½ teaspoon salt
1¼ cups milk
2 large eggs
2 large egg yolks
2 tablespoons unsalted butter, melted, plus more for the pan
¾ teaspoon pure vanilla extract
Filling
11 ounces cream cheese, at room temperature
¼ cup whole-milk Greek yogurt
5 tablespoons maple syrup
3 tablespoons confectioners' sugar, sifted
Directions: To make the pancake layers, in a large bowl, whisk together the all-purpose flour, rye flour, cornmeal, granulated and brown sugars, baking powder, and salt. In a separate bowl, whisk together the milk, whole eggs, egg yolks, butter, and vanilla. Make a well in the center of the dry ingredients and fold in the wet just until moistened.
Coat 8-inch skillet with some melted butter and heat over medium-low heat. Pour ½ cup of the batter into the pan and cook for 1½ minutes, or until large bubbles appear on the surface of the pancake. Carefully flip the pancake over and cook for 1 minute longer, or until the underside is just cooked through. Transfer to a plate and repeat with the remaining batter to make six pancakes and let cool to room temperature.
For the filling, in a bowl, with and electric mixer, beat the cream cheese and yogurt until smooth. Beat in 4 tablespoons of the maple syrup and the confectioners' sugar until well combined.
To assemble, spread each pancake with one-sixth of the filling (about 5 tablespoons). Place one of the pancakes on a platter and stack the remaining pancakes on top. Drizzle the remaining 1 tablespoon maple syrup over the top of the cake.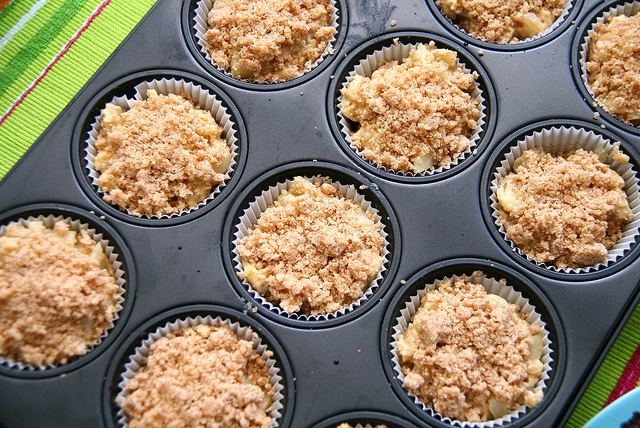 3. Apple Pie Muffins
At some point, muffins probably really become cupcakes. This recipe blurs the lines even further by adding pie to the equation. Rich and buttery, it is easy to imagine these muffins from AllRecipes.com in a bowl with a scoop or two of ice cream.
Ingredients:
2¼ cups all-purpose flour
1 teaspoon baking soda
½ teaspoon salt
1 egg
1 cup buttermilk
½ cup butter, melted
1 teaspoon vanilla extract
1½ cups packed brown sugar
2 cups diced apples
½ cup packed brown sugar
⅓ cup all-purpose flour
1 teaspoon ground cinnamon
2 tablespoons butter, melted
Directions: Preheat the oven to 375 degrees Fahrenheit. Grease a 12 cup muffin tin or line with paper muffin cups. In a large bowl, stir together 2¼ cups flour, baking soda and salt. In a separate smaller bowl, mix together the egg, buttermilk, ½ cup melted butter, vanilla, and 1½ cups of brown sugar until sugar has dissolved. Pour into the flour mixture and sprinkle the diced apple into the bowl as well. Stir just until everything is blended. Spoon into the prepared muffin tin, filling the cups to the top.
In a small bowl, stir together ½ cup of brown sugar, ⅓ cup flour, and cinnamon. Drizzle in 2 tablespoons of melted butter while tossing with a fork until well blended. Sprinkle this over the tops of the muffins. Bake for 25 minutes in the preheated oven or until the tops of the muffins spring back when lightly pressed.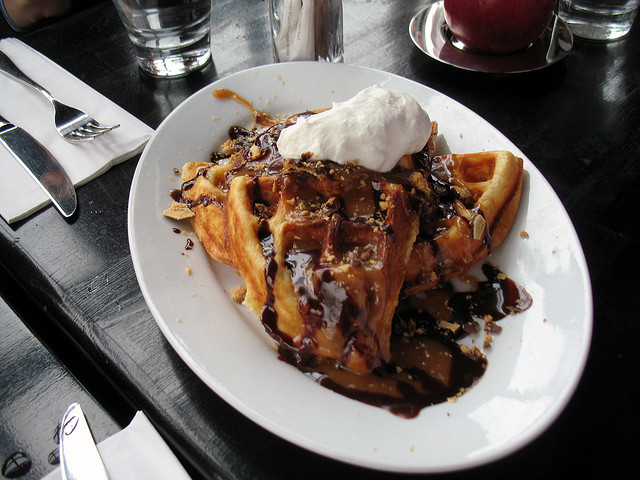 4. Reese's Peanut Butter Chocolate Waffles
With a ganache as part of the recipe, you know that the waffles from Celebrations will be over the top, and perfect as a dessert–and that is without even considering that there are also Reese's Peanut Butter cups in there too! You'll get two large waffles from the batter.
Ingredients:
Peanut Butter Waffles
1½ cups all purpose flour
3 teaspoons baking powder
1 tablespoons sugar
1 teaspoon salt
⅓ cup creamy peanut butter
1½ cups milk
2 tablespoons olive oil
1 teaspoons pure vanilla extract
10 Mini Reese's Peanut Butter Cups, coarsely chopped
Chocolate Ganache Glaze
1 cup semi-sweet chocolate, chopped
¼ cup heavy cream
1 tablespoon unsalted butter
Mini Reese's Peanut Butter Cups, (topping)
Directions: Preheat the oven to 200 degrees Fahrenheit. This is to keep the waffles warm before serving. To make the waffles, whisk together the flour, baking powder, sugar, and salt in a medium bowl. In a separate small bowl, whisk together the peanut butter, milk, olive oil, and vanilla. Add the peanut butter mixture to the dry ingredients, and mix until fully incorporated and smooth. Mix in the chopped peanut butter cups.
Lightly grease the waffle maker and, according to your manufactures instructions, heat the waffle maker until hot and ready. Carefully pour half of the batter into the middle of the waffle maker and bake until the edges are brown and crispy, about 5 minutes depending on your waffle maker. Repeat with the remaining batter. Place the waffles in the oven to stay warm while making the glaze.
To make the chocolate ganache glaze, place a heatproof bowl over a pot of simmering water. Place the chopped chocolate and the heavy cream in the bowl and melt the chocolate until smooth. Add the butter and whisk until smooth. To assemble the waffles, cut the large waffles into four smaller squares. Pour the chocolate glaze over the waffles and then top with mini peanut butter cups. Serve immediately and enjoy!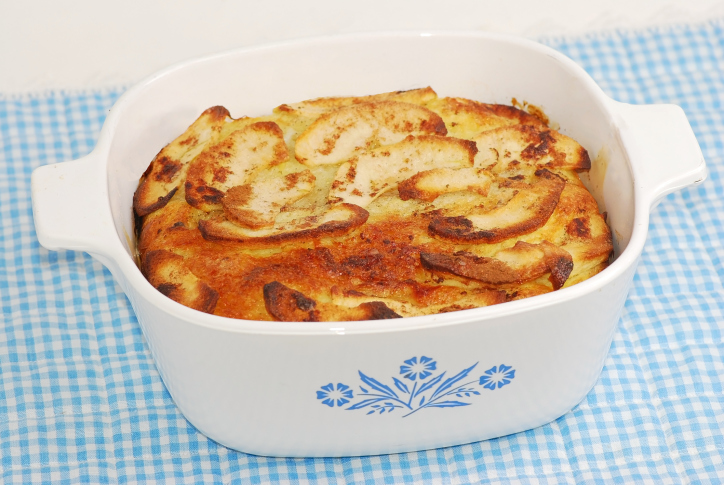 5. Baked Overnight Nutella French Toast
That creamy chocolate hazelnut spread known as Nutella adds a serious dose of sweetness to anything it touches, and can cause a dish to turn into dessert with a few dollops. The sugary goodness keeps coming in the French toast from Baked Perfection with maple syrup and a sweet based bread.
Ingredients:
6 eggs
two cups whole milk or heavy cream
1 teaspoon vanilla extract
½ cup maple syrup
1 loaf Challah or Brioche, sliced into 10 slices
Nutella
Butter
Directions: Butter a 9×13 inch baking dish. Pour a half-cup maple syrup on bottom. In a large bowl, whisk together the eggs, milk or cream, and vanilla extract until somewhat frothy and set aside.
Smear five slices of bread generously with Nutella and top with another slice each to make five sandwiches. Cut each diagonally into quarters. Soak each quarter in custard mixture for one to two minutes, flipping to coat evenly. Transfer to the prepared baking dish. Pour the rest of the custard over the top and dot the top with butter. Refrigerate overnight. Bake at 365 degrees Fahrenheit for 35 to 40 minutes until golden brown.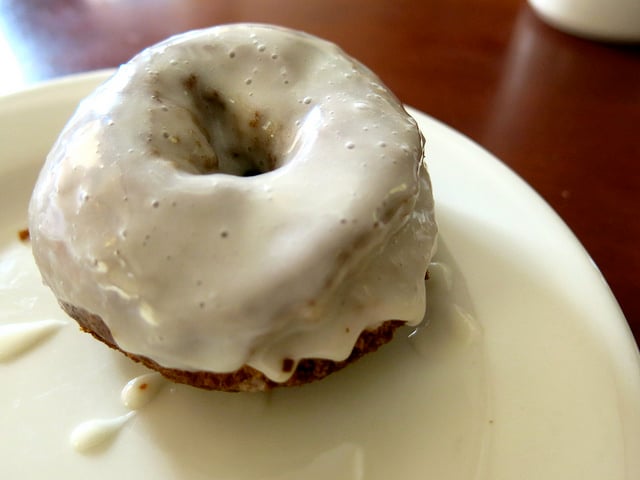 6. Cookies and Cream Donuts
Making donuts out of biscuit dough is a great way to avoid having to make the dough for a donut. Not Your Mommas Cookie took this principle, and gave the biscuit-turned-donut a cookies and cream flavoring by adding frosting and crushed sandwich cookies for a donut that is definitely dessert-worthy.
Ingredients:
1 can (8 biscuits) refrigerated large biscuits
vegetable Oil
½ can of white frosting–not whipped
½ cup crushed chocolate sandwich cookies (such as Oreos)
Directions: Place about 1½ to 2 inches of vegetable oil in a large skillet. Heat to approximately 325 to 350 degrees Fahrenheit. While oil is warming, remove biscuits from can and peel apart. Using a small, round cutter, cut a hole in the middle of each biscuit. If you save the middles, you can fry those as well for donut holes. When oil is ready, gently place 2-3 doughnuts at a time in oil until lightly browned on each side–they will cook quickly. Place on a plate lined with paper towels to drain when done.
Put ½ can of white frosting in a microwavable bowl. Microwave frosting for 10 to 15 seconds, or until the consistency of a thick glaze. Dip doughnuts into glaze and immediately sprinkle with crushed chocolate sandwich cookies.
More From Wall St. Cheat Sheet: