6 Breakfast Soup Recipes Boiling Away Mundane Morning Meals
Tired of eating oatmeal and cereal for breakfast? You can easily replace these mundane morning meals with healthy and hearty breakfast soups, including Apple-Spice Breakfast Soup, Chilled Blueberry Soup, and Breakfast Vegetable-Miso Soup With Chickpeas. Whether you're craving something hot, chilled, sweet, or savory, we guarantee these six soup recipes will cure your breakfast boredom!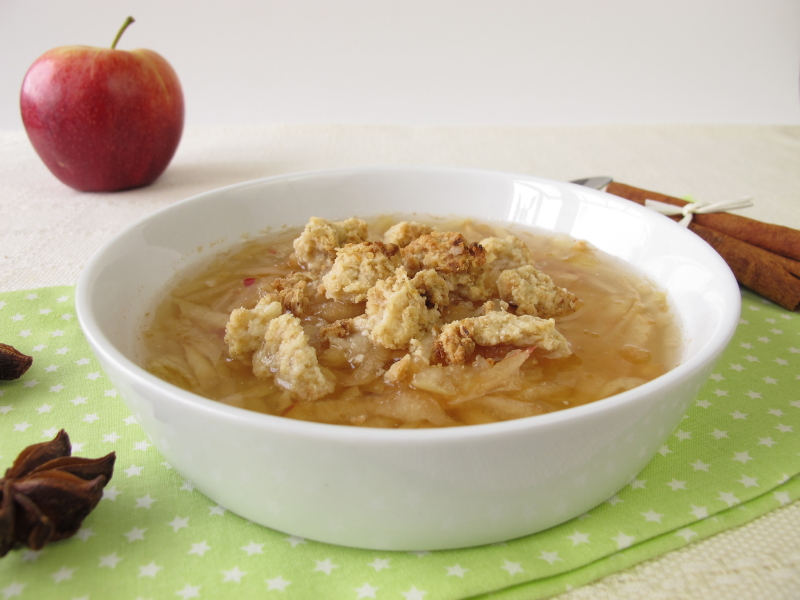 1. Apple-Spice Breakfast Soup
Martha Rose Shulman's recipe, via The New York Times, will get your day off to a sweet and spicy start. It's filled with warm spices, raisins, apples, honey, and yogurt, creating a rich and creamy morning meal. It yields 6 to 8 servings.
Ingredients:
1½ quarts water
4 large tart apples, unpeeled, cored, and diced (about 2½ pounds)
⅔ cup dark or golden raisins
1 teaspoon freshly grated nutmeg
1½ teaspoons ground cinnamon
¼ teaspoon ground cloves
½ teaspoon ground allspice
Pinch of salt
¼ cup honey
4 slices whole-wheat or multigrain bread (about 6 ounces), diced (3 cups tightly packed)
2 tablespoons fresh lemon juice
½ to 1 cup plain yogurt, to taste, plus additional for garnish
Thin lemon slices for garnish
Directions: Combine water, apples, raisins, spices, salt, and honey in a large soup pot. Bring to a boil, reduce the heat, and stir in the bread. Cover and simmer for 1 hour. The bread will fall apart and thicken the soup. Remove from the heat and stir in the lemon juice and yogurt. Serve hot or warm, or chill and serve cold. Garnish each serving with a dollop of yogurt and a thin slice of lemon.
2. Bacon-and-Egg Soup
If you're looking for a soup that's full of savory breakfast ingredients, Food Network's recipe is just what you need! Bacon, eggs, bread, chicken broth, and cheese create this mouth-watering morning meal. It yields 4 servings.
Ingredients:
½ pound slab or thick-cut bacon, cut into ¼-inch cubes
4 slices rustic Italian bread, cut into ½-inch cubes
2 tablespoons extra-virgin olive oil
Kosher salt and freshly ground pepper
2 cloves garlic, smashed
3 cups low-sodium chicken broth
1¼ cups grated Parmesan cheese, plus 1 small piece rind
4 tablespoons torn fresh parsley
4 large eggs
Directions: Preheat oven to 375 degrees Fahrenheit. Cook the bacon in a medium pot over medium heat until crisp, about 7 minutes. Transfer to a paper-towel-lined plate with a slotted spoon, then discard all but 2 tablespoons drippings from the pot. While the bacon cooks, toss the bread cubes with the olive oil on a baking sheet and season with salt and pepper.
Bake until golden and crisp, about 8 minutes. Add the garlic to the bacon drippings and cook until slightly golden, 1 to 2 minutes. Add the broth, 1½ cups water, Parmesan rind, and 2 tablespoons parsley; season with salt and pepper. Cover and bring to a boil, then reduce to a simmer and cook 10 minutes.
Adjust the heat so the broth is barely boiling. One at a time, crack each egg into a small bowl and gently slip into the broth. Poach until just set, about 2 minutes. Transfer the eggs with a slotted spoon to individual soup bowls. Stir 1 cup Parmesan and the remaining 2 tablespoons parsley into the broth and season with salt and pepper. Ladle the broth into the bowls and top with the croutons, bacon, and remaining ¼ cup Parmesan.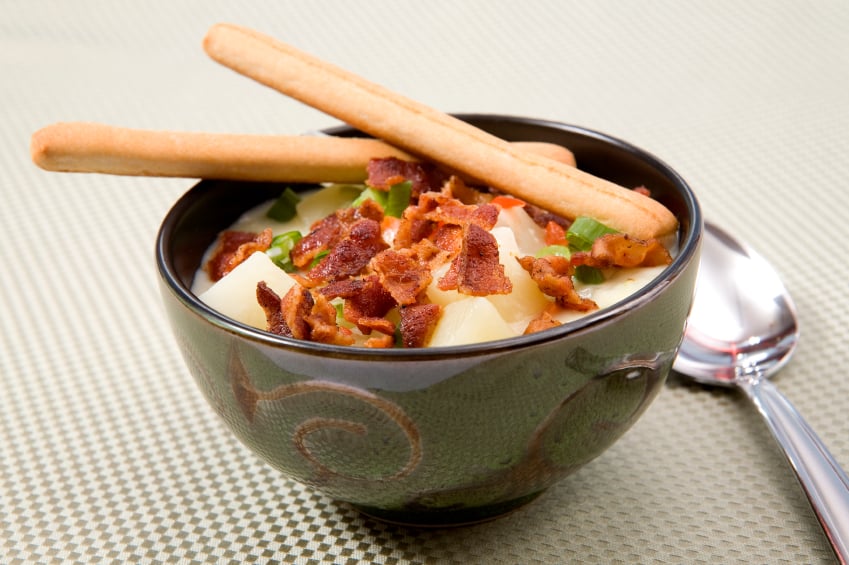 3. Breakfast Potato Soup
Filled with bacon, sausage, and eggs, Food & Wine's recipe packs several delicious breakfast foods into one stunning bowl of soup. It yields 4 servings. If you'd like to prepare your own zesty sauce to serve with this dish, we suggest making Gourmet's Homemade Ketchup via Epicurious.
Ingredients:
2 pounds Yukon Gold potatoes, peeled and quartered
Salt
2 cups chicken stock or low-sodium broth
1 cup heavy cream
1 cup whole milk
2 tablespoons unsalted butter
1 garlic clove, minced
¼ teaspoon freshly grated nutmeg
Freshly ground pepper
4 slices of bacon
2 breakfast sausage links
4 large eggs
2 tablespoons minced chives
Ketchup, for serving
Directions: In a large saucepan, cover the potatoes with water and bring to a boil. Add a large pinch of salt and boil over moderately high heat until the potatoes are tender, about 25 minutes. Drain well. Add the stock, cream, and milk to the saucepan and bring to a boil over moderate heat. Stir in the butter, garlic, and nutmeg. Add the potato pieces a few at a time, and with an immersion blender, purée until very smooth. Alternatively, blend the soup in a food processor.
Season with pepper and keep warm. In a medium skillet, cook the bacon over moderate heat until crisp, about 3 minutes per side. Transfer the bacon to paper towels to drain, then break into pieces. Pour off most of the fat from the skillet. Add the sausages to the skillet and cook over moderate heat, turning, until browned and cooked through, about 4 minutes. Chop the sausages. Fill a medium, deep skillet with water and bring to a boil.
Reduce the heat to maintain a gentle simmer. Crack each egg into a small bowl and tilt the egg into the simmering water. Poach over moderately low heat, pushing the eggs a few times with a slotted spoon so they don't stick to the skillet, until the whites are just firm and the yolks are runny, about 3 minutes. Ladle the soup into shallow bowls. Top with the bacon, sausage, and well-drained poached eggs. Garnish with the chives and pass the ketchup at the table.
4. Chilled Blueberry Soup
Packed with antioxidants and good-for-you ingredients, Cookie's recipe via Epicurious is a light and refreshing soup that won't disappoint. It yields 6 servings.
Ingredients:
½ cup sugar
Juice of 1 orange (or ¼ cup store-bought orange juice)
1 cup fruity white wine (or white grape juice)
2 cups fresh blueberries (or frozen ones, thawed, with their juice)
1 cup plain yogurt
Directions: In a deep saucepan, bring the sugar, orange juice, wine or grape juice, and 1 cup water to a boil. Boil for 1 minute, stirring. Add the berries and cook 1 minute more. Remove from heat and let cool completely. Purée the mixture, strain it through a fine sieve, and chill. Pour it into bowls and swirl in the yogurt just before serving.
5. Cleansing Breakfast Soup
Live Well Network's Cleansing Breakfast Soup is chock-full of superstar foods, including onion, carrots, potato, seaweed, spinach, beans, and aromatic spices. Seaweed may not be one of your regular go-to foods, but it should be! Greatist explains that 2 tablespoons of seaweed contain vitamins A and C, calcium, and iodine, an important mineral that isn't found in many foods.
Ingredients:
2 tablespoons camilina oil, organic ghee, or extra-virgin olive oil
1 medium onion, diced into small pieces
1 clove garlic, minced into small pieces
2 inches of fresh ginger, minced
2 stalks celery stalks, chopped
2 medium-sized carrots, chopped into small pieces
1 medium-sized sweet potato, cut into 1-inch cubes
1 tablespoons dried seaweed
3 stalks organic chard or a spinach bunch, chopped
1 can organic beans
6 cups stock (bone broth, chicken, beef, or vegetable stock)
Salt and pepper, to taste
¼ teaspoon celery seed
Pinch savory or marjoram
1 bay leaf
1 teaspoon of spices of your choosing: thyme, tarragon, bay leaf, turmeric, paprika
Directions: Heat oil in pan. Add the onions, garlic, and ginger and sauté over low heat until soft. Add carrots, celery, and spices of your choice. Sauté until slightly soft. Add broth and bring to boil. Add the yam and seaweed. Reduce to a simmer. Let simmer for 20 minutes, then add the beans. Simmer for an additional 40 minutes, adding the chard/spinach in at the very end.
6. Breakfast Vegetable-Miso Soup with Chickpeas
Thanks to this Breakfast Vegetable-Miso Soup with Chickpeas, you can enjoy a detoxifying and cleansing morning meal. Martha Stewart explains that miso contains bacteria and zybiocolin, which help eliminate free radicals from your body. The recipe yields 4 servings.
Ingredients:
2 tablespoons olive oil

½ yellow onion, chopped

2 garlic cloves, minced

2 celery stalks, diced

2 carrots, peeled and diced

1 cup chopped broccoli

1 cup cooked chickpeas

2 tablespoons white miso

Coarse salt
Directions: Heat olive oil in a pot over medium heat. Cook onion, garlic, celery, and carrots until tender, 6 to 8 minutes. Stir in broccoli and chickpeas; cook about 2 minutes. Add 4 cups water. Bring to a boil; reduce heat and simmer until vegetables are tender, about 10 minutes. Remove from heat. Dissolve miso in 2 tablespoons cool water and stir into soup. Season with salt.
More from Life Cheat Sheet:
Want more great content like this? Sign up here to receive the best of Cheat Sheet delivered daily. No spam; just tailored content straight to your inbox.