6 Candy Recipes for a Perfectly Paleo Easter Basket
That big basket chock full of Easter candy is about to get a Paleo makeover. Some holidays you just can't imagine without candy — and Easter is one of them. There is no straightforward solution when it comes to chocolate and the Paleo diet, but many adherents to the lifestyle have created Paleo versions of chocolate candies, and most are willing to permit chocolate in some form. So get ready, because you'll want baskets brimming with these six candy recipes year round — not only at Easter.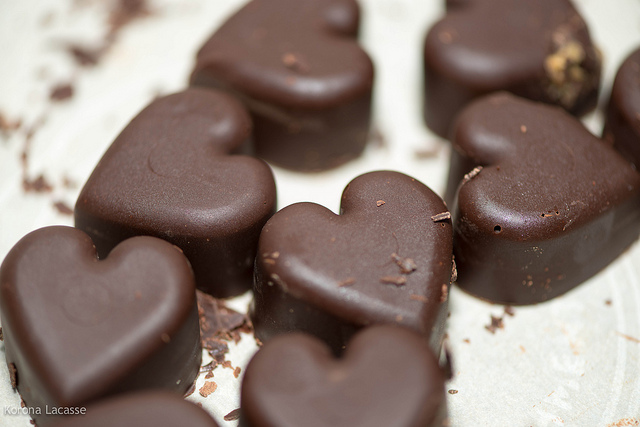 1. Paleo Chocolate Caramels
A chocolate shell encasing a gooey caramel filling is no longer reserved for Caramel Cadbury Eggs. Against All Grain created a Paleo version, and while it may not be shaped like an egg, it is still a perfect candy for Easter.
Ingredients:
1/2 cup honey
1 1/2 tablespoons almond butter (smooth & with sea salt only)
3 teaspoons unsalted grassfed butter, or raw cacao butter for dairy free
1 teaspoon water
1/2 teaspoon pure vanilla extract
1 cup dairy-free chocolate chips
1/2 teaspoon coconut oil
Directions: Bring the honey to low boil and simmer for 10 minutes, swirling the pan occasionally until the honey is deep amber color. Remove from the heat and add the almond butter, unsalted butter, vanilla, and water. Let it cool for 10 minutes in the pan.
Pour caramel out onto a tray lined with parchment paper and cool to room temperature, for about 30 minutes and the caramel is pliable. Gently melt the chocolate and coconut oil in a bowl set over boiling water, or a double boiler. Pour the melted chocolate into candy molds, filling half way full.
Pinch off small pieces of caramel and roll into a ball between your hands. Place the caramel at the center of the chocolate. Continue filling the molds to the top with chocolate. Refrigerate to harden for 1 hour.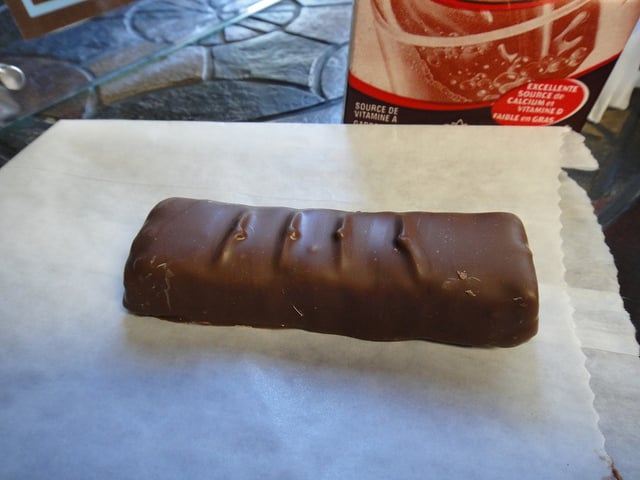 2. Paleo Twix Bars
To get your Twix fix, try Healthful Pursuit's no bake Twix bars. They need to be kept in the freezer until ready to serve, so keep that in mind if you plan on putting them in anyone's Easter baskets.
Ingredients:
Shortbread
1 cup macadamia nuts
1/4 cup maple syrup
1/4 teaspoon vanilla extract
1/8 teaspoon sea salt
Caramel
100 grams pitted medjool dates (approximately 6 dates)
3 tablespoons nut or seed butter; I used sunflower seed butter
Pinch sea salt
Water, optional
Chocolate Coating
3/4 cup (150 grams) dairy-free chocolate chips, melted
Directions: To make the shortbread, line baking sheet with parchment paper and set aside. Plug in your food processor and add in macadamia nuts. Process until macadamia nuts convert into a flour consistency. Add in maple syrup, vanilla extract, and sea salt. Process just until ingredients are well incorporated.
Using a tablespoon, scoop mixture and roll into a ball. Shape the ball into a long tube and place down on parchment paper (should be around 2 1/2 to 3 inches long.) You can use a knife to smooth sides and top of shortbread. Place baking dish in your freezer. Now on to making the caramel.
Place dates, sun butter, sea salt, and water in food processor. Process until all ingredients have been well mixed. Take out baking sheet from the freezer and top each shortbread stick with your caramel — use a tablespoon to help you scoop the mixture out of the processor, and using your hands, place the caramel on top of the shortbread to cover it completely. Place baking dish back in your freezer.
Once you have your chocolate chips all melted, dip each stick into the chocolate and place it back on the parchment paper — make sure sticks are 100 percent covered with chocolate! Place baking sheet back into the freezer and leave it there overnight. Enjoy and love life! If want to save sticks for later, just make sure to either keep them in the refrigerator or freezer.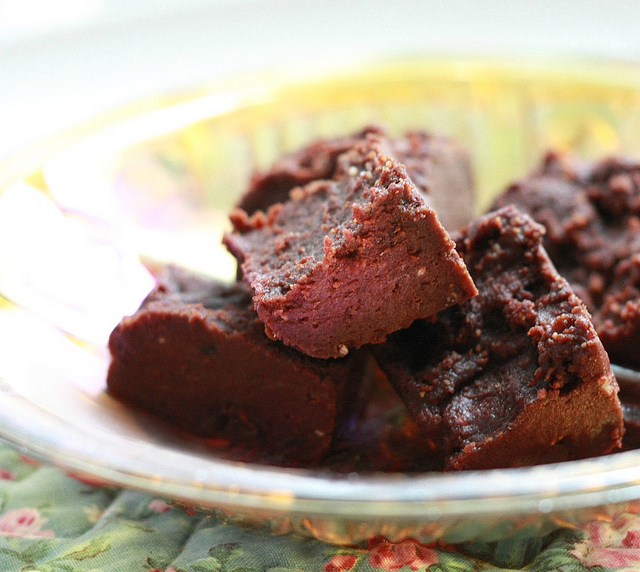 3. Chocolate Fudge
A very ripe banana is the sweetener in this fudge recipe from Chocolate Covered Katie, but if you feel that isn't doing the trick, you can add dash of your preferred sweetener. When it is not firm, the fudge doubles as a frosting.
Ingredients:
2 tablespoons peanut butter
2 tablespoons coconut butter
2 tablespoons cocoa powder (10 grams)
1/2 a medium, very ripe banana (80 grams)
1/16 teaspoon salt (more if using unsalted peanut butter)
Directions: Combine all ingredients in a food processor or blender (I use the Magic Bullet.) Scoop into a container or even a little pie pan, and put in the fridge or freezer so it will firm up.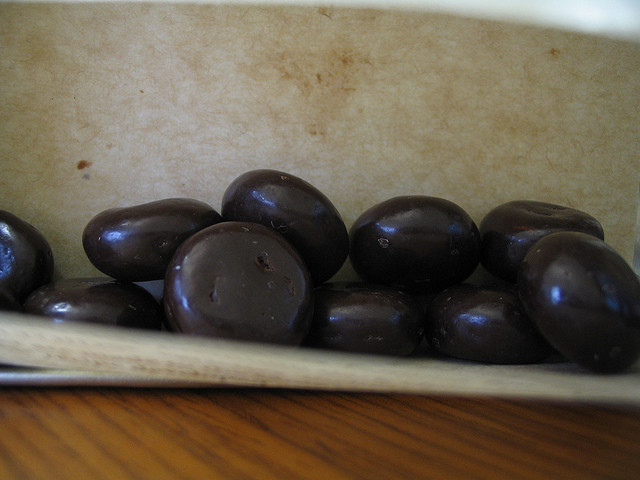 4. Junior Mints
When it comes to these chocolate, peppermint candies, Kramer on Seinfeld said it best. "Who's gonna turn down a Junior Mint? It's chocolate, it's  peppermint — it's delicious!" Now, it can also be classified as Paleo, thanks to My Whole Food Life. You can follow the recipe for coconut butter, or purchase your own. 

Ingredients:
1/2 cup homemade coconut butter
1/2 teaspoon peppermint extract
1 dark chocolate bar
2 tablespoons milk (such as almond milk)
Directions: In a food processor, combine the coconut butter and peppermint. Scoop out little balls and set them on a parchment lined plate — a melon baller can help form the balls.
Stick the balls in the freezer. Once the balls are frozen, prepare the chocolate. Using a double boiler, melt the chocolate and milk. Once melted, take each frozen ball and cover it in chocolate. You need to work quickly so the warm chocolate doesn't melt the coconut balls.
Once all the balls are covered in chocolate, stick them in the fridge to firm up. If you want to add a sweetener to this, you can add 1-2 teaspoons of maple syrup or honey. Add the sweetener when you are mixing the coconut butter and peppermint. These homemade junior mints should be stored in the fridge or freezer. They should last for a couple weeks in the fridge and even longer in the freezer.
5. Coconut "Mounds" Bark
In Living Healthy's recipe, unsweetened shredded coconut is combined with honey, vanilla, and chocolate for a perfectly Paleo way to enjoy a "Mounds" bar.
Ingredients:
1 cup coconut oil, melted
2 cups shredded coconut, unsweetened
2 teaspoon vanilla extract
1 tablespoon raw honey
1 cup chocolate chips or homemade chocolate
Directions: In a large bowl mix the coconut oil with the shredded coconut, vanilla and honey. Spread mixture evenly across the bottom and edges of an 8 x 8-inch dish lined with parchment paper and freeze until it hardens. Melt the chocolate chips in a double boiler over simmering water and pour it over the frozen coconut. Return dish to the freezer and after chocolate has set, chop into small pieces. Keep frozen.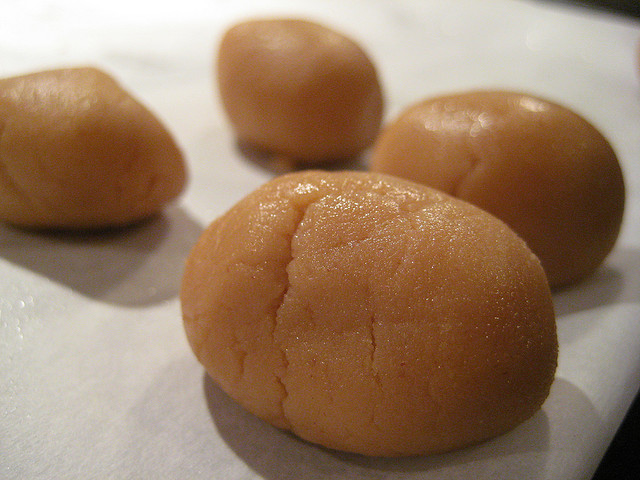 6. Peanut Butter Eggs
Cadbury isn't the only name in the egg-shaped candy game; Reese's is in on the action too with peanut butter filled chocolate eggs. To make Paleo peanut butter eggs, follow this recipe from Detoxinista.
Ingredients:
1/2 cup organic, natural peanut butter (creamy or crunchy, your choice)
2 tablespoons pure maple syrup
1 tablespoon coconut flour
1/4 teaspoon of sea salt (add only if your peanut butter is unsalted)
1/2 cup dark chocolate chips
1 teaspoon coconut oil
Directions: In a medium bowl, combine the peanut butter, maple syrup, coconut flour, and salt (if using.) Mix very well, until a uniform batter is formed. Use a spoon to scoop the batter into 6 balls, and use your hands to shape the dough into egg-like shapes. Arrange the 6 eggs shapes on a plate lined with parchment paper, and place in the freezer to set.
While the peanut butter middles are setting in the freezer, melt the dark chocolate chips and stir in the coconut oil. Remove the the peanut butter middles from the freezer, and dunk each one into the chocolate mixture, so that they are completely coated. Return the chocolate covered pieces to the parchment paper, and spoon any additional chocolate over the tops for a thicker chocolate coating, if you like. Allow to set in the freezer for at least 10 more minutes before serving.
More From Wall St. Cheat Sheet: