6 Classic Cookie Recipes to Bake This Holiday Season
Christmas cookie baking is an annual holiday tradition, so it shouldn't come as a surprise that December 4 is especially marked as National Cookie Day. Families and friends all across the world gather together during the month of December to bake Christmas classics, while also adding new cookies to the mix, and that's why the 12th month of the year is especially a sweet one. Some cookie recipes are forever engrained in our loved ones' memories, and others are dutifully consulted year after year, but just in case you need to refresh your memory, we have your 6 most classic Christmas cookies right here. So pull out your baking supplies and preheat your oven — 'tis the season to bring sugar and holiday cheer to your home!
1. Spritz Cookies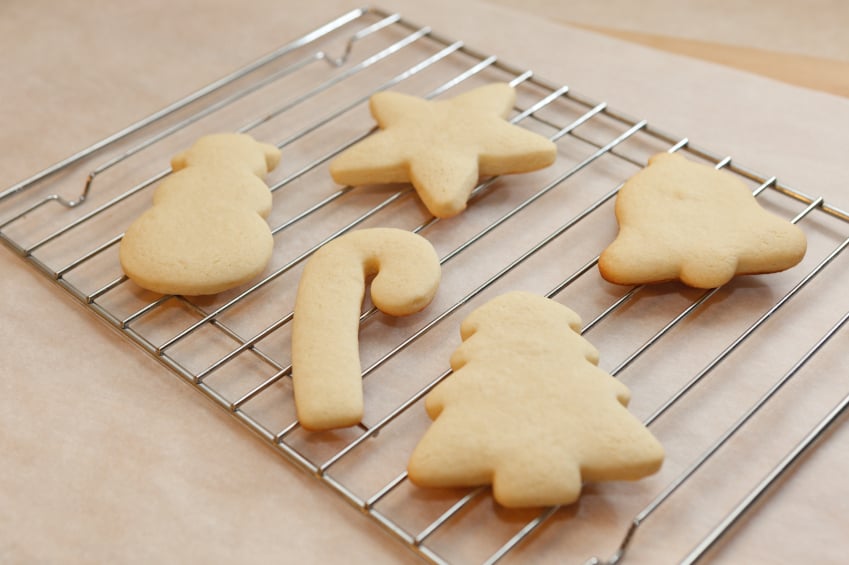 Here's a recipe from Cooking Channel TV for the spritz cookies we all know and love. These sweet treats are perfect to make with the little ones as they come together in no time and then are ready for decoration. The key ingredient in Spritz Cookies is almond paste, so once you have that, you're ready to bake. Grab a piping bag and some cookie cutter shapes and you're good to go. Don't forget the sprinkles!
Ingredients:
1 package almond paste
⅓ cup sugar
2 egg whites
¾ cup (1½ sticks) unsalted butter, room temperature
½ teaspoon almond extract
2 cups all-purpose flour
¼ teaspoon salt
Directions: Break up the almond paste in the bowl of your mixer. Add the sugar and mix on medium-low speed, using the beater attachment, until the almond paste is broken up into small pieces. Add one egg white and continue mixing until the almond paste is very smooth. Scrape down the bowl and add the second egg, mix to incorporate. Add the softened butter and beat on medium speed until the mixture is light and fluffy, about 1 minute. Scrape down the sides, then mix in the almond extract. Add the flour and salt, mix on low speed just until it is incorporated and very smooth. Preheat oven to 350 degrees Fahrenheit. Line cookie sheets with parchment.
Bake the cookies for about 5 minutes and then rotate the tray. If you are baking more than one tray at a time, then also rotate from top to bottom in the oven.
2. Walnut Snowball Cookies
Next up are the Walnut Snowball Cookies that cake our fingers and mouths in powdered sugar (totally worth the mess). These cookies have been delighting consumers for years, and this version from Simply Recipes hits the doughy cookie formula spot-on. Requiring only 7 ingredients, these cookies are some of the easiest you'll be baking this holiday season, but sometimes, simplicity is best, and you can do no wrong with these sweet treats.
Ingredients:
1 cup all-purpose or cake flour
1½ cups walnuts, finely chopped
2-3 tablespoons sugar
1 teaspoon vanilla extract
¼ pound butter at room temperature
Pinch of salt
Powdered sugar, to coat
Directions: Preheat the oven to 300 degrees Fahrenheit and prepare a large cookie sheet. Mix all the dry ingredients (flour, walnuts, salt, sugar) in a large bowl. Add the vanilla extract. Add the butter in little pieces, and combine everything together with your hands until the mixture looks like a coarse meal with nut bits in it. Form the dough into small balls no larger than a walnut and place on the cookie sheet, spaced at least an inch apart from each other.
Bake for 35 minutes. When they are still warm, but cool enough to touch, roll the cookies in some powdered sugar. Set aside on a rack to cool completely. When cool, dust again in powdered sugar.
3. Sugar-Cookie Cutters
Here's another classic recipe from Martha Stewart that is perfect for young bakers. Sugar-Cookie Cutters are fun to make and delicious to eat, and they leave room for young ones' imagination to run wild. This recipe is easy, calls for only 7 ingredients, and makes a dozen cookies. It can be doubled, but when you're likely to already be making multiple batches of other cookies this season, 12 sugar cookies sounds just about right. Follow Martha's step-by-step instructions and get your kids into the kitchen early.
Ingredients:
2 cups all-purpose flour, plus more for dusting
½ teaspoon baking powder
¼ teaspoon salt
1 stick unsalted butter, softened
1 cup sugar
1 large egg, room temperature
1 teaspoon pure vanilla extract
Directions: Whisk together flour, baking powder, and salt in a bowl. Beat together butter and sugar with a mixer on medium-high speed until pale and fluffy. Beat in egg and vanilla. Reduce speed to low and gradually add flour mixture until combined. Shape dough into a disk and wrap in plastic. Refrigerate until firm but still pliable, at least 30 minutes or up to 3 days. Preheat oven to 325 degrees Fahrenheit. Transfer half of dough to a lightly floured piece of parchment; roll to just under a ¼-inch thick. Transfer dough on parchment to a baking sheet and freeze until firm, 30 minutes. Repeat with other half of dough.
Line 2 baking sheets with parchment. Using a craft knife and the template (or a cookie cutter), cut out cookies and space 2 inches apart on parchment-lined baking sheets. Refrigerate until firm, about 15 minutes. Bake until golden on edges, 12 to 15 minutes. Let cool completely on sheets on wire racks.
4. Peanut Butter Blossoms
Peanut butter and chocolate are a match made in dessert heaven, and when you add Hershey's Kisses into the mix, no one's self-control can be trusted. Whip up Peanut Butter Blossoms via this recipe from Betty Crocker and prepare your tastebuds for the peanut butter cookies studded with Kisses. These cookies find themselves on dessert tables time and time again for a reason, and for better or for worse, they're dangerously easy to make.
Ingredients:
½ cup granulated sugar
½ cup packed brown sugar
½ cup creamy peanut butter
½ cup butter or margarine, softened
1 egg
1½ cups flour
¾ teaspoon baking soda
½ teaspoon baking powder
Additional granulated sugar
About 36 Hershey's Kisses
Directions: Heat oven to 375 degrees Fahrenheit. In a large bowl, beat ½ cup granulated sugar, the brown sugar, peanut butter, butter and egg with electric mixer on medium speed, or mix with spoon, until well blended. Stir in flour, baking soda and baking powder until dough forms.
Shape dough into 1-inch balls; roll in additional granulated sugar. On ungreased cookie sheets, place about 2 inches apart.
Bake 8 to 10 minutes or until edges are light golden brown. Immediately press 1 Kiss in the center of each cookie. Remove from cookie sheets to cooling rack.
5. Gingerbread Cookies
We can't forget gingerbread – the quintessential flavor of the Christmas season. Some revelers prefer their gingerbread in cake form, while others enjoy it more as cookies. If you're in camp cookie, we have the perfect recipe for you from Food.com. These gingerbread cookies have the perfect cocktail of ginger, cinnamon, cloves, and all-spice, and they don't mess around with their molasses or dark brown sugar, either. The classic cookies are ones that will never go out of style, which is why this is one recipe to definitely commit to your memory bank.
Ingredients:
3 cups all-purpose flour
1½ teaspoons baking powder
¾ teaspoon baking soda
¼ teaspoon salt
1 tablespoon ground ginger
1¾ teaspoons ground cinnamon
¼ teaspoon ground cloves
6 tablespoons unsalted butter
¾ cup dark brown sugar
1 large egg
½ cup molasses
2 teaspoons vanilla
1 teaspoon finely grated lemon zest (optional)
Directions: Preheat oven to 375 degrees Fahrenheit. Prepare baking sheets by lining with parchment paper. In a small bowl, whisk together flour, baking powder, baking soda, salt, ginger, cinnamon, and cloves until well-blended. In a large bowl beat butter, brown sugar, and egg on medium speed until well-blended. Add molasses, vanilla, and lemon zest and continue to mix until well-blended. Gradually stir in dry ingredients until blended and smooth. Divide dough in half and wrap each half in plastic. Let stand at room temperature for at least 2 hours or up to 8 hours.
Preheat oven to 375 degrees Fahrenheit. Grease or line cookie sheets with parchment paper. Place 1 portion of the dough on a lightly floured surface. Sprinkle flour over dough and rolling pin. Roll dough to a scant ¼-inch thick. Use additional flour to avoid sticking. Cut out cookies with desired cutter. Space cookies 1½-inches apart. Bake 1 sheet at a time for 7 to 10 minutes. Remove cookie sheet from oven and allow the cookies to stand until the cookies are firm enough to move to a wire rack.
6. Chocolate Crinkle Cookies
Last but not least: Chocolate Crinkle Cookies from Williams-Sonoma. Santa will give you double the presents if you leave these for him to eat on Christmas Eve. You don't have to worry about these cookies' aesthetics, as they're supposed to puff and crackle in the oven, and once again, they're great to bake with kids (with your kids in the kitchen, not in the recipe!).
Ingredients:
½

 cup confectioners' sugar
1⅔ cups all-purpose flour
1/2 cup unsweetened cocoa powder
1½  teaspoons baking powder
¼ teaspoon salt
8 tablespoons (1 stick) unsalted butter, at room temperature
1¼ cups sugar
2 eggs

½

teaspoon vanilla extract
Directions: Preheat an oven to 350 degrees Fahrenheit. Grease 2 baking sheets with butter. Put the confectioner's sugar into a bowl and set aside. Mix the ingredients. In another bowl, using a wooden spoon, stir together the flour, cocoa, baking powder, and salt. Set aside. In a large bowl, using an electric mixer, beat the butter and sugar on medium speed until creamy, about 3 minutes. Turn off the mixer and scrape down the bowl with a rubber spatula. Add 1 egg and beat on medium speed until blended. Add the other egg and vanilla and beat until blended. Turn off the mixer and add the flour mixture. Beat on low speed just until blended.
Using a tablespoon, scoop up a rounded spoonful of dough. Scrape the dough off the spoon into the palm of your other hand. Roll the dough into a ball. Roll the ball in the confectioner's sugar until covered. Place the balls on a prepared baking sheet. Repeat, spacing the balls about 2 inches apart. When 1 baking sheet is full, put it in the oven and bake the cookies until they are crackled and puffed, 10 to 12 minutes. Using oven mitts, remove the baking sheet from the oven and set it on a wire rack for 15 minutes.
Using a metal spatula, move the cookies onto the rack and let cool completely. Repeat with the rest of the cookies. Makes about 24 cookies.