6 Creative Cucumber Recipes to Enjoy Your Summer Stockpile
Crunchy and fresh cucumbers go well in many dishes, but they don't have much flavor to offer by their lonesome. The vegetables grow in abundance and are a versatile, relatively simple option that can be incorporated into almost any course of a meal. Try any of these six recipes to get your crispy, refreshing cucumber fix — these are all great year-round, particularly for a cool-down treat in the heart of summer!
1. Cucumber Sorbet
Is your sweet tooth begging for some love? Cucumbers can be used for dessert, too! Cool off with a light cucumber sorbet after dinner, courtesy of Spicy Salty Sweet. This recipe does require an ice cream maker.
Ingredients:
2 pounds Persian cucumbers, peeled and chopped
2 tablespoons fresh-squeezed lime juice
⅔ cup sugar
⅔ cup water
½ vanilla bean
Directions: Purée cucumbers and lime juice in a blender or food processor and set aside.

Heat water and sugar in a saucepan on the stove, stirring until the sugar completely dissolves. Steep the vanilla bean in the simple syrup for 10 minutes (you can use a bean you've already split and used to impart flavor, or clean and dry this bean when you're done to reuse).

Mix cucumber purée and simple syrup together. Push the mixture through a sieve, to get out any seeds; the batter will be slightly pulpy, but mostly liquid. Put vanilla bean back in mixture to steep. Cover and refrigerate for at least 5 hours, preferably overnight. Freeze according to your ice cream maker's instructions, and use ice cream maker as per its instructions to achieve final sorbet texture.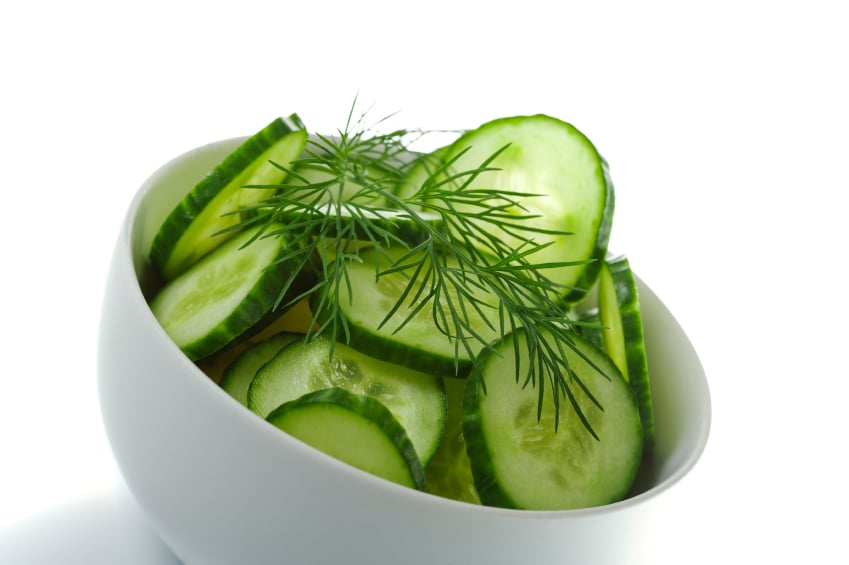 2. Viennese Cucumber Salad
Cucumber salad is a great option for individuals looking for a guilt-free, yet delicious snack. This recipe from Smitten Kitchen isn't your average pickling process. Instead, it is a fainter pickling treatment that incorporates garlic for an added element of flavor. It yields 4 cups; preparation and standing time take about an hour and 20 minutes, with an added chill time of 1-6 hours.
Ingredients:
2 large seedless cucumbers (about 2 pounds)
1 tablespoon salt

⅓

 cup white-wine vinegar

¼

 cup water
2 teaspoons sugar
1 garlic clove, forced through a garlic press
1 teaspoon dill seed
Directions: Score cucumbers lengthwise with a fork and slice thin, preferably with slicing disk of a food processor. In a large bowl toss cucumbers with salt and let stand 1 hour.
In a small saucepan bring vinegar and water to a boil with sugar, garlic, and dill seed, stirring until sugar is dissolved, and let dressing cool. In a colander drain cucumbers and rinse under cold water.
Drain cucumbers well, squeezing out excess liquid. In a bowl combine cucumbers with dressing and marinate, covered and chilled, at least 1 hour and up to 6 hours. Note: After about two hours cucumber skin will discolor, but there will be no effect on flavor.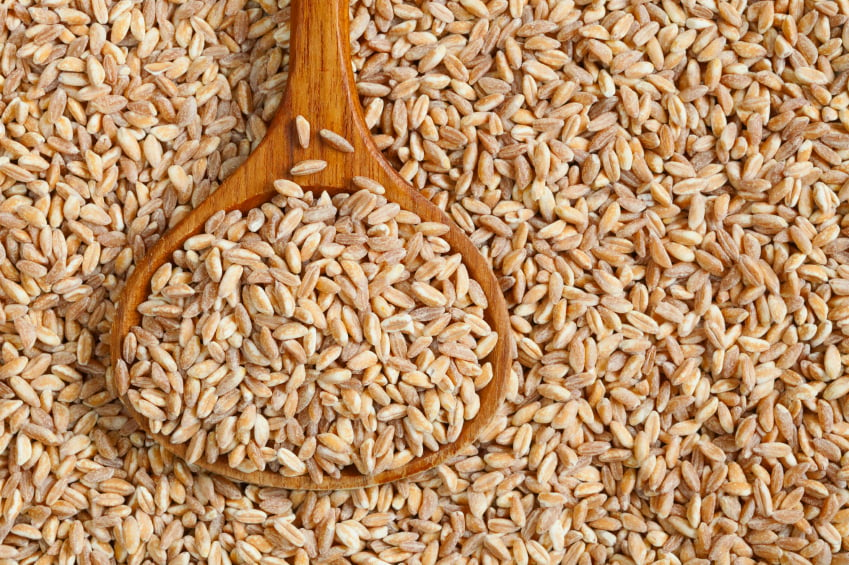 3. Farro and Cucumber Salad
Farro, a unique wheat ingredient, can be a delicious complement to cucumber. Farro can be cooked 3 days ahead of time, and the vinaigrette in this recipe can be made 1 day ahead, then chilled until serving. This recipe from Bon Appetit takes about 50 minutes to complete and yields 4 servings.
Ingredients:
1 cup farro
Kosher salt
2 cups 1-inch pieces pumpernickel bread
5 tablespoons olive oil, divided
Freshly ground black pepper
1 teaspoon caraway seeds
1 tablespoon white wine vinegar
1 teaspoon Dijon mustard

½

 teaspoon honey
3 small or 1 large cucumber, cut into 1-inch pieces
4 baby red or yellow beets, very thinly sliced

¼

 cup dill sprigs

¼

 cup fresh flat-leaf parsley leaves
Directions: Cook farro in a medium pot of boiling salted water until tender but still al dente, 30–40 minutes. Drain and let cool.
Meanwhile, preheat oven to 400 degrees Fahrenheit. Toss bread with 2 tablespoons oil on a rimmed baking sheet, squeezing bread to help it absorb oil; season with salt and pepper. Toast until crisp but not hard, 10–15 minutes. Let cool.
Toast caraway seeds in a dry small skillet over medium heat, tossing, until fragrant, about 1 minute. Coarsely chop caraway seeds. Whisk vinegar, mustard, honey, and chopped caraway seeds in a small bowl. Gradually whisk in remaining 3 tablespoons oil; season vinaigrette with salt and pepper.
Toss cucumbers, beets, dill, parsley, farro, croutons, and dressing in a large bowl; season with salt and pepper.
4. Cucumber Mango Salsa
 This recipe from All Recipes is at once zesty and sweet — a great appetizer dish to serve alongside tortilla chips at a picnic. The salsa takes about 30 minutes to prepare and should be chilled for two hours before serving.
Ingredients:
3 mangos; peeled, seeded and diced
1 cucumber; peeled, seeded, and diced
2 jalapeño peppers, seeded and finely chopped
1 large onion, finely diced
1 clove garlic, minced

¼

 cup chopped fresh cilantro
1 tablespoon lime juice, or to taste
salt and pepper to taste
Directions: Stir together the mango, cucumber, jalapeño pepper, onion, garlic, and cilantro in a mixing bowl. Season with lime juice, salt, and pepper. Refrigerate at least 2 hours before serving to allow the flavors to blend.
5. Avocado Cucumber Soup with Shrimp
This recipe from Martha Stewart offers an interesting spin on your typical soup, and is a cool, unique way to enjoy your stock of cucumbers. It's served chilled, making it a particularly enjoyable summertime dish. The soup takes an hour and 20 minutes to complete and yields 4 servings.
Ingredients:
1 English cucumber, peeled and cut into

¼

-inch cubes (about 2 cups)
2 avocados, pitted and peeled

½

 cup low-fat plain yogurt
3 tablespoons fresh lime juice
1 minced small jalapeno chile (seeds and ribs removed for less heat, if desired)

⅓

 cup sliced scallions
2 tablespoons chopped fresh cilantro
Coarse salt and ground pepper
1 teaspoon olive oil
12 medium shrimp (about 6 ounces), peeled and deveined
Directions: In a blender, combine half the cucumber and 1 avocado with the yogurt, lime juice, jalapeno, scallions, 1 tablespoon cilantro, 1 cup ice water, 1 ½ teaspoons salt, and ¼ teaspoon pepper. Puree until completely smooth. Transfer to a large bowl.
Cut remaining avocado into ¼-inch cubes. Stir avocado and remaining cucumber into soup. Thin with ½ to 1 cup ice water, as desired. Season again with salt and pepper. Chill, about 1 hour.
In a large skillet, heat oil over medium-high heat. Cook shrimp, turning once, until opaque throughout, 2 to 3 minutes. Ladle soup into bowls; garnish with shrimp and remaining tablespoon cilantro.
6. Cucumber Cocktail
This cucumber cocktail is minty, cool, and refreshing, making it a great accompaniment to a summer party or picnic. This recipe from Food Network's Bobby Flay takes about 15 minutes total and yields 4 servings.
Ingredients:
1 cup cucumber vodka
1 cup tonic water

½

 cup cucumber juice

¼

 cup fresh lime juice

¼

 cup simple syrup (equal amounts sugar and water heated until sugar dissolves; cool)
Handful fresh mint leaves
Ice cubes, for serving
Directions: Divide the ingredients in half, add each half to a cocktail shaker and shake to combine. Pour over rocks glasses filled with ice and serve.
More from Life Cheat Sheet:
Want more great content like this? Sign up here to receive the best of Cheat Sheet delivered daily. No spam; just tailored content straight to your inbox.