Healthy Pita Recipes to Make for Lunch or Dinner
Pita pockets are a fun, quick way to throw together a sandwich at any time of day, and often make a great excuse to use leftover ingredients. They can be filled up with any number of meats, vegetables, spreads, and cheeses, and can make a healthful and satisfying lunch or dinner for anyone to enjoy — without packing on the calories. Of Mediterranean origins, this slightly leavened flatbread is a simple departure from the usual "two slices of white bread" approach.
Try any of these six recipes to deliver yourself a heart-healthy burst of flavor using stuffed pita.
1. Chicken and Arugula Pita Pockets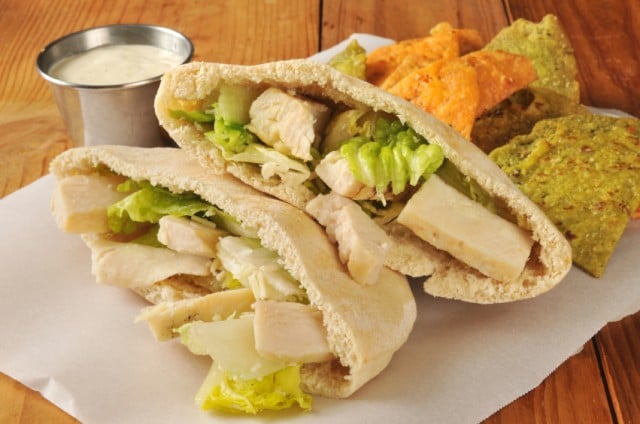 The bit of lemon zest in this recipe unleashes the flavors of the pesto, making it a simple and mouthwatering culinary venture. This is a great way to create a whole new meal out of existing leftovers; pita pockets make it a breeze to use up that leftover chicken breast sitting in the fridge. This recipe from GiadaDe Laurentiis of Food Network takes 20 minutes to complete and yields 4 lunch-sized servings. Each serving contains 360 calories and 22 grams of protein.
Ingredients:
2 whole-wheat pitas, halved and opened
¼ cup mayonnaise
1 teaspoon lemon zest
½ cup arugula pesto, recipe follows
2 store-bought rotisserie chicken breasts, diced into ¼-inch pieces
8 cherry tomatoes, quartered
1 cup arugula
2 cups packed arugula
1 clove garlic, peeled and halved
½ cup olive oil
½ cup grated Parmesan
½ teaspoon kosher salt
¼ teaspoon freshly ground black pepper
Directions: Preheat the oven to 300 degrees Fahrenheit. Arrange the pita halves on a baking sheet and bake for 5 to 7 minutes until warmed through. In a large bowl, combine the mayonnaise, lemon zest, and arugula pesto. Stir in the diced chicken. To assemble the pita pockets, fill each pita half with the chicken mixture. Top with tomatoes and ¼ cup arugula and serve.
To make the arugula pesto, blend the arugula and garlic in a food processor until finely chopped. With the machine running, gradually add the oil until well-blended. Transfer to a large bowl and stir in Parmesan and salt and pepper.
2. Falafel With Cilantro Yogurt in Pita Bread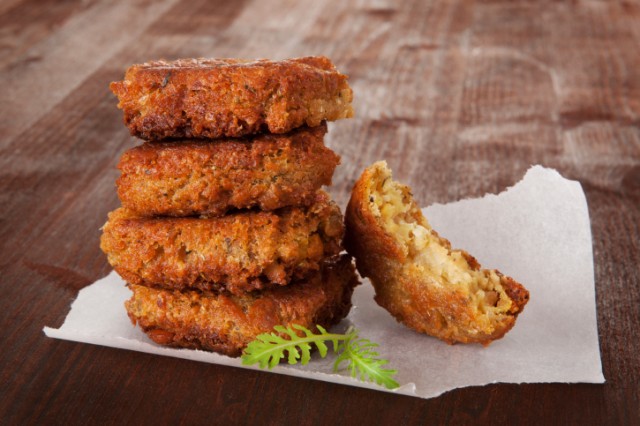 Falafel is a classic Mediterranean dish consisting of ground up chickpeas, which are then fried — giving them an irresistible crunchy exterior and a soft, flavorful filling. This recipe from Epicurious offers a cilantro-yogurt sauce to balance out the spices present in your homemade falafel. The recipe takes about an hour and 10 minutes to complete and yields 4 servings.
Ingredients:
1 cup plain yogurt
1 cup chopped fresh cilantro
1 cup chopped onion
5 large garlic cloves, chopped
1 tablespoon fresh lemon juice
½ teaspoon cayenne pepper
2 (15-ounce) cans garbanzo beans (chickpeas), drained
3 tablespoons plus ½ cup all purpose flour
2 teaspoons ground cumin
1 large egg
Olive oil
4 warm pita breads, top third cut off
Sliced tomatoes
Crisp lettuce leaves
Directions: Whisk yogurt, ½ cup cilantro, ¼ cup onion, 1 garlic clove, lemon juice, and ¼ teaspoon cayenne in medium bowl to blend; season with salt and pepper. Refrigerate until ready to serve.
Blend garbanzo beans, 3 tablespoons flour, cumin, remaining ½ cup cilantro, 4 garlic cloves, and ¼ teaspoon cayenne in processor until almost smooth. Add egg and remaining ¾ cup onion and blend, using on/off turns, until onion is finely chopped. Transfer mixture to bowl; sprinkle with salt and pepper. Shape mixture into four ½-inch-thick patties. Turn patties in remaining ½ cup flour to coat on both sides.
Pour enough oil into heavy large skillet to coat bottom; heat over medium-high heat. Add patties and cook until crisp and golden, about 8 minutes per side. Open pita breads; slide 1 patty, sliced tomato, and lettuce into each. Spoon in some yogurt mixture.
3. Curried Beef Pita Pockets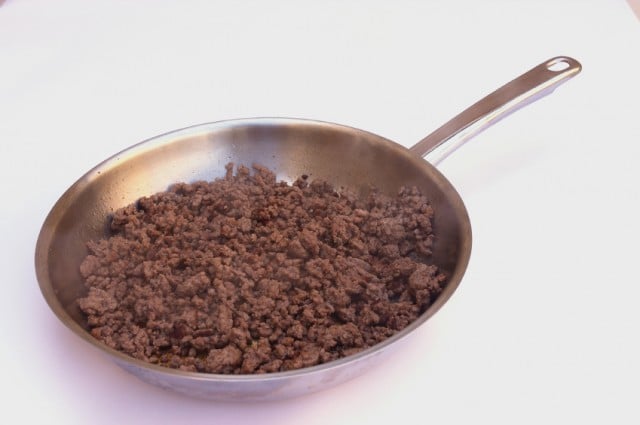 The simple curried beef in this dish gives it an exotic twist that will convert any non-curry lover in a flash. Turkey can be substituted for beef to achieve a lighter, leaner dish. Prepared with beef, this recipe from Taste of Home contains about 380 calories and 27 grams of protein per serving. Recipe takes 35 minutes to complete and yields 4 servings.
Ingredients:
1 pound ground turkey or beef
1 medium onion, chopped
1 garlic clove, halved
1 tablespoon curry powder
½ cup water
1 ½ teaspoons salt
½ teaspoon sugar
¼ teaspoon pepper
1 medium tomato, seeded and diced
1 medium zucchini, diced
Directions: In a large skillet, brown ground beef with the onion, garlic. and curry; drain and discard garlic. Stir in the water, salt, sugar, and pepper. Cover and simmer 15 minutes.
Add tomato and zucchini; cook just until heated through. Spoon meat mixture into pita breads.
4. Lamb Pita Pockets With Tomato-Ginger Compote
Lamb is one of the go-to meats for Mediterranean dishes, often being spiced to perfection. The lamb in this recipe is slow-cooked until it is mouthwateringly tender, then stuffed into warm pitas along with cheese, vegetables, and a tomato-ginger compote. The shredded lamb and pickled onion in this recipe can be refrigerated for up to 2 days. This flavor-packed recipe from Food & Wine takes 2 hours and 30 minutes to complete and yields 6 servings.
Ingredients:
Finely grated zest of 2 lemons
1 tablespoon dried oregano
2 teaspoons freshly ground pepper
1 ½ teaspoons garlic powder
1 ½ teaspoons onion powder
Kosher salt
Four 1-pound lamb shanks
2 tablespoons extra-virgin olive oil
1 medium red onion, thinly sliced
2 tablespoons red wine vinegar
½ cup water
6 warmed pita breads, halved
Tomato-ginger Compote, for serving
4 ounces feta cheese, crumbled (1 cup)
Directions: Preheat the oven to 325 degrees Fahrenheit. In a small bowl, mix the lemon zest with the oregano, pepper, garlic powder, onion powder, and 2 teaspoons of salt. Rub the mixture all over the lamb shanks.
In a large enameled, cast-iron casserole, heat the olive oil. Add the shanks and cook over moderately high heat, turning a few times, until browned all over, about 7 minutes. Cover and bake the shanks in the oven for about 2 hours, until very tender.
Meanwhile, in a medium bowl, toss the onion with the vinegar; season with salt. Let stand at room temperature, tossing a few times, until softened, about 20 minutes. Transfer the lamb shanks to a bowl. Set the casserole over high heat. Add the water and boil, scraping up the browned bits on the bottom. Pour the liquid into a small bowl and skim the fat from the surface.
Pull the meat from the bones in large shreds, discarding the fat and gristle. Transfer the lamb to a bowl. Add the cooking juices and toss well. Season with salt. Spoon the shredded lamb into the pita and spread a thick layer of the tomato-ginger compote on top. Garnish with the pickled red onion and feta and serve.
5. Overstuffed Chicken Pitas With Mushrooms and Wilted Arugula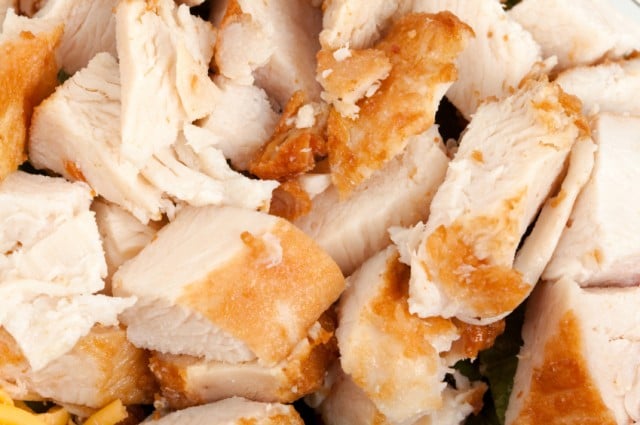 This recipe from Every Day with Rachael Ray can easily be prepared by using a store-bought rotisserie chicken. This is a fresh, healthful meal options containing white and cremini mushrooms, plus a hearty helping of arugula (or spinach, if you prefer). This recipe takes 30 minutes to complete and yields 4 servings.
Ingredients:
4 pita pockets
1 tablespoon extra-virgin olive oil
1 tablespoon unsalted butter
8 ounces sliced cremini mushrooms (2 cups)
8 ounces sliced white mushrooms (2 cups)
2 bunches of baby arugula (or baby spinach)
Salt and freshly ground pepper
2 cups chicken meat torn into bite-size pieces from 1 small rotisserie chicken
Directions: Trim a narrow strip off one end of each pita and open the pitas with your fingers. In a large nonstick skillet, heat the olive oil and butter over medium-high heat until the butter stops foaming. Add the cremini mushrooms and cook, stirring occasionally, until they begin to brown, about 5 minutes. Push the cremini to the side of the skillet and add the white mushrooms. Cook, stirring occasionally, until the white mushrooms begin to brown, about 5 minutes.
Stir in the arugula and heat until just wilted; season the mixture with salt and pepper to taste and remove from the heat. Mix in the chicken and spoon the filling into the pitas. Serve warm.
6. Quick Hummus and Vegetable-Stuffed Pitas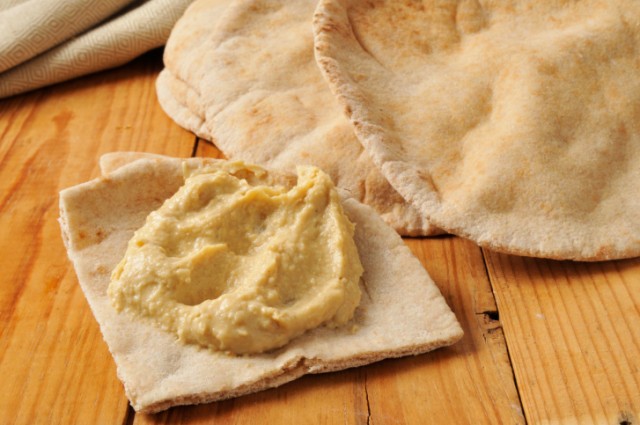 Here's a great choice for on-the-go and health-conscious vegetarians. Throw together some hummus, lettuce or spinach, and assorted raw vegetables. This recipe from Whole Foods is a mere 210 calories per serving, yet manages to offer 9 grams of protein as well, making it as healthy and power-packed as it is delicious. The dish takes 5 or 10 minutes to complete and yields 2 servings.
Ingredients:
1 whole wheat pita bread, halved
½ cup hummus
⅓ cup lightly packed shredded lettuce or baby spinach
½ cup assorted raw vegetables such as halved cherry tomatoes, shredded carrots, sliced cucumbers, or avocados
Directions: Spread half of the hummus inside each pita half then fill with lettuce and vegetables and serve.