6 Dessert Recipes Filled With Sweet Flavors and Healthy Whole Grains
Dessert doesn't need to be unhealthy in order to taste good. You can easily pack your sweets full of nutrients by substituting white flour with whole grains, such as whole-wheat flour, quinoa, and farro. If you'd like to make some of your favorite desserts healthier, Better Homes and Gardens recommends using ¾ cup of whole-wheat flour to replace 1 cup of all-purpose flour. Thanks to these 6 whole-grain dessert recipes, you no longer need to feel guilty about eating cookies, brownies, and cake!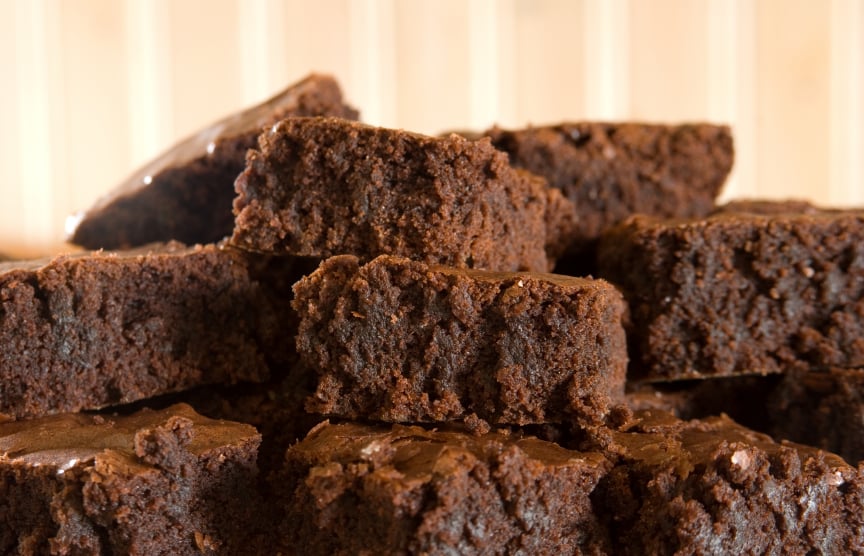 1. Whole-Wheat Brownies
Whole-wheat flour, cocoa powder, and applesauce give Martha Stewart's brownies a healthy makeover. Whole-wheat flour is much healthier than its white counterpart because it is made from grains that haven't undergone heavy processing, SFGate explains. One of the main differences between the two flours is their fiber content: ½ cup of white flour contains 1.3 grams of fiber, while the same serving of whole-wheat flour has 6.4 grams.
Ingredients:
6 tablespoons (¾ stick) unsalted butter, melted, plus more for pan
½ cup all-purpose flour
½ cup whole-wheat flour
⅓ cup unsweetened cocoa powder
1¼ teaspoons baking powder
1 teaspoon coarse salt
¼ teaspoon baking soda
1 cup packed light-brown sugar
1¼ cups unsweetened applesauce
1 large egg
8 ounces semisweet chocolate, coarsely chopped
Directions: Preheat oven to 350 degrees Fahrenheit. Butter an 8-inch square baking dish; line with parchment, leaving a 2-inch overhang on all sides. In a medium bowl, whisk together flours, cocoa, baking powder, salt, and baking soda. In a large bowl, stir together sugar, applesauce, and egg. Place butter and 6 ounces chocolate in a heatproof bowl set over a pot of simmering water; stir until melted. Stir chocolate mixture into sugar mixture. Stir in flour mixture. Pour into pan and top with 2 ounces chocolate. Bake until a toothpick inserted in center comes out with moist crumbs attached, 40 minutes. Let cool in pan on a wire rack. Use parchment to lift cake from pan and cut into 16 squares.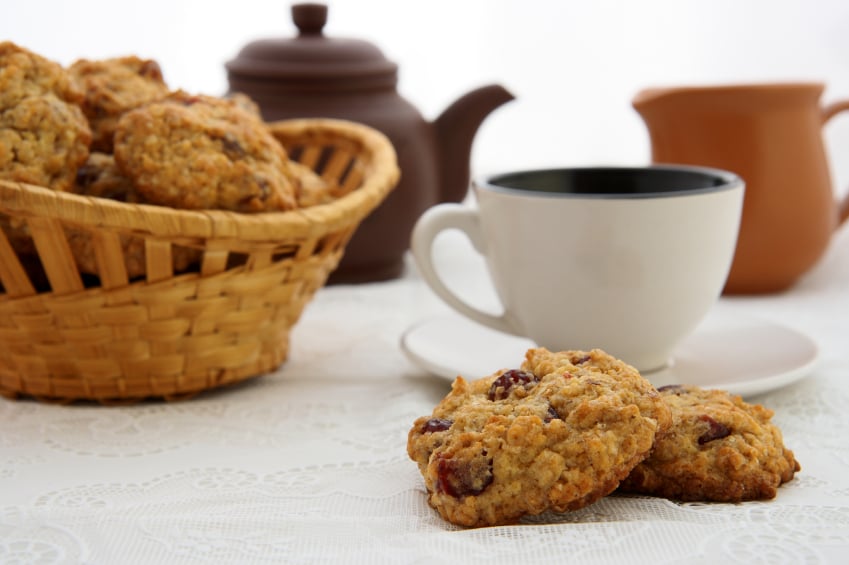 2. Quinoa "Oatmeal" Cookies
Reach for these Quinoa "Oatmeal" Cookies the next time you're craving something sweet. At 50 calories per serving, they're perfect as an after-school snack or a guilt-free dessert. The Whole Grains Council's recipe, which was adapted from Kim Wirth, yields 3 dozen cookies. Interestingly, Medical News Today notes that while quinoa isn't actually labeled as a whole grain, it has the same nutritional profile and contains key nutrients such as iron, vitamins B and E, fiber, magnesium, phosphorus, potassium, and calcium.
Ingredients:
6 tablespoons dairy-free, soy-free margarine (or butter)
½ cup brown sugar
¼ cup soft silken tofu, or 1 egg
¾ cup quinoa flour
½ teaspoon baking soda
½ teaspoon salt
½ teaspoon cinnamon
1 teaspoon gluten-free vanilla
1½ cups Arzu Original Flavor (this is a blend of quinoa, buckwheat, and legumes)
½ cup raisins
Directions: Preheat oven to 350 degrees Fahrenheit. Cream margarine, brown sugar, and tofu. Add quinoa flour, baking soda, salt, cinnamon, and vanilla. Beat for 1 minute on high. Add vanilla and Arzu. Mix well. Add raisins and gently mix in. Drop by teaspoonful onto parchment-lined cookie sheet. Bake 10 to 12 minutes until golden brown. Cool before storing in air-tight container.
3.  Whole-Wheat Apple Cake
Get your daily dose of whole grains by eating a slice of Food.com's Whole-Wheat Apple Cake, which yields 32 servings. Packed with healthy ingredients, warm spices, apples, and nuts, this is a low-calorie, low-fat option to indulge in for dessert.
Ingredients:
2 cups whole-wheat flour
2 teaspoons baking powder
1 teaspoon baking soda
¾ teaspoon salt
1 teaspoon cinnamon
½ teaspoon nutmeg
½ cup butter
¾ cup brown sugar
2 eggs
1 teaspoon vanilla extract
3 apples
⅔ cup milk
1 cup walnuts or 1 cup pecans, chopped
Directions: Preheat oven to 350 degrees Fahrenheit. Grease and flour a 13-by-9-inch baking pan. Combine flour, baking powder, baking soda, salt, cinnamon, and nutmeg. Stir in nuts. Cream butter and sugar together. Stir in eggs, one at a time, mixing well. Stir in vanilla. Peel, core, and chop apples. Stir dry mixture and milk alternately into creamed mixture, starting and ending with dry mixture, making 3 additions of dry and 2 of milk. Fold in the chopped apples. Bake in the greased and floured 13-by-9-inch baking pan in a preheated 350 degree Fahrenheit oven for about 35 minutes, or until a tester poked in the center comes out clean. Cool 10 minutes in the pan before cutting.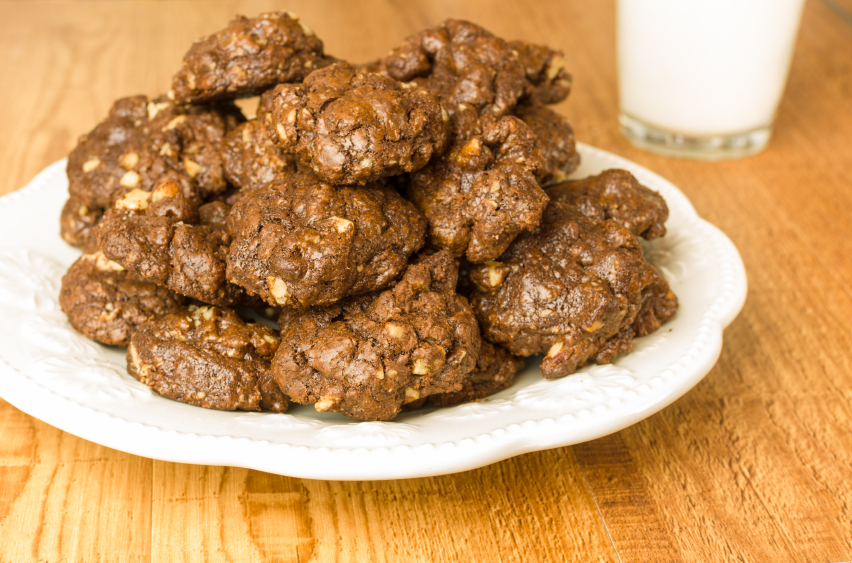 4. Ultimate Whole-Wheat Chocolate Chip Cookies
Whole Grain Gourmet delivers cookies that contain whole-wheat flour, oats, and antioxidant-packed dark chocolate. Health explains that whole grains cause you to you feel full longer, aid in digestion, lower your cholesterol and blood pressure, and help keep your weight in check.
Ingredients:
½ cup unsalted butter, softened
½ cup natural brown sugar, packed
½ cup organic sugar
1 egg
½ teaspoon vanilla
1 cup white whole-wheat flour
½ teaspoon baking powder
¼ teaspoon salt
¼ teaspoon baking soda
1¼ cups old-fashioned rolled oats
¾ to 1 cup dark chocolate chips, 60% cocoa
¾ cup nuts, chopped
1½ to 2 ounces dark chocolate, grated
Directions: Preheat oven to 375 degrees Fahrenheit. Line cookie sheet with parchment paper. Place oats in a food processor and process until it turns into a powder. In a medium bowl, whisk together the powdered oats, flour, salt, baking powder, and baking soda. In a large bowl, cream together butter and both sugars for 3 minutes on medium speed. Beat in egg and vanilla. Gradually beat in dry ingredients. Stir in grated chocolate, then add chocolate chips and chopped nuts. Roll or scoop dough into 2-inch sized balls and place 2 inches apart on cookie sheet. Bake for 12 minutes. Cool 2 minutes on baking sheet before transferring to a cooling rack.
5. Vanilla Whole-Grain Cupcakes With Maple-Vanilla Buttercream
Satisfy your daily whole-grain requirements by making Happily Whole's cupcakes. To ensure these cupcakes contain 100% whole grains, make sure to sift your flour well. If you don't have a sifter, The Kitchn suggests putting your flour in a strainer over a mixing bowl, or using a wire whisk or fork to mix the flour.
Ingredients:
Cupcakes
1½ cups whole grain flour, sifted
½ teaspoon unrefined sea salt
1 stick unsalted butter, melted or very soft
1 cup coconut sugar
3 large eggs
1½ tablespoons pure vanilla extract
¾ cup almond or dairy milk
Frosting
1 stick unsalted butter
1½ cups organic powdered sugar, sifted
1 to 2 tablespoons pure maple syrup
½ tablespoon pure vanilla extract
¼ teaspoon unrefined sea salt
Optional: strawberries or all natural sprinkles
Directions: Preheat oven to 350 degrees Fahrenheit and line cupcake pan with cupcake liners. In a bowl, whisk together sifted flour, baking powder, and salt. Pour melted butter in a separate large bowl along with coconut sugar and beat on medium speed for about 30 seconds; add eggs one at time, beating after each addition. While beating, add vanilla extract. Mix the flour mixture and milk, alternatively. You'll want to make sure you start with flour first and end with flour; don't over-mix and make sure to scrape sides of bowl down often.
Fill liners ⅔ of the way and set in the oven to bake for 15 minutes. If toothpick is still wet when put in the middle of the cupcake, bake for a few more minutes, checking frequently. Allow to cool before frosting. To make the frosting, place room temperature unsalted butter in bowl of stand mixer and beat with whisk attachment until creamy. Add sifted powdered sugar and beat until blended. Add vanilla, maple syrup, and salt and beat on high. Frost the cupcakes, and add toppings if desired.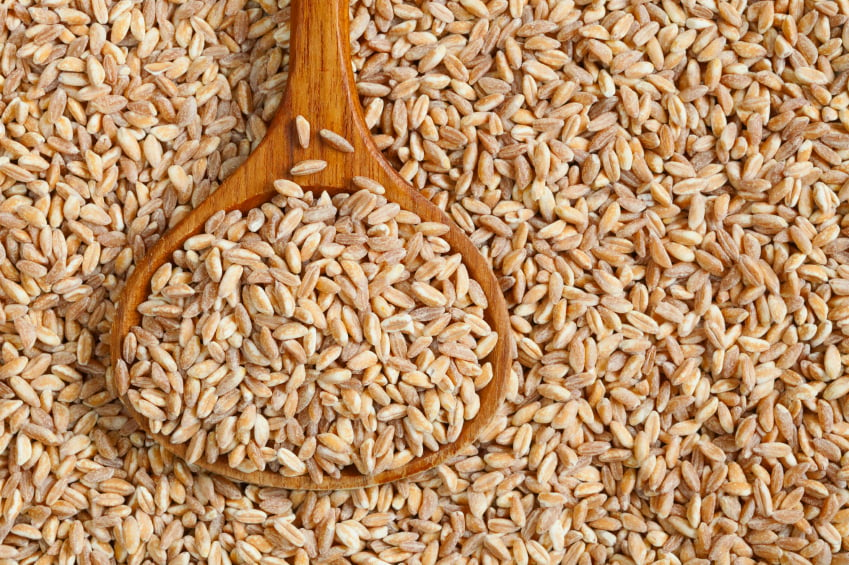 6. Farro and Maple Syrup Pudding
Due to its nutty flavors and chewy texture, farro works well when served as a dessert. Men's Fitness writes that the whole grain is a good source of protein, fiber, niacin, and magnesium, all of which support muscle, nerve, and bone function, and help the body break down carbs, fat, and protein. Adapted from Patti Jackson, The New York Times' recipe creates a baked Farro and Maple Syrup Pudding that tastes good hot, warm, and cold. Don't attempt to prepare this dish last minute; the farro must be refrigerated overnight.
Ingredients:
1½

cups whole-grain farro

3

cups whole milk

1

cup heavy cream

2

tablespoons unsalted butter, melted

⅓

cup maple syrup

¼

teaspoon fine sea salt

3

large eggs, lightly beaten

¼

cup dark brown sugar
Directions: Preheat oven to 275 degrees Fahrenheit. Put the farro in a fine sieve and rinse under cool running water. Transfer to a bowl, cover with 2 inches of water, cover the bowl with plastic wrap, and refrigerate overnight. Drain farro and set aside. In a bowl, mix together the milk, cream, melted butter, maple syrup, salt, and eggs. Add the drained farro, mixing well.
Pour mixture into a greased 1½- to 2-quart shallow casserole dish and bake on the middle level for 30 minutes. Stir the mixture and sprinkle the top with the brown sugar. Raise the oven heat to 300 degrees Fahrenheit and bake for 30 to 40 minutes more, until set. The farro pudding can be served hot, warm, or cold. It can also be served plain or with whipped cream, nut biscotti, fresh fruit or a combination.
More from Life Cheat Sheet:
Want more great content like this? Sign up here to receive the best of Cheat Sheet delivered daily. No spam; just tailored content straight to your inbox.