6 Dessert Recipes Taking Tiramisu to the Next Level
Tiramisu is typically recognized as a dessert that only restaurant chefs can master. However, what you'll find is that as long as you have the right recipe, you can easily whip up the Italian sweet treat, too. Ladyfingers are readily available in grocery stores and markets, and you can easily find mascarpone, heavy cream, and cocoa powder, as well. If you're ready to serve a sophisticated dessert that is sure to go over well with all of your dinner guests, check out these 6 tiramisu recipes and channel your inner Italian. Everyone deserves this rich treat once in a while, and even better, these recipes put their own spins on classic tiramisu that showcase the dessert's versatility.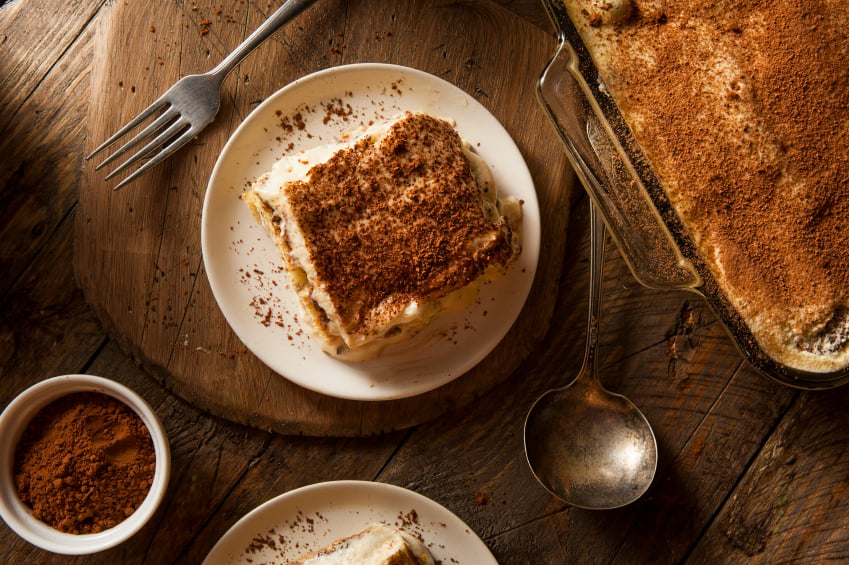 1. Classic Tiramisu
Our first recipe comes from Food & Wine, and it's a formula for the classic tiramisu everyone drools over. Layers of mascarpone, cream, and ladyfingers make up this dessert that is dusted with cocoa powder and spiked with caffeine, and the tiramisu's texture is as light and moist as it is satisfying. This recipe would make any Italian grandmother proud, and any dinner guest happy.
Ingredients:
½ cup heavy cream
2 large eggs, separated
⅓ cup plus 1 tablespoon granulated sugar
½ pound mascarpone
1 cup strong-brewed espresso at room temperature
1 (7-ounce) package dry ladyfingers
¼ cup unsweetened cocoa powder, for dusting
Directions: In a medium bowl, whip the heavy cream until it is firm, and refrigerate. In a large bowl, beat the egg yolks with the ⅓ cup of sugar until light in color. In another bowl, using a whisk or an electric handheld mixer, beat the egg whites until they hold soft peaks. Add the remaining 1 tablespoon of sugar to the whites and beat until they're firm and glossy. Using a rubber spatula, fold the whipped cream into the beaten yolk-and-sugar mixture, then fold in the mascarpone and one-third of the beaten egg whites. Gently fold in the remaining egg whites.
Pour the espresso into a shallow bowl. Dip both sides of half of the ladyfingers in the espresso and use them to line the bottom of an 8-by-10-inch glass or ceramic baking dish. Spoon half of the mascarpone mixture over the ladyfingers and spread it in a smooth, even layer. Dip both sides of the remaining ladyfingers in the espresso and arrange them on top. Spread the remaining mascarpone mixture over the ladyfingers in a smooth, even layer. Cover and refrigerate the tiramisu overnight.

2. Pumpkin Tiramisu for Two
If you're only baking for two and fear you'll eat for four instead, follow Christina from Dessert for Two's lead and make her simple Pumpkin Tiramisu for Two. While she has a recipe for authentic tiramisu on her site, this formula takes it up a notch by enlisting one of consumers' favorite ingredients as of late: pumpkin. The addition of the pumpkin purée keeps the dessert moist and flavorful, and gives it a unique taste that is a sweet spin on the traditional tiramisu. Serve this Pumpkin Tiramisu in a small casserole dish or mini trifle cups, and get ready to indulge your sweet tooth without sending yourself into a heavy cream coma.
Ingredients:
¾ cup boiling water
1 tablespoon instant espresso powder
1 tablespoon dark rum
8 ounces mascarpone cheese, softened
½ cup canned pumpkin purée
⅔ cup plus 2 tablespoons powdered sugar, divided
1 teaspoon pumpkin pie spice
12 ladyfingers
½ cup heavy whipping cream
Directions: In a shallow bowl, stir together the water, espresso powder, and dark rum. Have ready a 1-quart casserole dish, or similar size dish. In a small mixing bowl, stir together the mascarpone, pumpkin, ⅔ cup of the powdered sugar, and pumpkin pie spice. Set aside. Next, dunk each ladyfinger in the espresso mixture, and make one layer with 6 of the ladyfingers in the casserole dish.
Spread half of the pumpkin mixture on top. Repeat with the remaining ladyfingers and pumpkin filling. Cover and chill at least 4 hours, or overnight. Before serving, whip the heavy cream and the remaining 2 tablespoons of powdered sugar. Spread on top of the tiramisu and dust with extra pumpkin pie spice, if desired.
3. Tiramisu Milkshake
If you'd like to drink your tiramisu rather than eat it, try this Tiramisu Milkshake from Fabulous Foods. The formula only requires 7 ingredients, and one of those may or may not be booze. But regardless of whether you decide to spike your Tiramisu Milkshake with Bailey's or leave the sweet cream out, just make sure you whip up this frozen treat the next time a ladyfinger craving strikes, and pull out a spoon to slurp down this Italian delicacy. This recipe serves 1.
Ingredients:
About 3½ large scoops vanilla bean ice cream
¼ cup dark coffee liqueur
¼ cup Baileys
About ¼ cup milk
6 ladyfingers
1 tablespoon chocolate shavings
Whipped cream
Directions: Place the ice cream, coffee liqueur, Baileys, milk, and 4 ladyfingers into a blender. Pulse on low or until thick and creamy. Top the milkshake with whipped cream and garnish with chocolate shavings. Add the remaining 2 ladyfingers as garnish.
4. Tiramisu Cupcakes
Here's how you serve tiramisu in cupcake form: Follow these directions from Cup of Cake for Tiramisu Cupcakes and each of your guests will get a portion-controlled version of their favorite treat. This recipe even involves a shortcut (cake mix … shhh!) so you'll actually get to enjoy your company as you bake sophisticated cupcakes, too.
Ingredients:
1 box white cake mix
2 egg whites
1 egg
⅓ cup oil
¾ cup buttermilk
¾ cup sour cream
2 teaspoons vanilla extract
¼ cup strong coffee
8 ounces mascarpone
1 tablespoon strong coffee
½ cup powdered sugar
8 ounces cream cheese, softened
1 cup powdered sugar
1 teaspoon vanilla extract
1 pint heavy whipping cream
Directions: Preheat oven to 350 degrees Fahrenheit and line pan with cupcake liners. Sift cake mix into a small bowl and set aside. In a large bowl, gently whisk egg whites, egg, oil, buttermilk, sour cream, and vanilla. Stir cake mix into wet ingredients. Using half of the batter, fill cupcake liners about ⅓ full. With the remaining cake batter, add the strong coffee and mix. Scoop the coffee cake batter over the regular batter so that each cupcake liner is filled about ¾. Bake for 16 to 20 minutes or until an inserted knife comes out clean.
For the filling, combine all ingredients in a small bowl using a spoon. For the topping, using a whisk attachment on your stand mixer, beat cream cheese and powdered sugar until smooth. Add vanilla. Slowly add in heavy cream and beat until stiff peaks form. To assemble, cut a cone-shaped piece of cake out the top of each cupcake. Generously spoon in your filling. Pipe your whipped topping over the hole with the filling and top with chocolate shavings and cocoa powder.
5. Tiramisu Trifle
Here's a Tiramisu Trifle recipe from Dashing Dish. This old-fashioned dessert is going to be hard to resist. The Tiramisu Trifle is a fun twist on traditional tiramisu, and this formula from Dashing Dish makes the treat just a tad healthier by enlisting reduced cream cheese, light Cool Whip, and skim milk. It also calls for vanilla pudding mix, which typical tiramisu does not incorporate. Give it a try and see just how good a sweet spin on tiramisu can taste.
Ingredients:
1 package reduced-fat cream cheese
1 container light Cool Whip
¼ cup plus 2 tablespoons Stevia
2 cups skim milk
1 large package instant vanilla pudding mix
1 package ladyfingers
¼ cup unsweetened cocoa powder
1 teaspoon vanilla extract
1 cup strong brewed coffee or espresso, chilled
Directions: To make the whipped cream cheese layer, whip together the cream cheese, vanilla extract, and sweetener in a large bowl, using handheld mixer. Beat until smooth. Add milk and pudding mix, stirring constantly as you pour pudding mix into bowl to prevent lumps from forming. Continue to mix until smooth. Fold in whipped topping. Store in fridge until ready to layer trifle. Once coffee is chilled, you are ready to begin layering.
Using a large trifle dish, begin layering with ladyfingers that have been quickly dipped into chilled coffee. Once the first ladyfinger layer is complete, start next layer, which is the whipped cream cheese-pudding layer. Spread pudding layer evenly over ladyfinger layer. Next, sprinkle a layer of cocoa powder over the pudding layer. Begin next layer, starting with ladyfingers dipped in coffee. Repeat pudding and cocoa layers. Repeat one more time, ending with cocoa layer.
6. Tiramisu Cookies
Tiramisu in cookie form? Martha Stewart has mastered that one, and now you can, too. Get all your favorite flavors incorporated in bite-size finger food. These Tiramisu Cookies are sweet, delicate, and filled with a boozy filling. Amaretto, mascarpone, espresso powder, and cake flour are the star ingredients in this formula.
Ingredients:
5 large eggs, separated
1 cup granulated sugar
3 tablespoons instant espresso powder
½ cup cake flour
¼ teaspoon salt
Unsweetened Dutch-process cocoa powder, for dusting
¾ cup mascarpone cheese
¼ cup plus 1½ teaspoons confectioners' sugar, sifted
3 tablespoons almond-flavored liqueur, such as amaretto
½ teaspoon pure vanilla extract
6 ounces semisweet chocolate, melted
Directions: Preheat oven to 350 degrees Fahrenheit. Line two baking sheets with parchment paper. Using a mixer with the whisk attachment, beat yolks and ½ cup granulated sugar until pale and stiff, about 3 minutes. Add espresso powder and beat for 2 minutes. Add flour and beat until just combined. In a clean bowl, using a clean whisk attachment, beat whites and salt on medium speed until foamy. With the machine running, add remaining ½ cup granulated sugar in a slow stream, beating until stiff peaks form, about 5 minutes. Fold whites into yolk mixture in 3 additions, until well combined.
Using a pastry bag fitted with a ½-inch plain tip, pipe batter onto baking sheets into 60 lines that are 2 inches long and 1 inch wide, spacing 1 inch apart. Dust with cocoa. Bake, rotating sheets halfway through, until firm, 12 to 14 minutes. Let cool completely on parchment on wire racks. Stir together mascarpone, confectioners' sugar, liqueur, and vanilla until well combined. Cover, and refrigerate for 15 minutes. When ready to serve, brush the cookies' flat sides with melted chocolate. Refrigerate, flat side up, until chocolate is firm, about 10 minutes. Spread a generous ½ teaspoon mascarpone filling over chocolate side of half of the cookies. Sandwich with remaining cookies. Serve immediately.
More from Life Cheat Sheet:
Want more great content like this? Sign up here to receive the best of Cheat Sheet delivered daily. No spam; just tailored content straight to your inbox.