6 Dessert Recipes That Capitalize on Cornstarch
Cornstarch is an underrated ingredient used not only in cooking, but also baking, too. Most people think of it as an agent that only thickens sauces, soups, and stews, but what they don't realize is that it can be enlisted to bake desserts, too. The starch that is derived from the corn grain gives cookies a soft-baked, thicker consistency, and also can be used in pies and dessert pies to achieve a thick and hearty texture that only cornstarch can supply.
Next time you hesitate buying an entire box of cornstarch at the grocery store, remind yourself that the thickening agent can be used in more ways than one, and can especially make your baking skills shine. Check out these 6 desserts that capitalize on cornstarch, and you'll never push the box of white starch to the back of the pantry again.
1. Healthy Berry Streusel Bars
The first thing you can enlist your cornstarch to bake are these berry streusel bars from Sally's Baking Addiction. These bars are relatively healthy thanks to the oats, almond butter, and maple syrup that go in them. Just one tablespoon of cornstarch will thicken the filling of your bars and add to their hearty texture, and prove to you that you should never underrate a dessert expert's secret ingredient ever again.
Ingredients:
Filling
2 tablespoons cornstarch
2 tablespoons warm water
2 cups mixed berries
¼ cup pure maple syrup
1 tablespoon granulated sugar
Oatmeal Base and Topping
2¼ cups quick oats
1 teaspoon ground cinnamon
1 cup unsalted almond butter (or peanut butter or sunflower seed butter)
⅓ cup pure maple syrup
¼ cup melted coconut oil
1 large egg, beaten
½ cup sliced almonds
Directions: Make the mixed berry filling first by mixing the cornstarch with the warm water until it all of the cornstarch has dissolved and there are no more clumps. It should resemble milk. Set aside. Combine the berries, maple syrup, and sugar together in a small sauce pan over medium heat. Bring to a boil and stir well. Remove from heat and stir in the pre-mixed cornstarch. Whisk until all clumps are gone and set aside to thicken and cool. Preheat oven to 325 degrees Fahrenheit. Line an 8 x 8-inch baking pan with aluminum foil with enough overhang on the sides for easy removal. Set aside.
To make the oat crust/topping, in a large bowl, combine the quick oats, cinnamon, almond butter, maple syrup, coconut oil, and beaten egg. Mix until all of the oats are moistened and the mixture is thoroughly combined. The mixture will be quite wet. Reserve ½ cup of the oat mixture. Press the remaining oat mixture into prepared baking pan as best you can. Make sure it is firmly pressed down and even. Spread the mixed berry filling on top. To the reserved ½ cup oat mixture, add the sliced almonds. Crumble this over the berry filling and, using the back of a spatula, press the topping down firmly into the filling. You want to make sure it sticks well.
Bake for 25-30 minutes. The topping will be lightly browned. Allow to cool completely before cutting into squares. Makes 9-12 squares, depending how large you cut them. Squares stay fresh covered tightly at room temperature or in the refrigerator for up to 5 days. Bars freeze well, up to 2 months.
2. Soft M&M Chocolate Chip Cookies
Next up are these perfect Soft M&M Chocolate Chip Cookies from Averie Cooks. Though M&Ms and chocolate chips get all the attention in this recipe, cornstarch is actually the star ingredient that makes these cookies the perfect combination of soft and chewy. Next time you're ready to throw both M&Ms and chocolate chips into your cookie batter, make sure your cookies are thick enough by enlisting the underrated ingredient that is cornstarch.
Ingredients:
¾ cup unsalted butter, softened (1½ sticks)
¾ cup light brown sugar, packed
¼ cup granulated sugar
1 large egg
1 teaspoon vanilla extract
2 cups all-purpose flour
2 teaspoons cornstarch
1 teaspoon baking soda
pinch salt, optional and to taste
¾ cup semi-sweet chocolate chips
¾ cup milk chocolate M&M's mixed into the dough + about ½ cup for placing on top of dough mounds
Directions: To the bowl of a stand mixer fitted with the paddle attachment combine the butter, sugars, egg, vanilla, and beat on medium-high speed until creamed and well-combined, about 4 minutes. Stop, scrape down the sides of the bowl, and add the flour, cornstarch, baking soda, optional salt, and beat on low speed until just combined, about 1 minute. Stop, scrape down the sides of the bowl, and add the chocolate chips,¾ cup M&Ms, and beat on low speed until just combined, about 30 seconds.
Using a large cookie scoop, ¼ cup measure, or your hands, form 15 equal-sized mounds of dough, roll into balls, and flatten slightly. Add about 1 tablespoon M&Ms to the top of each dough mound. Place mounds on a large plate or tray, cover with plasticwrap, and refrigerate for at least 2 hours, up to 5 days. Do not bake with unchilled dough because cookies will bake thinner, flatter, and be more prone to spreading.
Preheat oven to 350 degrees Fahrenheit, line a baking sheet with a Silpat or spray with cooking spray. Place dough mounds on baking sheet, spaced at least 2 inches apart and bake for 11 minutes, or until edges have set and tops are just set, even if slightly undercooked, pale, and glossy in the center. Cookies firm up as they cool. Allow cookies to cool on baking sheet for about 10 minutes before serving.
Cookies will keep airtight at room temperature for up to 1 week or in the freezer for up to 6 months. Alternatively, unbaked cookie dough can be stored in an airtight container in the refrigerator for up to 5 days, so consider baking only as many cookies as desired and save the remaining dough to be baked in the future when desired.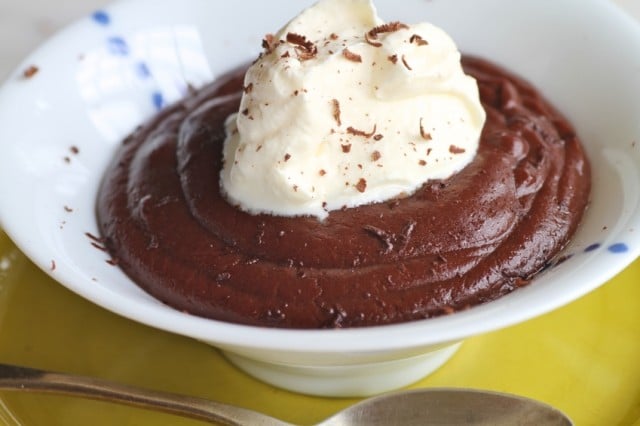 3. Chocolate Cornstarch Pudding
Here's a dessert from All Recipes that you can't sink your teeth into, but will still appease your sweet tooth: Chocolate Cornstarch Pudding. We hope you have your spoon ready. This decadent dessert requires only 7 ingredients, and one of those, of course, is cornstarch. The cornstarch helps condense the pudding and gives it the thick texture we all know and love. Plus, it helps highlight the chocolate flavor that is supplied by combination of cocoa powder and sugar, faciliating a flavor and texture match made in foodie heaven. Pudding never goes out of style, and cornstarch keeps the old-fashioned dessert kicking.
Ingredients:
½ cup white sugar
3 tablespoons unsweetened cocoa powder
¼ cup cornstarch
⅛ teaspoon salt
2¾ cups milk
2 tablespoons butter, room temperature
1 teaspoon vanilla extract
Directions: In a saucepan, stir together sugar, cocoa, cornstarch, and salt. Place over medium heat, then stir in milk. Bring to a boil and cook, stirring constantly, until mixture thickens enough to coat the back of a metal spoon. Remove from heat, and stir in butter and vanilla. Let cool briefly and serve warm or chill in refrigerator until serving.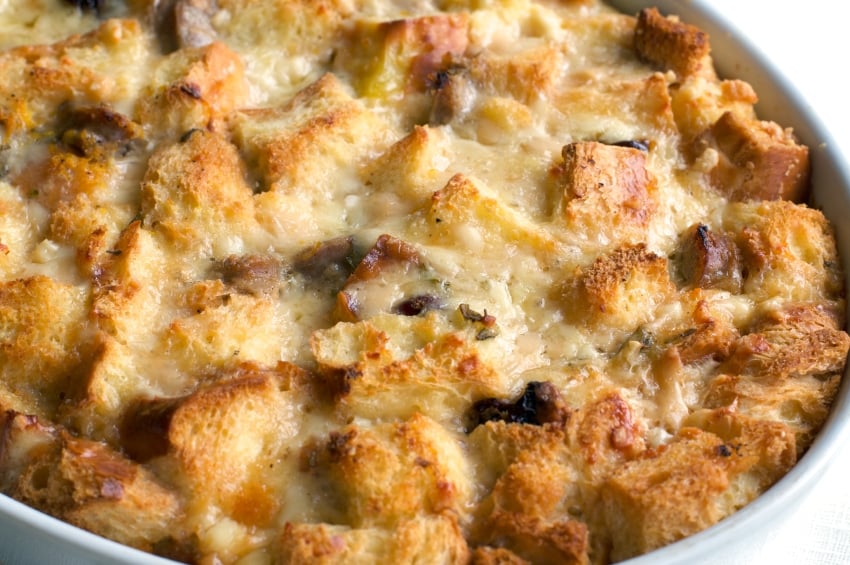 4. Bread Pudding
Here's another pudding recipe but one that enlists bread to take the dessert up a notch. Try Just a Pinch's bread pudding recipe and prepare to have a new favorite sweet treat on your hands. All the usual suspects are present in this lip-smacking dessert, but the recipe developer also throws cornstarch in the mix, giving way to a bread pudding that is thick, sticky, and sweet. Grab your bread and get going. It's time for Grandma to remind us why bread pudding is still cool.
Ingredients:
1 pound loaf bread or equivalent of bread pieces
2 teaspoons vanilla
1¼ cups sugar
4 eggs
4 cup milk
Sauce
1 cup sugar
1 stick butter
2 tablespoons cornstarch
2 teaspoons vanilla
1 cup boiling water
Directions: Preheat oven to 350 degrees Fahrenheit. Break bread into pieces and put into pan. Beat 4 eggs well: add sugar, milk and vanilla. Blend well and pour over bread. Push bread down into egg mixture. Sprinkle cinnamon over the top.
Bake for 50 minutes or until brown. Make the sauce while bread pudding is cooling. Mix sugar and cornstarch, add to 1 cup boiling water. Cook until it thickens. Remove from heat. Add 1 stick butter and 2 teaspoons vanilla. Stir until blended. Spoon over pudding and serve.
5. Three-Berry Pie
Stepping away from the land of pudding and into the land of pie, we come to this Three-Berry Pie, highlighted by All Recipes. Though this dessert is more fruity than many of others we have covered on this list, it still enlists cornstarch to thicken its three-berry filling, and the ingredient is just as indispensable.
Ingredients:
2 cups all-purpose flour
½ teaspoon salt
⅔ cup shortening, chilled
6 tablespoons cold water
1 cup fresh strawberries, halved
2 cups fresh raspberries
1½ cups fresh blueberries
½ cup white sugar
3 tablespoons cornstarch
Directions: Combine the flour and salt. Using a pastry blender, cut in the shortening until the pieces are the size of small peas. Sprinkle 1 tablespoon of the water over part of the mixture, then gently toss with a fork. Push moistened portion to the side of the bowl. Repeat, using 1 tablespoon of water at a time, until all is moistened. Divide the dough in half. Form each half into a ball and flatten slightly. Wrap in plastic and refrigerate for at least 30 minutes.
Transfer one piece of dough to a lightly floured surface. Roll the dough from the center to the edges to form a 12-inch circle. Wrap the crust around the rolling pin. Unroll it onto a 9-inch pie plate. Ease the crust into the pie plate, being careful not to stretch it. Trim the bottom crust evenly with the rim of the pie plate, and return the pastry-lined pie plate to the refrigerator.
In a large mixing bowl, stir together the sugar and cornstarch. Add the strawberries, raspberries, and blueberries; gently toss until berries are coated. Allow fruit mixture to stand for about 15 minutes.
Preheat the oven to 375 degrees Fahrenheit. Place a baking sheet in the oven to preheat. Roll out the remaining pastry for the top crust. Stir the berry mixture and pour the filling into the pastry-lined pie plate. Place the top crust over the pie and trim the edges, leaving a ½-inch overhang. Fold the top crust under the bottom crust, pressing lightly to seal. Crimp the edges of the crust and cut vents in the top to allow steam to escape. To prevent over-browning, cover the edge of the pie with foil. Bake in the preheated oven on the baking tray for 25 minutes. Remove the foil. Bake for an additional 20 to 30 minutes, or until the filling is bubbling and the crust is golden. Cool on a wire rack.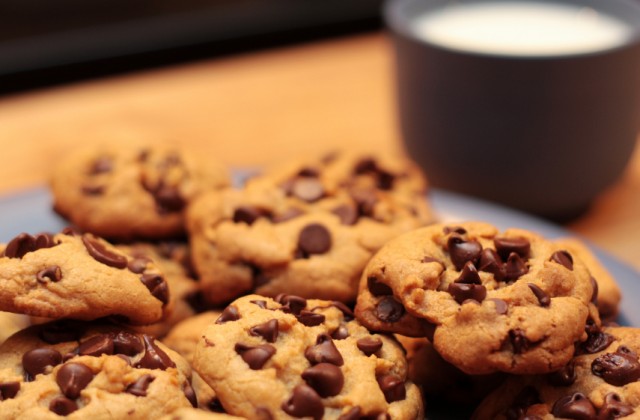 6. Chocolate Chip Cookies
Going out with a bang, we're highlighting these chocolate chip cookies from Eat Cake for Dinner that the recipe developer promises are the "Best EVER Chocolate Chip Cookies Seen All Over Pinterest." If that assertion doesn't peak your interest, we don't know what will. Once again, it's the cornstarch in these chocolate chip cookies that give them the undeniable soft and chewy texture, and with just two tablespoons of the white starch, your cookies should be on their way to delivering chocolate chip cookie perfection.
Everyone's always looking for their go-to chocolate chip cookie recipe; make this one yours. Just don't forget the cornstarch.
Ingredients:
¾ cup unsalted butter, softened
¾ cup brown sugar
¼ cup sugar
1 egg
2 teaspoons vanilla extract
2 cups all-purpose flour
2 teaspoons cornstarch
1 teaspoon baking soda
½ teaspoon salt
Chocolate chips — as many as you like
Directions: Cream together butter, brown sugar, and sugar until light and fluffy. Add the egg and vanilla and beat to combine. Combine the flour, cornstarch, baking soda, and salt and add to wet ingredients. Mix to combine and stir in the chocolate chips. Chill dough for at least 30 minutes. Preheat oven to 350 degrees Fahrenheit. Use a small cookie scoop and drop dough onto a greased cookie sheet. Bake 8-10 minutes or until barely golden around the edges.
More from Life Cheat Sheet:
Want more great content like this? Sign up here to receive the best of Cheat Sheet delivered daily. No spam; just tailored content straight to your inbox.