6 Easy and Delicious Recipes Using Random Pantry Ingredients
Preparing dinner is easy and effortless when you've got an abundance of ingredients and planned-out recipes to make. However, the process can be stressful and hectic when you have dwindling supplies and none of the necessary ingredients to prepare your usual go-to recipes. There's no need to panic, though! You can create easy dinners using basic pantry items. By taking advantage of common kitchen staples, such as noodles, rice, and beans, you can easily whip up a tasty and cost-effective dinner. Here are 6 last-minute meals you can make using common items from your pantry.
1. Rigatoni with Spicy Shrimp
Use fresh or frozen shrimp and rigatoni to make a five-star pasta dinner dish your family will love. If you don't have shrimp on hand, feel free to replace it with chicken instead. This satisfying supper won't take you long to prepare, either. You can have this Food Network recipe, which yields 4 servings, ready to go in 30 minutes.
Ingredients:
Kosher salt
12 ounces mezzi rigatoni (or other short pasta)
1 tablespoon extra-virgin olive oil
1 pound large shrimp, peeled and deveined
½ teaspoon red pepper flakes
1 medium shallot or ½ small red onion, minced
¼ cup white wine or low-sodium chicken broth
1 (15-ounce) can no-salt-added diced tomatoes
½ cup torn fresh basil
2 tablespoons heavy cream
Directions: Bring a large pot of salted water to a boil. Add the pasta and cook as the label directs. Reserve 1 cup cooking water, then drain. Meanwhile, heat the olive oil in a large nonstick skillet over medium-high heat. Add the shrimp in a single layer and season with ¼ teaspoon red pepper flakes and a pinch of salt. Cook until just pink, about 2 minutes, then flip and cook until no longer translucent, 1 to 2 more minutes. Transfer to a plate. Add the shallot to the skillet and cook, stirring with a wooden spoon, until translucent, about 2 minutes.
Add the wine and cook, scraping up any browned bits, until slightly reduced, about 1 minute. Add the tomatoes, half of the basil, the remaining ¼ teaspoon red pepper flakes, and ¼ teaspoon salt; cook until slightly thickened, about 5 minutes. Stir in the heavy cream and cook 1 more minute. Return the shrimp and any collected juices to the skillet. Stir in the pasta; add enough of the reserved pasta cooking water to loosen the sauce. Season with salt. Top with the remaining basil.

2. Puffed Cheddar-Rice Casserole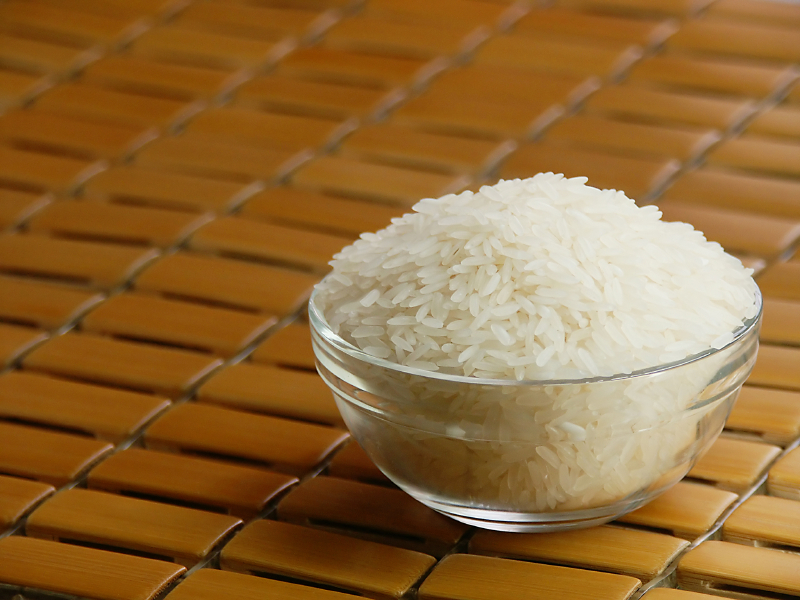 Using basic pantry items and common refrigerator staples, you can easily prepare this AllYou.com recipe. Rice, flour, butter, cheese, milk, and seasonings will create a cheese-filled dinner dish that's been baked to golden perfection. This dish requires about 15 minutes of prep time and yields 6 servings.
Ingredients:
2 tablespoons unsalted butter
3 tablespoons all-purpose flour
¾ cup milk
1½ cups shredded sharp cheddar
4 large eggs, separated, plus 1 large egg white
¼ teaspoon salt
1¼ teaspoons paprika
1½ cups cooked white rice
¼ teaspoon cream of tartar
Directions: Preheat oven to 350 degrees Fahrenheit. Butter a 3-quart round soufflé or other baking dish. In a saucepan over medium heat, melt butter. Whisk in flour until smooth. Whisking constantly, slowly pour in milk and cook until thick and bubbling, about 3 minutes. Reduce heat to low and stir in cheese until melted; remove from heat. In a bowl, stir together egg yolks, salt, and 1 teaspoon paprika.
Whisk in cheese sauce and rice. In another bowl, with an electric mixer on high speed, beat egg whites with cream of tartar until stiff but still glossy. Stir ¼ of beaten egg whites into rice mixture to lighten, then gently fold in remaining egg whites. Spoon into prepared dish and dust with remaining ¼ teaspoon paprika. Bake until puffy, golden brown, and just set in center, 45 to 50 minutes. Serve immediately.
3. Quick and Easy Black Bean Soup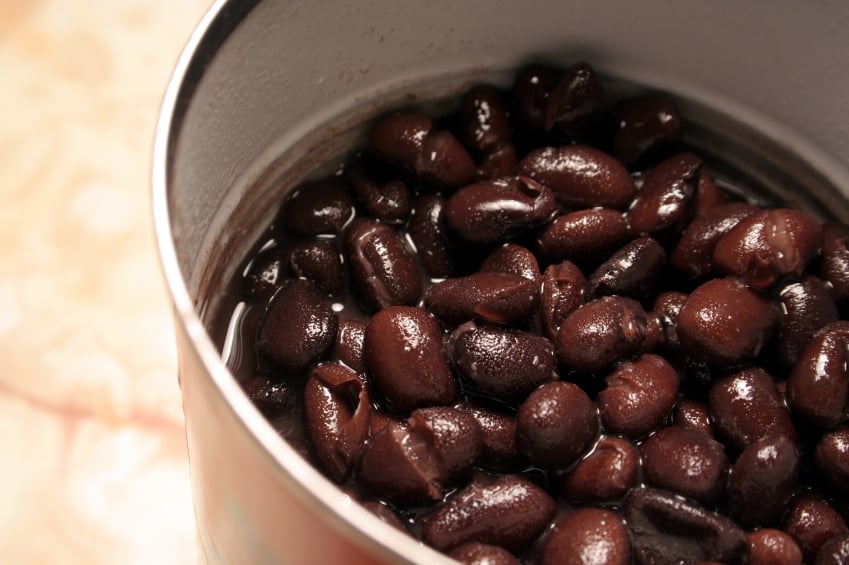 If you can typically find black beans, diced tomatoes, and chicken broth lurking in your pantry, you can easily prepare The Kitchn's recipe for black bean soup. You can either serve this soup by itself or you can pour it over pasta for a heartier meal. It yields 4 servings.
Ingredients:
1 strip of bacon, diced
1 large onion, diced
1 red pepper, diced
3 cloves garlic, minced
1 tablespoon ginger
1 tablespoon cumin
1 tablespoon salt, plus more to taste
¼ teaspoon cayenne
1 (28-ounce) can diced tomatoes
3 cups chicken broth
2 cans black beans (4 to 5 cups)
2 to 3 tablespoons cider vinegar, to taste
Directions: In a large stockpot or Dutch oven over medium-high heat, cook bacon until all the fat is rendered and bacon is crispy. Remove with a slotted spoon and drain on a paper towel. Add the onion and sauté in the bacon fat until translucent, about 5 minutes. Add the pepper and sauté until sweated, another 5 minutes. Add the garlic and spices, and sauté until fragrant, about 30 seconds.
Pour in the diced tomatoes, their juices, and the chicken broth. Scrape the bottom of the pan to release any caramelized bits. Bring to a boil and then reduce to simmer over medium-low heat. Simmer for 15 minutes. Add beans and simmer for another 10 minutes. Pour in 2 tablespoons of the cider vinegar, check seasonings, and add more salt, pepper, or vinegar as desired. Serve in individual bowls.
4. Cornflake-Coated Pork Chops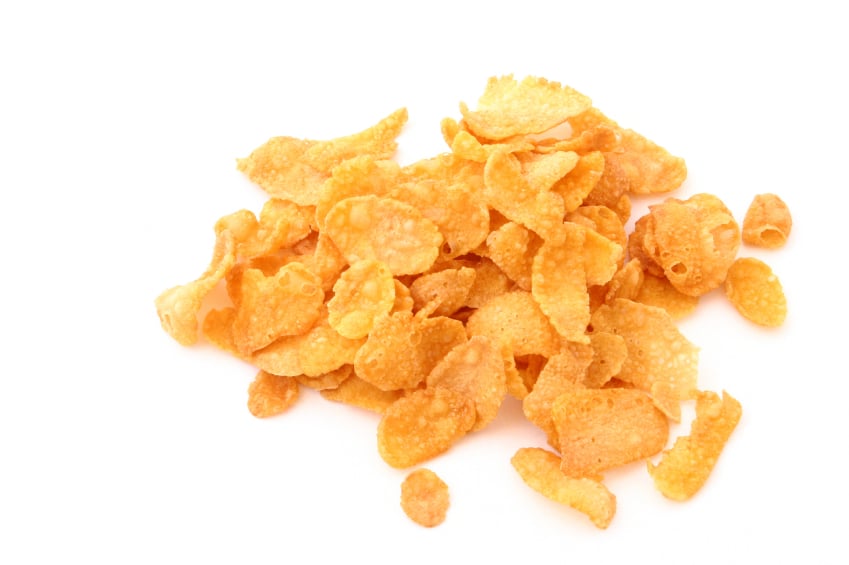 Do you have pork chops and cornflake cereal readily available? If so, you've got a breaded dinner that's just waiting to be prepared. Southern Living's recipe, which yields 6 servings, creates a baked pork chop that is so nice and crisp, it will taste like it's fried.
Ingredients:
2 large eggs, lightly beaten
2 tablespoons milk
5 cups cornflake cereal, crushed (about 2 cups crushed)
6 boneless pork chops (about ¾-inch thick)
2 teaspoons lemon pepper
1 teaspoon salt
1 teaspoon garlic powder
1 large lemon, halved
Garnish: halved lemon slices
Directions: Stir together eggs and milk in a shallow dish. Place cornflake crumbs in a separate shallow dish. Sprinkle pork evenly with lemon pepper, salt, and garlic powder. Dip pork chops in egg mixture and dredge in cornflake crumbs. Place chops on a lightly greased rack on a baking sheet. Bake at 350 degrees Fahrenheit for 30 to 35 minutes or until done. Squeeze lemon juice evenly over chops and garnish, if desired.
5. Chicken Pot Pie
Herbs, frozen veggies, chicken breast, and refrigerated pie dough are all you need to make a delicious pot pie dinner. To make this meal even easier, prepare it on a night when you have chicken leftovers that you can use up. Cooking Light's recipe yields 3 servings.
Ingredients:
½ (15-ounce) package refrigerated pie dough
Cooking spray
⅛ teaspoon salt
2 tablespoons all-purpose flour
1 teaspoon dried rubbed sage
¼ teaspoon salt
¼ teaspoon black pepper
8 ounces chicken breast tenders, cut into bite-size pieces
1¼ cups water
1½ cups frozen mixed vegetables
1 cup mushrooms, quartered
1 (10 ½-ounce) can condensed reduced-fat, reduced-sodium cream of chicken soup
Directions: Preheat oven to 425 degrees Fahrenheit. Cut three (4-inch) circles out of dough; discard remaining dough. Place dough circles on a baking sheet coated with cooking spray. Lightly coat dough with cooking spray; sprinkle evenly with ⅛ teaspoon salt. Pierce top of dough with a fork. Bake dough at 425 degrees for 8 minutes or until golden. Combine flour, sage, ¼ teaspoon salt, and pepper in a zip-top plastic bag; add chicken.
Seal bag, and toss to coat. Heat a large nonstick skillet coated with cooking spray over medium-high heat. Add chicken mixture; cook 5 minutes, browning on all sides. Stir in water, scraping pan to loosen browned bits. Stir in vegetables, mushrooms, and soup; bring to a boil. Reduce heat and cook 10 minutes. Spoon 1 cup chicken mixture into each of three (1-cup) ramekins or bowls; top each serving with one pie crust.
6. Mac and Cheese with Ham and Peas
This kid-friendly iVillage recipe calls for pasta, cubed ham, peas, milk, flour, cheese, and seasonings, creating a hearty and easy-to-make dinner. If you don't have cubed ham, you can replace it with frozen veggies or another meat that you do have readily available. The recipe yields 4 servings.
Ingredients:
1 pound small pasta, such as elbow macaroni, mini shells, penne, or fusilli
¾ cup cubed ham, about ¼-inch cubes
¾ cup frozen peas
2 tablespoons unsalted butter
2 tablespoons all-purpose flour
1 cup milk, warmed
1 small garlic clove, minced, about 1 teaspoon
1 cup grated mozzarella cheese
1 teaspoon kosher salt
½ teaspoon ground black pepper
½ cup grated Parmesan cheese
Directions: Make your noodles according to the package instructions. Meanwhile, in a medium saucepan, heat the butter over medium heat. Add the flour and stir with a wooden spoon or whisk until smooth, about 1 minute. Slowly add the milk, whisking constantly to prevent any lumps. When all the milk is added, turn off the heat and add the garlic.
Stir in the pasta, mozzarella cheese, salt, and pepper. Taste and adjust the seasonings as desired. Preheat the broiler. Place the pasta mixture in individual ovenproof dishes or in a 4-quart ovenproof dish. Top with Parmesan cheese and place in the oven until the cheese is golden brown. Remove and serve while hot.
More from Culture Cheat Sheet: