6 Easy Make-Ahead Breakfasts That Make You Look Impressive
Whether you're hosting guests or you know that Christmas morning will leave little time to prepare a special holiday breakfast (or you're anticipating a bleary New Year's morning), a dish that can be made the night before, thrown in the oven before your coffee's done, and feed a crowd as a breakfast sidekick that makes you the hero. These 6 recipes take almost no time to throw together the night before and make quite an impact when everyone files into the kitchen in the morning to find you there, sipping coffee and pulling out a warm batch of breakfast heaven.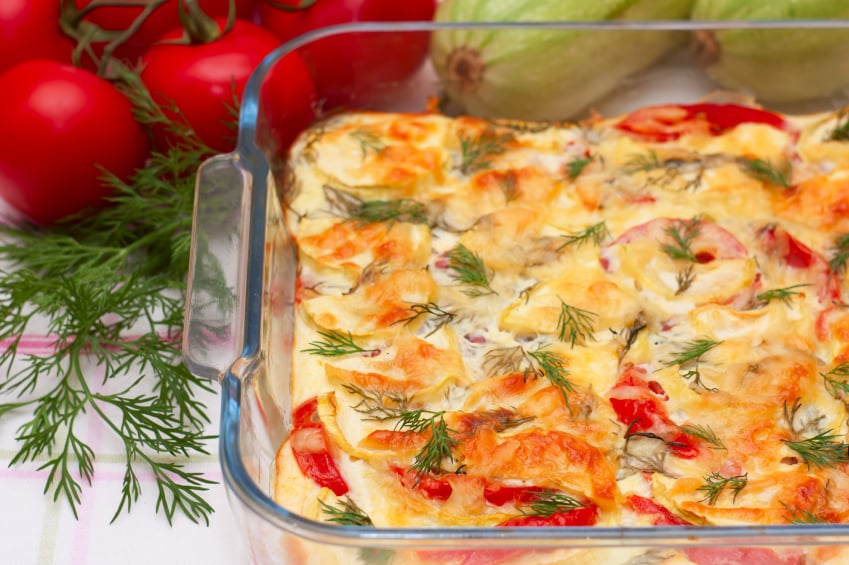 1. Overnight Breakfast Strata
The real difference between a strata and a fritatta is whether the bread is baked in the casserole or as an option on the side. Putting it straight into the egg mixture and letting it soak up all the flavor overnight makes this hardier and helps it stretch through a crowd of hungry, sleepy relatives. This particular strata from Chef in Training includes tomato and spinach for some morning nutrients, but you could adapt the recipe for anything you have in the fridge. Night prep time should be about 15 minutes, and morning bake-time will be about 45 minutes.
Ingredients:
8 to 9 slices of bread, buttered on one side
12 eggs
1 quart half-and-half
½ teaspoon onion powder
½ teaspoon salt
¼ black pepper
12 ounces sharp cheddar cheese, grated
4 to 5 medium tomatoes, diced
4 to 5 cups baby spinach leaves
Directions: The Night Before – In a large bowl, whisk together eggs, half-and-half, and spices until thoroughly beaten.
Grease a 9-by-13-inch pan. Lay the bottom layer of bread, butter side up, into the pan. If needed, trim the pieces to lay flat. Layer cheese first, then vegetables. If you have extra bread, you can chop it up and sprinkle it in with the veggies. For the last layer, pour the egg mixture over the whole dish. Cover and refrigerate.
In the Morning — Bake at 350 degrees Fahrenheit for 35 to 45 minutes or until cooked through.
2. Eggnog Breakfast Bread Pudding
For a sweet, holiday-themed breakfast, throw together this eggnog bread pudding from The Kitchn. They claim that it is as good right out of the oven as it is at room temperature, so it's an easy way to please the early birds and the late risers. For a little holiday decadence or post-party hair of the dog, add an optional splash of bourbon to the custard. The recipe calls for French bread, but this would be equally good (and even more rich) made with brioche or challah. Night prep-time for this will be about 20 minutes, and morning bake time is closer to 50 minutes — perfect for another little snooze.
Ingredients:
1 loaf French bread, sliced
4 ounces unsalted butter, room temperature
3 cups eggnog
2 cups whole or 2% milk
5 large eggs
4 egg yolks
1 cup sugar
Pinch salt
2 tablespoons bourbon (or 1 teaspoon pure vanilla extract)
Confectioner's sugar and warm maple syrup, for serving
Directions: The Night Before — Generously butter the bread slices. Cut the buttered slices into 1-inch cubes and pile into a 2-quart baking dish.
Heat the eggnog and milk in a large saucepan over medium heat until bubbling gently but not boiling. Be careful not to scald the bottom.
Meanwhile, combine the eggs, egg yolks, sugar, and salt in a large mixing bowl and whisk vigorously until light and frothy. Whisk one cup of the eggnog mixture into the eggs to temper them — adding all of it at once may scramble the eggs! Gradually whisk in the remaining eggnog mixture and the bourbon, if using.
Pour the custard over the bread cubes, and gently mash down with your hands to make sure all of the bread gets saturated. Chill overnight in the refrigerator.
In the Morning
Preheat the oven to 375 degrees Fahrenheit. Bring a large pot of water to a boil. Place the casserole dish inside of a large roasting pan to prepare the water bath and transfer to the oven. Carefully pour the boiling water into the roasting pan, so that it comes halfway up the sides of the baking dish.
Bake for 45 to 50 minutes, until the custard is set and the top is light golden brown. Remove the roasting pan from the oven, then carefully lift the casserole dish out of the water. Allow to cool for 5 to 10 minutes before serving.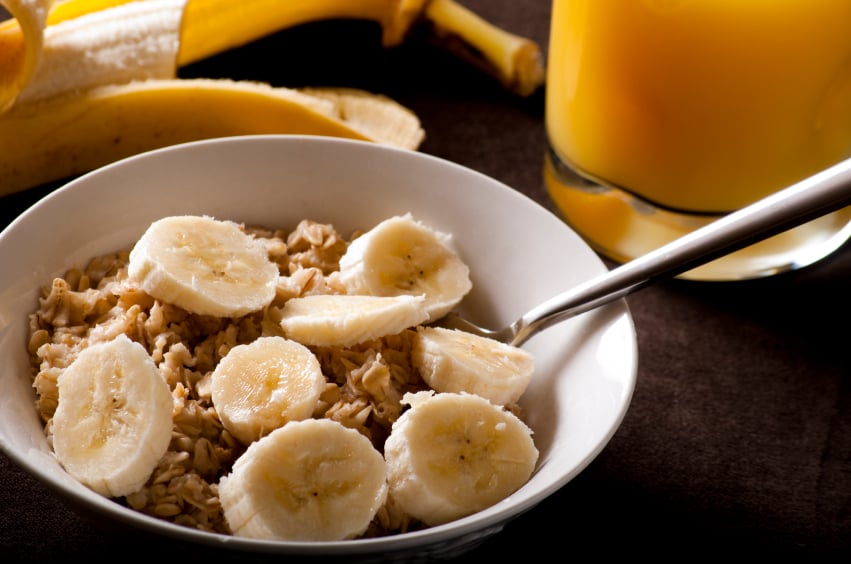 3. Overnight Maple Banana Peanut Butter Pecan Oatmeal
Are you really not a morning person? As is, is there going to be someone in the house who is going to wake up hours before you and demand to be fed (or, you know, hungry)? Enter Maple PPBB (pecan, peanut butter, and banana) overnight oatmeal from Radiant Rachels. Requiring absolutely no interaction from you in the morning, this is a stick-to-your-ribs breakfast that your guests can serve themselves straight from the fridge, leaving you to sleep until they need you again at lunch. Night prep-time is about 5 minutes, and morning prep-time? None.
This recipe is for a single serving; multiply the quantities by however many people you'll be feeding in the morning.
Ingredients:
¼ cup oats, preferably old fashioned, though quick cook is fine
1 tablespoon chia seeds
1 teaspoon cinnamon
¾ cup unsweetened almond milk
A splash of vanilla
½ ripe banana, sliced
1 tablespoon natural peanut butter
1 teaspoon maple syrup
A small handful of pecans, toasted, if you're up to it
Directions: The Night Before — In a small bowl or jar, combine oats, chia seeds, cinnamon, almond milk, and vanilla. Cover and chill in refrigerator overnight.
In the Morning
Option One: Keep Sleeping. Leave bananas, peanut butter, pecans, and syrup on the counter next to bowls and a note that says, "Good morning, help yourself."
Option Two: Wake up, make coffee. Microwave sliced bananas with peanut butter for about 20 seconds or until the peanut butter has melted. Stir into oats. Drizzle in maple syrup, top with pecans, and serve.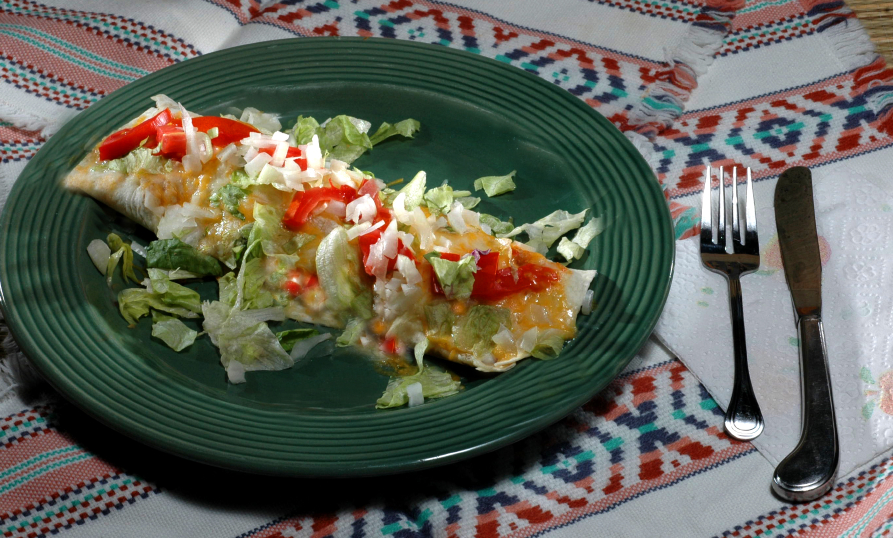 4. Breakfast Enchiladas
Way fancier than breakfast burritos but also simple and delicious, these enchiladas from Southern Living are stuffed with sausage and scrambled eggs, topped with cheese sauce, and baked into cheesy morning goodness. This recipe has the longest night-before prep time, but probably the most wow-factor in the morning after 30 minutes in the oven.
Ingredients:
Enchiladas
1 pound ground hot pork sausage
2 tablespoons butter
4 green onions, thinly sliced
2 tablespoons fresh cilantro, chopped
14 large eggs, beaten
¾ teaspoon salt
½ teaspoon black pepper
8 flour tortillas
1 cup shredder Monterey Jack Cheese
Optional Toppings: diced tomatoes, sliced green onions, fresh cilantro
Cheese Sauce
⅓ cup butter
⅓ cup flour
3 cups milk
2 cups shredded cheddar cheese
1 can (4.5 ounces) green chilies
¾ teaspoon salt
Directions: The Night Before – Cook sausage in a large nonstick skillet over medium-high heat, stirring until sausage crumbles and is no longer pink. Remove from pan and  drain well, pressing between paper towels.
Make Cheese Sauce: Melt the ⅓ cup of butter in a heavy saucepan over medium-low heat; whisk in flour until smooth. Cook, whisking constantly, for 1 minute. Gradually whisk in milk; cook over medium heat, whisking constantly, for 5 minutes or until thickened. Remove from heat, and whisk in remaining ingredients.
Melt the remaining 2 tablespoons of butter in a large nonstick skillet over medium heat. Add green onions and cilantro, and sauté for 1 minute. Add eggs, salt, and pepper, and cook, without stirring, until eggs begin to set on bottom. Draw a spatula across bottom of pan to form large curds. Continue to cook until eggs are thickened but still moist; do not stir constantly. Remove from heat, and gently fold in 1½ cups cheese sauce and sausage.
Spoon about ⅓  cup egg mixture down the center of each flour tortilla; roll up. Place, seam side down, in a lightly greased 13-by-9-inch baking dish. Pour remaining cheese sauce evenly over tortillas; sprinkle evenly with Monterey Jack cheese. Cover and refrigerate overnight.
In the Morning
Bake at 350 degrees Fahrenheit for 30 minutes or until sauce is bubbly. Serve with desired toppings.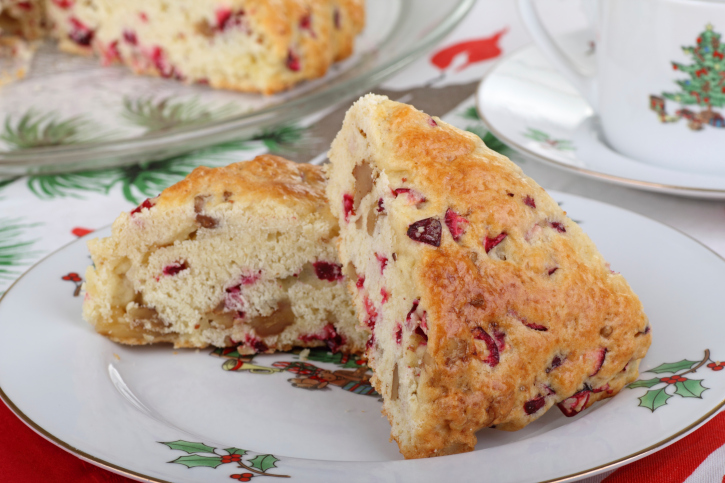 5. Fresh Cranberry Scones
For a lighter breakfast that still comes out of the oven freshly baked, try your hand at scones. Cranberries offer a slight tartness to keep these scones from The Kitchn from getting too sweet and they're a bit festive, too. Most people don't think of scones as a "make ahead" meal, but a good butter dough rests in the refrigerator before going into the oven anyway, so you may as well leave them in there all night. Advance prep time for these scones is about 10 minutes, and morning bake time is about 20 to 25 minutes. Rum Glaze optional.
Ingredients:
Scones
1½ cups fresh cranberries
⅓  cup light brown sugar
1 small orange or clementine, zested
2¼ cups flour
3 teaspoons baking powder
½ teaspoon salt
12 tablespoons chilled unsalted butter, cut into small pieces
⅓  cup to ½ cup milk
Turbinado sugar, for sprinkling, optional
Rum Glaze
⅓ cup powdered sugar
2 tablespoons dark rum
2 teaspoons vanilla
Directions: The Night Before – In the bowl of a food processor, blitz the cranberries with the brown sugar and orange zest until lightly chopped. Remove to a separate large bowl. Back in the food processor, combine the flour, baking powder, and salt. Cut the chilled butter into small pieces and pulse with the flour in the processor just until roughly crumbled.
Mix the flour and butter mixture with the cranberries in their bowl. Add the milk and stir just until the dough comes together; it's fine if there is still crumbly flour.
Sprinkle the countertop or a board with flour, and dump the dough out on it. Cut out rounds using a biscuit cutter or glass, or pat into a thick circle and cut into wedges. Put on a plate or baking sheet and chill in the refrigerator until morning.
In the Morning
Preheat the oven to 350 degrees Fahrenheit. If you aren't planning on making the rum glaze, sprinkle the scones with sugar. To make the glaze, whisk the powdered sugar, rum, and vanilla together until they form a thick, glossy glaze.
Bake scones on a greased baking sheet for 20 to 25 minutes or until just golden. If using, drizzle lightly with rum glaze.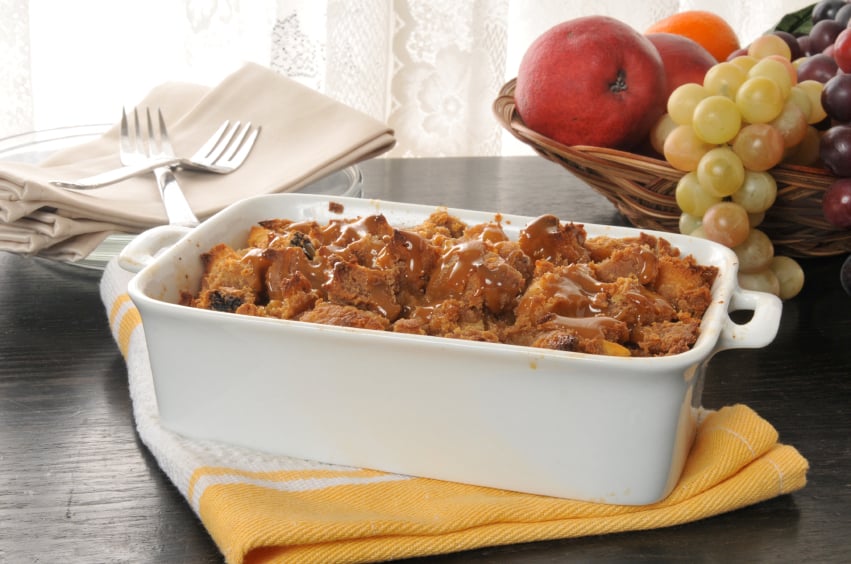 6. Baked French Toast Casserole
The ultimate let soak and bake dish has to be French toast casserole. Easy, impressive, delicious, and homey. This version from Paula Deen via the Food Network has a praline topping for a little extra crunch and extra special festive kick. Prep time is about 10 minutes, bake time about 40 minutes.
Ingredients:
French Toast
1 loaf French bread
8 large eggs
2 cups half-and-half
1 cup milk
2 tablespoons granulated sugar
1 teaspoon vanilla extract
¼ teaspoon ground cinnamon
¼ ground nutmeg
Dash of salt
Maple syrup
Praline Topping
2 sticks butter
1 cup packed light brown sugar
1 cup chopped pecans
2 tablespoons light corn syrup (or maple syrup)
½ teaspoon ground cinnamon
½ teaspoon ground nutmeg
Directions: The Night Before – Slice French bread into 20 slices, 1-inch each. Arrange slices in a generously buttered 9-by-13-inch flat baking dish in 2 rows, overlapping the slices. In a large bowl, combine the eggs, half-and-half, milk, sugar, vanilla, cinnamon, nutmeg, and salt and whisk until blended but not frothy. Pour mixture over the bread slices, making sure all are covered evenly with the milk-egg mixture. Spoon some of the mixture in between the slices. Cover with foil and refrigerate overnight.
In the Morning
Preheat the oven to 350 degrees Fahrenheit. Make the praline topping by stirring all ingredients together in a bowl. Top French toast with praline mixture and bake for 40 minutes.
More from Life Cheat Sheet:
Want more great content like this? Sign up here to receive the best of Cheat Sheet delivered daily. No spam; just tailored content straight to your inbox.