6 Easy Mediterranean Diet Dishes Ready in Under 30 Minutes
The Mediterranean Diet emphasizes eating an abundance of fruits, vegetables, nuts, whole grains, legumes, olive oil, fish, and poultry. Eating Well writes that following this meal plan can help you lose weight, control blood glucose levels, and reduce your risk of depression, heart attack, and stroke. The best part? How easy it is to stick to the diet. It encourages sweets, treats, and even red wine in moderation, the meals are filled with fresh ingredients and rich flavors, and many are fairly simple to prepare. Don't believe us? Take a look at these 6 Mediterranean meals, which can be made in under 30 minutes.
1. Mediterranean Breakfast Quinoa
AllRecipes.com's Breakfast Quinoa is bursting with Mediterranean Diet-approved ingredients, including nuts, heart-healthy grains, and fruit. Toast the almonds, heat the cinnamon and quinoa, mix in the remaining ingredients, and enjoy! The recipe yields 4 servings and takes 25 minutes to make.
Ingredients:
¼ cup chopped raw almonds
1 teaspoon ground cinnamon
1 cup quinoa
2 cups milk
1 teaspoon sea salt
1 teaspoon vanilla extract
2 tablespoons honey
2 dried pitted dates, finely chopped
5 dried apriocts, finely chopped
Directions: Toast the almonds in a skillet over medium heat until just golden, 3 to 5 minutes; set aside. Heat the cinnamon and quinoa together in a saucepan over medium heat until warmed through. Add the milk and sea salt to the saucepan and stir; bring the mixture to a boil, reduce heat to low, place a cover on the saucepan, and allow to cook at a simmer for 15 minutes. Stir the vanilla, honey, dates, apricots, and about half the almonds into the quinoa mixture. Top with the remaining almonds to serve.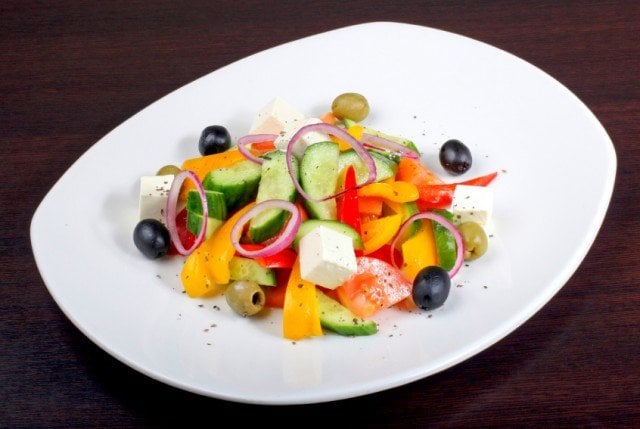 2. Greek Salad
Food Network's simple Greek Salad contains 147 calories per serving and highlights fresh herbs, vegetables, and olive oil. We suggest serving this salad with Gourmet's Whole-Wheat Pita Bread via Epicurious.
Ingredients:
3 tomatoes, quartered
Fresh oregano
2 tablespoons capers
1 tablespoon slice pickled peppers
3 tablespoons extra-virgin olive oil
Salt and pepper, to taste
Watercress
Sliced scallions
Pitted Greek olives
Directions: Toss 3 quartered tomatoes, some fresh oregano, 2 tablespoons capers, 1 tablespoon sliced pickled peppers with 1 tablespoon of the liquid, 3 tablespoons olive oil, and salt and pepper. Toss in watercress, sliced scallions, and pitted Greek olives. Serve and enjoy.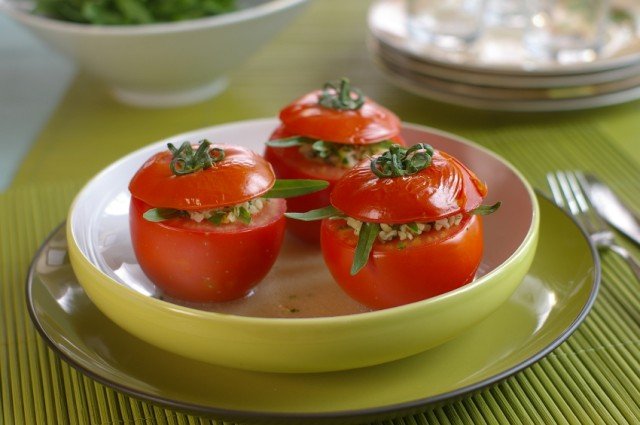 3. Mediterranean Stuffed Tomatoes
It only takes 20 minutes to make Health's Mediterranean Stuffed Tomatoes, which can be served for lunch and dinner. WebMD says that tomatoes are heart-healthy; a good source of antioxidants, vitamins A, C, and E, and potassium; and can reduce your risk for pancreatic cancer.
Ingredients:
2 large tomatoes
½ cup packaged garlic croutons
¼ cup crumbled goat cheese
¼ cup sliced pitted kalamata olives
2 tablespoons reduced-fat vinaigrette or Italian salad dressing
2 tablespoons chopped fresh thyme or basil
Directions: Preheat broiler. Cut tomatoes in half crosswise. Use your finger to push out and discard seeds; use a paring knife to cut out the pulp, leaving 2 shells. Chop pulp and transfer to a medium bowl. Place hollowed tomatoes cut sides down on a paper towel; drain 5 minutes. Add croutons, goat cheese, olives, dressing, and thyme or basil to pulp; mix well. Mound mixture into hollowed tomatoes. Place tomatoes on a baking sheet or broiler pan. Broil 4 to 5 inches from heat until hot and cheese melts. Serve immediately.
4. Greek-Style Scampi
Keep your diet and tastebuds happy with Cooking Light's Greek-Style Scampi. Toss shrimp and bell peppers in a garlicky tomato sauce, serve it with angel hair pasta, and top with feta for a healthy dinner that only takes 20 minutes to make. The recipe yields 4 servings.
Ingredients:
6 ounces uncooked angel hair pasta
1 teaspoon olive oil
½ cup chopped green bell pepper
2 teaspoons bottled minced garlic
1 (14.5-ounce) can diced tomatoes with basil, garlic, and oregano, undrained
⅛ teaspoon black pepper
1 pound peeled and deveined medium shrimp
⅛ teaspoon ground red pepper
6 tablespoons (about 1½ ounces) crumbled feta cheese
Directions: Cook pasta according to package directions, omitting salt and fat. Drain and keep warm. Heat oil in a large nonstick skillet over medium-high heat. Add green bell pepper to pan; sauté 1 minute. Add garlic and tomatoes; cook 1 minute. Add black pepper and shrimp; cover and cook 3 minutes or until shrimp are done. Stir in red pepper; remove from heat. Place 1 cup pasta on each of 4 plates. Top each serving with 1 cup shrimp mixture and 1½ tablespoons cheese.
5. Mediterranean-Style Grilled Salmon
Skip fish that's been breaded and fried, and prepare Mayo Clinic's Mediterranean-Style Grilled Salmon instead. You don't even need a grill to make this recipe, which yields 4 servings. You can replicate delicious grill flavors using your broiler and may substitute swordfish, halibut, or sea bass in place of the salmon.
Ingredients:
4 tablespoons chopped fresh basil
1 tablespoon chopped fresh parsley
1 tablespoon minced garlic
2 tablespoons lemon juice
4 salmon fillets, each 5 ounces
Cracked black pepper, to taste
4 green olives, chopped
4 thin slices lemon
Directions: Prepare a hot fire in a charcoal grill, or heat a gas grill or broiler. Away from the heat source, lightly coat the grill rack or broiler pan with cooking spray. Position the cooking rack 4 to 6 inches from the heat source. In a small bowl, combine the basil, parsley, minced garlic, and lemon juice. Spray the fish with cooking spray. Sprinkle with black pepper. Top each fillet with equal amounts of the basil-garlic mixture. Place the fish herb-side down on the grill. Grill over high heat.
When the edges turn white, after about 3 to 4 minutes, turn the fish over and place on aluminum foil. Move the fish to a cooler part of the grill or reduce the heat. Grill until the fish is opaque throughout when tested with the tip of a knife and an instant-read thermometer inserted into the thickest part of the fish reads 145 degrees Fahrenheit, about 4 minutes longer. Remove the salmon and place on warmed plates. Garnish with green olives and lemon slices.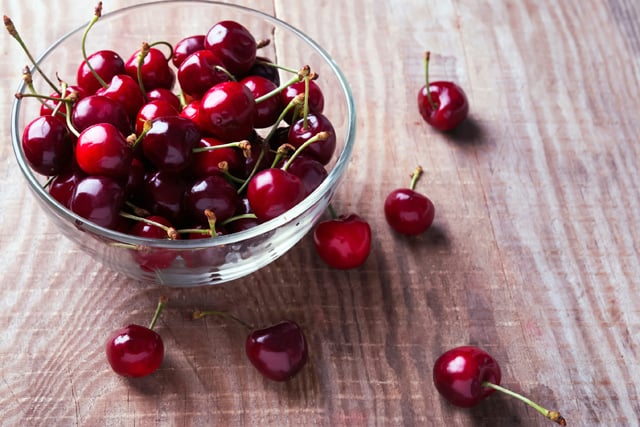 6. Poached Cherries
Deprivation is not part of the Mediterranean Diet, so if a sweet craving strikes, satisfy it! But instead of opting for a treat that's packed with refined sugar and unhealthy ingredients, make Fine Cooking's Poached Cherries. At 170 calories per serving, this is one dessert dish you won't feel guilty eating.
Ingredients:
1¾ cups water
⅔ cup sugar
3 strips lemon zest, 1 by 3 inches each
3 strips orange zest, 1 by 3 inches each
¼ vanilla bean, split but not scraped
15 peppercorns
1 pound fresh sweet cherries, rinsed and pitted
Directions: In a saucepan, bring the water, sugar, citrus zest, vanilla bean, and peppercorns to a boil, stirring to dissolve the sugar. Add the cherries and simmer until they're soft but not falling apart, about 10 minutes. Skim any foam from the surface. Let cool and then refrigerate. Strain the poaching liquid before serving.
More from Life Cheat Sheet:
Want more great content like this? Sign up here to receive the best of Cheat Sheet delivered daily. No spam; just tailored content straight to your inbox.