6 Easy Recipes Every College-Aged Kid Needs to Know
The dog days of summer are upon us and school will soon be in session again. Students will file back into the classroom and college kids will pack their cars to go back to university. For the latter group, that not only means a return to messy dorm rooms, unwashed laundry, and unmade beds, but also to the dreaded cafeteria food. The options and possibilities at the school cafeteria seem endless at first, but you can only have cereal, slices of pizza, and dishes of dry chicken for so long. Students often get sick of the same food served on their trays for breakfast, lunch, and dinner, and that's why they resort to fast fixes like Ramen noodles, mac and cheese, and Wendy's takeout.
If you're interested in equipping your college-aged kids with a couple recipes they can make for dinner sans the dining hall, look no further than this list of food formulas that anyone can follow — as long as they have access to a kitchen. These recipes are cheap, easy, customizable, and low fuss, and will teach your undergrads how to cook their own food and like it, too.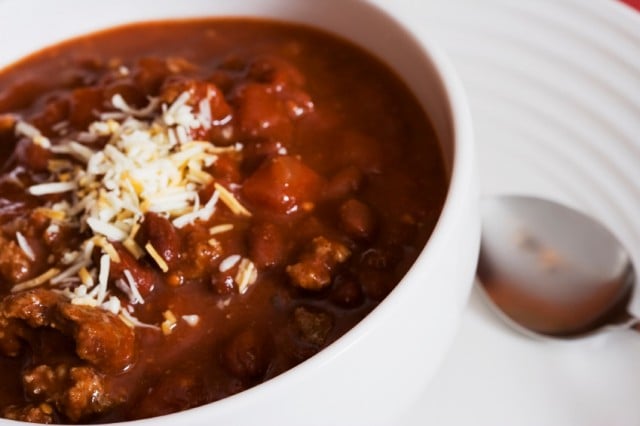 1. 5-Ingredient Chili
One recipe that every college student should have in his or her recipe arsenal is one for chili, whether it be for traditional chili, turkey chili, chicken chili, or vegetarian chili. If your kid is a meat lover, arm him or her with this easy recipe from Gimme Some Oven that only requires five ingredients: ground beef/turkey, tomatoes, onions, beans, and chili powder. Throw your ingredients in a large stock pot, boil, and then reduce them to simmer for 15 minutes. Dinner will be ready in no time, and leftovers freeze perfectly. In fact, the chili may even taste better the day after.
Ingredients:
1 pound ground beef or turkey
3 (15 ounces) cans diced tomatoes with green chiles
2 (15 ounces) cans beans, drained (black beans, kidney beans, a combo, or whatever you like)
1 small white onion, diced
2 tablespoon chili powder
Directions: In a large stockpot, cook ground beef or turkey over medium-high heat until browned, stirring frequently. Add remaining ingredients and stir to combine. Bring to a boil, then reduce heat to medium-low, cover, and simmer for 15 minutes or until the onion is cooked and softened.
2. Vegetable Stir-Fry With Rice
The next recipe on our list is meat-free, but it is still hearty and satisfying thanks to the nutrients and fiber in the vegetables, and the carbohydrates in the rice. Teach your college kid how to make this easy veggie stir-fry from Seventeen and they'll thank you later. As long as they know how to boil water, they can make rice, and then all it takes is a couple handful of vegetables in a skillet, a heavy hand of soy sauce, and they're good to go. Stir-fries are cheap, delicious, and customizable, and also taste way too good for how easy they are to make.
Ingredients:
½ cup rice, dry
½ tablespoon olive oil
¼ red pepper, in strips
½ green pepper, in strips
2/3 cup sugar snap peas
1 cup broccoli cuts
Teriyaki or soy sauce, amount per your taste
Directions: Boil water for the rice. Follow instructions on the rice bag, adjusting for ½ cup of rice. Pour the olive oil into the deepest frying pan you have. Add all of the veggies, and then turn on medium heat. Cover and let steam for about 10 minutes. Stir occasionally to make sure that the frozen bits hug the bottom of the pan. It's normal to have some water at the bottom. The vegetables should begin to look more vibrant in color. Drizzle your sauce throughout the pan, covering all vegetables. Adjust the amount based on your taste. Stir with a wooden spoon to make sure the sauce covers all of them evenly. Then let sit for 5 minutes on low heat.
3. Basic Omelet 
Everyone, young and old, likes breakfast for dinner, and that's why every college student should know how to make a good omelet. The breakfast staple is so cheap and easy, can swiftly stand in for a dinner, and can be filled with as many meats, veggies, and cheeses as your undergrad likes. Before your student leaves for college, make sure he or she has this recipe from jamieoliver.com packed in a suitcase. While this omelet formula only calls for eggs and cheese, the possibilities are truly endless.
Ingredients:
2 large free-range eggs
Sea salt
Freshly ground black pepper
1 small knob butter
1 small handful cheddar cheese, grated, optional
Directions: Crack the eggs into a mixing bowl with a pinch of salt and pepper. Beat well with a fork. Put a small frying pan on a low heat and let it get hot. Add a small knob of butter. When the butter has melted and is bubbling, add your eggs and move the pan around to spread them out evenly. When the omelette begins to cook and firm up, but still has a little raw egg on top, sprinkle over the cheese, if using.
Using a spatula, ease around the edges of the omelette, then fold it over in half. When it starts to turn golden brown underneath, remove the pan from the heat and slide the omelette on to a plate.
4. Baked Breaded Chicken
Every meat-eating college kid needs an easy chicken recipe in his or her cooking tool belt, and this recipe for Baked Breaded Chicken from Spark People fits the bill. It's low-cost, low-energy, and only takes 30 minutes to cook and prepare, and most importantly, it yields an easy chicken dish that is impossible to resist. This dinner can be prepared when your college-aged kid is short on time and on cash, but will still keep him or her from resorting to the preservative-packed dining hall food.
Ingredients:
Chicken breast, 3 boneless skinless
3 tablespoons flour
1 egg, diluted with a little bit of milk or water
1/2 cup + 1 tablespoon Italian-style bread crumbs
Garlic powder
Onion powder
Black pepper
Directions: Season 3 tablespoons of flour with the garlic powder, onion powder, and black pepper. Rinse and pat dry each chicken breast. Cut each breast into 3 equal strips. Dredge in flour mixture, then in the egg, and finally into the breadcrumbs. Place onto a pan (can use some non-stick spray as well) and bake at 425 degrees Fahrenheit for about 20 minutes, or until chicken is cooked through.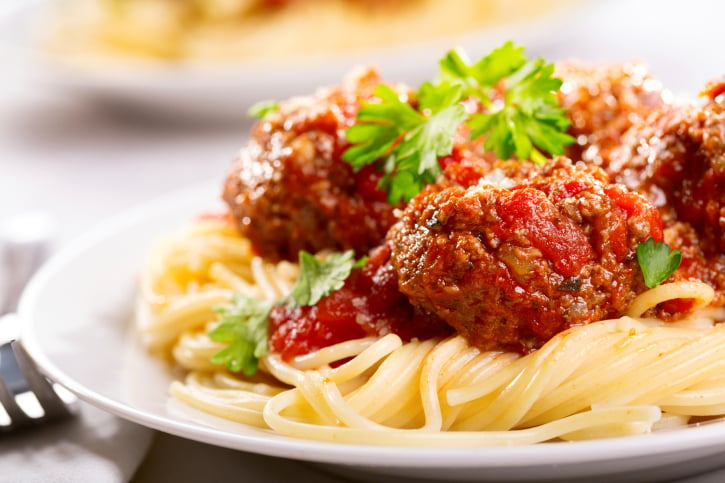 5. Easy Spaghetti and Meatballs
The carbs are up for the No. 5 spot on our list, because when the craving calls, college kids shouldn't ignore it, and they also shouldn't have to face the cafeteria's slimy pasta dishes one more time. Instead, encourage them to whip up this easy spaghetti and meatballs recipe from Food.com. The sauce is easily warmed, the meatballs come together in no time, and everyone can throw pasta in a pot — all college students need is a tutorial, and that's what this recipe is. Thank Food.com for feeding your kids' cravings — and their bellies.
Ingredients:
2 (30 ounce) jars spaghetti sauce
2 pounds lean ground beef
2 eggs
3/4 cup dry breadcrumbs
1/4 cup fresh parsley, chopped
1 garlic clove, minced
1/2-1 teaspoon salt
1/4 cup parmesan cheese
1 pound spaghetti, cooked al dente
Directions: Place sauce in a large saucepan and simmer over medium heat. In large bowl mix beef, eggs, crumbs, parsley, garlic, salt, and Parmesan. Shape into 18 meatballs. Place meatballs in simmering sauce. When sauce returns to a simmer, cover and cook 30-35 minutes (or more!) until cooked through. Serve sauce and meatballs over warm spaghetti.
6. Easy Chicken Quesadillas
Last on our list are these easy chicken quesadillas from Taste of Home. Your college kids will thank you if you teach them how to make this simple recipe, and what's more, they'll probably keep making it for the rest of their lives, because quesadillas simply don't go out of style. This dish isn't the healthiest dinner, but it certainly gets the job done, and at least your student isn't eating cereal for the third time that day. Combining pre-cooked chicken, cheese, and flour tortillas is just about as easy (and cheap) as it gets, but that's a reality you have to remind college students of, and this recipe will do just that.
Ingredients:
4 flour tortillas (8 inches)
2 teaspoons butter, melted
1 cup (4 ounces) shredded cheddar cheese
1/3 cup finely chopped onion
1 medium tomato, diced
1 package (9 ounces) frozen diced cooked chicken, thawed and chopped
Directions: Brush one side of each tortilla with butter. Place two tortillas, buttered side down, on a griddle; sprinkle with cheese, onion, tomato, and chicken. Top with remaining tortillas, buttered side up. Cook over medium heat for 3-4 minutes on each side or until lightly browned. Cut into wedges. Yield: 2 servings.
More From Wall St. Cheat Sheet:

Want more great content like this? Sign up here to receive the best of Cheat Sheet delivered daily. No spam; just tailored content straight to your inbox.