6 Fall Soups You Can Serve Hot or Cold
Transitioning from summer to fall can be challenging in more ways than one. One day it's hot, the next it's cold, and sometimes it's somewhere in between. Just like it can be hard to figure out what to wear, it can also be difficult to determine what to eat when the weather jumps from hot to cold. Instead of trying to guess what the weather may be, why not prepare a bowl of soup that's full of hearty fall foods and can be served both hot and cold? That way, no matter what the temperature is, you can comfortably indulge in the season's finest flavors. Here are 6 fabulous fall soup recipes that taste just as good hot as they do cold.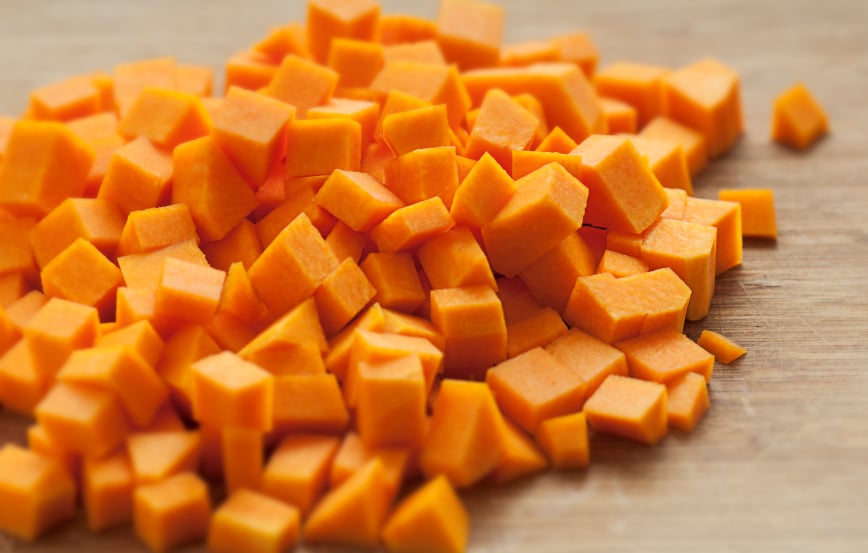 1. Butternut Squash Asparagus Soup
Embrace fresh fall produce by making Let's Regale's recipe for butternut squash asparagus soup. Whether you choose to serve it warm or cold, it has a smooth, rich texture and taste to it that's absolutely mouth-watering. The recipe yields 2 to 3 servings.
Ingredients:
1 butternut squash, cubed
6 asparagus, chopped
¼ medium onion, chopped
½ tomato, chopped 1 teaspoon, salt
1 tablespoon tarragon, chopped
3 cups water
½ leak
5 garlic cloves
1 tablespoon safflower oil
¼ cup chardonnay (or any white wine) (optional)
Garnish: poppyseed and cilantro leaves
Directions: Heat oil in saucepan over medium-low heat. Add onion and leeks, and cook until soft. Add in the garlic and cook until fragrant. Add in the tomato, asparagus, butternut squash, and white wine and cook for about 5 minutes. Stir in water and tarragon, and bring to a boil. Reduce heat to medium-low, and add salt, if desired. Simmer 20 minutes, or until squash is fork-tender.
Remove from heat, and purée soup in batches in blender or food processor, or use immersion blender in saucepan; blend until smooth. Return soup to saucepan, and reheat over medium-low heat 2 to 3 minutes, or until warmed through. To serve cold, chill for several hours. Serve garnished with poppy seeds and cilantro leaves.
2. West Indian Pumpkin Soup
Better Homes and Gardens has created a creamy soup that is bursting with amazing autumn flavors, including pumpkin, apples, sweet potatoes, and warm seasonings. You can serve this soup, which yields 10 cups, as a hearty side dish or a main meatless dinner.
Ingredients:
2 pounds

butternut squash

or cooking pumpkin, peeled and cut into 1-inch pieces
1 pound

sweet potatoes

, peeled and cut into 1-inch pieces
2 tablespoons

butter, melted

1 tablespoon sugar
1 teaspoon kosher salt
1 teaspoon freshly ground black pepper
2 tablespoons olive oil
1 large Spanish

onion, chopped

½ scotch bonnet chile or 1 jalapeño chile, seeded and finely chopped
1 tablespoon minced garlic
1 tablespoon grated

fresh ginger

2 tablespoons snipped

fresh thyme

or 2 teaspoons

dried thyme

2 teaspoons finely grated orange peel
1 tablespoon curry powder
¼ teaspoon ground nutmeg
1 cinnamon stick
2 small bay leaves
6 cups chicken broth
¼ cup whipping cream
¼ cup unsweetened coconut milk
2 Granny Smith apples, cored and diced
½ cup pumpkin seeds, toasted
Directions: In a large roasting pan gently toss together the squash, sweet potatoes, butter, sugar, salt, and pepper. Roast for 1 hour and 15 minutes, stirring occasionally, until tender. Set aside. Meanwhile, in a large Dutch oven heat the oil over medium heat. Add onion and cook for 5 minutes. Stir in chile, garlic, and ginger; cook 1 minute more. Add thyme, orange peel, curry, nutmeg, cinnamon stick, and bay leaves. Cook for 1 minute, stirring to coat vegetables. Add the roasted vegetables and any liquid, stirring until well combined.
Pour in broth and bring to boiling; reduce heat. Simmer, covered, 30 minutes or until vegetables are tender, stirring occasionally. Remove from heat; let stand 10 minutes to cool. Discard cinnamon stick and bay leaves. Place a small amount of soup at a time in a blender container; blend or purée until smooth. Return puréed mixture to Dutch oven. Stir in cream and coconut milk. If desired, cover and refrigerate up to 24 hours. Serve cold or reheat. To serve, ladle soup into shallow bowls. Sprinkle soup with diced apples and toasted pumpkin seeds.
3. Hot Potato Leek Soup
Don't let the name fool you! Here & Now's recipe is just as delicious when it's served cold. The leeks and potatoes pair perfectly, creating a comforting soup that is smooth, flavorful, and oh-so-creamy.
Ingredients: 
2 tablespoons olive oil
2 pounds leeks, washed, ends trimmed, and all dark green sections discarded, whites only
2 ½ pounds potatoes, peeled and chopped
Salt and freshly ground black pepper to taste
7 ½ cups vegetable or chicken stock
Freshly chopped chives for garnish
Touch of heavy cream for garnish, optional
Directions: In a large soup pot, heat the oil over low heat. Add the leeks, cover, and cook, stirring once or twice, for 10 minutes. Add the potatoes and cook, stirring to coat with the leeks and oil, for 3 minutes. Season with salt and pepper. Add the stock, raise the heat to high, and bring to a boil. Once the soup comes to a boil, reduce the heat to low, cover and cook for about 20 minutes, or until the potatoes are tender.
Let the soup cool slightly. Using a hand-held immersion blender or transferring the soup to a blender or food processor, purée the soup until completely smooth. Place the soup back in the pot. Heat over low and taste for seasoning. To serve cold, chill for at least 3-4 hours. Serve cold with a touch of heavy cream and sprinkling of fresh chives on top. To serve hot, heat until bubbling and top with chives.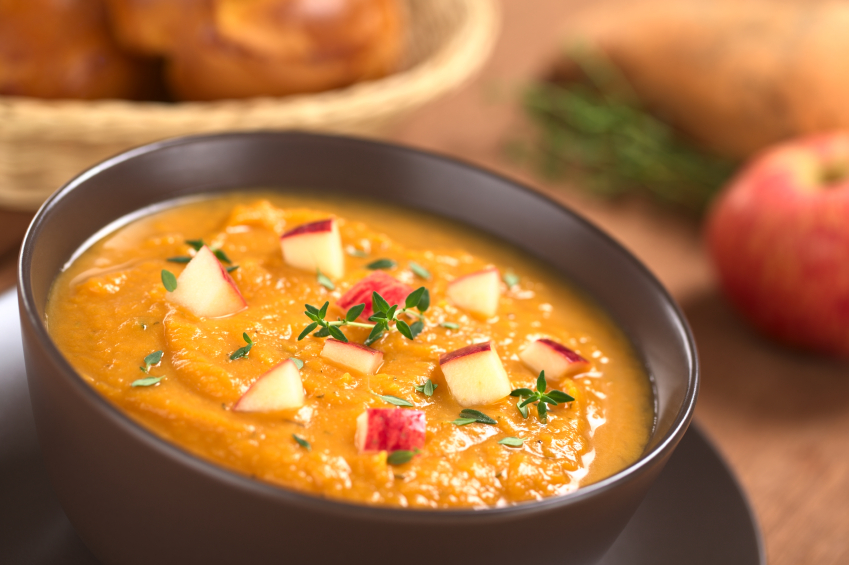 4. Butternut Apple Soup
You'll enjoy every bite of this fabulous fall soup, which includes apples, curry, onion, squash, and seasonings. This Six Pack Fitness recipe yields 4 to 6 servings.
Ingredients:
1 medium red onion, chopped
1 tablespoon curry, or to taste
1 tablespoon butter
2 Granny Smith apples, divided
1 ½ pound butternut squash, peeled, seeded and cubed
3 (14 ½ ounce) cans low-sodium chicken broth
1 tablespoon lemon juice
1 teaspoon salt
Directions: In a large pot, sauté onion and curry in butter until onions are soft and translucent. Peel, seed, and cube 1 apple. Combine apple, squash, and broth; add to onion mixture, simmer until tender about 20-30 minutes. Meanwhile, peel, seed and grate the remaining apple and cover with lemon juice. Set aside. Add salt to the hot mixture and purée in blender in batches or use an immersion blender, until smooth. Garnish with the grated apple. Soup can be served hot, or chill several hours to serve cold.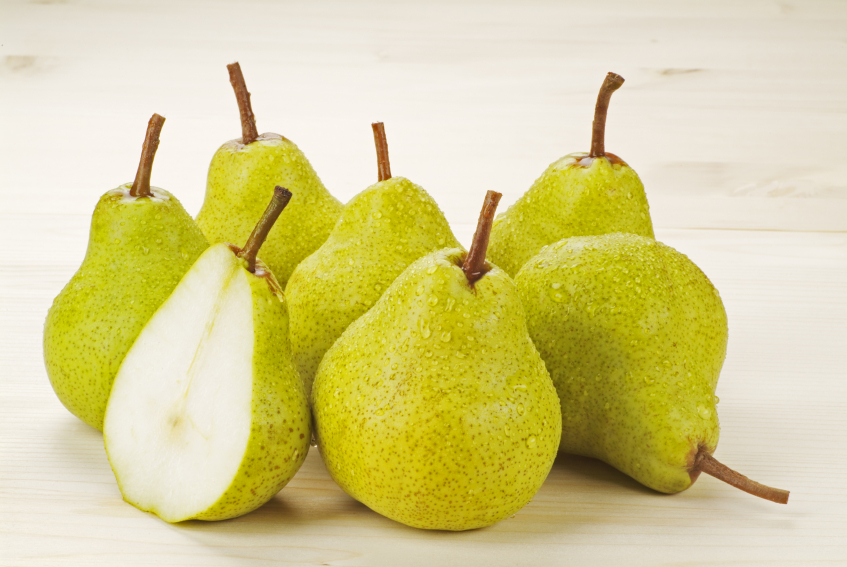 5. Pear Soup
Pears are a perfect autumn fruit to incorporate into your meals. Food Network's recipe has a sweet and fruity flavor that is exceptionally delicious when paired with blue cheese bruschetta. It yields 5 to 8 servings.
Ingredients:
6 pears
3 tablespoons lemon juice
3 tablespoons unsalted butter
1 tablespoon minced fresh sage leaves
½ cup packed light brown sugar
Gray salt
Blue cheese bruschetta
Blue Cheese Bruschetta
1 loaf walnut bread or raisin bread
4 tablespoons unsalted butter, softened
½ cup crumbled blue cheese, crumbled
Directions: Preheat broiler. Peel, halve, and core the pears. In a large bowl, toss pears with lemon juice to prevent oxidization. Melt butter in an ovenproof skillet over medium-low heat, let cook until butter begins to brown. Add sage to butter, allow to caramelize. Add brown sugar and a pinch of salt. Add pears to mixture, and roll them around to coat thoroughly. Broil pears in skillet, stirring occasionally, until pears are light brown, about 15 minutes.
Purée pears and brown butter mixture in a blender until smooth. Pour into room temperature soup plates and serve with blue cheese bruschetta. You can also chill several hours to serve cold. To make the blue cheese bruschetta, preheat broiler. Slice loaf into finger-wide slices. Cover each slice with butter, then top with blue cheese. Place bread on cookie sheet and broil, with the door open, until the cheese begins to melt, about 30 seconds.
6. Hot or Cold Carrot Soup
Rachael Ray's tangy carrot soup can be served hot and topped with croutons on a chilly day, or can be served at room temperature with chives and whipped cream for a delicious warm weather dish. The recipe yields 4 servings.
Ingredients:
1

small onion, peeled and quartered

1 tablespoon

extra-virgin olive oil

1 (1 inch) 

piece fresh ginger, peeled and sliced

1 (1 pound) bag 

baby carrots

1 (14 ounce) can 

chicken broth

1 tablespoon

honey

Salt
Directions: Using a food processor, pulse the onion 4 times to chop. Transfer to a medium pot, add the olive oil and ginger, and cook over medium heat, stirring often, until the onion is golden, about 3 minutes. Pulse the carrots in the food processor to chop finely. Add to the pot along with the chicken broth, cover and bring to a boil. Lower the heat and simmer until the carrots are tender, 5 to 7 minutes. Wipe out the food processor. Purée the soup in batches in the food processor and transfer to a bowl. Stir in the honey and season with salt. Serve hot and topped with toasted croutons or at room temperature with chives and whipped cream.
More From Life Cheat Sheet:
Want more great content like this? Sign up here to receive the best of Cheat Sheet delivered daily. No spam; just tailored content straight to your inbox.