6 Fish Tacos to Keep Friday Dinners Fun
We've still got quite a few Fridays to get through before Easter, and it can be especially hard at times to get kids to eat a healthful fish dish. Tacos, though, are exciting enough to get you transitioning from the week to the weekend, regardless of whether Lent is on your radar. They're easy, quick, versatile, and generally healthful as a lean protein in conveniently small portions. These 6 tacos have enough unique twists of flavor and fusion to stay fun and exciting. Move over, Tuesday; Friday is for fish tacos.
When selecting fish, buy from a reputable seller offering the freshest fish you can get. Sometimes — particularly if you don't live on the coast — the freshest fish is frozen fish. Fish should be firm and clean smelling. If buying frozen, look for fish with no signs of frost, which is an indication that the fish has been thawed and refrozen. Keep in mind where your fish was caught or farmed, as well; unsustainable fishing and fish farming is a huge problem. If you're interested in finding sustainably farmed fish, check out the Seafood Watch website. They even have a convenient app that you can use to confirm your in-store purchase is what you think it is.
1. Pan Fried Tilapia Tacos With Pineapple Salsa
Pan frying these tilapia fillets give you the best of both worlds. You get the seasoning opportunity of grilling, but you also get a hint of crisp, fried crust without the heavy batter and the high fat of deep frying. These tacos from Chowhound feature a spicy and sweet pineapple jalapeño salsa you can adjust to your taste for heat.
Ingredients:
2 cups medium-dice fresh pineapple
2 medium jalapeños, minced
½ medium lime
Kosher salt
1 pound fresh tilapia, about 5 fillets
Freshly ground black pepper
½ cup flour
2 tablespoons vegetable oil
1 tablespoon unsalted butter, melted
8 corn tortillas
See recipe directions at Chowhound. 
2. Coffee and Spice Rubbed Salmon Tacos
This is a classic spice and coffee rub for steak or ribs, but it works equally well with meaty salmon fillets. These tacos from Food52 are a tour of complementary tastes and textures. The fish is flaky, deeply spiced, and hearty, while the avocado tomatillo salsa is acidic and creamy and the red cabbage slaw is bright and crunchy. For darker, more blackened salmon that still retains its medium cook, park it under the broiler for a few minutes instead of grilling it.
Ingredients:
Fish
2 pounds of salmon fillets, skin on, center cut, about an inch thick
1½ teaspoons finely ground coffee
1 teaspoon brown sugar
1 teaspoon ground cumin
½ teaspoon coriander
½ teaspoon chili powder
½ teaspoon salt
¼ teaspoon freshly ground black pepper
2 tablespoons olive oil
Tacos
8 to 12 small tortillas, corn or flour
2 tomatillos, husks removed
¼ cup diced red onion
1 jalapeño, seeds removed, diced
¼ cup plus 1 tablespoon chopped cilantro, divided
1 lime, juiced, divided
1 ripe avocado
5 cups thinly sliced red cabbage
Sea salt
See recipe directions at Food52. 
3. Chipotle Shrimp Taco With Avocado Salsa Verde
This recipe from The Food Network — albeit shrimp and not technically fish — makes a killer taco. Sweet shrimp are coated in smoky, spicy chipotle and topped with an amazing, creamy avocado salsa not unlike the one we just saw in the salmon tacos. The shrimp can be grilled or cooked in a large pan on the stovetop. When buying shrimp, look for American shrimp that reads IQF, or individually quick frozen. In almost all cases, shrimp are frozen immediately after capture right on the boat. Unless it specifically says it has never been frozen, most raw shrimp sold in the U.S. is just frozen and thawed, making frozen shrimp a fresher buy.
Ingredients:
Salsa
1 small onion, quartered
1 jalapeño, quartered, seeds optional
1 garlic clove, smashed
4 medium tomatillos, husked, rinsed, and coarsely chopped
½ Hass avocado, peeled, seeded, and cut into chunks
1¼ teaspoons kosher salt
¼ cup loosely packed fresh cilantro leaves, coarsely chopped
Shrimp
1 tablespoon olive oil
1 teaspoon chipotle or blended chili powder
1 teaspoon kosher salt
1 pound medium shrimp, about 20 per pound, peeled and deveined
8 corn tortillas
8 sprigs cilantro for garnish
2 limes, cut into wedges
See recipe directions at The Food Network. 
4. Chimichurri Halibut Tacos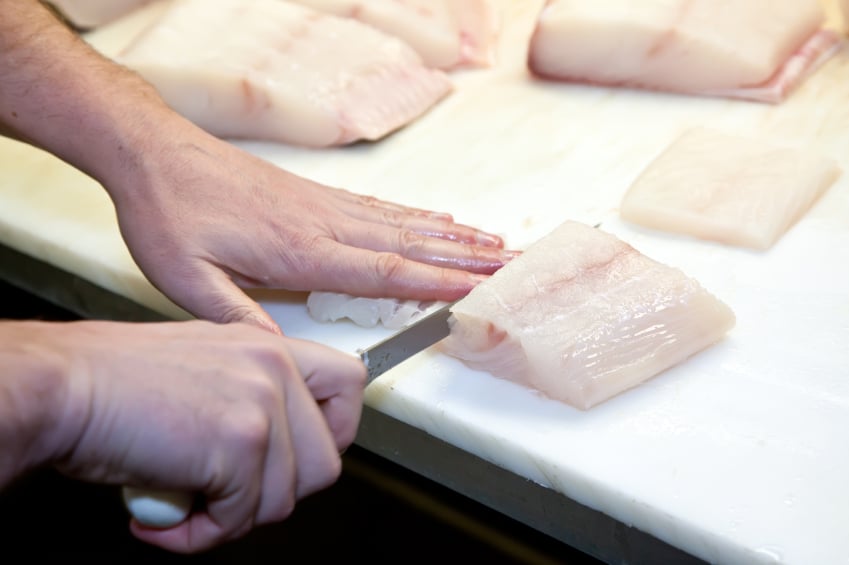 Chimichurri is an Argentinean green herb sauce similar to an Italian salsa verde that adds a fresh pop to these halibut tacos from Cooking Light. If possible, opt for wild-caught Alaskan or North American Pacific halibut, as Atlantic halibut has been seriously overfished. Can't find good halibut? This recipe can easily be made with flounder, pollock, or cod.
Ingredients:
2 cups fresh flat-leaf parsley leaves
2 tablespoons fresh oregano
¾ teaspoon ground cumin
¼ teaspoon ground red pepper
5 garlic cloves, crushed
⅓ cup extra-virgin olive oil
Five 6-ounce halibut fillets
1 teaspoon kosher salt
½ teaspoon black pepper
Cooking spray
Twelve 6-inch corn tortillas
See recipe directions at Cooking Light. 
5. Asian Salmon Tacos
These fusion tacos from Heather Christo combine the savory soy-based flavors that work really well with salmon and the neat little packages of tacos for a really fun and delicious meal. The sweet and sour pickled red onions create a perfect balance with the richness of the salmon and avocado. You'll have plenty of the bright slaw left over, so feel free to trim the quantities or use it over the weekend as a side.
Ingredients:
Fish Tacos
12 ounces Salmon
1 tablespoon sesame oil
1 tablespoon rice wine vinegar
1 teaspoon sambal
1 teaspoon soy sauce
2 teaspoons vegetable oil
6 Flour Tortillas
Fresh Cilantro
Mashed Avocado
Fresh Lime
Pico De Gallo
Asian Slaw
⅔ head of purple cabbage, finely shredded
3 medium carrots, peeled into ribbons or julienned
1 bunch green onions, green and white parts, sliced
1 loosely packed cup of cilantro, roughly chopped
1 red chili, minced
1-inch piece fresh, peeled ginger root, grated
1 garlic clove, minced
1 tablespoon cilantro, minced
3 tablespoons sesame oil
¼ cup rice wine vinegar
Zest of 1 lime
Sweet and Sour Onions
1 large red onion, thinly sliced
1 cup rice wine vinegar
½ cup sugar
1 jalapeño, thinly sliced
See recipe directions at Heather Christo. 
6. Beer-Battered Fish Tacos With Margarita Mango Salsa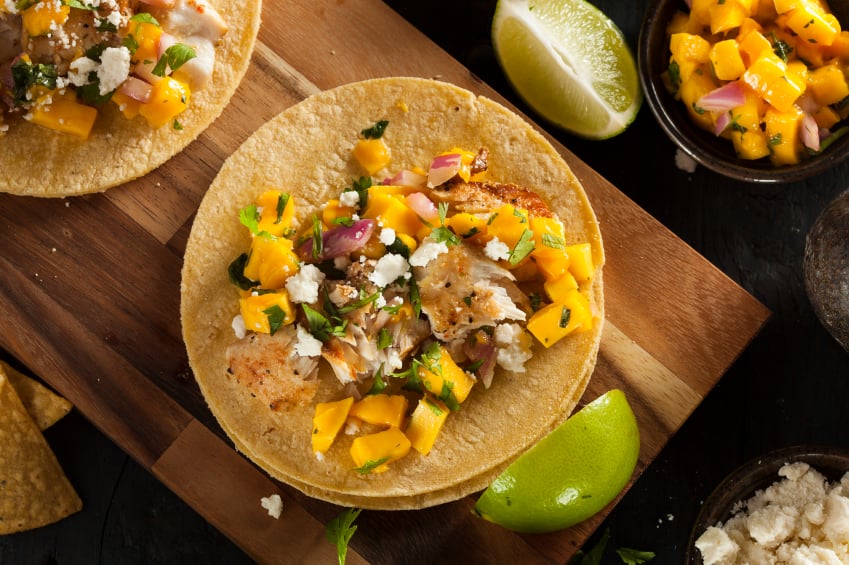 No matter what season it is, these fish tacos with mango lime salsa and jalapeño crema are an instant beach vacation. The best part about the cod in these tacos is that, even beer-battered, they're pan-fried and light. For even more of a tropical twist, pan fry the battered fish in coconut oil. Turn up the heat for a weekend afternoon, don a pair of shorts, stand in a sunny spot with sunglasses, and chomp down on a boatload of these tacos from How Sweet It Is.
Ingredients:
Tacos
1 cup all-purpose flour
1 teaspoon garlic powder
½ teaspoon onion powder
½ teaspoon smoked paprika
½ teaspoon salt
¼ teaspoon chipotle chili pepper
10 ounces your favorite beer
¼ cup canola, vegetable or olive oil
4 fresh or thawed cod filets, at least 4 ounces each
1 head napa cabbage, chopped
1 lime, juiced
4-inch flour tortillas
Salsa
1 mango, chopped
¼ onion, diced
½ jalapeño, seeded and diced
2 tablespoons chopped fresh cilantro
1 lime, juiced and zest freshly grated
1½ teaspoons silver tequila
¼ teaspoon salt
1 pinch of sugar
Jalapeño crema
½ cup sour cream
½ jalapeño pepper, seeded and diced
1 lime, juiced and zest freshly grated
¼ teaspoon salt
¼ teaspoon pepper
See recipe directions at How Sweet It Is. 
 More from Culture Cheat Sheet: