6 Gourmet Lunch Recipes You Can Take to Work
Tired of taking a generic peanut butter and jelly or turkey sandwich to work every day? Brown bagging it doesn't need to be boring. In fact, you can create your own gourmet lunches that would rival those of any restaurant. The best part? These recipes can all be made ahead of time, ensuring you aren't spending hours in the kitchen before you leave for work. From elegant sandwiches to creamy bisque, these six recipes are a lunchtime dream come true.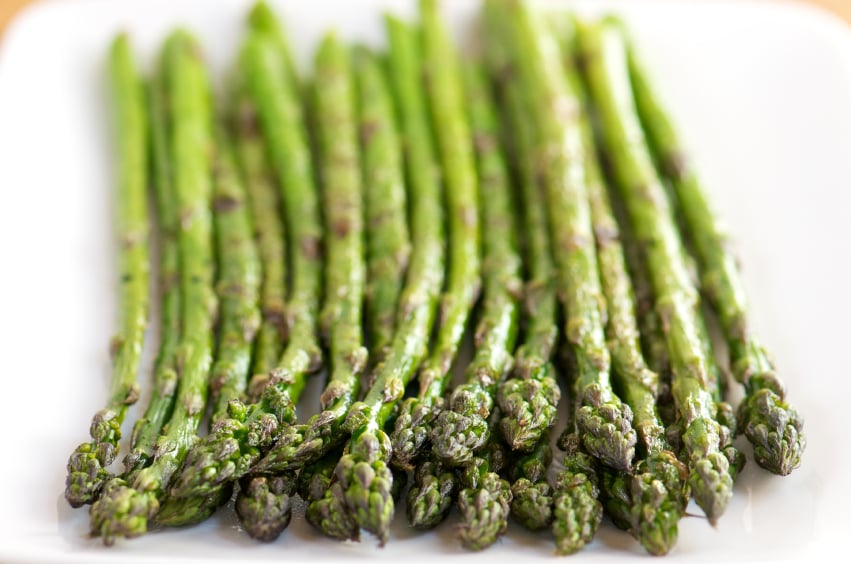 1. Boiled Egg, Seared Asparagus and Pickled Onion Sandwiches
Imagine sitting down to enjoy a sandwich that's comprised of asparagus spears, hard boiled eggs, red onion, French mustard, olive oil, and fresh dill, surrounded by a delicious baguette. Sounds mouthwatering, right? You can make this The Kitchn recipe a lunchtime reality. The sandwich keeps well for a day in the fridge, so feel free to make this delicacy the night before.
Ingredients:
½ bunch of asparagus spears (about 15-20 spears)
2 small baguettes
2 eggs, hard boiled
2 tablespoons olive oil
2 tablespoons diced raw onion
2 tablespoons French mustard
¼ cup red wine vinegar
Lemon juice to taste
Fresh dill
Salt and pepper
Directions: Hard boil the eggs and set aside. Trim the asparagus by cutting off the woody ends and cutting the spears in half lengthwise as best you can. Dice the red onion and put in a small bowl with the red wine vinegar, set aside the onions while you're doing the other parts of the sandwich. In a large skillet over high heat, add a little oil.
Sear the asparagus spears, about 3 or 4 minutes on each side. You want a little bit of char, so don't move the asparagus very often. Split two mini baguettes in half (or one large baguette) and remove a little of the doughy center so the asparagus and egg can fit inside. Toast the bread lightly. Smear with good mustard, a little olive oil. Top with sliced egg, ½ of the asparagus, dill, and spray a little lemon all over the interior of the sandwich. Season with salt and pepper.
2. Curried Tomato Bisque
Tomatoes, yogurt, and seasonings create a smooth and creamy soup that's guaranteed to beat your standard chicken noodle. This Real Simple recipe via CBS yields 2 servings and is a hearty dish you'll look forward to all morning. The bisque can be made up to one day in advance.
Ingredients:
1 tablespoon olive oil
1 small onion, chopped
2 cloves garlic, crushed
Kosher salt and black pepper
1 teaspoon curry powder
1 (28-ounce) can whole tomatoes
Greek yogurt, for serving
Fresh cilantro leaves, for serving
Directions: Heat the oil in a medium saucepan over medium heat. Add the onion, garlic, ½ teaspoon salt, and ¼ teaspoon pepper and cook, stirring, until soft, 3 to 5 minutes. Add the curry powder and cook, stirring, until fragrant, about 30 seconds more. Add the tomatoes, with their juices, and ½ cup water and bring to a boil. In a blender, puree until smooth. Top with the yogurt and cilantro.
3. Braised Lamb Shawarma
You'll feel as though you're sitting in a five-star restaurant when eating Fine Cooking's lamb shawarma. The best part is that this sandwich can (and should) be prepared ahead of time, making both your morning and lunchtime much less stressful. Simply make all of the meal's components in the evening, and assemble the sandwich before you leave for work. This dish tastes best at room temperature, so let it sit out for a bit before eating.
Ingredients:
Lamb:
4 bone-in lamb shoulder chops (about 10 ounces each)
1 tablespoon vegetable oil; more as needed
Kosher salt and freshly ground black pepper
1 ½ cups dry white wine or water
1 tablespoon ground cumin
4 medium cloves garlic, smashed and peeled
1 large carrot, cut into 1-inch-thick rounds
1 medium white onion, peeled and cut into 8 wedges
2 tablespoon pomegranate molasses
1 ½ teaspoon fresh lemon juice
1 ounce unsalted butter
Tahini Sauce:
2 medium cloves garlic, minced
2 tablespoons fresh lemon juice
½ cup whole-milk Greek yogurt
½ cup tahini
3 tablespoons extra-virgin olive oil
Kosher salt
Pickled Cabbage:
1 ½ teaspoon extra-virgin olive oil
2 cups thinly sliced red cabbage (about ¼ small cabbage)
½ teaspoon pomegranate molasses
1 tablespoon sherry vinegar; more as needed
¼ teaspoon granulated sugar; more as needed
Kosher salt and freshly ground black pepper
Assembly:
6 (9 inch) flatbreads or flour tortillas
Directions: To braise the lamb, position a rack in the center of the oven and heat the oven to 350 degrees Fahrenheit. Pat the lamb chops dry. Heat the oil in a heavy-duty 12-inch skillet over medium-high heat. Working in 2 batches, cook the lamb chops, flipping once, until well browned on both sides, about 4 minutes total per batch (add more oil for the second batch, if necessary). Season with salt and pepper and transfer to a 9 x 13-inch roasting pan.
Add 1 cup of the wine to the skillet and bring to a simmer, scraping the skillet with a wooden spatula to loosen any browned bits. Pour the wine over the chops. Sprinkle with the cumin, then add the garlic, carrot, onion, and the remaining ½ cup of wine. The liquid should come halfway up the chops; if necessary, add water. Cover the pan with a double thickness of aluminum foil and braise in the oven until the meat is fork-tender, 1 and ½ to 2 hours.
To make the tahini sauce, combine the garlic and lemon juice in a medium bowl; let sit for 5 minutes. Whisk in the yogurt, tahini, olive oil, and ¾ teaspoon. salt until smooth. Add 1 to 2 tablespoons water if necessary to achieve a thick consistency. To prepare the pickled cabbage, heat the oil in a 10-inch skillet over medium heat. Add the cabbage and cook, stirring occasionally, until just tender, 8 to 10 minutes. Remove from the heat and stir in the pomegranate molasses, vinegar, and sugar. Season to taste with salt, pepper, more vinegar, or sugar.
Transfer the lamb chops to a cutting board and tent loosely with foil to keep warm. Strain the contents of the roasting pan through a medium-mesh sieve into a medium bowl (you should have about 2 cups liquid); discard the solids. Freeze the liquid until the fat rises to the surface, about 15 minutes, then skim it off and discard it. Transfer the liquid to a 3-quart saucepan.
Boil over medium-high heat until reduced by half, about 10 minutes. Meanwhile, use your fingers to break the lamb into small chunks, discarding the fat and bones. Whisk the pomegranate molasses, lemon juice, and butter into the braising liquid. Add the lamb and gently toss to coat. Season to taste with salt and pepper.
To assemble your sandwich, divide the lamb among the flatbreads, spreading it in a strip about 1 inch from the near edge. Top the lamb with a few tablespoons of the cabbage and sauce. Roll the shawarma up tightly, pulling back on the edge of the bread after folding it over the filling and tucking the filling under with your fingertips, to create a slender, burrito-like wrap. Rest the shawarma on their seam side to keep them closed. If you want a crispy outside, cook the shawarma seam side down, about 3 minutes, before leaving for work.
4. Sweet Potato and Avocado Sandwich with Poppy Seed Spread
You know how sandwiches always seem to taste better when you buy them somewhere? That's because restaurants add tasty spreads, seasonings, and dressings to things to help spice up an ordinary recipe. If you're looking for a healthy and gourmet-style sandwich, this Self recipe via Epicurious is perfect for you. It's really easy, low in fat, and filled with fiber, making it a perfect lunchtime meal.
Ingredients:
1 small sweet potato (about 7 ounces), peeled and cut into three 2-inch-thick slices
1 tablespoon, plus 2 teaspoons honey mustard
1 tablespoon light mayonnaise
¼ teaspoon poppy seeds
4 slices whole wheat bread
4 red onion slices, cut ⅛-inch thick
½ small avocado, peeled, pitted and cut into ¼-inch-thick slices
4 tomato slices, cut ¼-inch thick
¼ cup shredded reduced-fat Monterey Jack cheese
½ cup finely shredded lettuce (or alfalfa sprouts)
Directions: Cook sweet potato slices in boiling salted water until tender, about 15 minutes. Drain and rinse with cold water, then drain again. Let cool for 5 minutes, then cut each slice into two thinner slices. Whisk together honey mustard, mayonnaise, and poppy seeds in a small bowl. To construct the sandwiches, first spread half the poppy seed mixture on 2 of the bread slices, then place half of the onion, avocado, and tomato slices on top of each slice; sprinkle lightly with salt and pepper. Add a layer of sweet potato slices, cheese and lettuce. Top with remaining bread.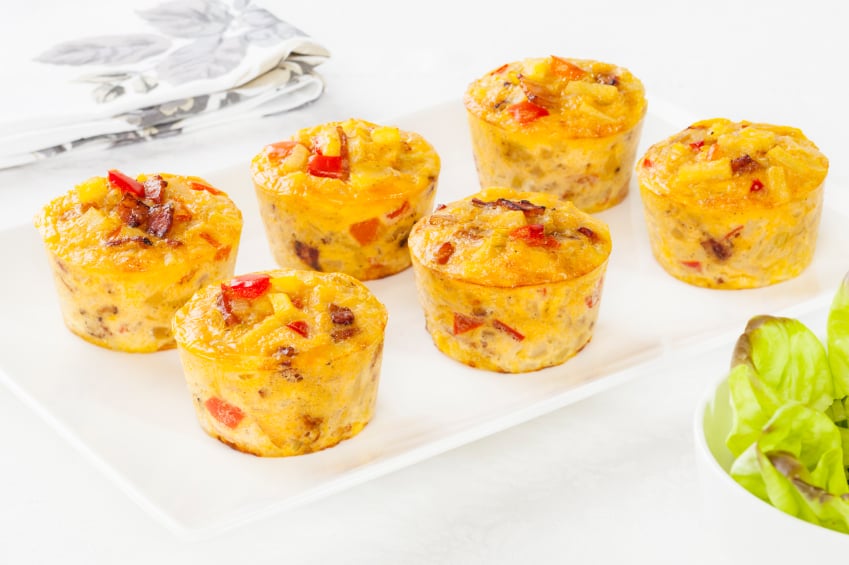 5. Mini Frittata
How about spicing up your lunch with a few tasty mini frittatas? Oh Sweet Day has created this tasty, flavorful recipe, which you can pre-make, freeze, bring to work, and microwave whenever you're craving something a little more savory than a bland ham and cheese.
Ingredients:
6 large eggs
⅓ cup heavy cream
3 slices of deli meat of your choice (turkey, ham or roasted beef), roughly chopped
Handful of baby spinach, briefly chopped
¼ cup frozen corn
⅓ cup shredded cheese of your choice
Salt and pepper, to taste
Directions: Preheat oven to 350 degrees Fahrenheit. Grease muffin tin or line with muffin liners. In a large bowl, mix together eggs and cream until well combined. Add remaining ingredients and mix well. Spoon batter into the prepared muffin tin, about ¾ full. Transfer muffin tin to oven and bake for 18 to 20 minutes. Transfer muffin tin to a wire rack and let cool completely. Use a pairing knife to run around the edges of the frittatas to release them from the muffin tin.
6. Tomato Salad with Nigella, Ricotta, and Cream
This Refinery 29 recipe combines healthy and delicious ingredients to create an exceptional lunchtime dish. Prepare this salad's components the night before for easy assembly in the morning.
Ingredients:
5 to 6 heirloom tomatoes
¼ cup heavy cream
¼ cup fresh ricotta
1 lemon
1 tablespoon toasted nigella seed, smashed with a mortar and pestle
Kosher salt
Black pepper
Extra-virgin olive oil
Directions: Toast your nigella seeds over very low heat for about 2 minutes. Grind them with a mortar and pestle. If you don't have one, just use them whole. Transfer the toasted and ground seeds into a container with the heavy cream. Add a pinch of salt and shake well. Let sit for a few hours; ideally overnight, but not less than three.
Slice your tomatoes in a variety of shapes and place on a plate. Season aggressively with kosher salt, cracked black pepper, lemon juice, and olive oil. Smear ricotta at the bottom of your serving dish. Season with salt, pepper, and olive oil. If you have any leftover juice from slicing the tomatoes, throw that on top of the ricotta as well.
Place tomatoes on top of the ricotta. Shake your cream very well until it starts to slightly thicken but not so much that it turns into whipped cream. Spoon the heavy cream and nigella mixture all over the tomatoes. Finish with olive oil, salt and pepper, and a squeeze of lemon.
More from Life Cheat Sheet:
Want more great content like this? Sign up here to receive the best of Cheat Sheet delivered daily. No spam; just tailored content straight to your inbox.