6 Halloween-Themed Dinners: Healthy Eating Before Trick-or-Treating
For many kids, Halloween is a holiday that ranks toward the top. Filled with candy and costumes, it's a day packed with fun festivities that leads to what many children view as the grand finale: Trick-or-treating. But before you send them off to partake in the evening's celebrations, prepare a healthy, Halloween-themed dinner that will fill them up. This way, they won't be as inclined to chow down on as many of the sugar-filled sweets they're sure to accumulate throughout the night. No child will be able to resist sitting down to a dinner that consists of Mummy Meat Loaf and Jack-O'-Lantern Mac and Cheese. Here are 6 recipes to ensure your kids have a healthy and happy Halloween.
1. Worms for Brains
Taste of Home delivers a dinner dish that your children will love. Sweet orange peppers are carved like jack-o'-lanterns and stuffed with spaghetti noodles, creating a spooky supper that's perfect for Halloween. To make this dish even healthier, use whole wheat noodles and lean ground beef.
Ingredients:
8-10 medium sweet orange peppers
1 package (16 ounces) spaghetti (optional: whole wheat noodles)
1 pound lean ground beef
1 jar (26 ounces) spaghetti sauce
Directions: Cut tops off peppers and set aside; remove seeds and membranes. Cut a jack-o'-lantern face on one side of each pepper; set aside. Cook spaghetti according to package directions. Meanwhile, in a Dutch oven, cook beef over medium heat until no longer pink; drain. Drain spaghetti; add to beef. Stir in spaghetti sauce; heat through. Spoon into peppers; replace tops.
2. Green Chili With Chicken
This nutritious chili is bursting with protein-packed chicken, peppers, tomatillos, and zesty seasonings, and topped off with terrifying tortilla ghosts. For a simple supper, prepare All You's recipe Halloween morning, place in a slow cooker, and serve before trick-or-treating. It yields 8 servings.
Ingredients:
2 pounds tomatillos, husked
3 tablespoons canola oil, plus more for tortillas
3 pounds boneless, skinless chicken breast halves, cut into 1-inch pieces
Salt and pepper
1 white onion, chopped
6 cloves garlic, smashed
2 pounds Cubanelle peppers, seeded and chopped
2 poblano peppers, seeded and chopped
1 tablespoon cumin
1 cup low-sodium chicken broth
2 tablespoons packed light brown sugar
1 tablespoon lime zest
8 white corn tortillas
1 cup sour cream
4 scallions, sliced
Directions: Place oven rack on highest position and preheat broiler. Place tomatillos on a baking sheet and rub with 1 teaspoon oil. Broil tomatillos, turning occasionally with tongs, until skin blisters, about 10 minutes. Allow to cool slightly. Chop and place in a large slow cooker. Pat chicken dry and sprinkle with salt and pepper. Warm 2 tablespoons oil in a large skillet over medium-high heat. Working in batches, brown chicken on all sides, about 5 minutes per batch.
Transfer browned chicken to slow cooker. Add 2 teaspoons oil to skillet. Add onion, garlic, both peppers, and cumin, season with salt and pepper and cook, stirring occasionally, until onions and peppers begin to soften, about 10 minutes. Add chicken broth, sugar, and lime zest and cook for 2 minutes, stirring and scraping up any browned bits from bottom of pan. Pour mixture over chicken in slow cooker.
Cover and cook on low until chicken is tender and vegetables are very soft, 6-7 hours. Season with more salt and pepper, if desired. Preheat oven to 350 degrees Fahrenheit. Line a baking sheet with parchment. Use a sharp paring knife or a cookie cutter to cut ghost shapes out of tortillas. Brush about 1 teaspoon oil on both sides of tortillas and place on prepared baking sheet. Bake until crisp, about 15 minutes. Remove from oven, then sprinkle with salt. Serve chili with sour cream, scallions, and tortilla ghosts.
3. Ghoulish Skeleton Quesadillas
Nothing creates a more festive supper than Babble's Ghoulish Skeleton Quesadillas. All you need to prepare this superbly simple dinner is tortillas, cheese, apples, and a little creativity. The recipe yields 1 serving, so adjust accordingly.
Ingredients:
2 flour tortillas (optional: whole wheat)
2 slices of cheddar cheese
½ red apple
Directions: Trace the shape of a skeleton head out on a flour tortilla. Cut eye out on one of the pieces. Place the whole piece of the tortilla into a frying pan over a medium flame. Lay the cheese down onto the tortilla and allow to get warm and melted. Once cheese is melted add the additional piece of tortilla. Garnish with an apple mouth.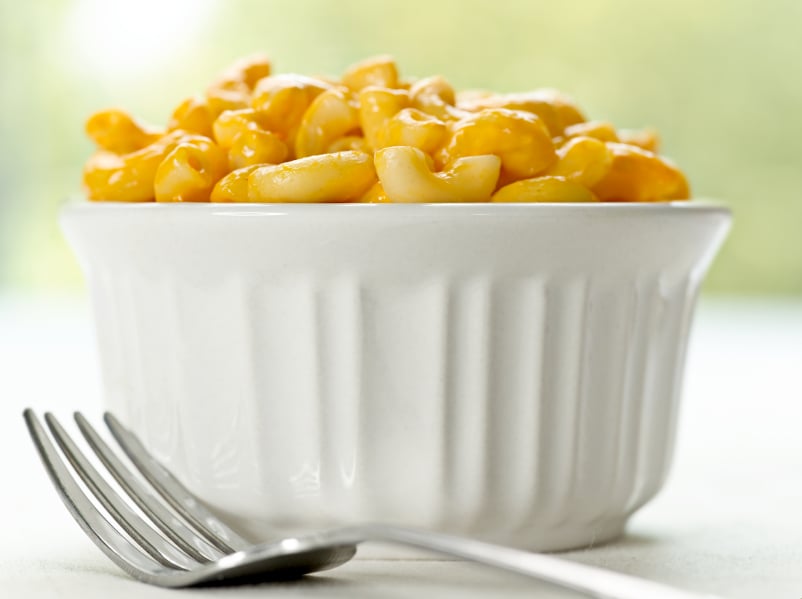 4. Jack-O'-Lantern Mac and Cheese
Carrot juice is quintessential for Apron Strings' recipe. It adds an orange hue and a nutritious element to this kid-friendly dinner. Wise Geek explains that carrot juice can help prevent cancer, and helps to strengthen your eyesight, bones, teeth, liver, nails, skin, and hair.
Ingredients:
16 ounces elbow macaroni
6 tablespoons butter
½ cup flour
1½ cups milk
1½ cups carrot juice
1 teaspoon cayenne pepper sauce
16 ounces sharp cheddar cheese, grated
2 ounces Parmesan cheese, grated
½ teaspoon garlic powder
1 teaspoon white wine vinegar
Directions: Preheat oven to 375 degrees Fahrenheit. Oil eight 1-cup ramekins and set aside. Boil the macaroni in salted water to al dente stage according to package directions. Melt butter over medium-high heat. Stir in flour and cook for a few minutes, until lightly browned. Stir in remaining ingredients in listed order and cook until cheese mixture is bubbly. Sitr in to macaroni. Scoop one scant cup into each ramekin. Cut olives to form a jack-o'-lantern face. Place ramekins on a baking sheet and bake about 30 minutes at top of oven, until lightly browned in spots.
5. Mummy Meat Loaves
These Mummy Meat Loaves have a cherry tomato center, creating a refreshing burst of juicy flavor each time you take a bite. Filled with veggies and seasonings, you can make Woman's Day's recipe via Delish even healthier by using lean meats. It yields 12 servings.
Ingredients:
¾ pound white or yellow potatoes, peeled and cut into 2-inch pieces
Kosher salt and pepper
2 large eggs
2 tablespoons ketchup
2 teaspoons Worcestershire sauce
½ cup panko or plain bread crumbs
2 cloves garlic, finely chopped
1 medium carrot, coarsely grated
¾ pound ground beef
½ pound ground pork
12 grape tomatoes
¾ cup low-fat sour cream
24 ounces peas, thawed
Directions: Heat oven to 375 degrees Fahrenheit. Line a 12-cup muffin tin with foil liners. Place the potatoes in a pot, add enough cold water to cover, and bring to a boil. Add 1 teaspoon salt, reduce heat, and simmer until just tender, 15-18 minutes. Meanwhile, in a bowl, combine the eggs, ketchup, Worcestershire, ½ teaspoon salt, and ¼ teaspoon pepper; stir in the bread crumbs.
Add the garlic and carrot and mix to combine. Add the beef and pork and mix just until incorporated. Divide the meat mixture among the foil liners and push a tomato into the center of each one. Transfer to the oven and roast until a thermometer inserted into the meat registers 155 degrees Fahrenheit, 14-16 minutes.
Drain the potatoes and return them to the pot. Add the sour cream and ¼ teaspoon salt and mash until very smooth. Transfer to a pastry bag fitted with a ½-inch ribbon tip. Transfer the meat loaves to a platter and pipe the potatoes back and forth over each top to resemble a mummy's wrapping. Place 2 peas on each for eyes.
6. Halloween Witch Sandwich
Ziggity Zoom's wicked-looking Halloween Witch Sandwich is a healthy and fast dinner to serve your kids before they head out to collect candy. You can either serve this as a cold sandwich or as a gooey grilled cheese. The best part? It's a great way to ensure your little ones get a solid serving of fruits and veggies.
Ingredients:
2 slices light bread
2 slices dark bread
Green apple
Carrot
Olive slice
Sandwich filling (meat, cheese)
Directions: Stack light slices of bread and cut out an angular head for the witch's head. Stack dark bread and cut out a long, thin hat. Fill both sections with sandwich filling of your choice. Set sandwich sections in place on the plate. Use a long strip of green apple slice for the brim of the hat, layer two slices if needed. Cut small circular slices for polka dots from carrot and arrange on hat. To make the hair, cut five irregular slices of carrot and add to plate. Use an olive slice for the eye and a thin strip of apple for the mouth.
More from Life Cheat Sheet:
Want more great content like this? Sign up here to receive the best of Cheat Sheet delivered daily. No spam; just tailored content straight to your inbox.