6 Health Expert-Approved Dishes to Kick-Start Your Weight-Loss Goals
A new year presents a new opportunity to tackle your weight-loss goals. A great way to ensure you stay on track is by preparing healthy meals that won't make you feel deprived. To help you follow through on your 2015 health resolutions, we've compiled 6 recipes that have been approved by registered nutritionists, dietitians, and health experts. These breakfasts, lunches, dinners, and snacks contain healthy and wholesome ingredients that will keep you feeling full longer, while providing you with essential vitamins, minerals, and nutrients. Losing weight has never tasted so good!
1. Pumpkin Power Egg Muffins
Ashley Koff, a registered dietitian and nutrition consultant, delivers a nutritious breakfast dish that is gluten-free, paleo, and vegetarian. Pumpkin purée, low-fat Greek yogurt, egg whites, aromatic spices, and a calorie-free sweetener create a morning muffin that's filled with antioxidants, calcium, vitamins, and minerals.
WebMD explains that Greek yogurt contains calcium, potassium, zinc, and vitamins B6 and B12. In addition, it is packed with protein, "which is great for weight control because it keeps you feeling full longer," Judith Rodriguez, PhD, RD, told WebMD. In addition, Good Housekeeping notes that eggs aid in weight loss by helping you feel full for a longer period of time.
Ingredients:
3 organic pasture eggs
2½ cups organic liquid egg whites
¼ cup organic pumpkin purée
3 tablespoons organic low-fat Greek yogurt
1 teaspoon organic vanilla extract
1 teaspoon organic cinnamon
½ teaspoon organic cinnamon (reserve for sprinkle)
10 to 15 drops liquid Stevia, or other calorie-free sweetener
2 tablespoons organic coconut oil or spray
Directions: Preheat oven 350 degrees Fahrenheit. Grease muffin tin with coconut oil or spray, set aside. In a bowl, whisk whole eggs, pumpkin, yogurt, vanilla, Stevia, and cinnamon until smooth. Add in egg whites, whisk until smooth. Divide mixture equally between muffins in tin. Sprinkle remaining cinnamon evenly across the tops of the filled muffins. Bake for 25 minutes. Enjoy!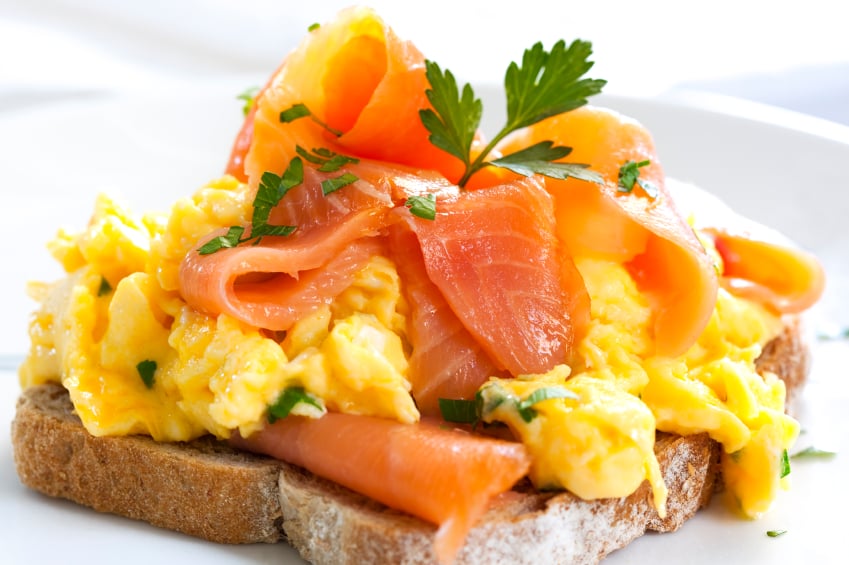 2. Scrambled Eggs with Smoked Salmon
Eating Well's nutritionist-approved Scrambled Eggs with Smoked Salmon is filled with hearty ingredients and savory flavors. Salmon contains healthy fats, known as omega-3 fatty acids, which The Dr. Oz Show says will help you feel satisfied. The recipe yields 4 servings, with each containing 108 calories, 6 grams of fat, 0 grams of added sugar, 11 grams of protein, and 182 milligrams of sodium.
Ingredients:
4 large eggs
4 large egg whites
Freshly ground pepper, to taste
1 teaspoon canola oil
2 scallions, green tops only, thinly sliced
1 ounce smoked salmon, thinly sliced
Directions: Whisk eggs, egg whites, and pepper in a small bowl until well blended. Heat oil in a nonstick skillet over medium-low heat. Add scallion greens and cook, stirring, until softened, about 30 seconds. Pour the eggs into the pan and cook until they just begin to set, about 10 seconds; stir in salmon. Cook, stirring gently from time to time, until the eggs have thickened into soft, creamy curds, 3 to 5 minutes. Serve immediately.
3. Mediterranean Couscous Salad with Chickpeas
The American Heart Association has put their stamp of approval on this recipe for Mediterranean Couscous Salad with Chickpeas. We suggest packing this no-cook dish for a healthy workday lunch; all you need is a microwave or a teapot to prepare this easy-to-make meal! One serving contains 466 calories, 9.9 grams of fat, 271 milligrams of sodium, 14 grams of fiber, and 17 grams of protein.
Ingredients:
1¾ cups water
1 cup whole-wheat couscous
2 medium cucumbers, cut into quarters
1½ cups green or purple grapes, halved
3 green onions
15.5 ounces canned, low-sodium chickpeas, drained, rinsed
⅓ cup chopped, pit removed black or Kalamata olives
2 tablespoons dried parsley or ½ cup chopped, fresh parsley
1½ tablespoons olive oil or canola oil
1 tablespoon lemon juice
4 tablespoons reduced-fat feta cheese crumbles, divided
Directions: Using the microwave or a teapot, bring 1¼ cups water to a boil. Add into a medium-sized heatproof container, along with couscous. Stir together and cover with a lid or very tightly with plastic wrap. Let couscous sit for 10 minutes. Meanwhile, peel cucumbers. Quarter each cucumber and then cut into 1-inch chunks. Add into a large bowl.
If desired, halve the grapes or add them whole into the bowl. Chop the scallions, about ¼ cup, and add into the bowl. When couscous is finished, use a fork to fluff it and then add into the bowl along with the olives, chickpeas, parsley, oil, and lemon juice. Use a large spoon or spatula to stir to combine. Serve, topping each portion with 1 tablespoon feta cheese.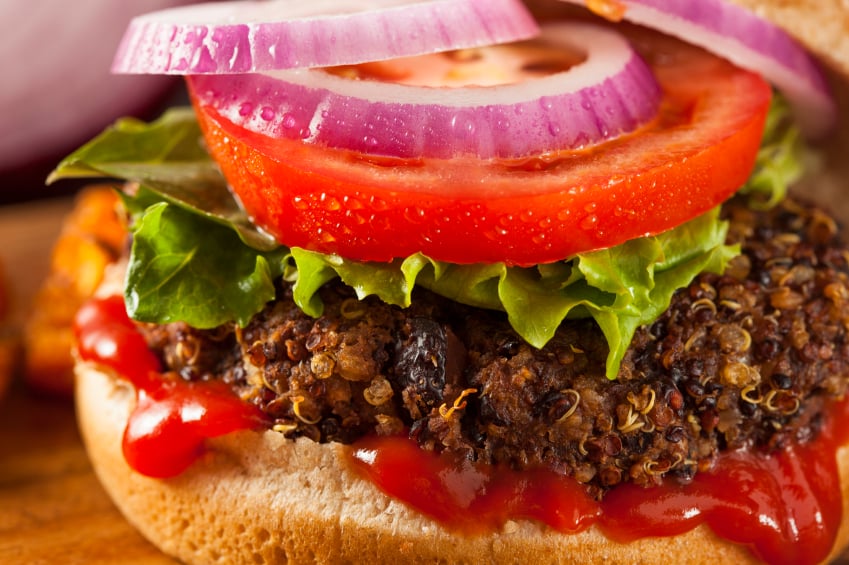 4. Baked Southwest Teff Burgers
Don't deprive yourself of burgers in 2015; instead, stop using beef and prepare healthy Baked Southwest Teff Burgers instead. Elaine Gordon, a certified health education specialist, recommended these wholesome and nutty-flavored burgers to the The Washington Post. One grain of teff is up to 40% resistant starch, meaning it can help you lose weight if you use it in place of other carbs, explains The Dr. Oz Show. For a healthy dinner, serve your patties on whole-wheat buns, or place them on a salad or in a lettuce wrap.
Ingredients:
½ cup whole-grain teff

2 cups water

1 cup roasted sweet potato cubes

1 cup gluten-free rolled oats

1 cup homemade or no-salt-added black beans, drained and rinsed

1 cup finely chopped white onion

½ cup chopped scallions

1 cup chopped cilantro leaves and tender stems

Juice of 1 lime

2 to 4 cloves garlic, minced

1 teaspoon ground cumin

1 teaspoon light agave nectar

¼ teaspoon fine sea salt

½ teaspoon freshly ground black pepper

1 tablespoon seeded, diced jalapeño pepper (optional)
Directions: Preheat the oven to 375 degrees Fahrenheit. Grease a large rimmed baking sheet with canola oil spray. Toast the teff in a medium saucepan over medium heat, stirring frequently, for about 3 minutes. Add the water and whisk while the mixture just starts to boil. Cover and reduce the heat to low; cook for about 20 minutes, whisking occasionally and adjusting the heat so the mixture is barely bubbling. The water should be absorbed, and the teff should be moist. Remove from the heat and let it sit, covered, for 5 minutes, then uncover and cool to room temperature.
Combine the cooled teff with the sweet potato cubes, rolled oats, beans, scallions, white onion, cilantro, lime juice, garlic, cumin, agave, salt, black pepper, and the jalapeño pepper, if using, in a large bowl; gently mix together until well combined. Transfer half of the mixture to a food processor; pulse 10 times, then transfer to a separate bowl. Repeat with the remaining half. Do not over-process, or it will become mushy. Shape the mixture into 8 equal-size patties and transfer to the baking sheet. Bake for 10 minutes, then turn the patties over and bake for 10 minutes. Serve hot.
5. Apricot Chicken
Joy Bauer, MS, RD, CDN, and the nutrition and health expert for NBC's Today show, delivers a dinner dish that's filled with light and refreshing flavors. If you don't want to (or can't) grill your chicken breasts outside, follow Livestrong's instructions for grilling chicken on the stovetop. This recipe yields 4 servings; each contains 180 calories, 26 grams of protein, and 180 milligrams of sodium.
Ingredients:
4 four-ounce fillets skinless chicken breast
4 small apricots, diced into ½-inch chunks
Kosher salt, to taste
Black pepper, to taste
1 teaspoon agave nectar
1 teaspoon light brown sugar
½ cup unsweetened applesauce
Directions: Preheat grill. Mist chicken breasts with olive oil spray, and season with salt and pepper. Set aside. Place apricots on sheet of foil paper, and sprinkle with applesauce, light brown sugar, and agave nectar on top. Fold foil paper to create a pouch. Place pouch on hot grill. Place chicken breast cutlets on the grill.
Cook for about 5 to 8 minutes on each side, until you see nice grill marks on each side and the chicken breast is cooked all the way through. After the chicken reaches an internal temperature of 165 degrees Fahrenheit, remove from grill, along with the apricot topping. Divide apricot topping evenly among the grilled chicken pieces and enjoy.
6. Rosemary Roasted Almonds
If you've been searching for a snack that will help you stick to your weight-loss goals, look no further! Cooking Light's registered dietitian-recommended recipe for Rosemary Roasted Almonds is just what you need. The New York Times reports that nuts may play a role in maintaining a healthy weight because a small amount can make you feel full.
"They're high in protein, and protein is satiating. They're high in fiber, and fiber is satiating. They're rich in unsaturated fats, and there is some literature that suggests that has satiety value," Richard Mattes, a nutrition scientist, told The Times. "They're crunchy, and that would suggest just the mechanical aspect of chewing generates a satiety signal."
Ingredients:
1 tablespoon finely chopped fresh rosemary
1 tablespoon extra-virgin olive oil
1 teaspoon chili powder
¾ teaspoon kosher salt
Dash of ground red pepper
1 (10-ounce) bag whole almonds (about 2 cups)
Directions: Preheat oven to 325 degrees Fahrenheit. Combine all ingredients in a medium bowl; toss to coat. Arrange nut mixture in a single layer on a baking sheet lined with foil. Bake for 20 minutes or until lightly toasted. Cool to room temperature.
More from Life Cheat Sheet:
Want more great content like this? Sign up here to receive the best of Cheat Sheet delivered daily. No spam; just tailored content straight to your inbox.