6 Healthy and Flavorful Spring Slow Cooker Recipes
With its frigid temperatures and dismal weather conditions, winter is the perfect time to indulge in comfort foods and hearty dishes. Spring, on the other hand, is the perfect time of year to embrace fresh ingredients and lighter meals. If you're ready to shed some of your extra winter weight, Best Health suggests practicing portion control, getting rid of the processed and unhealthy foods residing in your cupboard, reducing your salt and sugar intake, and of course, taking advantage of seasonal produce and healthy foods.
Once your kitchen is stocked with nutritious ingredients, you can begin preparing good-for-you meals, which are easy to make thanks to your handy slow cooker. Whether you're looking for a wholesome breakfast, a filling yet non-fattening lunch, or a satisfying supper your family will love, these 6 nutritious and delicious crockpot recipes are packed with invigorating spring ingredients. Keep reading — you won't want to miss any of these easy and healthy dishes!
1. Overnight Slow Cooker Oatmeal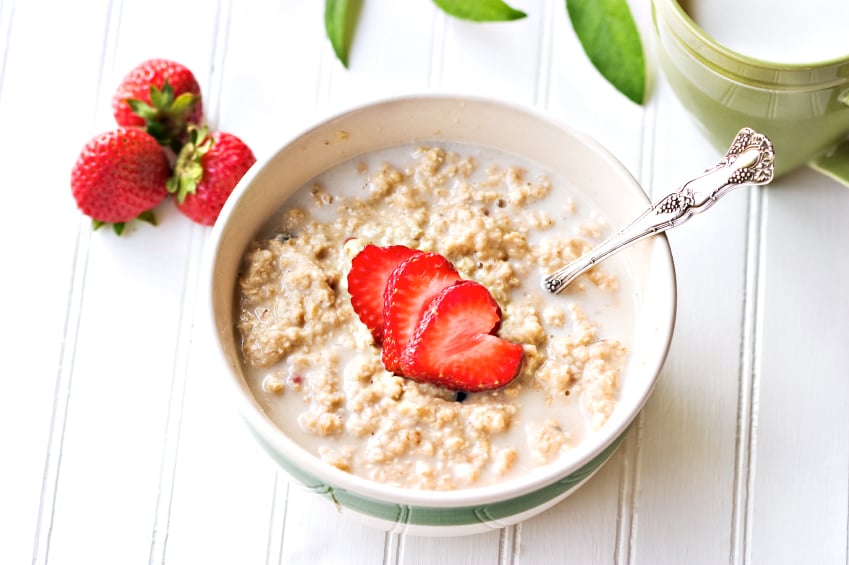 Real Mom Kitchen's recipe calls for basic ingredients, including steel cut oats, maple syrup, brown sugar, salt, and cinnamon. Its add-ins, which can be whatever you please, are what turn this breakfast into a scrumptious spring dish. Serve your oatmeal with apricots, oranges, pineapple, or strawberries, or make it more savory with asparagus, mushrooms, or spinach. Make sure you prepare this recipe the night before, so you can wake up to a ready-made morning meal.
Ingredients:
6 to 8 cups of water, depending on the consistency you prefer for your oatmeal
2 cups steel cut oats
¼ cup pure maple syrup
¼ cup packed brown sugar
½ teaspoon salt
1 teaspoon cinnamon
Add-ins of your choosing (optional)
Directions: Spray the insert of your slow cooker with non-stick cooking spray or use a slow cooker liner. Add all of the ingredients to your slow cooker and stir until well combined. Cook on low for 7 to 8 hours. In the morning, stir the oatmeal. Unplug the slow cooker and let sit for 5 minutes. Your oatmeal is now ready to serve. Serve topped with fresh fruit and brown sugar.
2. Lemony White Bean and Carrot Spinach Salad
Prepare Better Homes and Gardens' lemony white bean and carrot spinach salad before you go to bed, and you'll have a delicious midday meal to bring to work with you the following day. Packed with avocado, spinach, onions, carrots, beans, lemon juice, pistachios, and feta cheese, this is a light lunch option that's filled with fantastic flavors. The recipe yields 6 servings, with each containing 319 calories, 9 grams of fat, 14 grams of fiber, and 19 grams of protein.
Ingredients:
1½ cups dry Great Northern beans
5 medium carrots, cut into ½-inch pieces
1 medium onion, halved and thinly sliced
2 cloves garlic, minced
½ teaspoon dried oregano, crushed
¼ teaspoon salt
¼ teaspoon ground black pepper
4½ cups no-salt-added chicken stock
1 (5 ounce) package fresh baby spinach
2 teaspoons finely shredded lemon peel
3 tablespoons lemon juice
1 medium avocado, halved, seeded, peeled, and chopped
¾ cup crumbled reduced-fat feta cheese
⅓ cup pistachio nuts, coarsely chopped
Lemon wedges, optional
Directions: Rinse beans; drain. In a 4- to 5-quart Dutch oven combine beans and enough water to cover beans by 2 inches. Bring to boiling; reduce heat. Simmer, uncovered, for 10 minutes. Remove from heat. Cover and let stand for 1 hour. Rinse and drain beans.
In a 3½- or 4-quart slow cooker, combine the soaked beans, carrots, onion, garlic, oregano, salt, and pepper. Pour stock over mixture in cooker. Cover and cook on low-heat setting for 7 to 8 hours or on high-heat setting for 3½ to 4 hours. If desired, remove ½ cup of the cooking liquid; set aside. Drain bean mixture; discard any remaining cooking liquid. Return bean mixture to the hot cooker. Stir in spinach, lemon peel, and lemon juice. Let stand, covered, for 5 minutes.
Transfer bean mixture to a serving platter. Top with avocado, cheese, and pistachios. If desired, drizzle with enough of the reserved cooking liquid to moisten. If desired, serve with lemon wedges.
3. Springtime Crockpot Minestrone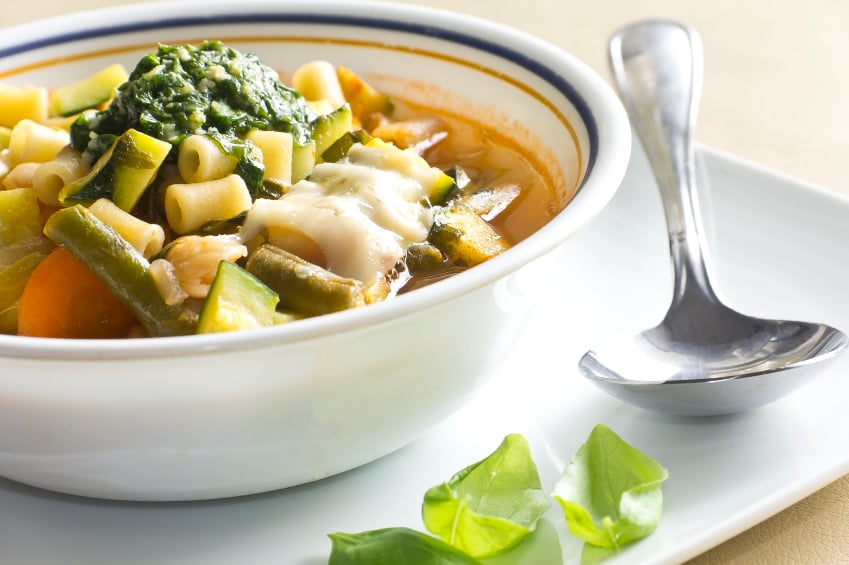 Perfect for lunch and dinner, this How Sweet It Is soup recipe is easy and healthy. Add onions, garlic, carrots, diced tomatoes, beans, stock, and water to your crockpot, cooking on low for 4 to 6 hours. About 10 to 15 minutes prior to serving, add in the asparagus, spinach, peas, and pasta, and cook on low for a bit longer. Don't forget to add cheese, salt, and pepper to your minestrone before digging in!
Ingredients:
1 sweet onion, diced
3 garlic cloves, minced
3 carrots, peeled and sliced
1 (28-ounce) can of diced tomatoes
2 (15-ounce) cans of cannellini beans, drained and rinsed
3 cups low-sodium vegetable stock
3 cups water
8 ounces of uncooked ditalini pasta
12 thin asparagus spears, stems removed and cut into thirds
1 cup of frozen sweet peas
1 (6-ounce) bag of fresh spinach
⅓ cup freshly grated romano cheese plus more for topping
salt and pepper to taste
Directions: Add diced onions, garlic, carrots, the whole can of diced tomatoes, cannellini beans, stock, and water to your crockpot. Cook on low for 4 to 6 hours, stirring once or twice if you can.
About 10 to 15 minutes before serving, add in asparagus, spinach, peas, and pasta. Cook on low for another 10 to 15 minutes then stir in grated cheese. Taste and season with salt and pepper as desired. Serve immediately with additional cheese on top.
4. Rustic Chickpea Stew with Apricots and Turnip
Sweet and savory flavors combine in Simple Bites' recipe, which yields 6 servings. Calling for common staples such as chickpeas, tomatoes, dried fruit, and spices, it's also a great meal to prepare if you're trying to use up some of your pantry items. Simply add the ingredients to your slow cooker, cover, and cook on low for 6 hours. Voilà, lunch or dinner is served!
Ingredients:
1 (19-ounce) can of chickpeas, drained and rinsed
1 (28-ounce) can crushed tomatoes or 3½ cups homemade tomato sauce
1 cup apple juice
2 tablespoons butter
1 medium onion, diced
2 garlic cloves, minced
1 cup medium diced turnip
½ cup chopped dried apricots (about 12)
Zest of 1 large lemon
1 teaspoon ground cumin
½ teaspoon ground coriander
½ teaspoon salt
Directions: Combine all the ingredients in a slow-cooker and stir to combine. Cover and cook on low setting for 6 hours, or on high for four hours. Check turnip for tenderness and taste stew for seasoning. Adjust salt if necessary and serve.
5. Greek Chicken and Vegetable Ragout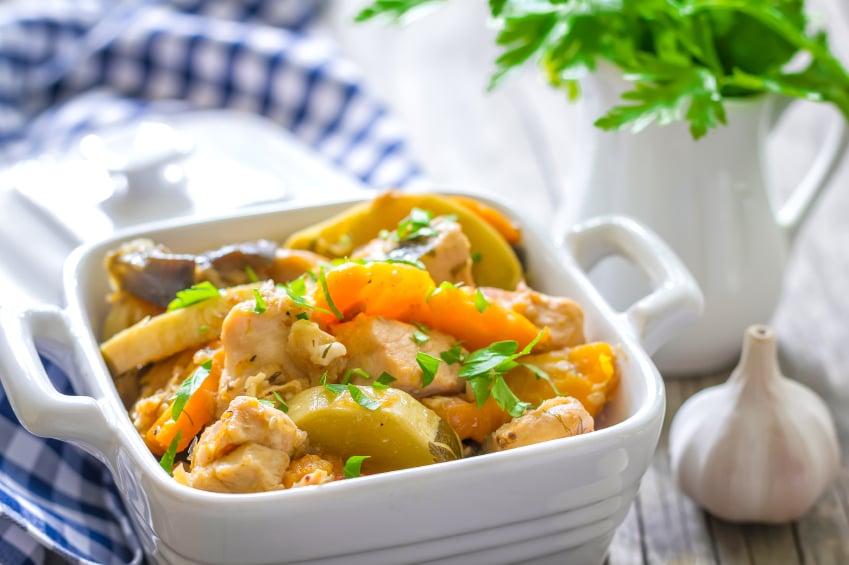 Liven up dinner with Eating Well's chicken and vegetable ragout, which is chock-full of aromatic spices, healthy veggies, and protein-packed chicken. The recipe yields 6 servings; each contains 355 calories, 11 grams of fat, 4 grams of fiber, and 34 grams of protein.
Ingredients:
1 pound carrots, cut into 1¼-inch pieces, or 3 cups baby carrots
1 pound (3 to 4 medium) yellow-fleshed potatoes, such as Yukon Gold, peeled and cut lengthwise into 1¼-inch-wide wedges
2 pounds boneless, skinless chicken thighs, trimmed
1 (14-ounce) can reduced-sodium chicken broth
⅓ cup dry white wine
4 cloves garlic, minced
¾ teaspoon salt
1 (15-ounce) can artichoke hearts, rinsed and quartered if large
1 large egg
2 large egg yolks
⅓ cup lemon juice
⅓ cup chopped fresh dill
Freshly ground pepper to taste
Directions: Spread carrots and potatoes over the bottom and up the sides of a 4-quart or larger slow cooker. Arrange chicken on top of the vegetables. Bring broth, wine, garlic and salt to a simmer in a medium saucepan over medium-high heat. Pour over the chicken and vegetables. Cover and cook until the chicken is cooked through and vegetables are tender, 2½ to 3 hours on high or 4 to 4½ hours on low.
Add artichokes to the slow cooker, cover and cook on high for 5 minutes. Meanwhile, whisk egg, egg yolks, and lemon juice in a medium bowl. Transfer the chicken and vegetables to a serving bowl using a slotted spoon. Cover and keep warm.
Ladle about ½ cup of the cooking liquid into the egg mixture. Whisk until smooth. Whisk the egg mixture into the remaining cooking liquid in the slow cooker. Cover and cook, whisking 2 or 3 times, until slightly thickened and sauce reaches 160 degrees Fahrenheit on an instant-read thermometer, 15 to 20 minutes. Stir in dill and pepper. Pour the sauce over the chicken and vegetables and serve.
6. Slow-Cooker Coconut Brown Rice Pudding
Dessert doesn't get any better than this! Food Network's rich and creamy recipe is bursting with sweet flavors, thanks to brown rice and coconut water and milk. We suggest piling your pudding high with tantalizing toppings, including mango, pineapple, berries, coconut chips, and crystallized ginger. With one serving containing 150 calories and 4 grams of fat, this is truly a treat to indulge in guilt-free!
Ingredients:
Nonstick cooking spray
3 cups coconut water
1 (13.5-ounce) can lite coconut milk
½ cup sugar
1 tablespoon vanilla extract
½ teaspoon kosher salt
1¼ cups short grain brown rice
2 tablespoons unsalted butter, cut into small pieces
1 teaspoon finely grated lime zest
Suggested toppings: diced fresh or dried mango and pineapple, fresh or frozen and thawed raspberries, toasted shaved coconut chips, chopped crystallized ginger
Directions: Mist a 5- to 6-quart slow cooker with nonstick cooking spray. Mix the coconut water, coconut milk, 1½ cups water, sugar, vanilla, and salt in the bowl of the slow cooker until the sugar is dissolved. Stir in the rice and cook on high 4 hours or low for 5 to 6 hours.
Uncover, stir well and let stand 15 minutes. Transfer to a large bowl and stir in the butter. Continue to cool, stirring, until warm. Stir in the lime zest. Serve warm or chill until cold. Top as desired.
More from Culture Cheat Sheet: