6 Healthy Fillings for Guilt-Free Taco and Tortilla Dishes
A taco, burrito, or enchilada can quickly derail any diet. The tasty fillings are often loaded with fattening sauces, hearty meats, and an array of other ingredients, which can quickly pile on unwanted fat and calories. Even an attempt at preparing a healthy taco dish can quickly get out of hand after adding veggies, meat, sour cream, and guacamole. However, you no longer need to stress about the calories and fat you're consuming when it comes to your Mexican meals. We've compiled 6 recipes that create nutritious, satisfying, and good-for-you fillers, ensuring you're serving up a healthy tortilla dinner.
1. Goat Cheese and Chicken Taco Filling
This Country Living recipe via Delish is a mouthwatering filler you can feel good about. Serve it with soft flour tortillas or crisp taco shells for a healthy dinner that's bursting with flavor. Each serving, excluding the tortillas, contains 40 calories and 2 grams of fat.
Ingredients:
1 tablespoon olive oil
1 large (1-pound) boneless, skinless chicken breast
¾ teaspoon coarse-ground salt
½ teaspoon ground chipotle pepper
1 large jalapeño pepper, finely chopped
1 small yellow onion, chopped
1 tablespoon lime juice
2 tablespoon coarsely chopped cilantro
2 ounces goat cheese, crumbled
Taco shells
Directions: To make the chicken filling, heat oven to 350 degrees Fahrenheit. Heat 1 teaspoon olive oil in a medium ovenproof skillet over medium-high heat. Season chicken with ¼ teaspoon salt and chipotle pepper, add to the heated pan, and brown on both sides. Transfer skillet to the oven and bake until cooked through, about 15 minutes. Set aside.
Heat remaining oil in a medium skillet, add the jalapeño, onion, and remaining salt, and cook over medium heat until softened, about 10 minutes. Transfer the mixture to a medium bowl. Shred the chicken and add it along with the lime juice, cilantro, and half of the goat cheese to the onions and stir gently to combine. Fill taco shells with 2 teaspoons of filling, top with remaining cheese, and serve immediately.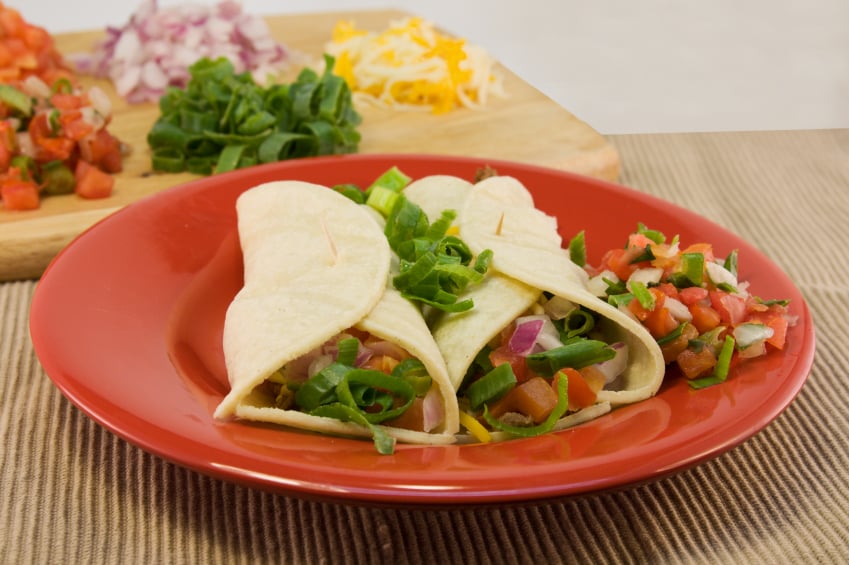 2. Sautéed Tilapia Tacos With Grilled Peppers and Onion
CookingLight's recipe is quick, easy, and filled with simple, nutritious ingredients. These low-fat tilapia tacos call for fish, onion, bell pepper, and jalapeño pepper and contain 292 calories, 4.4 grams of fat, and 32.6 grams of protein in each serving.
Ingredients:
2 (½-inch-thick) slices white onion
1 (8-ounce) package mini sweet bell peppers
Cooking spray
¾ teaspoon salt, divided
½ teaspoon freshly ground black pepper, divided
4 (5-ounce) tilapia fillets
8 (6-inch) corn tortillas
1 small jalapeño pepper, thinly sliced
8 lime wedges (optional)
Directions: Preheat grill to high heat. Arrange onion slices and bell peppers on a grill rack coated with cooking spray. Grill onions for 12 minutes, turning after 6 minutes. Grill bell peppers 12 minutes, turning occasionally. Remove onions and bell peppers from grill and let stand for 5 minutes. Slice onion rings in half. Thinly slice bell peppers; discard stems and seeds. Combine onion, bell peppers, ¼ teaspoon salt, and ⅛ teaspoon black pepper in a small bowl.
Sprinkle fish evenly with remaining ½ teaspoon salt and remaining ⅜ teaspoon black pepper. Heat a large nonstick skillet over medium-high heat. Coat pan with cooking spray. Add fish to pan and cook for 3 minutes on each side or until fish flakes easily when tested with a fork or until desired degree of doneness. Warm tortillas according to package directions. Divide fish, onion mixture, and jalapeño slices evenly among tortillas. Serve with lime wedges, if desired.
3. Shredded Turkey and Pinto Bean Burritos
Serve this EatingWell burrito with chopped jalapeño peppers and hot sauce for a metabolism-boosting, spicy dinner. The recipe yields 6 servings with each containing 392 calories, 12 grams of fat, and 38 grams of protein.
Ingredients:
1 tablespoon canola oil
1 medium onion, halved and sliced
2 cloves garlic, minced
1 tablespoon ground cumin
1 teaspoon chile powder
1 (15-ounce) can diced tomatoes with green chiles
2 tablespoons lime juice
4 cups shredded cooked turkey or chicken
1 (15-ounce) can pinto beans, rinsed
6 (10-inch) whole-wheat flour tortillas or wraps, warmed
¾ cup grated Monterey or Pepper Jack cheese
2 cups shredded green cabbage
Directions: Heat oil in a large saucepan over medium heat. Add onion and cook, stirring, until softened, about 2 minutes. Stir in garlic, cumin, and chile powder and cook for 30 seconds. Add tomatoes and lime juice; bring to a boil. Reduce heat to a simmer and cook until the onions are very soft, 16 to 20 minutes. Stir in turkey or chicken and beans, and continue cooking until the mixture is heated through, 3 to 5 minutes more. Divide the turkey-bean mixture among tortillas. Top each with cheese and cabbage, roll into burritos, and serve.
4. Cheesy Steak Burritos
Feel free to indulge in this guilt-free Fitness burrito. The recipe yields 6 servings and contains 373 calories, 27 grams of protein, and 9 grams of fat in each.
Ingredients:
2 portobello mushroom caps
Nonstick cooking spray
2 teaspoons chili powder
½ teaspoon salt
¼ teaspoon black pepper
1 pound flank steak
6 (8-inch) fat-free flour tortillas
1 can (16 ounces) fat-free 

refried beans

3 cups shredded romaine lettuce
¾ cup bottled taco sauce
2 medium tomatoes, diced
½ cup shredded reduced fat cheddar cheese
Directions: Heat gas grill to medium-high and mist mushrooms with cooking spray. Sprinkle most of the chili powder, salt, and pepper on mushrooms; pat the rest onto steak. Grill mushrooms for 5 minutes with cover closed; turn. Add steak to grill. Grill, covered, 2 to 3 minutes per side. Remove meat and mushrooms from grill; let stand 3 minutes, then slice into strips. Spread ¼ cup beans down a tortilla's center. Microwave on high for 30 to 40 seconds; top with ⅓ cup steak mixture, ½ cup lettuce, 2 tablespoons taco sauce, 3 tablespoons tomato, and 1 tablespoon cheese. Roll; prepare remaining burritos.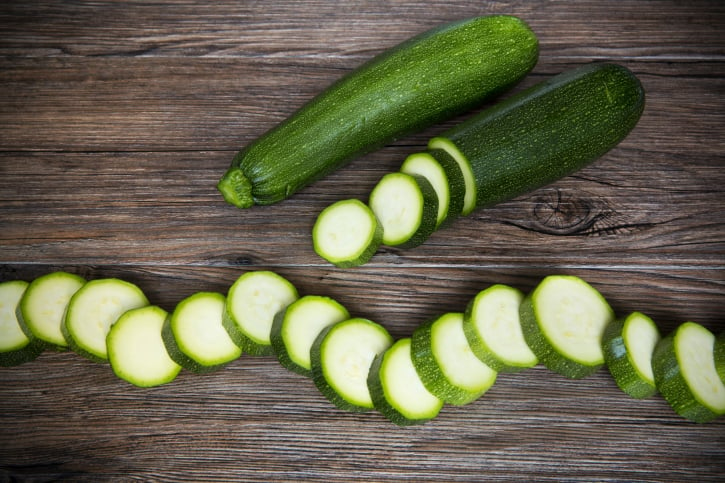 5. Black Bean, Corn, and Zucchini Enchiladas
Here's a CookingLight recipe you can feel good about serving your family. With each serving containing 348 calories, 4.2 grams of fat, and 16 grams of protein, you can polish off your plate without feeling as though you're overindulging. The recipe yields 8 servings.
Ingredients:
1 teaspoon canola oil
2 cups diced zucchini
1 (10-ounce) package frozen whole-kernel corn
1 (15-ounce) can black beans, rinsed and drained
3 cups enchilada sauce, divided
Cooking spray
8 (8-inch) whole wheat tortillas
2 cups (8 ounces) shredded reduced fat cheddar cheese, divided
Directions: Preheat oven to 350 degrees Fahrenheit. Heat oil in a large nonstick skillet over medium-high heat. Add 2 cups zucchini and corn; sauté for 5 minutes or until vegetables are tender. Remove from heat and stir in beans. Spread 1 cup enchilada sauce in the bottom of a 13 x 9-inch baking dish coated with cooking spray.
Spoon about ½ cup zucchini mixture down center of 1 tortilla; sprinkle with 2 tablespoons cheese and roll up. Place seam-side down in baking dish. Repeat procedure with remaining tortillas, zucchini mixture, and 14 tablespoons cheese. Spread remaining 2 cups sauce evenly over enchiladas. Cover with foil; bake at 350 degrees Fahrenheit for 30 minutes. Uncover; top with remaining 1 cup cheese. Bake, uncovered, for 10 minutes or until cheese melts.
6. Lentil and Cauliflower Rice Taco Filling
Loaded with veggies and savory seasonings, FatFree Vegan Kitchen's vegetarian-friendly recipe via Yummly is healthy dining at its finest. The recipe yields 7 servings with each (excluding the tortillas) containing 145 calories, 1 gram of fat, and 10.1 grams of protein.
Ingredients: 
1 cup brown lentils, uncooked, or 3 cups cooked lentils
3 cups water
2 cloves garlic, minced
1 large head cauliflower
1 large onion, chopped
4 cloves garlic, minced
2 tablespoons mild chili powder, divided
1 teaspoon salt, or to taste
½ teaspoon cumin
½ teaspoon smoked paprika
¼ to ½ teaspoon chipotle powder or cayenne pepper, to taste
Generous grating black pepper
Salt to taste
Directions: If you're starting with uncooked lentils, rinse and drain them and place in a medium-sized saucepan with 3 cups of water, 2 cloves of minced garlic, and a little salt, if desired. Bring to a boil, reduce heat to low, cover and cook until just tender, about 20 minutes. Remove from heat and set aside. Prepare the cauliflower rice by removing the leaves and bottom stem from the cauliflower. Grate the cauliflower using either a box grater or the food processor to produce rice-sized pieces.
To use the food processor, cut the cauliflower into quarters and then cut or break each quarter into pieces. Process one quarter at a time, pulsing on and off, until grated. Be careful not to over-process or you'll have cauliflower dust. Once the cauliflower is grated, heat a very large skillet over medium-high heat. Add the onion and cook, stirring, until it begins to brown. Add the cauliflower and garlic and saute for 3-4 minutes.
Add 1 tablespoon of chili powder and continue cooking until the cauliflower is tender, about 4 more minutes. Drain the lentils well and add them to the skillet. Add the remaining chili powder and all remaining seasonings. Cook on medium until heated through and flavors are combined. Add salt to taste. Makes about 7 cups of filling. To serve, place about ⅓ cup of filling in a small corn tortilla and garnish with lettuce, tomatoes, and any other fillings you like. Serve with salsa.
More From Life Cheat Sheet:
Want more great content like this? Sign up here to receive the best of Cheat Sheet delivered daily. No spam; just tailored content straight to your inbox.