6 Healthy Versions of Coffee Shop Pastries
It can be hard to resist the lure of sugary-sweet coffee shop pastries. Unfortunately, while those beloved bakery items may taste good, they are usually packed with fat, calories, sugar, and artificial ingredients. There's no need to despair, though; you don't need to bid adieu to baked goods forever. Instead, prepare these 6 recipes for healthy versions of coffee shop favorites.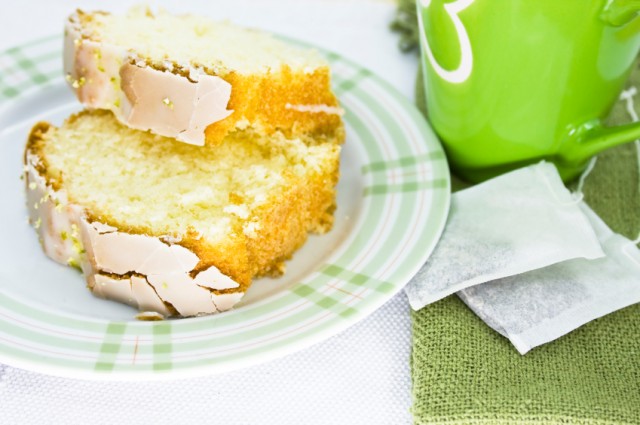 1. Mock Starbucks Lemon Cake
One of Starbucks most alluring pastries is its iced lemon pound cake, which has 470 calories, 68 grams of carbs, and 42 grams of sugar, according to the company's website. Vanesa Stenberg's recipe via Joy in Our Journey creates an equally delectable version that is low in carbs and sugar. It yields 6 servings, with each containing 447 calories, 12.4 grams of carbs, and 2.4 grams of sugar.
Ingredients:
2 teaspoons baking powder
¼ cup coconut flour
¼ cup almond flour
¼ teaspoon sea salt
¼ cup Truvia, erythritol, or xylitol
¼ cup lemon juice
15-20 drops of lemon essential oil (optional)
¼ cup melted coconut oil
¼ cup warm water
2 teaspoons vanilla
3 (or 4 small) eggs depending on how moist you like your cake
Lemon Icing:
¼ cup cream cheese, softened
2 teaspoons coconut oil or butter
1 teaspoon lemon juice
12 drops lemon essential oil
1 teaspoon Truvia, erythritol, or xylitol
1 teaspoon vanilla
Directions: In a microwave-safe or oven-safe bowl, combine all dry ingredients. Add lemon juice, lemon essential, melted coconut oil, warm water, vanilla, and egg. Stir until well mixed. Bake in microwave for 2-5 minutes, or bake at 350 degrees Fahrenheit for 20-45 minutes until no longer moist on top. While cake is still hot, spread with frosting. To make the frosting, combine all ingredients and whisk until smooth, or use hand mixer to blend. Adjust sweetener and lemon essential oil to taste. Spread onto hot cake.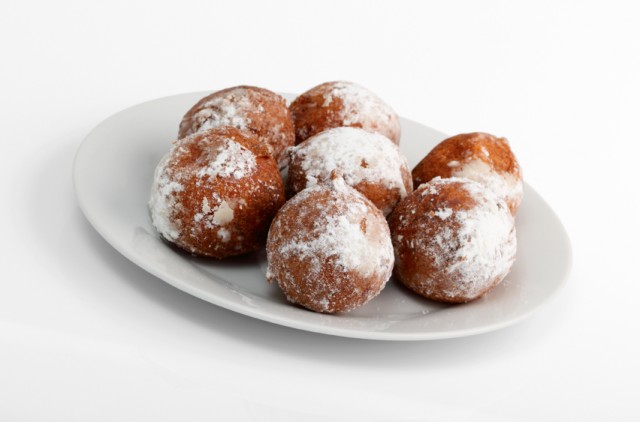 2. Mini-Powdered Sugar Donut Muffins
Dunkin' Donuts' munchkins are often too tasty to pass up. However, these fried goodies contain a shockingly long list of unrecognizable ingredients and no nutritional value. Sally's Baking Addiction's recipe for Mini-Powdered Sugar Donut Muffins changes all of that, creating pastries that taste just like munchkins. The big difference? They're baked, not fried, and made with white-whole wheat flour. The recipe yields 18-20 servings.
Ingredients:
⅓ cup unsalted butter, softened to room temperature
½ cup granulated sugar
1 large egg
1 teaspoon vanilla extract
½ cup milk
1½ cups white whole wheat flour (or all-purpose flour)
1½ teaspoon baking powder
½ teaspoon ground cinnamon
½ teaspoon salt
3 tablespoons unsalted butter
¾ cup powdered sugar
Directions: Preheat oven to 400 degrees Fahrenheit. Spray mini muffin pan with cooking spray and set aside. In a large bowl using a handheld or stand mixer, cream ⅓ cup butter and granulated sugar together on medium speed. Mix in the egg, vanilla extract, and milk. Gently stir in flour, baking powder, cinnamon, and salt by hand. Do not overmix. Spoon batter into prepared muffin tin, about ⅔ of the way full. Fill the empty muffin tins halfway with water for even baking. Bake for 11-12 minutes, watching the muffins closely. They are done when the edges begin to brown and the centers are set.
Allow muffins to cool for about 5 minutes. While the muffins are cooling, prepare the topping. Melt 3 tablespoons of butter for about 30 seconds in a small bowl in the microwave. Stir and stick back in microwave if not fully melted. Pour the powdered sugar in a separate small bowl. Fully submerge each muffin into the melted butter and then into the powdered sugar. Coat all sides generously and evenly with powdered sugar. Use more melted butter or powdered sugar if needed. Set upright on cooling rack.
3. Light Blueberry Coffee Cake
Starbucks' reduced-fat berry coffee cake is a pastry favorite for many. SuperGlue Mom has created a copycat recipe that manages to top the coffee shop's baked good. Thanks to the antioxidant-packed blueberries and protein-filled Greek yogurt, this simple recipe is about as healthy as it gets.
Ingredients:
4⅓ cups all purpose flour, divided
1¾ cups sugar, divided
5 teaspoons baking powder
1½ teaspoons salt
1½ cups milk
¾ cup Greek yogurt
½ cup butter, softened
5 tablespoons butter, chilled
2 eggs
2 teaspoons vanilla
3 cups blueberries
Directions: Preheat oven to 350 degrees Fahrenheit, and place baking rack in the middle of the oven. Grease a 9-by-13-inch baking pan. In the bowl of your stand mixer, combine 4 cups all purpose flour, 1¼ cups sugar, baking powder, and salt. Give it a quick mix. To the dry mix, add milk, Greek yogurt, ½ cup of softened butter, eggs, and vanilla. Mix on low speed until combined and there are no visible clumps. The batter will be thick.
Gently fold in blueberries with a spatula. Pour mixture into greased baking pan. In a small bowl, mix together the remaining ⅓ cup of flour and ½ cup of sugar. Cube cold butter and place inside the flour mixture. Create a fine crumble as you mix it with a fork or with your hands. Distribute crumble mixture over the batter. Bake for 50-65 minutes or until a toothpick inserted comes out clean. Remove from oven and allow cake to cool down to room temperature prior to serving.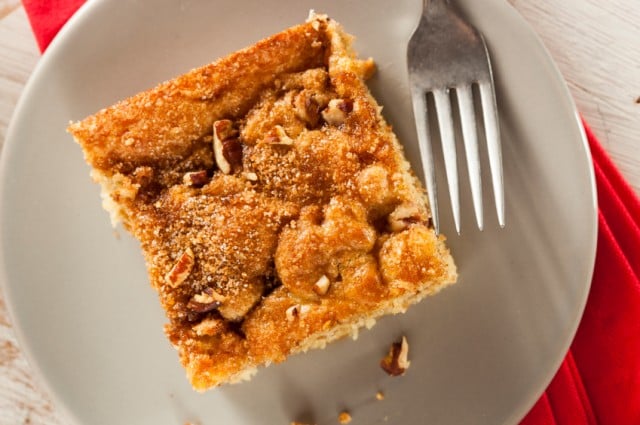 4. Cinnamon Sugar Zucchini Coffee Cake
Do you love Caribou Coffee's cinnamon coffee cake, but hate the fact that each serving contains 550 calories, 31 grams of fat, and 36 grams of sugar? Pinch of Yum's Cinnamon Sugar Zucchini Coffee Cake is an amazing alternative that's much healthier; you'll be hard pressed to find a coffee shop that includes vegetables in its recipes!
Ingredients:
Cake:
1⅓ cups brown sugar
⅓ cup extra virgin olive oil oil
1 egg
1 cup buttermilk (you can also use milk and vinegar, or almond milk)
1 teaspoon baking soda
1 teaspoon vanilla
¼ teaspoon salt
2½ cups all purpose flour
1½ cups grated zucchini
1 tablespoon orange zest
Topping:
1 cup sugar
1½ teaspoons cinnamon
2 tablespoons butter
Directions: Preheat the oven to 325 degrees Fahrenheit. Press or drain the excess moisture out of the zucchini shreds. Mix the cake ingredients in order given. Combine the topping ingredients with your fingers or in a food processor to make a crumbly topping. Pour half of the batter into a greased 9-by-13 cake pan. Cover with half of the crumbs. Repeat with the remaining batter and topping. Bake for 45 minutes. The top will be crunchy and textured and the cake will bounce back when you gently press it.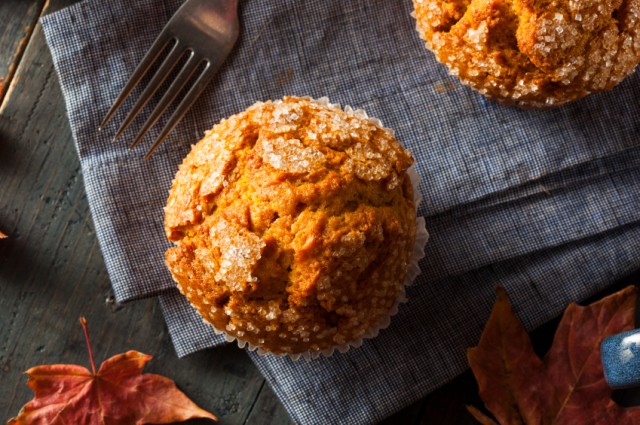 5. Copycat Starbucks Pumpkin Muffin with a Cashew Cream Filling
A Starbucks pumpkin cream cheese muffin contains 420 calories, 13 grams of fat, 71 grams of carbs, 47 grams of sugar, and a long list of artificial ingredients, according to its nutrition facts. Hungry Healthy Girl's vegan alternative creates an equally delicious pastry, but uses fresh seasonings and wholesome foods to create her version of the seasonal muffin. The recipe yields 12 muffins.
Ingredients:
Muffins:
2 flax eggs, or 2 tablespoons ground flax and 6 tablespoons water
¾ cup sugar or ½ cup xylitol
½ cup coconut oil, melted
1 cup pumpkin puree
1¾ cups spelt or all-purpose or whole wheat pastry flour
½ teaspoon baking soda
1 teaspoon baking powder
¼ teaspoon salt
1 tablespoon pumpkin pie spice
Cashew Cream:
1 cup raw cashews, soaked in water for a couple of hours
½ teaspoon vanilla extract
½ teaspoon pumpkin pie spice (or cinnamon)
1 tablespoon maple syrup
¼ cup almond milk
Directions: Preheat the oven to 350 degrees Fahrenheit. To make the cashew cream, drain and rinse cashews. Blend all ingredients in a high-speed blender or food processor. If mixture is really thin, pop it in the fridge and it will thicken up. Store any extra cashew cream in the fridge and use as a spread or topping.
For the muffins, combine ground flax and water in a small bowl and set aside. Mix the sugar, oil, pumpkin, and flax eggs together very well in a large mixing bowl. Add the flour, baking soda, baking powder, salt, and pumpkin pie spice to the bowl of wet ingredients. Stir well to incorporate and fully mix everything together. Line muffin tins with paper cups, or lightly oil them. Spoon about 1-2 tablespoons of batter into the bottom of each muffin.
Make sure this batter is spread thinly and evenly across the bottom of each muffin tin. Hit your baking pan flat on the counter a few times to accomplish this. Next, distribute a spoonful of the cashew cream filling in each. Finally, evenly distribute the remainder of the batter over the top of the cashew cream, approximately 2-3 tablespoons each. Bake at 350 degrees for 20-25 minutes. Let cool.
6. Baked Blueberry Cake Donuts
There's no arguing that Dunkin' Donuts makes a perfect-tasting pastry. Take its blueberry cake donut, for example — it's undeniably delightful, but its nutrition facts state that each one contains 340 calories, 17 grams of fat, and 21 grams of sugar. A much healthier option is Food.com's baked cake donuts, which contain 145.2 calories, 4.6 grams of fat, and 11.3 grams of sugar.
Ingredients:
1½ cups flour
1½ teaspoons baking powder
½ teaspoon salt
½ teaspoon nutmeg
½ cup brown sugar
4 tablespoons unsalted butter, cold and cubed
1 egg
½ cup 2 percent low-fat milk
½ cup frozen blueberries
Directions: Preheat oven to 350 degrees Fahrenheit. Combine the first five ingredients in a large bowl. Blend in butter until it resembles coarse crumbs. Place blueberries in a microwavable dish, and heat for 30-40 seconds until soft and juicy. Whisk in the milk and egg. Add this to the flour mixture and mix just until combined. Spoon into a greased donut pan/maker. Bake for 10-12 minutes in oven or until ready indicator is lit. Flip donuts in pan after 10 minutes if you'd like to brown both sides. Cool donuts on a wire rack for 10 minutes.
More from Life Cheat Sheet: