6 Homemade Iced Coffee Recipes for Your Spring Caffeine Fix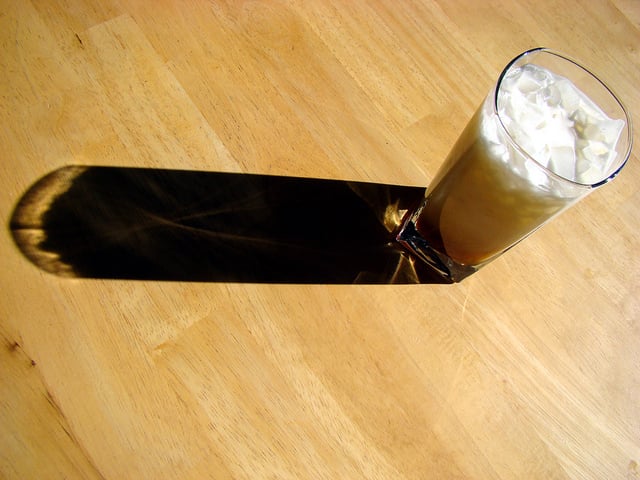 Are you ready to say hello to summer and hello to Starbucks iced coffee drinks? We are, but our wallets aren't so sure. Nothing spikes the thirst for an iced caffeinated drink quite like warm weather does, but once those frosts are few and far between, and the hot temperatures are here to stay, our wallets can be in hot water if we decide to indulge ourselves with iced coffees every day.
That's why it's important to learn how to make Starbucks copycat iced drinks at home, or even better, outdo the monopolizing chain. Because, sure, Howard Schultz and his minions can serve up the perfect iced latte or Frappuccino, but you can see their frozen concoctions and raise them a fresh mint iced coffee, or even better, an iced Mexican coffee. Yep, you'll be learning the recipes for those two iced caffeine concoctions today, along with four other Starbucks lookalikes. Save your money for Starbucks's pumpkin spice lattes and make one of these six homemade iced coffee drinks today.

1. Perfect iced coffee
Here's the ticket for the perfect iced coffee from The Pioneer Woman herself. Most people have perfected the skill of brewing their own hot caffeine, but many are more intimidated by the iced coffee process, having had bad experiences with lukewarm diluted coffee. You're not alone, and luckily, Ree from The Pioneer Woman is here to help with a foolproof method for strong iced coffee that tastes like it's straight from a coffee shop. You won't need a coffee maker for this recipe (surprise!), but you will need a few large containers and a cheesecloth. Oh, and some coffee lovers or some good refrigerator space, because this recipe serves 24. You'll be set for weeks!
Ingredients:
1 pound ground coffee (good, Rich Roast)
8 quarts cold water
Half-and-half (healthy Splash Per Serving)
Sweetened condensed milk (2-3 Tablespoons Per Serving)
Directions:
In a large container, mix ground coffee with water. Cover and allow to sit at room temperature eight hours or overnight. Line a fine mesh strainer with cheesecloth and set over a pitcher or other container. Pour coffee/water mixture through the strainer, allowing all liquid to run through. Discard grounds.
Place coffee liquid in the fridge and allow to cool. Use as needed. To make iced coffee, pack a glass full of ice cubes. Fill glass two-thirds full with coffee liquid. Add healthy splash of half-and-half. Add 2 to 3 tablespoons sweetened condensed milk (can use plain sugar instead) and stir to combine. Taste and adjust half-and-half and/or sweetened condensed milk as needed.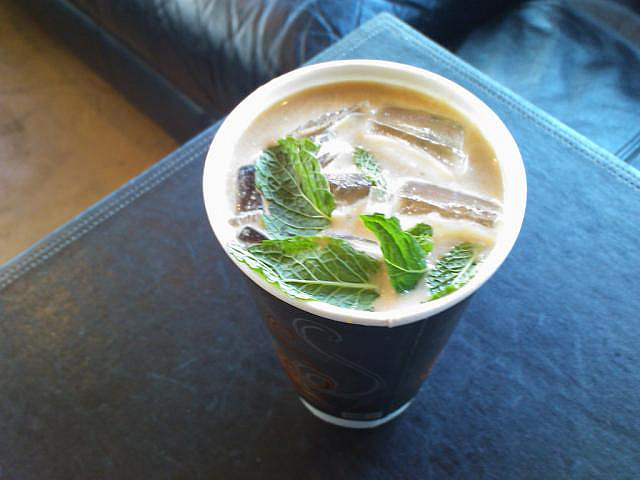 2. Fresh mint iced coffee
Or, if you're trying to take your iced coffee up a notch, try this recipe from How Sweet Eats for Fresh Mint Iced Coffee. You can smell the herbal goodness from here. The idea of putting mint inside your coffee might sound off-base, but don't knock it until you try it, and after you've had one sip of this refreshing iced brew, you'll realize you may have woken a sleeping dragon (with minty breath).
Ingredients:
Cold Brew Concentrate
1/2 cup freshly ground coffee
2 cups cold water
Fresh Mint Syrup
1 cup water
1 cup sugar
1 big bunch of fresh mint leaves (around 3/4 cup)
1 vanilla bean, seeds scraped
For perfect mint iced coffee ice cubes
2 1/2 tablespoons fresh mint syrup
8 ounces coffee concentrate
3 tablespoons milk, cream or sweetened condensed milk
fresh mint leaves for garnish
Directions:
For cold brew concentrate: To make the cold brew coffee concentrate, combine the ground coffee and water in a jar or bowl and stir well. Let it sit at room temperature for at least 8 hours or overnight. At this time, I usually also make some coffee ice cubes. I make a cup or two of coffee and allow it to cool slightly. Since I don't love black coffee, I'll stir in some milk (anything from cream to almond or coconut milk) then pour the mixture into ice cube trays and freeze overnight. You can make a lot of these and store them for on demand use. The next morning, use a fine mesh sieve or cheesecloth to strain coffee concentrate, removing all the grinds. Store the cold coffee in a sealed jar in the fridge.
For fresh mint syrup: To make the mint simple syrup, add the water, sugar, mint leaves, and vanilla beans (and empty pod) to a saucepan and heat over medium heat. Whisk constantly until the sugar dissolves and the mixture comes to a boil. Let it bubble for a minute or so, then reduce the heat and let it cool completely. I'll usually put it in a bowl or jar, let it come to room temperature then stick it in the fridge overnight. In the morning (or before using), strain out the mint leaves and vanilla pod — or simply leave them in to continue flavoring the syrup. Keep sealed in the fridge for a week or so.
For perfect mint iced coffee: Use a mix of coffee ice cubes and regular old ice cubes — usually half and half. Add them to the glass and pour the syrup overtop. Next goes the coffee concentrate and then stir in the cream. Top it off with some fresh mint leaves, and you're good to go.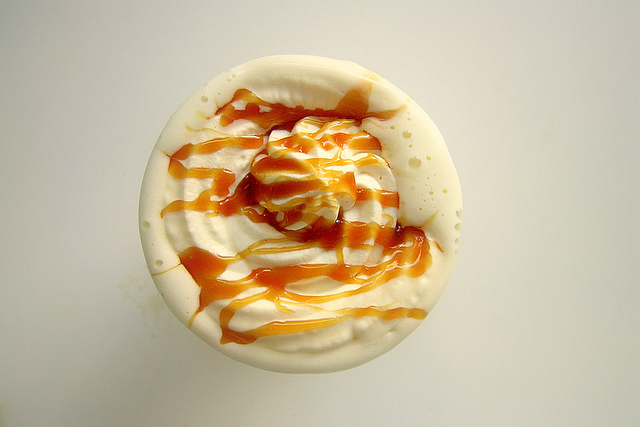 3. Frozen caramel latte
Now back to some iced coffee variations you might be more familiar with, we come to a Frozen Caramel Latte recipe via All Recipes. Sorry, Starbucks, we can make your iced concoctions at home for half the cost. Sweetened with caramel sauce and whipped cream, this frothy iced espresso drink will convince you to never use your Starbucks gold card again. 

Ingredients:
3 fluid ounces brewed espresso
1 tablespoon caramel sauce
2 tablespoons white sugar
3/4 cup milk
1 1/2 cups ice cubes
2 tablespoons whipped cream
Directions:
Place the espresso, caramel sauce, and sugar into a blender pitcher. Blend on high until the caramel and sugar dissolve into the espresso. Pour in the milk and add the ice; continue blending until smooth and frothy. Top with whipped cream to serve.
4. Healthy mocha Frappuccino
If you're in the mood for a lightened up spin on your favorite icy drink, try this recipe for a healthy mocha Frappuccino from The Lemon Bowl. What many don't realize is that Starbucks's Frappuccinos are actually just glorified milkshakes (calories and all), but it doesn't have to be that way. If you go easy on the sugar and instead load your frozen coffee with cocoa power, vanilla extract, chocolate stevia, and some half and half, you can get the same iconic mocha taste for half the calories. The recipe developer at The Lemon Bowl maintains that while a mocha frap from Starbucks yields around 290 calories, her drink will only come to 72.
Ingredients:
2 cups strong brewed coffee, chilled
¼ cup half and half (or almond milk)
2 tablespoons cocoa powder
1 tablespoon vanilla extract
14 drops chocolate stevia or sweetener of choice (ie honey, maple syrup, etc.)
pinch sea salt
ice
whipped cream and dark chocolate shavings – optional garnish
Directions:
Combine coffee, half and half, cocoa powder, vanilla, stevia, and salt in a blender. Puree until smooth about 30 to 60 seconds. Add a scoop or two of ice and puree for additional 45 to 60 seconds on high. Pour into a glass and garnish with whipped cream and dark chocolate shavings.
5. Iced vanilla macchiato
Next up: Iced vanilla macchiato. Done and done. Those chirpy Starbucks baristas have nothing on you. Take this recipe from Tide and Thyme and blend up your own frothy caffeinated drink. Ready in just a few minutes, you'll save time, gas, and Starbucks gift cards, and all the ingredients can be found in your pantry.
Ingredients:
2/3 cup granulated sugar
2/3 cup water
1 tsp vanilla extract
1 cup cold milk
1/4 cup espresso, or strongly brewed coffee
Directions:
To make the vanilla syrup, combine sugar and water in small saucepan. Stir over medium-high heat until the sugar dissolves completely. Add vanilla extract and set aside to cool.
Pour a couple of teaspoons of vanilla syrup into your serving glass. Fill the glass with ice. Fill the glass with milk, leaving just enough room for the coffee. Brew 2 shots of espresso. Pour the espresso shot over the milk and serve immediately.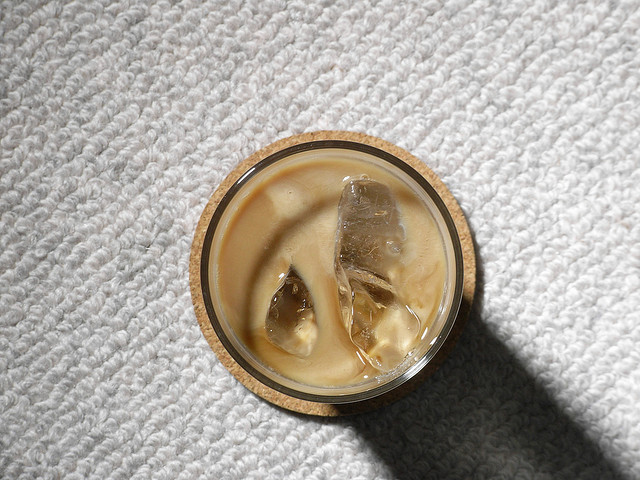 6. Iced Mexican Coffee with Café De Olla
Leaving you with a good taste in your mouth, we come to our last recipe for Iced Mexican Coffee with Café De Olla from Girl Cooks World. Yes, Mexican coffee can be made in your own home, and yes it will be delicious.  Follow these steps to come up with the perfect seasoning and Café De Olla for your perfectly legal treat, and don't say we didn't warn you that this stuff is addicting. Mexican coffee may or may not involve a shot of liqueur, but maybe that's exactly what you need to get your engine roaring in the morning.
Ingredients:
Iced Mexican Coffee:
1 tablespoon chocolate syrup (I always make it from scratch using this recipe)
ice cubes
1 shot coffee liqueur
1/2 cup cold café de olla (recipe below)
1 tablespoon heavy cream or half-and-half
pinch cinnamon
Café De Olla:
5 cups water
4 large cinnamon sticks
6 whole cloves
4 star anise
1/4 cup white sugar, unrefined if you can find it
1/4 cup lightly packed brown sugar
3/4 cup ground dark roast coffee beans, regular or decaf
Directions:
To make the Mexican iced coffee drizzle some chocolate syrup on the bottom of a glass. Add ice cubes, the shot of coffee liquor and café de olla. If you'd like to create a floating layer or cream, carefully pour the cream over the back of a spoon on top of the drink (otherwise just go nuts and pour on top to mix it all together). Sprinkle with a pinch of cinnamon.
To Make the Cafe de Olla combine the water, cinnamon sticks, cloves, star anise, and white and brown sugar in a medium saucepan. Stir and bring to a boil and the reduce heat to low and simmer, uncovered, for about 25 to 30 minutes. Remove from heat and add the ground coffee. Stir and cover; let steep for 5 minutes.
Pour through a sieve lined with a coffee filter, or just do as I did and use your coffee maker. Pour directly over your lined coffee grinds basket (obviously you want to make sure that your coffee pot is below). Serve hot or bring to room temperature and the refrigerate.
More From Wall St. Cheat Sheet: