6 Homemade Popsicle Recipes for Your Spring Sweet Tooth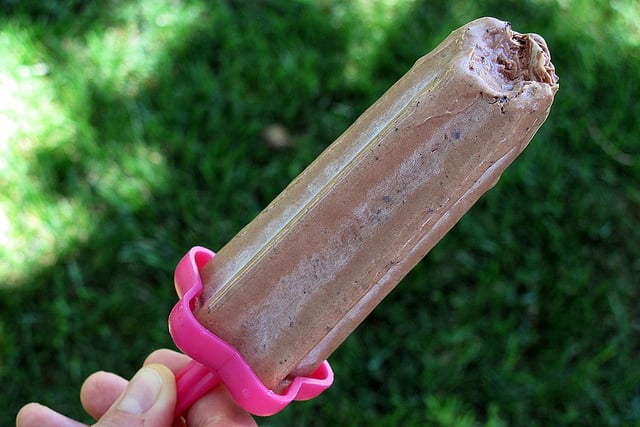 Spring is here and summer is near, and that means you should expect to hear the sweet sirens of the neighborhood ice cream truck any day now. There's certainly nothing better than hearing its jingle for the first time come spring, but by mid-summer, its friendly melody can cause both your waistline and your wallet to cringe, understanding subconsciously that you don't have the willpower to say no. Luckily, there is a way to resist the daily packaged ice cream cones and popsicles, and it all starts in your kitchen. Stocking up your own homemade frozen treats can guarantee that you don't hand over the dollars in change for the good stuff from the ice cream man, and even better, more times than not, your homemade delicacies can be much healthier than the ones you find on the back of a truck.
Here are six homemade popsicle recipes for your spring sweet tooth. Get ready for a brain freeze.
1. S'mores Pudding Pops
'Tis the season for s'mores and the recipe developer behind Take a Megabite is helping us celebrate. Make Megan's S'mores Pudding Pops and be ready for a summer-flavored taste explosion in your mouth. These s'mores don't require any campfires, but they do require your patience while they set in the freezer, but after that, it's every s'more for himself.
Ingredients:
3.5 oz. milk chocolate
1/2 batch marshmallows, toasted*
1/4 cup plus 2 tablespoon granulated sugar
1/4 cup plus 2 tablespoon cornstarch
3/4 t salt
3 3/4 cups whole milk
6 large egg yolks
2 t vanilla extract
graham cracker crumbs for pops and serving
*Toast marshmallows using an oven torch or pop them under the broiler in an oven-safe dish until toasty and melted.
Directions:
Melt the milk chocolate and toasted marshmallows in separate medium bowls in the microwave for 20 second intervals. Set aside.
Whisk together the sugar, cornstarch, and salt in a medium sauce pan. Whisk in the milk a few tablespoons at a time, making sure to dissolve all of the cornstarch, and doing your best to smooth out lumps. Whisk in the egg yolks. Whisking constantly, cook over medium-high heat until the mixture thickens and bubbles start to form and sputter; about 6 minutes. It'll thicken just when you think it should've already. Once it's thick and luxurious, reduce heat to low and continue to cook, whisking constantly for 1 minute.
Remove from heat and whisk in the vanilla. Divide the pudding, evenly between the bowls of melted milk chocolate and toasty marshmallows. Whisk quickly to incorporate the goodness. Spoon the milk chocolate pudding and toasted marshmallow pudding alternately into your popsicle mold. Sprinkle the ends with graham crackers and insert sticks. Freeze for 6 hours or until super firm. Remove from pop molds by running them under warm water. Dunk in graham cracker crumbs and serve!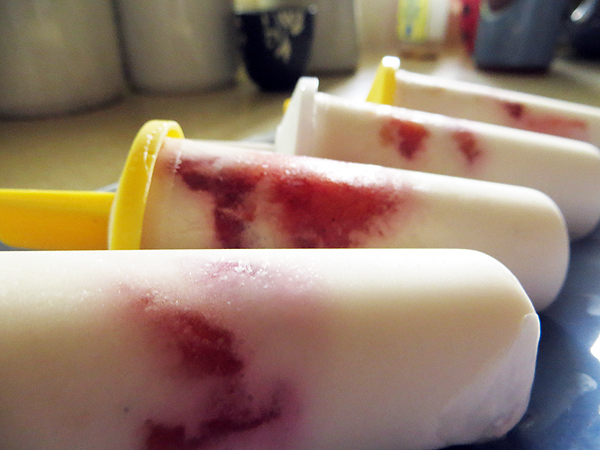 2. Peaches and Cream Popsicles
Or go the fresh berry route and indulge your frozen sweet tooth by whipping up some Peaches and Creme Popsicles via Skinny Taste. Think you can guess the secret ingredient? That'd be Greek yogurt, of course. The thick, protein-rich yogurt coupled with almond milk, peaches, and sugar basically makes this dessert a health food, so now you really have no reason not to wave goodbye to your neighborhood ice cream man as you slurp down your frozen homemade goods.
Ingredients:
3 medium peaches
1/2 cup 2% Chobani Greek yogurt
1/3 cup sugar (I used raw, or your favorite sweetener)
1/3 cup Almond Breeze vanilla unsweetened almond milk
1/4 teaspoon pure almond extract
1/8 teaspoon fine salt
Directions:
Halve and pit the peaches. Cut the peach halves into 1/4-inch dice until you have 1 cup. Place the diced peaches in a bowl; set aside.
Cut the remaining peaches into rough 1-inch chunks and place in the blender. Add the remaining ingredients and blend until smooth, scrape down the sides of the blender as needed. Pour the mixture into the bowl with the diced peaches and mix to combine.
Divide the mixture evenly into the popsicle molds, or disposable small plastic cups. Insert the sticks and freeze until solid, at least 5 to 6 hours.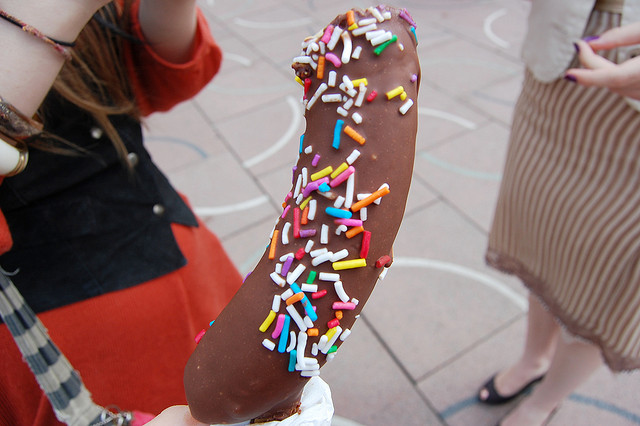 3. Frozen Chocolate Banana Pops
Ready for the easiest, yet tastiest summer frozen homemade treat? Enter: Frozen Chocolate Banana Pops. Round up your leftover bananas, stick 'em with a popsicle stick, roll them in a melted combination of chocolate and butter, and throw them in the freezer. Come back in one hour, take one bite of your frozen banana, and you'll kick yourself for not enjoying this treat earlier. Take Gale Grand's direction and get going. Banana bread is out, and banana pops are in.
Ingredients:
8 medium bananas, peeled
8 wooden popsicle sticks
32 ounces semisweet chocolate, chopped or chips
4 tablespoons unsalted butter
Directions:
Line a sheet pan with waxed paper. Cut 1-inch off the end of each banana. Insert a popsicle stick into the cut-end of each banana, pushing the stick halfway in, leaving the other end exposed for use as a handle. Place the bananas on the sheet pan and freeze 1 hour.
Melt the chocolate and butter in a bowl over a saucepan of simmering water, stirring occasionally. Arrange any dipping decorations on several flat plates. Working with one banana at a time, dip it in the chocolate and turn to completely coat (spoon some on, if needed). Roll the dipped banana in the desired decorations, transfer to the sheet pan, and return to the freezer. Once frozen, store the bananas in an airtight container.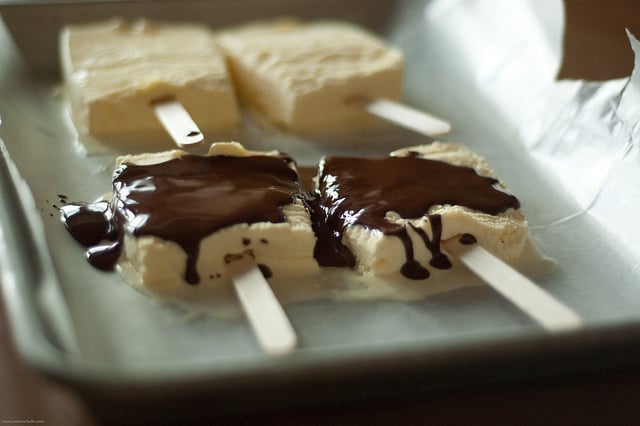 4. Invisible Cookie Dough Ice Pops
Two words: cookie dough. And you can eat it raw in these ice pops. Yes, dreams really do come true. Here is Got Chocolate's recipe for Invisible Cookie Dough Ice Pops. Freeze 'em up for the next warm day and get ready to have some happy eaters on your hands. All you need for these pops is milk, brown sugar, a teaspoon of vanilla extract, and chocolate chips. A trip to the grocery store probably isn't even necessary.
Ingredients:
1-1/4 cups milk (skim, 2% or whole, your choice)
1/3 cup light brown sugar, packed
Pinch salt
1 teaspoon vanilla extract
2 tablespoons mini semisweet chocolate chips
Directions:
In a microwave-safe container or glass measuring cup, microwave milk for 30 seconds or until warm to the touch. Add brown sugar and salt and stir until dissolved. Add vanilla. Place 1/2 tablespoon chocolate chips in the bottom of each ice-pop mold or in small paper cups. Top with milk mixture. Insert sticks and place molds in freezer. Freeze until solid, at least 3 hours.
To release pops, run mold under warm water for 20 to 30 seconds; they should slide right out. (If using paper cups, simply peel cups away and discard.) Enjoy.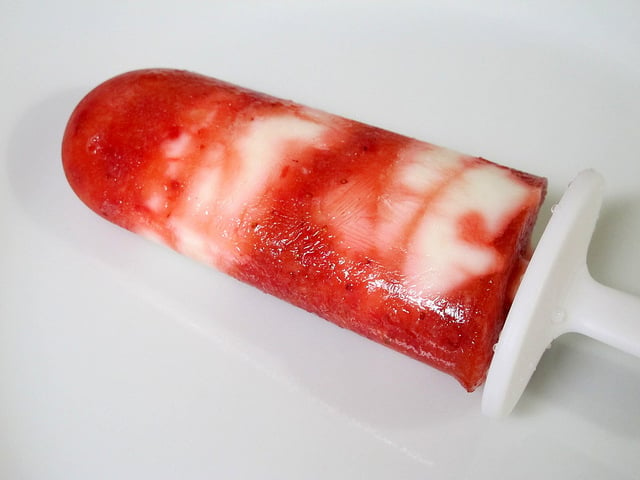 5. Strawberry Shortcake Greek Yogurt Popsicles With Chobani
Greek yogurt is making another appearance for this next recipe, and this time, summer strawberries also make their debut. Around this time of year, it's safe to say that almost everyone has a hankering for some fresh fruit, and these Strawberry Shortcake Greek Yogurt Popsicles from The Kitchen Paper are your ticket to fresh berry bliss — in frozen form. Summer never tasted so good.
Ingredients:
1 cup Chobani Non-Fat Vanilla Greek Yogurt
½ cup milk
½ tsp ground vanilla beans
⅓ cup strawberries, chopped
⅓ cup shortcake, crumbled
Directions:
Mix the yogurt, milk, and ground vanilla beans together until completely smooth. Gently mix in the strawberries and shortcake. Divide among popsicle molds, and place in the freezer.
After 1 hour, insert popsicle sticks. Let freeze completely, 3 to 4 hours.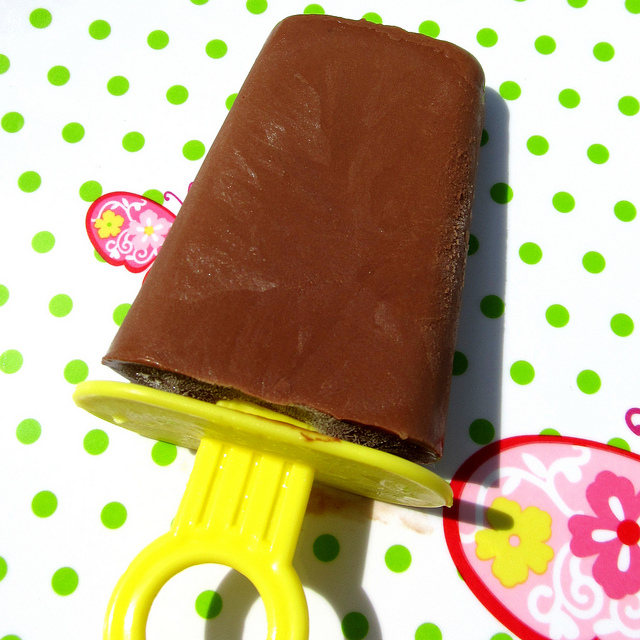 6. Creamy Nutella Cool Whip Popsicles
Yes, we went there. Or rather, the culinary geniuses at 52 Kitchen Adventures did. Our last highlighted recipe is instructing you to put Nutella on a popsicle stick — amazing, right? Add some cool whip, and now we're really dreaming. The ice cream man has nothing on these Creamy Nutella Cool Whip Popsicles so whip them up quick. We can hear his jingle down the street, and these babies take a couple of hours to freeze!
Ingredients:
1 cup Cool Whip
1/2 cup milk
3 tablespoon Nutella
Directions:
Place all ingredients in a blender. Process until blended, then pour into popsicle molds. Freeze for a few hours, then enjoy.
More From Wall St. Cheat Sheet: