6 Hot Smoothies That Will Keep You Warm This Winter
The weather outside might be frightful, but that doesn't mean you need to feel cold all winter. You can fight off the frigid winter weather by preparing hot smoothies that will instantly warm you up. Filled with hearty ingredients, wonderful winter spices, and irresistibly creamy textures, you won't be able to stop slurping these sizzling hot smoothies. The cold weather is no match for these six recipes!
1. Oaty Chocolate Hot Smoothie
Have you been dreaming of the day you can enjoy chocolate for breakfast? Good news — that day has arrived! Using dark chocolate, rolled oats, banana, almond milk, almonds, and chia seeds, you can make a hot smoothie that will get your day off to a delicious start.
Kitchen Sanctuary explains that this frothy beverage is "creamy, oaty, filling and delicious. Six simple ingredients (ok, 7 if you include the splash of water, but really? I'm ignoring that one) and you'll be enjoying a warm healthy breakfast at just a little over 300 calories." Something to keep in mind: Make sure you don't fill your smoothie maker or blender up with boiling liquids. Instead, mix a little of the warm almond milk with cold water before blending and add the rest of the hot almond milk when you're finished blending.
Visit Kitchen Sanctuary for this recipe.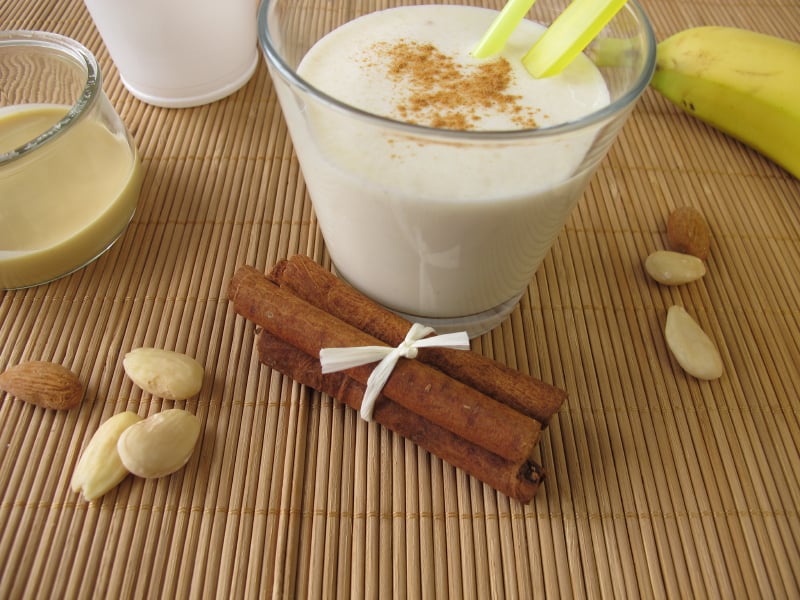 2. Gingerbread Winter Smoothie
The only thing better than biting into a gingerbread cookie is enjoying it in smoothie form. Consisting of almond milk, banana, ginger powder, cardamom, cloves, and cinnamon, this spice-filled beverage will offer you a welcome reprieve from cool winter weather. The best part? My Healthy Living Coach explains that this Gingerbread Winter Smoothie is also really good for you. "The spices in this smoothie not only recreate the gingerbread flavour, but also give a boost to your metabolism. Cinnamon keeps your arteries healthy, ginger improves the absorption and assimilation of the nutrients in your body, the cloves reduce inflammation and cardamom helps detox the kidneys. Bring them all together and you have a powerful medicine and a delicious taste!"
Delicious and nutritious? This smoothie is at the top of our must-make list!
Visit My Healthy Living Coach for this recipe.
3. Warm Apple Pie Smoothie
The Iron You delivers a Warm Apple Pie Smoothie that "tastes like warm apple pie, without the hassle of making the pie. A thick, creamy, nutritious warm smoothie, perfect for a cold winter morning." This divine drink is so good, we'd even suggest serving it as a nutritious dessert.
Eating Well commends apples for their many health benefits, explaining that the fiber-filled fruit is a good source of immune-boosting vitamin C. Apples can also aid in weight loss, contribute to heart health, and boost your exercise endurance. That isn't the only healthy ingredient in this smoothie, either. Web MD notes that antioxidant-packed cinnamon may be able to reduce inflammation and fight bacteria in the body.
Visit The Iron You for this recipe.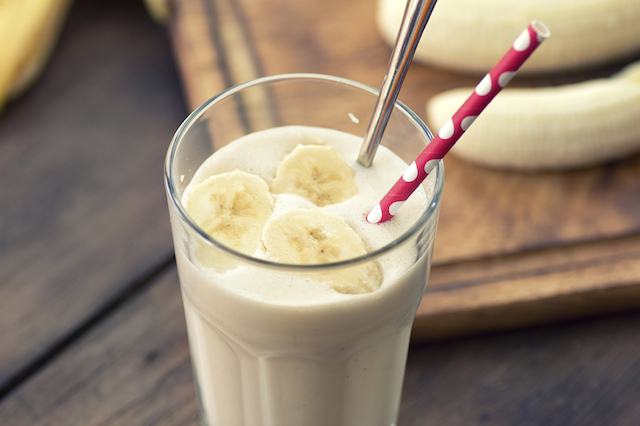 4. Warm Banana Smoothie
Bananas take center stage in this warm smoothie, which also includes walnuts, cinnamon, ginger, and dates. Not only will you love sipping on this drink, but Clean Cuisine says your kids will like it, too. "My 10-year-old not only loves it, he can now even make it himself. Sure beats cookies as an afternoon snack!"
If you're looking for a drink to enjoy before hitting the gym, this is a great recipe to make. Bananas are a gym-goer's best friend — they contain potassium, which aids in maintaining nerve and muscle function.
Visit Clean Cuisine for this recipe.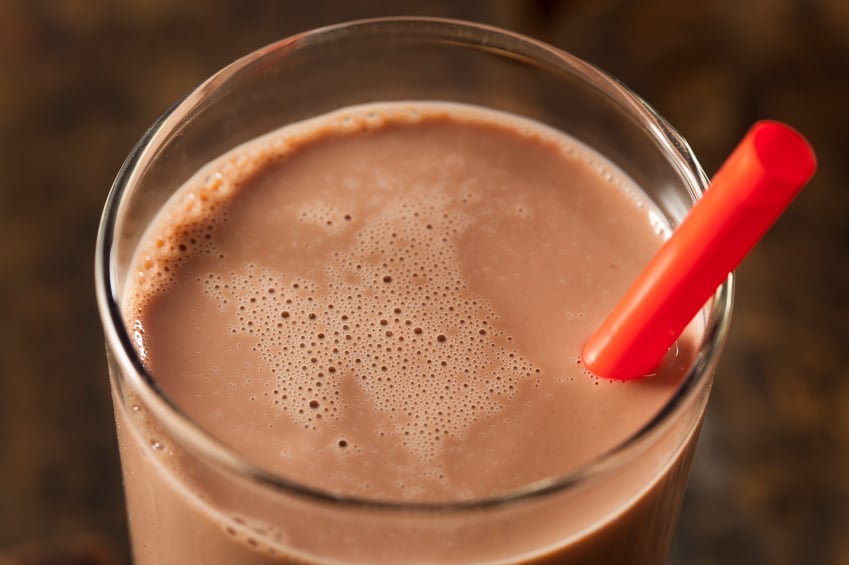 5. Warming Winter Smoothie
If you're neglecting your blender this winter, Organic Authority advises you to haul it out and dust if off "because this smoothie recipe will warm you up for winter and keep you healthy, too. This smoothie recipe can be made cold or warm. It's a chocolate base, so if you heat it up, it's like a hot chocolate with a superfood punch!"
To prepare this superfood smoothie, you'll need nondairy milk, water or tea, a banana, raw nuts, chocolate powder, coconut oil, hemp seeds, chia seed, maca powder, maple syrup, vanilla extract, and several aromatic spices. It sounds like a wonderful way to keep warm this winter!
Visit Organic Authority for this recipe.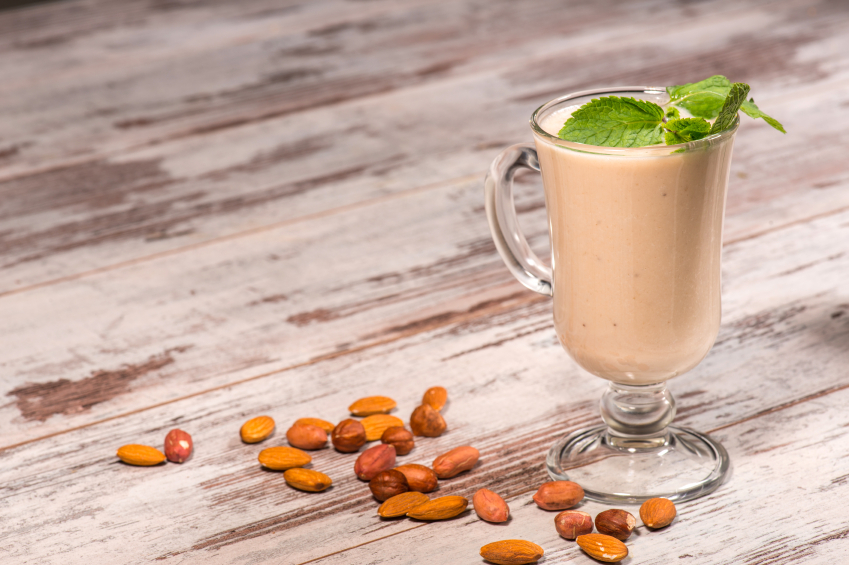 6. Warm Ginger Pear Smoothie
Cold winter weather doesn't stand a chance against this Warm Ginger Pear Smoothie. Interestingly, Lynsey Loves Food explains that not only will this smoothie warm you up, but it can also calm you down if you're feeling stressed or nervous. "If you are someone who tends to not be able to eat when nervous, smoothies have the added benefit of being able to pack a lot of nutrition in an easy to drink format. Plus, isn't there something so calming about drinking something warm? It settles both body and mind."
Similar to many of the other smoothies we've compiled, this one is chock-full of nutritious ingredients. For example, there are many health benefits attached to ginger. It can help settle an upset stomach, stimulates digestion, enhances your metabolism, and acts as a natural pain reliever.
Visit Lynsey Loves Food for this recipe.
More from Life Cheat Sheet:
Want more great content like this? Sign up here to receive the best of Cheat Sheet delivered daily. No spam; just tailored content straight to your inbox.