Inspire Your Taste Buds With These 6 International Sandwich Recipes
If you're tired of eating the same old sandwich, then maybe it's time to kick your dietary habits up a notch with some of the world's most popular sandwiches. With endless varieties from cultures around the globe, it's hard to say which sandwich is best — luckily, we've whittled the list down to 7 so you can test them all out for yourself. Put down that PB&J and try these 6 recipes for some of the world's most sensational sandwich recipes.
1. Cemita (Mexico)
Traditional Mexican cemita sandwiches originated in Puebla, Mexico. The Cook's Guide to Mexico reports that the indulgent tortas were named for their oversized, lightly-sweetened, and egg-based sesame buns, which you can find at most markets that sell Mexican fare. Those buns are traditionally packed with juicy spiced pork or beef, sliced avocado, and the light Mexican herb, papalo, writes the New York Times. Try making your own cemita using this Gourmet recipe via Epicurious rooted in traditional Mexican cooking. The recipe takes 3 hours to complete and yields 4 large sandwiches.
Ingredients:
For chile-marinated pork:
6 dried guajillo chiles
1 dried ancho chile
4 thin (½-inch) rib pork chops, bones discarded (about 1 pound total)
½ teaspoon cumin seeds
¼ teaspoon black peppercorns
1 whole clove
1 (½-by-¼-inch) piece cinnamon stick
2 tablespoons cider vinegar
2 large garlic cloves, quartered
1 teaspoon dried oregano (preferably Mexican), crumbled
1 teaspoon salt
2 to 3 tablespoons vegetable oil
For sandwiches:
4 Mexican cemita rolls (sesame seed hamburger buns can be substituted, if necessary)
2 ripe avocados
½ cup fresh papalo leaves or cilantro leaves
1½ cups Oaxacan string cheese or other string cheese, finely shredded with fingers
4 canned chipotle chiles in adobo (optional), finely chopped
½ large white onion, thinly sliced
1 large plum tomato, thinly sliced crosswise
Directions: Prepare chiles and pork: Discard chile stems and cut guajillo and ancho chiles open lengthwise with kitchen shears. Discard seeds and ribs.
Heat a dry 10- to 12-inch heavy skillet or griddle over moderate heat until hot, then toast chiles, a few at a time, turning and pressing down with tongs, until softened and fragrant, about 10 seconds per side.
Transfer chiles to a bowl, then cover with hot water and soak until softened, about 20 minutes.
Flatten pork as the chiles soak. In order to do this, trim fat and sinews from pork and pound between 2 sheets of wax paper with flat side of a meat pounder — or with a rolling pin — until meat is about ⅛ inch thick.
Marinate pork: Heat skillet over low heat until hot then toast cumin, peppercorns, clove, and cinnamon, stirring constantly, until fragrant and cumin is a shade darker, about 1 minute. Transfer hot spices to a blender and add vinegar, garlic, oregano, salt, and soaked chiles with about ⅓ cup soaking water, then blend until smooth. Transfer half of chile paste to an airtight container and chill or freeze for another use, then put remainder in a small bowl.
Spread a thin layer of chile paste in the middle of a sheet of plastic wrap large enough to wrap all of meat and put 1 pork chop over paste. Spread a thin layer of chile paste on top, then continue layering meat, spreading each piece with chile paste. Wrap stacked pork in plastic wrap and marinate, chilled, at least 2 hours.
Cook pork and assemble sandwiches: Heat 1½ tablespoons oil in a 12-inch heavy skillet over moderately high heat until hot but not smoking. Season pork chops with salt and sauté in batches, adding more oil as necessary, until just cooked through, 1 to 2 minutes per side. Transfer chops as cooked to a sheet of foil and keep warm wrapped in foil.
Preheat broiler. Cut rolls in half horizontally and arrange, cut sides up, on a large baking sheet. Broil buns about 6 inches from heat until golden, about 1 minute. Halve, pit, and lightly mash avocados in peel with a fork, then spread thickly on cut sides of rolls. Season avocado with salt, then top with papalo. Make sandwiches with pork, cheese, chipotles (if using), onion, and tomato, pressing sandwiches together.
2. Croque Monsieur (France)
The croque-monsieur is sometimes classed as a grilled ham and cheese, but it is much, much more than that. This French sandwich originated sometime in the early 20th century; the Guardian reports that the sandwich's first brush with fame came in a 1918 literary mention from noted novelist Marcel Proust. Crispy French bread comes together with smoked ham and Gruyere cheese — all of which is then draped in a gooey, velvety bechamel sauce and broiled to a bubbly finish. The Wanderlust Kitchen's recipe takes 25 minutes to complete and makes 2 sandwiches.
Ingredients:
1 tablespoon salted butter
1 tablespoon all-purpose flour
1½ cups whole milk
4 thick slices of French bread
⅛ teaspoon ground nutmeg
⅛ teaspoon ground black pepper
2 cups grated Gruyere cheese (about 4 ounces), divided
4 ounces smoked ham, sliced
2 teaspoons Dijon mustard
Directions: Preheat your oven to 400 degrees Fahrenheit.
Melt the butter in your smallest saucepan over medium-low heat. After a few minutes, it will start to bubble. Once you see the bubbles, add the flour and begin to whisk. Cook, whisking, for 2 to 3 minutes until smooth and bubbly. Pour the milk in very slowly while continuing to whisk. Cook and whisk for another 4 or 5 minutes, until thick.
Meanwhile, place your bread in the preheated oven and toast 3 or 4 minutes per side.
Once the sauce is thick, turn off the heat and add the nutmeg, black pepper, and a third of the cheese. Set aside.
Remove the toasted bread from the oven and spread a teaspoon of mustard onto two of the pieces. Lay half of the ham on top of the mustard, followed by half of the remaining cheese. Top the sandwich with another piece of bread, then place on a broiling rack over a baking sheet. Pour the sauce all over the top of the sandwiches, then bake in the oven for 5 minutes.
Turn off the oven and turn the broiler on to high. Broil for 2 or 3 minutes, until the top of the sauce becomes bubbly and browned. Serve warm.
3. Falafel and Hummus Gyro (Greece)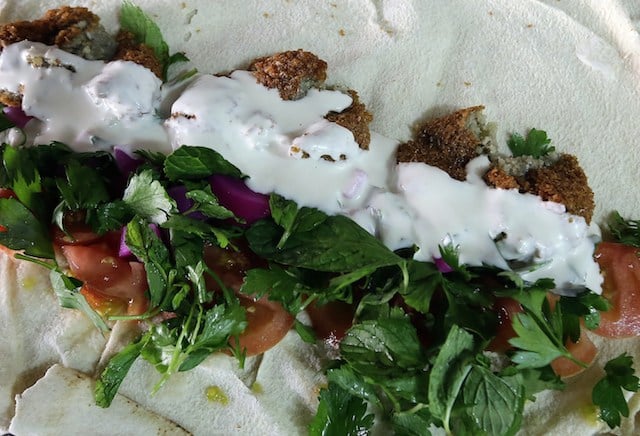 This vegetarian-friendly take on the Greek gyro offers up the refined and refreshing flavors of the Mediterranean. Chickpeas are a great source of protein and fiber, while herbs and spices give the dish a little extra kick of flavor. The sandwich is all wrapped up in Greek pita bread (available at most grocery stores). The Blonde Chef's recipe takes 45 minutes to make and yields 4 servings.
Ingredients:
Falafel:
2 cups diced onion
2 cups cooked and drained chickpeas
6 garlic cloves
1 cup packed cilantro
1 cup packed parsley
1 teaspoon salt
½ teaspoon chili powder
2 teaspoons cumin
2 teaspoons baking powder
½ cup all-purpose flour
Pita bread, for serving
½ cup sesame seeds
Hummus:
2 cans chickpeas
¼ cup tahini
4 cloves garlic
1 teaspoon salt
1 teaspoon paprika
1 teaspoon cumin
Juice of 1 lemon
Beet Hummus:
1 medium-sized beet, cooked and peeled
¼ cup heavy coconut cream, skimmed from top of can
½ tablespoon yellow curry
Tzatziki:
2 cups plain Greek yogurt
2 tablespoons fresh mint, cut into thin strips
½ cucumber de-seeded and diced
1 teaspoon honey
To serve:
1 tomato thinly sliced
Goat cheese
½ cucumber sliced into spears
Directions: For the falafel: In a food processor, add all of the ingredients for the falafel except the flour and sesame seeds and pulse together until combined (a chunkier texture is preferred). Slowly add the flour, and continue to pulse together until it becomes dough-like.
Once ready, prepare a baking sheet lined with parchment and preheat the oven to 350 degrees Fahrenheit. Use a cookie scoop to place the falafel on the baking sheet. Sprinkle the sesame seeds on top and bake for 15-20 minutes or until lightly golden brown.
For the beet hummus: In a small pot, heat the chickpeas (without draining liquid) for about 5-10 minutes over medium-high heat. Place in a food processor and add the tahini, salt, paprika, cumin, lemon juice, and garlic and pulse until smooth. Remove about half of the mixture and set aside.
To the remaining mixture, add the beet, curry, and coconut cream. Pulse to combine. The hummus will need additional salt (because of the high water content of the beet); adjust as you see fit. Top with goat cheese and serve.
For the tzatziki: Combine the yogurt, mint, cucumber and honey. To serve, warm pitas in the microwave and layer with as many toppings as you like.
4. Bánh mì (Vietnam)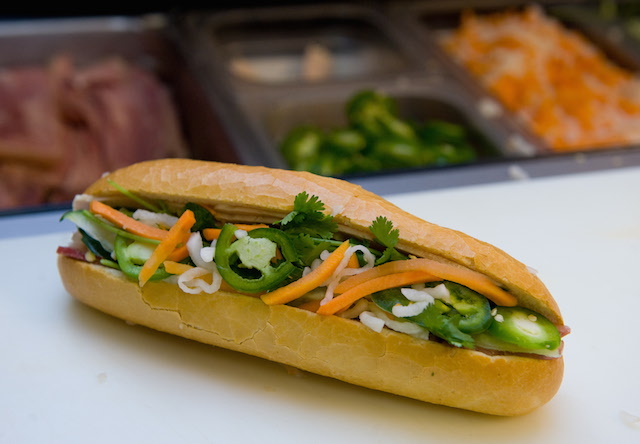 The Vietnamese bánh mì sandwich is named for the baguette on which it sits — a remnant of French colonial influence in the country, reports the Washington Post. Chef Charles Phan, who hails from Vietnam, shares his favorite recipe with Food & Wine. Phan's variation consists of tender garlic-brined pork, along with various traditional accoutrements — chiles and pickled carrots, along with a distinct variety of spices and herbs. Food and Wine's recipe takes 3 hours — in addition to brining your pork overnight — and yields 6 sandwiches, plus extra roasted pork.
Ingredients:
1 tablespoon each of whole white and black peppercorns
¾ cup plus 2 tablespoons kosher salt
½ cup light brown sugar
2 serrano chiles, crushed
2 tablespoons minced garlic
3 jalapeños, thinly sliced
2 cups warm water
1 (3-pound) boneless pork shoulder
About 6 cups cold water
½ cup distilled white vinegar
½ cup granulated sugar
½ teaspoon table salt
1½ cups coarsely shredded carrots (about 6 carrots)
6 ciabatta rolls or 2 long baguettes, split lengthwise, roll centers slightly hollowed out
Mayonnaise
½ pound fine-textured pork pâté, thinly sliced (optional)
1 European seedless cucumber, halved crosswise and thinly sliced lengthwise
1 cup cilantro leaves
2 tablespoons soy sauce
Hot sauce, for serving
Directions: In a small skillet, toast the white and black peppercorns over moderately high heat until fragrant, about 1 minute. Transfer them to a work surface and using the side of a heavy knife, coarsely crack the peppercorns; transfer to a large, deep bowl. Add the kosher salt and the brown sugar, then add the serrano chiles, garlic and one-third of the jalapeños. Stir in the warm water until the sugar and salt are dissolved. Add the pork and enough cold water to submerge the roast. Cover and refrigerate overnight.
Preheat the oven to 400 degrees Fahrenheit. Drain the pork and pat dry, then transfer to a roasting pan. Let the pork return to room temperature. Roast the pork for about 1 hour and 15 minutes, turning once; the pork is done when an instant-read thermometer inserted in the thickest part registers 165 degrees Fahrenheit. Let rest for 30 minutes before slicing thinly.
Meanwhile, in a medium bowl, combine the white vinegar, granulated sugar and table salt and stir until dissolved. Add the carrots and let stand until softened, about 30 minutes. Drain well.
Spread the cut sides of the rolls with mayonnaise and layer the sliced pâté (optional) on the bottom halves. Top with roasted pork, cucumber, cilantro leaves, pickled carrots and the remaining sliced jalapeños. Sprinkle lightly with the soy sauce and close the sandwiches. Cut the ciabatta rolls in half or the baguettes in thirds and serve with hot sauce.
5. Chacarero (Chile)
Chile's renowned chacarero is served all over the mountainous nation, from soda shops and street vendors to restaurants and other eateries. Que Rica Vida's recipe adopts from the dish's customary Chilean preparation, consisting of sliced steak, avocado, tomato, green beans, and chiles. To instill your sandwich with an even truer taste of Chile, drizzle it with Chilean aji sauce — also called pebre (a homemade recipe can be found on La Fuji Mama).
Ingredients:
2 tablespoons olive oil
½ teaspoon salt
½ teaspoon pepper
1 garlic clove, minced
1 boneless sirloin steak, cut 1-inch thick (about 1 pound)
2 avocados, ripe, peeled and pitted
1 tablespoon lime juice
¼ teaspoon salt
1 (12-ounce) bag frozen whole green beans
4 large soft rolls or Kaiser rolls, cut in half lengthwise
4 slices Muenster cheese
1 tomato, sliced
Jalapeño, sliced, if desired
Hot sauce, if desired
Directions: Mix olive oil, salt, pepper and garlic clove. Place steak in a resealable bag with olive oil mixture. Place in refrigerator for 1 hour.
Grill steak in an indoor or outdoor grill at high heat for 4 to 6 minutes on each side or until medium rare. Let cool slightly; slice steak, thinly. Cook green beans as directed on the package; cool slightly. Mash avocados with lime juice and salt.
To assemble each sandwich: Spread ¼ mashed avocado spread inside top of roll. Place ½ cup packed green beans onto avocado. On the bottom half place 1 slice cheese, tomato slices, and ¼-pound sliced meat. Add jalapeño and/or hot sauce, if desired.
6. Zapiekanka, Poland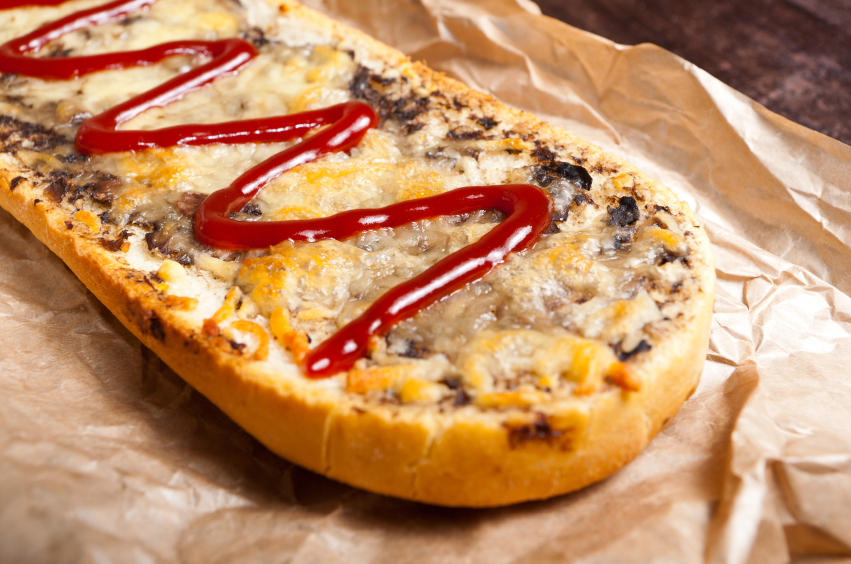 Zapiekanka is a popular Polish street food, and it's not hard to see what makes this sandwich so inviting to hungry passersby. These grilled baguettes are filled with chunky mushrooms and melted cheese, then topped with a wide variety of meats, vegetables, and condiments (most often ketchup). Butterfry's recipe is based off the dish's customary preparation (no use messing with perfection) and yields 4 mouthwatering servings.
Ingredients:
2 small french baguettes, cut in half lengthwise
8 ounces portobello mushrooms, coarsely chopped (substitute with any mushroom)
1 medium onion/shallot, coarsely chopped
1 teaspoon sea salt
½ teaspoon black pepper
½ teaspoon fresh thyme, chopped
½ teaspoon fresh sage, chopped
½ teaspoon fresh rosemary, chopped
¼ teaspoon red pepper flakes
¼ teaspoon chili powder (optional)
2 tablespoons olive oil
¼-½ cup hot water
¼-½ cup wine, white or red
1 teaspoon cream or milk
8 slices or 2 cups grated gouda or Dutch Edam cheese
Directions: To prepare mushroom base: Warm olive oil in large pan on medium heat and add chopped shallots (or onions). Cook until translucent, about 3 minutes. Add chopped mushrooms, reducing heat to medium-low. Sauté until mushrooms start feeling tender and drastically decrease in size, about 20 minutes. If mushrooms appear dry, add some of the hot water and continue to sauté.
Once the mushrooms have softened, add all spices and herbs. Continue to cook for an additional 10 minutes. Add chili powder if so desired. After the spices have been well absorbed, add wine and cook for an additional 10 minutes. Continue adding extra hot water if mushrooms appear dry. After the liquid is well absorbed and the mushrooms are fragrant, the mixture should be thick yet still wet. Thicken the sauce by making a paste from flour, cold water, and a bit of cream; gradually stir into the mushroom mixture. Cook this mixture for an additional 5 minutes.
To prepare Zapiekanka: Preheat oven to 400 degrees Fahrenheit.
On each half baguette pile several spoonfuls of the cooked mushrooms, pressing mixture down with the spoon. Place the prepared baguettes on a baking dish and top with cheese. Bake until cheese is bubbly and melted, about 10 minutes. Remove from the oven and let cool slightly before serving. Serve with ketchup.
More from Culture Cheat Sheet: