6 Irish Dinners to Make This St. Patrick's Day
Be it wearing green, heading to your local pub, or simply cooking up a few Irish-inspired dishes, odds are high that you'll be celebrating St. Patrick's Day in some shape or form this year. The U.S. Census Bureau reports that about 35.4 million Americans claim Irish ancestry, which does a great deal in explaining the level of shenanigans that occur nationwide every March 17.
If you're planning to stay in and avoid the hubbub this year, then settle down to a home-cooked Irish meal using these 6 fantastic recipes.
1. Slow Cooker Corned Beef With Cabbage and Potatoes
Many of us believe that corned beef and cabbage is a dish straight out of the Irish countryside, but the History Channel is quick to correct this misconception. In reality, the corned beef entrée became synonymous with the Irish people in 19th century New York City, when working-class immigrants from Ireland discovered that the meat made an attractive, tasty, and affordable alternative to pork.
Eat Drink Love's corned beef requires about 7 hours in the crockpot to cook, requiring only 10 minutes of prep time. The recipe yields 4 to 6 servings. For a piquant finish, we recommend using this highly rated pickling spice recipe from All Recipes.
Ingredients:
1 small yellow onion, cut into wedges

1 (3-pound) corned beef brisket (with pickling spices)

½ cup low-sodium beef broth

½ pound gold potatoes, peeled and cut into large chunks


½ cabbage, cut into wedges
Directions: Place the onion wedges onto the bottom of the slow cooker. Place the corned beef brisket, fat side up, on top of the onions. Spoon the pickling spices on top. You do not have to use the entire packet if you don't want to — it's up to you! Pour the beef broth around the brisket. Cook on high for 1 hour.
After 1 hour, place the potatoes around the brisket. Set the slow cooker to low and continue cooking for 6 to 7 hours, until fork tender. Once you have about 2 hours left, add the cabbage wedges. If you aren't cooking it in wedges, you might want to wait until the very last hour of cooking.
2. Irish Beef Stew
Bring a true taste of the Emerald Isle to the table with this traditional Irish stew from Jason's Cooking. About Food explains that the comforting dish originated in lower-class Irish households and was generally made with the cheapest and most readily available ingredients. Beef, potatoes, and carrots are smothered in a thick, savory, and spice-infused stock to complete this stew's hearty base. The addition of Guinness enhances the  flavors, adding one last hearty Irish touch to your cozy evening meal. The recipe takes 3 hours and 15 minutes to complete and serves 6 to 8 people.
Ingredients:
3 tablespoons vegetable oil

2 pounds boneless beef chuck roast, cut into 1-inch cubes

¼ cup all-purpose flour

1 teaspoon salt

1 teaspoon pepper

2 large onions, chopped

4 cloves garlic, finely chopped

1 tablespoons tomato paste

4 cups beef stock

1 bottle Guinness stout

2½ pounds white potatoes, peeled and cut into 1-inch chunks

8 ounces carrots, cut into 1-inch chunks


Dried parsley, for serving
Directions: Heat half of the vegetable oil in a large pot over medium-high heat.
In a large bowl, toss together the flour, salt, pepper, and cubed beef so that all of chunks get some flour and some seasoning.
Once the oil has heated up, add half of the beef to the pot and cook for about 2½ minutes, stir the beef, and cook for an additional 2½ minutes to brown all sides. Remove the beef with a slotted spoon and repeat with the remaining oil and beef.
After removing the second batch of beef, add all of the onion to the pan and season with a pinch of salt and a few grinds of pepper, and stir everything around. After about a minute, add the garlic and cook until the onions are translucent, about 4 to 5 minutes.
Add the tomato paste, beef stock and beer, scraping the bottom of the pot to get the browned bits into the stew. Return the meat to the pot and bring to a boil. Once the stew is boiling, cover, reduce heat to medium low, and simmer for 1 hour, stirring every 15 minutes.
After an hour of simmering, uncover the pot, increase the heat to medium high, and bring it back to a boil. Let your stew boil uncovered for about 45 minutes, or until the liquid is reduced by ⅓.
Add the potatoes and carrots, reduce the heat to medium, cover, and cook until the potatoes and carrots have softened, about 30 minutes.
Taste, add more salt and pepper if needed, and serve with a sprinkling of parsley.
3. Colcannon Mac and Cheese
Typical Irish colcannon consists of mashed potatoes loaded with cream and finely chopped cabbage. Saveur points out that the dish is highly versatile, offering limitless opportunities for cooks to get creative — bacon, caramelized onions, and other veggies are often incorporated. We doubt you'll be able to resist the creamy, cheesy adaptation offered by this colcannon mac and cheese, courtesy of All Things Mac And Cheese. The recipe yields 6 servings.
Ingredients:
1 pound elbow pasta, cooked al dente

2 large potatoes, unpeeled

8 slices thick-sliced bacon, diced

3 garlic cloves, minced

1 large yellow onion, thinly sliced

4 cups shredded cabbage

2 leeks, sliced

1½ teaspoons black pepper

1½ teaspoons salt, divided

¼ teaspoon red chile flakes

3 tablespoons butter

3 cups whole milk

3 tablespoons all-purpose flour

½ teaspoon paprika

1 cup (4 ounces) Monterey Jack cheese, shredded

1 cup (4 ounces) sharp white cheddar cheese, shredded

1 cup (4 ounces) havarti cheese, shredded

½ cup scallions, sliced, plus additional for garnish


½ cup Panko bread crumbs
Directions: Preheat oven to 350 degrees Fahrenheit. Cook pasta al dente, according to package directions. Drain and set aside.
Cook potatoes in pot of boiling water until fork tender. Allow to cool completely. Peel with paring knife and shred with box grater. Set aside.
Heat large pot over medium-high heat. Add bacon and cook until crispy and browned. Remove with slotted spoon and transfer to plate lined with paper towels. Remove all but 1 tablespoon of bacon grease from pot. Stir in onions and garlic and sauté for about 5 minutes, until soft and translucent. Add cabbage and leeks. Season with ¾ teaspoon salt, ¾ teaspoon black pepper, and red pepper flakes. Stir and continue cooking about 5 minutes more until mixture is soft. Fold in shredded potatoes and remove from heat. Transfer to large bowl and set aside.
Place milk in medium saucepot and bring to barely a simmer, over medium heat.
Return large pot to stove and place over medium-high heat. Add butter and melt. Whisk in flour and cook about 10 seconds. Carefully add warm milk while whisking continuously until all of milk has been added and butter-flour mixture has completely dissolved. Lower heat to medium and cook until thickened. Season with ¾ teaspoon salt, ¾ teaspoon black pepper, and paprika. Once thick, remove from heat.
In medium bowl, toss together Monterey Jack, cheddar, and havarti. Add cheeses to hot thickened milk, reserving about ½ cup for topping. Stir with wooden spoon, until cheese has melted. Fold in pasta, cabbage mixture, bacon and scallions. Pour mixture into 9-by-13-inch baking dish or into individual 8-ounce ramekins. Top with breadcrumbs and reserved cheese. Bake 25 to 30 minutes, until bubbly. Place under broiler a few seconds to brown and crisp the top. Serve warm and garnish with sliced scallions on top.
4. Guinness-Braised Lamb Shanks
Lamb has long played a key role in Irish cooking, chiefly due to the animal's prevalence in Irish cattle-raising, notes the Kitchen Project. For a spectacularly spiced and warming take on lamb, opt to try these Guinness-braised lamb shanks from Manu's Menu. Guinness infuses the dish with a slight bitter aspect, while rosemary and thyme offer a delicious character to each bite. The recipe requires about 2 hours and 30 minutes in the kitchen, yielding 4 servings.
Ingredients:
4 French-trimmed lamb shanks

¼ cup vegetable oil

1 carrot, chopped

1 onion, chopped

1 celery stalk, chopped

3 garlic cloves, chopped

1 tablespoon thyme, chopped

1 tablespoon rosemary, chopped

1 bay leaf

1 tablespoon flour

1⅓ cups Guinness

1 cup beef stock

Salt and pepper to taste


Brown sugar, to taste (optional)
Directions: Heat 2 tablespoons of oil in a Dutch oven over medium-high heat. Season the lamb, then cook it for 8 to 10 minutes, until browned. Remove from the pan.
Add the carrot, onion, and celery and cook, stirring, until softened. Add the garlic, thyme, rosemary, and bay leaf and cook for a further 2 minutes. Add the flour and cook for 1 minute, then add the beer, scraping the bottom of the pan with a wooden spoon. Add the stock and bring to a simmer.
Return the lamb shanks to the pan, cover, and cook in a pre-heated oven at 285 degrees Fahrenheit for 2 hours or until tender. The meat has to fall off the bone. When ready, transfer the shanks to a plate and cover with foil. Strain the sauce into a pot and cook it over medium heat for 5 minutes or until reduced by half. Serve the lamb and mash potatoes and top with the sauce.
5. Rosemary-Cheddar Irish Soda Bread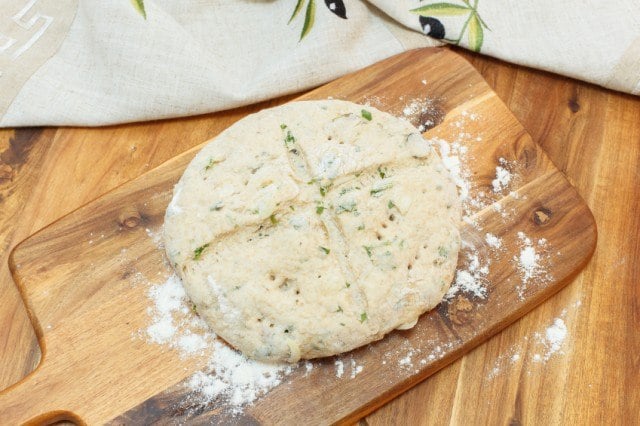 If you're looking for the perfect final touch to a supper chock-full of Irish flavors, look no further than this unique rosemary-cheddar Irish soda bread from Foodness Gracious. The lightly flavored, no-yeast-needed bread adds a subtle hint of character to your dinner spread without overwhelming any of the main courses — ideal for soaking up those last bits of stock and other sauces on your plate. This recipe offers a new spin on the old Irish classic, requiring about 55 minutes in the kitchen and yielding 8 servings.
Ingredients:
4 cups all-purpose flour
1 teaspoon baking soda
1½ teaspoon cream of tartar
1 teaspoon kosher salt
½ teaspoon cracked black pepper
3 tablespoons fresh chopped rosemary
2 cups buttermilk
1 large egg
4 cups grated sharp cheddar
Directions: Heat the oven to 425 degrees Fahrenheit. Lightly flour two small 6-inch skillets.
In a large bowl, whisk together the flour, baking soda, cream of tartar, salt, pepper, and rosemary. Add the egg to the buttermilk and beat until mixed. Add the grated sharp cheddar to the flour mixture and lightly mix through. Pour the buttermilk into the bowl and mix together, using your fingers, until it comes together. Dump the dough out onto a flour-dusted work surface and knead the dough into an ball shape.
Roughly half the dough into 2 pieces. Shape each half into a ball again and place each seam-side down in a skillet. Take a sharp serrated knife and cut an X on top of each soda bread. Season the top with some more salt and pepper, and bake in the oven for 30 to 35 minutes until the top is golden brown. Let cool for 20 minutes before slicing and serving with butter.
6. Dublin Lawyer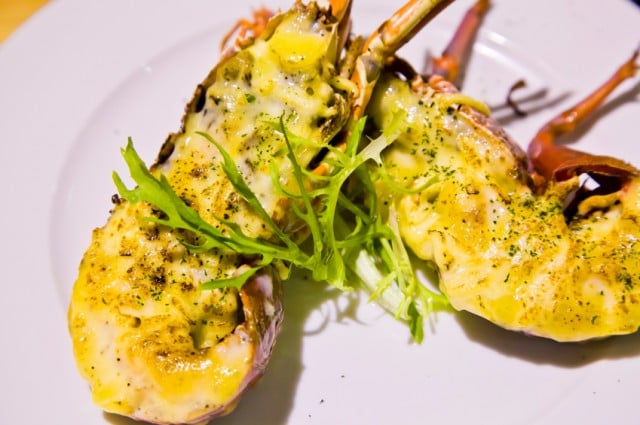 Pull out all the stops this holiday by indulging in the taste of fresh lobster meat soaked in a whiskey-infused butter sauce. Nobody's quite sure where the intriguingly named Dublin Lawyer dish originated, but it is now one of the nation's best-known dishes from the sea. A touch of lemon juice and mustard adds a final zesty character to the meal. This recipe from Food makes 2 servings and takes 40 minutes to make.
Ingredients:
1 fresh lobster, about 2 pounds
4 tablespoons butter
4 tablespoons Irish whiskey
⅔ cup double cream
1 teaspoon fresh lemon juice
1 teaspoon mustard
Salt and pepper, to taste
Directions: Cut the lobster in two down the center. Remove all the meat, including the claws, and retain the shell for serving. Cut the meat into chunks.
Heat the butter until foaming and quickly sauté the lobster chunks in it, until just cooked but not colored. Warm the whiskey slightly, pour over the lobster, and carefully set fire to it.
Once the flames have died down, add the cream, lemon juice, and mustard; mix with the pan juices and taste for seasoning. Add salt and black pepper to taste.
Put back into the half shells and place under a hot grill for 2 to 3 minutes, until the sauce is bubbling. Serve hot with fresh lemon wedges, steamed baby potatoes, and a fresh mixed salad.
More from Culture Cheat Sheet: