6 Japanese Recipes You Can Make at Home
If you've been craving Japanese food lately, why not try making some yourself? Japanese cuisine is based on several staple ingredients, with white rice, seafood, and savory meat combinations comprising much of the fare. The food is delicious, filling, and precise — a beautiful tribute to the traditions and culture of this island nation.
The preparation of Japanese food may seem intimidating, but serving up some of your favorite flavors at home might be easier than you think. Follow these six recipes to recreate your favorite Japanese dishes in your own kitchen.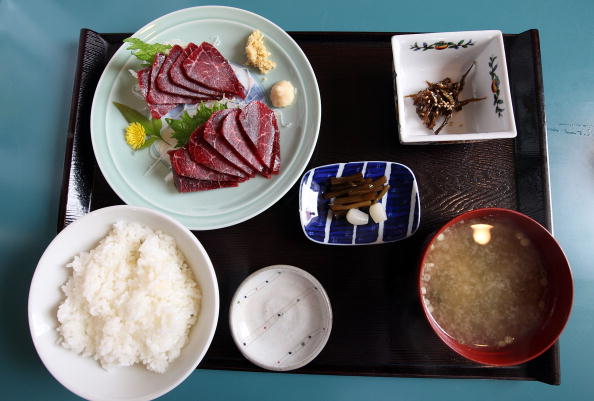 1. Miso Soup
Miso soup is a must for those who wish to emulate the authentic Japanese experience. This recipe from the Minimalist Baker is a quick and hot miso recipe great for kicking off a world-class meal. The recipe yields 2 servings and takes about 15 minutes to complete.
Ingredients:
4 cups water

½

 cup chopped green chard or other sturdy green

½

 cup chopped green onion

¼

 cup firm tofu, cubed
3 to 4 tablespoons white miso paste (fermented soy bean paste), with or without bonito
1 sheet (

¼

cup) nori (dried seaweed), cut into large rectangles (optional)
Directions: Place water in a medium sauce pan and bring to a low simmer. Add nori and simmer for 5 to 7 minutes. In the meantime, place 3 tablespoons of miso into a small bowl, add a little hot water, and whisk until smooth; add to soup and stir (this will ensure it doesn't clump). Add remaining ingredients to the pot and cook for another 5 minutes or so. Taste and add more miso or a pinch of sea salt if desired. Serve warm.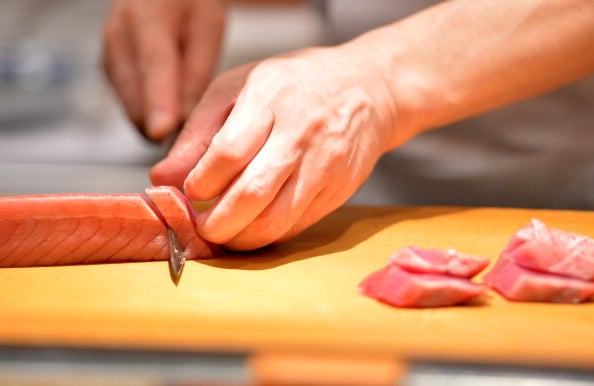 2. Emeril's Inside-Out Spicy Tuna Roll with Special Sauce
Who doesn't want to try making their own sushi? It's a delicate process, requiring some specific tools to perfect the art, but it is still worth trying at least once! This recipe from Emeril LaGasse offers simple and elegant flavor combinations that any home cook can appreciate. The recipe yields 4 rolls and takes about 15 minutes to complete.
Ingredients:
⅓

 cup mayonnaise
2 tablespoons hot chile paste
1 teaspoon hot chile oil

½

 teaspoon toasted sesame oil
4 sheets toasted seaweed (yakinori)
Prepared sushi rice (at least 3 cups cooked rice); see below

½

 pound sushi-quality fresh tuna, cut into

½

-inch-wide strips
Wasabi paste
2 tablespoons finely sliced scallions
3 tablespoons toasted black sesame seeds
Mitsuko's perfect sushi rice
3

¾

 cups Japanese rice, such as Nishiki (or 5 rice maker cups)
3

¾

 cups water (or 5 rice maker cups)

½

 cup rice vinegar
4 tablespoons sugar
1 teaspoon salt
Directions: In a small bowl, combine mayonnaise, chile paste, hot chile oil, and sesame oil, and stir to combine.

Place one piece of toasted seaweed on top of a sushi roller (makisushi). Using lightly wet fingers, press enough rice onto the seaweed to cover the seaweed. Press firmly so that rice adheres to seaweed. Turn seaweed over so that rice side faces down. Arrange strips of tuna on top of seaweed.

Spread a small amount of wasabi on the tuna, then sprinkle with sliced scallions. Using the sushi roller as a guide, carefully begin rolling the seaweed up, pressing as tightly as possible so that the roll is firm and compact. Once the roll is completely rolled, reposition roll on sushi roller and press again. Sprinkle sesame seeds on a flat surface and lightly roll in seeds to coat. Allow roll to sit for a few seconds before slicing with a sharp, damp knife.

Cut roll into 6 or 8 pieces and serve with dollops of sauce spooned on top, or alongside for dipping. Repeat with remaining ingredients.

Mitsuko's perfect sushi rice
In a large bowl, add rice and cover with lots of water. Stir rice in water with your hands, then pour off most of the water, and agitate 10 to 15 times by quickly moving your hand back and forth, swishing rice against side of bowl. Rinse the rice several more times, until the water that drains off of the rice is almost clear. Transfer the rice to a colander and let drain for 1 hour, undisturbed. Transfer the rice to a rice cooker, add the water, cover, and cook as directed by manufacturer's directions.

While the rice is cooking, bring rice vinegar to a boil in a small saucepan, and then remove from the heat. Add sugar and salt and stir until dissolved. Allow to cool to room temperature.

When rice is done, allow cooked rice to remain in rice cooker for 10 minutes. Transfer rice to a large shallow mixing bowl. Using a diagonal slicing motion, cut into rice and pour cooled vinegar mixture over top of rice. Cut rice several times to evenly distribute vinegar mixture, then allow to cool.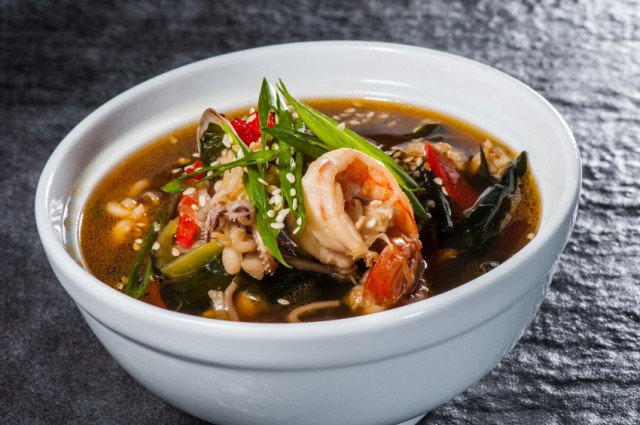 3. Stir-Fried Udon Noodles
This recipe from Food & Wine comes from top Chicago chef Takashi Yagihashi. It is a delicious take on a Japanese favorite with classically thick udon noodles. The recipe takes about 45 minutes to complete and yields 4 servings.
Ingredients:
3 tablespoons vegetable oil

½

 pound large shrimp, shelled and deveined

¼

 pound skinless, boneless chicken breast, thinly sliced
2

½

 cups chopped Napa cabbage
1 small onion, thinly sliced
1 carrot, thinly sliced on the bias
7 ounces enoki mushrooms
4 ounces oyster mushrooms

¼

 cup dried wood ear mushrooms, soaked in warm water for 10 minutes and drained

½ 

cup chicken stock
3 tablespoons soy sauce
1 teaspoon Asian sesame oil
18 ounces frozen precooked udon noodles, thawed
Kosher salt and freshly ground pepper
Chopped scallions, for garnish
Directions: In a skillet, heat 1 tablespoon of the vegetable oil. Add the shrimp and stir fry over moderately high heat until curled, 2 minutes; transfer to a plate. Add 1 tablespoon of vegetable oil to the skillet. Add the chicken and stir fry until white throughout, 3 minutes; transfer to the plate with the shrimp. Add the remaining 1 tablespoon of oil to the skillet. Add the cabbage, onion, carrot, and the mushrooms, and stir fry for 4 minutes.
Add the stock, soy sauce, sesame oil, shrimp, and chicken; remove from heat. Meanwhile, cook the udon in a pot of boiling salted water for 1 minute. Drain and add to the skillet. Stir fry over high heat until heated through. Season with salt and pepper, garnish with scallions, and serve.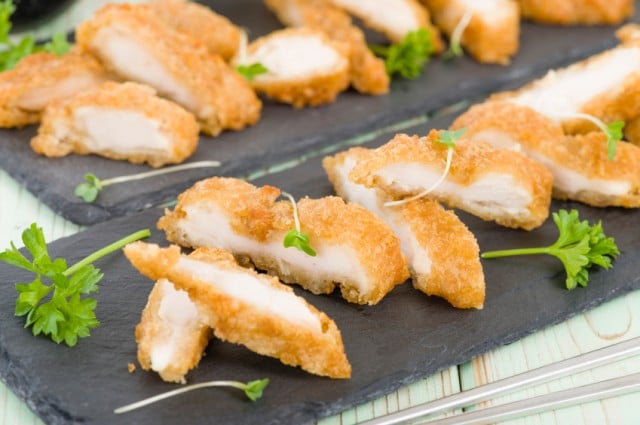 4. Chicken Katsu
Katsu is a breaded, crispy cutlet dish that typically features beef, pork, or chicken. This recipe from Food Republic is a tasty and comforting treat and makes for a great — and relatively simple — dinner dish. This recipe yields 4 servings and takes about 30 minutes to complete.
Ingredients:
4 skinless, boneless chicken breast halves, pounded to

½-

inch thickness
Salt and pepper to taste
2 tablespoons all-purpose flour
1 egg, beaten
1 cup panko bread crumbs
1 cup oil for frying, or as needed
Directions: Season the chicken breasts on both sides with salt and pepper. Place the flour, egg, and panko crumbs into separate shallow dishes. Coat the chicken breasts in flour, shaking off any excess. Dip them into the egg, and then press into the panko crumbs until well coated on both sides. Heat ¼ inch of oil in a large skillet over medium-high heat. Place chicken in the hot oil and cook 3 or 4 minutes per side, or until golden brown.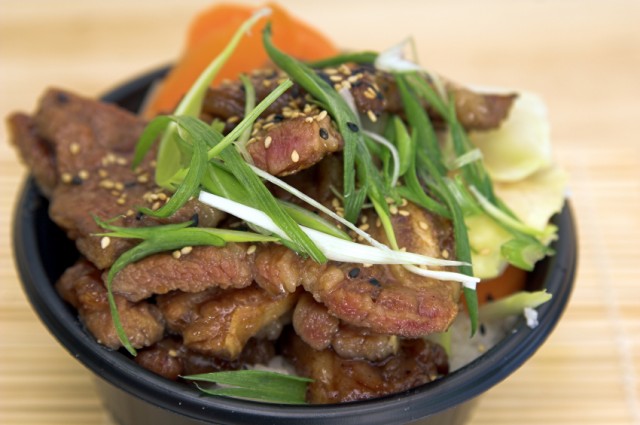 5. Miso-Marinated Flank Steak
It's hard to improve upon steak, but Bon Appetit does it here with a recipe for meat marinated in a tangy miso sauce. The dish takes about an hour to complete, depending how long you choose to marinate your steak.
Ingredients:
¼

 cup white miso (fermented soybean paste, available at most Japanese markets and many standard grocery stores)
2 teaspoons Dijon mustard
1 teaspoon grated peeled ginger
1 teaspoon kosher salt
1 garlic clove, grated
2 tablespoons vegetable oil, plus more for brushing
1

½

 pound grass-fed beef flank steak
Flaky sea salt, such as Maldon, and freshly ground black pepper
Directions: Whisk together miso, mustard, ginger, kosher salt, garlic, and 2 tablespoons oil into a paste. Smear on both sides of steak. Wrap well in plastic and chill for at least 30 minutes and up to overnight. Arrange a rack in upper third of oven and preheat to 450 degrees Fahrenheit. Brush a baking sheet with oil.
Remove steak from marinade, shaking off excess, and place on prepared sheet. Roast, turning once, until cooked to medium, about 13 minutes. Turn on broiler; cook steak, watching closely to prevent burning, until deep brown, about 1 minute per side. Let rest for 10 minutes. Thinly slice against the grain.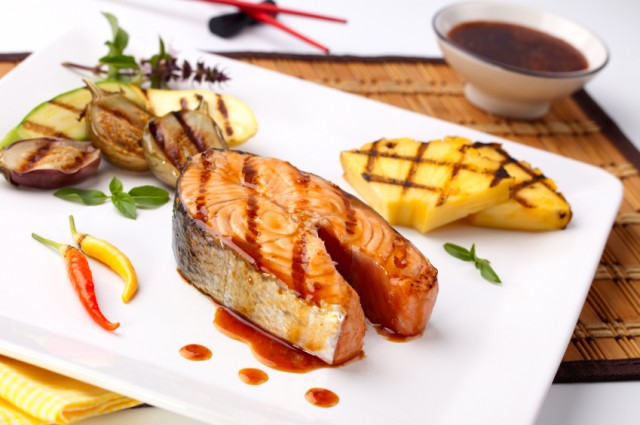 6. Salmon Teriyaki
Here we return to the lighter side of the fare with a heart-healthy salmon dish. Teriyaki is a classic Japanese method of preparation, featuring foods that are broiled or grilled with a glaze of soy sauce, mirin, and sugar. This recipe from Steamy Kitchen takes about 15 minutes to complete and serves 4.
Ingredients:
2 cups fresh pineapple, divided
1 knob fresh ginger
2 garlic cloves

½

 cup soy sauce
3 tablespoons brown sugar

½

 teaspoon sesame oil
Sprig of fresh mint or basil
1 tablespoon olive oil
4 salmon filets (about 4 to 6 ounces each)
Directions: For the pineapple teriyaki sauce, in a blender, add just 1 cup of the pineapple, ginger, garlic, soy sauce, brown sugar, sesame oil, and puree until smooth. Dice the remaining pineapple. Mince the fresh mint or basil. Combine these two ingredients in a small bowl and set aside. Heat a large sauté or frying pan over medium-high heat and swirl in the olive oil. When hot, add the salmon filets.
Cook each side of the salmon for approximately 2 to 3 minutes or until there is a nice crust but the inside is still just barely raw. Pour in the teriyaki sauce to the pan and simmer for 1 minute, spooning the hot mixture all over the salmon. Top with the fresh diced pineapple and mint. Serve immediately.
More from Life Cheat Sheet:
Want more great content like this? Sign up here to receive the best of Cheat Sheet delivered daily. No spam; just tailored content straight to your inbox.