6 Malaysian Dishes You Won't Be Able To Resist
Located in southeast Asia, Malaysia is home to a wide variety of dishes steeped in rich cultural traditions. Serious Eats reports that Malaysian cuisine is a veritable melting pot of regional influences, with dishes sweet and savory drawing inspiration not only from Malay culture, but from Indian and Chinese cultures as well.
Read on for 6 irresistible recipes showcasing Malaysia's impressively substantial cuisine.
1. Char Kway Teow (Singaporean Fried Rice Noodles)
Char Kway Teow is a classic Singaporean noodle dish, typically consisting of fried flat noodles, sweet soy sauce, and chili sauce. Salu Salo Recipes shares this slight variation on the traditional dish; it offers all the hearty flavors of the original, but allows home cooks to incorporate their choice of hot sauce for homemade chili sauce. Recipe takes 30 minutes to make and yields 4 to 6 servings.
Ingredients:
1 pound shrimp, peeled and deveined
11 ounces fresh flat rice noodles, separated and loosen
11 ounces bean sprouts, washed and drained
2 Chinese sausages, thinly sliced and fried
1 ounce chives, cut into 2-inch length
6 tablespoons vegetable oil
2 cloves garlic, chopped
6 tablespoons water
1 teaspoon salt
2 tablespoons dark soy sauce
2 tablespoons sweet soy sauce
4 eggs, beaten
Chili sauce or hot sauce
Directions: Heat a large wok or skillet over medium high heat. Add 3 tablespoons oil and the eggs. Scramble the eggs quickly and transfer to a plate.
Using the same wok, add the remaining 3 tablespoons oil. Fry the garlic until light brown. Add the bean sprouts and rice noodles. Stir well and then add in the water, salt and dark soy sauce. Stir-fry for a couple of minutes.
Stir the scrambled eggs into the noodles and mix well. Add chili sauce to taste. Add Chinese sausages and shrimps; stir-fry for 2 minutes or until shrimp are cooked. Add chives and sweet soy sauce; toss for a ½-minute to combine well. Transfer into a large serving plate and enjoy!
2. Beef Rendang (Slow-Simmer Beef Curry)
Beef Rendang is one of Malaysia's most celebrated dishes. This flavorful curry simmers to thick, stew-like perfection, resulting in amazingly tender beef soaked a strongly spiced sauce. Notes of turmeric, ginger, and cinnamon characterize the comforting dish, which is traditionally eaten with white rice (it can also be enjoyed with crusty Italian bread). Saveur's recipe yields 4 to 6 servings.
Ingredients:
5 whole cloves
1 whole nutmeg, slightly crushed in a mortar and pestle
6 to 8 red Holland chiles, or 3 to 4 Thai chiles, stemmed and roughly chopped
6 small shallots, roughly chopped
5 candlenuts or macadamia nuts
3 cloves garlic, peeled
1 (2-inch) piece fresh or frozen turmeric, peeled and roughly chopped, or 1½ teaspoons ground turmeric
1 (2-inch) piece ginger, peeled and thinly sliced
1 (2-inch) piece galangal, peeled and thinly sliced
2 pounds boneless beef chuck, cut into 2-inch pieces
7 fresh or frozen Kaffir lime leaves, plus 4 very thinly sliced for garnish
3 stalks lemongrass, trimmed, smashed with a mallet, and tied into knots
2 sticks cinnamon
2½ cups unsweetened coconut milk
Kosher salt, to taste
Directions: Pulse cloves and nutmeg in a food processor until very fine. Add chiles, shallots, nuts, garlic, turmeric, ginger, and galangal; purée until a slightly smooth paste forms, about 2 minutes. Transfer paste to a 12-inch nonstick skillet with beef; using your hands, mix together.
Add 7 lime leaves, lemongrass knots, cinnamon, coconut milk, and salt; bring to a boil. Reduce heat to medium-low; cook, stirring occasionally to prevent coconut milk from scorching, until the consistency of thick pea soup, about 1½ hours. Continue to cook, stirring frequently to prevent burning, until sauce and beef turn a dark caramel color and the sauce coats the beef, 2½ to 3 hours. Discard whole spices before serving; garnish with thinly sliced lime leaves.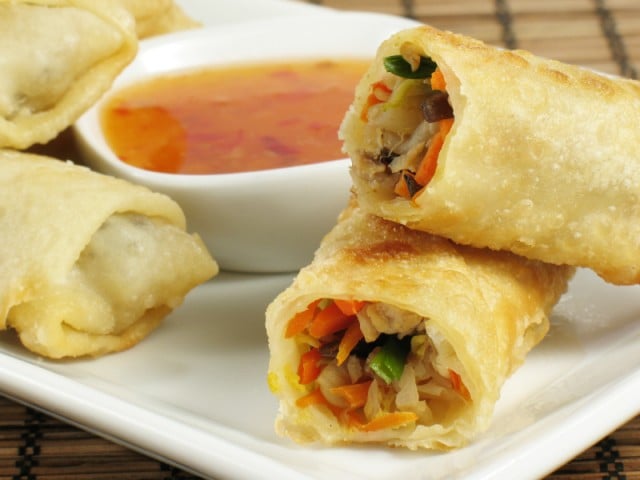 3. Fried Popiah (Pork Spring Rolls)
Fried Popiah, essentially the Malaysian variety of spring rolls, are a popular street snack and appetizer in Malaysia. Crunchy vegetables like jicama, carrot, and cabbage are combined with pork in Roti n Rice's recipe. Stuffing the rolls with vermicelli will help prevent any leakage or a soggy filling. Be sure not to pack your popiah too tightly with veggies and meat, as the goal is a light and airy result. Recipe takes an hour and 15 minutes and yields 25 rolls. Note: Spring roll wrappers can be found at your local Asian market.
Ingredients:
2 bundles glass vermicelli (mung bean threads)
1 small (about 1 pound) jicama
1 large carrot
8 ounces minced pork
1 tablespoon soy sauce plus ¼ teaspoon ground pepper
2 tablespoons canola oil
2 cloves garlic, minced
1 onion, peeled and thinly sliced
½ head (1 pound) cabbage, finely sliced
1 teaspoon salt
¼ teaspoon ground pepper
3 green onions, finely sliced
1 packet of 25 spring roll wrappers
Vegetable oil for deep frying
Sweet chili sauce for serving
Directions: Soak glass vermicelli in warm water for 20 minutes to soften. Drain.
Peel jicama and grate into fine strips using a box grater. Do the same for carrots.
In a wok or large pan, heat vegetable oil. Add minced pork. Cook for 3 minutes. Add onions and garlic, then cook for another 2 minutes. Add grated jicama, carrots, and cabbage. Stir until well-mixed. Add salt and pepper and continue to cook for about 5 minutes. Turn off stove and stir in sliced green onions.
Place a metal colander on a shallow bowl. Transfer cooked filling to metal colander to drain off excess sauce. Allow filling to cool.
Place a sheet of spring roll wrapper on a clean work surface with one of the pointed ends towards you. Place a little glass vermicelli and filling on the wrapper. Fold the pointed end over the filling. Then fold in both the right and left sides of the wrapper. Moisten the remaining edges of the wrapper with a little water. Roll and seal. Repeat with remaining wrappers and filling.
In a medium-size sauce pan, heat about 1-inch-deep oil. Gently lower spring rolls into the oil and fry until golden brown. This will take only 1 to 2 minutes. Remove and drain on a metal strainer. Serve immediately with sweet chili sauce.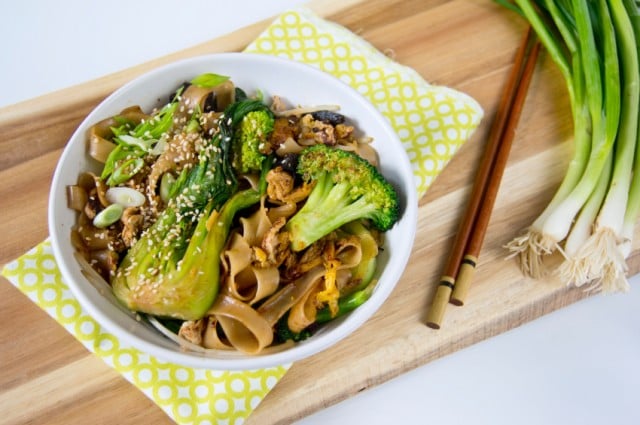 4. Mee Goreng (Malaysian Fried Noodles with Tofu, Green Beans and Bok Choy)
Food Nouveau's take on classic Mee Goreng is a vegetarian-friendly medley of tofu, onions, green beans, bok choy, and seasonings, all culminating in a remarkably distinct flavor. Egg noodles are coated in this boldly-spiced sauce — fusing flavors of cumin, coriander, and chile paste, among other ingredients — for an unforgettable taste of Malaysia. It yields 2 servings. Note: Crisp-fried shallots can be purchased at Asian markets.
Ingredients:
2 tablespoons peanut oil
½ onion, diced
8 ounces firm tofu, cut into thin strips
4 ounces French green beans, trimmed and cut in half
4 ounces bok choy, cut into large chunks (both leaves and stalks)
11 ounces fresh egg noodles
1½ teaspoons ground coriander
1 teaspoon ground cumin
2 teaspoons sambal oelek (or other chile paste), plus extra to serve
2 teaspoons thick (dark) soy sauce
2 teaspoons light soy sauce
1 tablespoon water
Handful of bean sprouts, well-rinsed
Handful of shredded iceberg lettuce
1 tablespoon crisp-fried shallots
Lemon wedges, to serve
Directions: Set a wok or a large skillet on high heat. Once hot, add the oil and then the onion, and cook for about 1 minute to soften a bit. Add the tofu and French beans and cook for 2 to 3 minutes to give the tofu a bit of color. Stir gently as you cook.
Next, add the boy choy. When it wilts, add the noodles and carefully spread them in the wok using tongs or large chopsticks. Mix gently, cooking the noodles for about 2 minutes. Now add the spices, sambal oelek, soy sauces, water, and bean sprouts, and toss carefully. Cook for about a minute, or until the noodles are semisoft.
When ready, divide between two serving bowls, top with lettuce, and sprinkle with crisp shallots. On the side, serve lemon wedges and a small bowl of extra sambal oelek.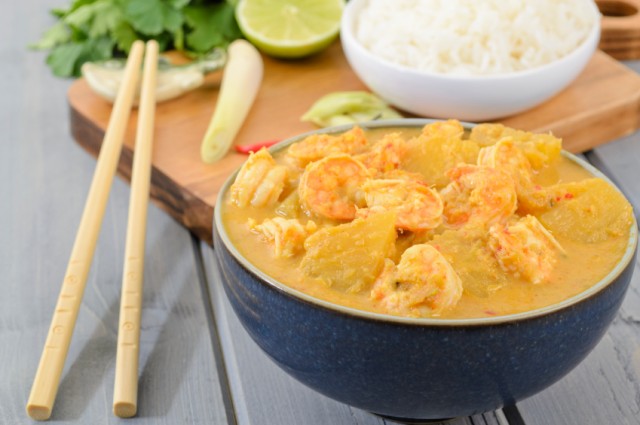 5. Curry Laksa
Serious Eats offers this recipe for a flavor-loaded Curry Laksa with a creamy coconut-tinged broth. Keep in mind that you will be able to find ingredients such as belacan, candlenut, and tofu puffs in your local Asian market. Although quail eggs are a typical Malaysian garnish, they are optional (and chicken eggs can be used in their place). If you like your laksa with a bit more kick, just toss in some extra sambal oelek (chili paste) at the finish.
Ingredients:
For the sambal:
10 fresh red chillies
10 stalks dried chilli, soaked
2 teaspoons belacan (shrimp paste)
1 teaspoon salt
½ teaspoon sugar
6 tablespoons cooking oil
For the spice paste:
10 shallots, peeled and sliced
1 (3-inch) segment old turmeric, skinned
1 (2-inch) segment galangal
8 stalks lemongrass, sliced
20 stalks dried chillies, soaked until softened
10 candlenuts
4 teaspoons belacan (shrimp paste), more or less to taste
For the laksa broth:
½ cup cooking oil
1 quart prawn or chicken stock
2 cups coconut milk
20 pieces tofu puffs, scalded in hot water briefly to remove oil
2 teaspoons salt, or to taste
To assemble:
Cooked egg noodles
Cooked vermicelli
2 cups grams beansprouts, blanched
1 cucumber, julienned
Optional: 1 pound prawns, boiled and peeled; 2 to 3 large fishcakes, boiled and sliced; 20 quail eggs, hard-boiled; 1 bunch polygonum leaves "daun kesum," finely sliced
Directions: To prepare the sambal: Using an electric blender, finely grind fresh red chillies, dried chillies, and shrimp paste. Heat oil. Sauté chilli spice paste until fragrant, stirring continuously. Add salt and sugar to taste. Set aside to serve with finished laksa.
To prepare the spice paste: Using an electric blender, pulse shallots, turmeric, galangal, lemongrass, dried chillies, candlenuts, and shrimp paste until they form a smooth paste, adding a bit of water if necessary.
To prepare the laksa broth: In a large heavy-bottomed saucepan, heat ½ cup cooking oil. Sauté spice paste until fragrant. Add stock and bring to a boil. Add coconut milk, tofu puffs, and salt. Bring to a quick boil, stirring continuously. Turn off heat once broth comes to a boil.
To assemble: Blanch noodles in boiling water and drain. Place some noodles into a bowl, garnish with bean sprouts and cucumber. Ladle hot laksa broth over with some tofu puffs. Top with prawns, fish cake slices, quail eggs, and "daun kesum," if using. Serve with sambal.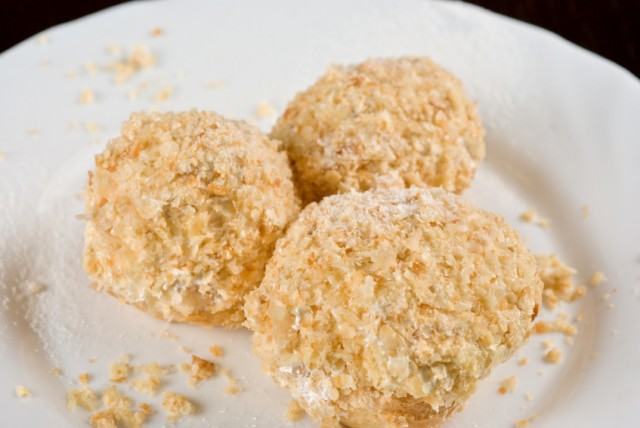 6. Muar Chee (Sticky Peanut Rice Balls)
Muar Chee is a popular street vendor snack, and Malaysia's no-fail solution to satsifying a sweet tooth. These sticky rice balls are coated with sugar, ground roasted peanuts, and sesame seeds. For an extra-sinful version of the treat, try adding some lard in with the ground peanuts or the steamed glutinous rice pasta, suggests Rasa Malaysia.
Ingredients:
8 ounces glutinous rice flour
2 tablespoons tapioca flour
1½ cup water
Cooking oil (for greasing)
Fried shallot crisps
Roasted Peanuts Mixture
4 ounces ground roasted peanuts
4 ounces sugar
2 ounces lightly toasted sesame seeds
Directions: Mix the glutinous rice flour and tapioca flour with water to form a batter. Transfer the batter into a greased pan. Steamed over high heat for 10 to 15 minutes until the glutinous rice paste is completely cooked through in the center. Let cool.
In a deep dish, mix the ground roasted peanuts, sugar, and sesame seeds well. Cut a small piece of the rice paste using a plastic knife. Drop it into the mixture and start cutting the rice paste into smaller cubes. Coat well with the mixture, dish out and serve immediately with some fried shallot crisps.
More from Life Cheat Sheet: