6 New Nordic Diet-Approved Recipes Aiding Your Weight Loss Goals
If your diet is causing you to feel deprived and miserable, it's time to try a realistic plan that gets results — the New Nordic Diet, which encourages nutritious, wholesome foods, moderation, and healthy eating habits. Women's Health writes that this plan, which is similar to the Mediterranean diet in many ways, is built around 15 food groups, including fruits and vegetables, potatoes, fresh herbs, plants and mushrooms, nuts, whole grains, wild meat, fish, shellfish, and seaweed.
The diet requires you to take in more calories from plants and fewer from meats, consume more food from seas and lakes, and, whenever possible, choose foods that come from the wild instead of a farm, according to Women's Health. When following the Nordic Diet, you'll eat meals that are filled with fresh, healthy, and in-season foods, such as Barley Porridge, Carrot Soup, and Steamed Cauliflower With Curried Shrimp Sauce. Ready to try a realistic diet that garners results? Start by preparing these six recipes.
1. Barley-Oat Pancakes
The New Nordic Diet encourages you to eat plenty of whole grains, such as rye and barley, so we suggest kick starting your day with Food.com's Barley-Oat Pancakes. Feel free to top your flapjacks with fresh fruit, another key food group for those following the Nordic Diet.
A study in the American Journal of Clinical Nutrition revealed that following this diet can help you shed pounds. In the study, those following the Nordic Diet dropped 7 pounds more than people following a diet rich in refined grains, processed foods, and sugar, and it showed greater reductions in hip and waist circumferences, body fat, and blood pressure.
Ingredients:
1 cup barley flour
1 cup oat flour
1 tablespoon sodium-free baking powder
1 teaspoon salt
1½ cups nonfat milk
2 large eggs
2 tablespoons light olive oil
2 tablespoons clear honey
2 teaspoons vanilla extract
Maple syrup or honey, for serving
Directions: In a large mixing bowl, whisk together barley flour, oat flour, baking powder, and salt. In a medium mixing bowl, whisk together nonfat milk, eggs, light olive oil, clear honey, and vanilla extract. Add wet ingredients to dry, and whisk until just combined.
Heat a large non-stick skillet over low-medium heat. Pour about 3 tablespoons of batter into hot skillet and cook until bubbles begin to appear on top, and bottom is golden brown; then, flip pancakes and cook until other side is also golden brown. Serve warm with maple syrup or honey.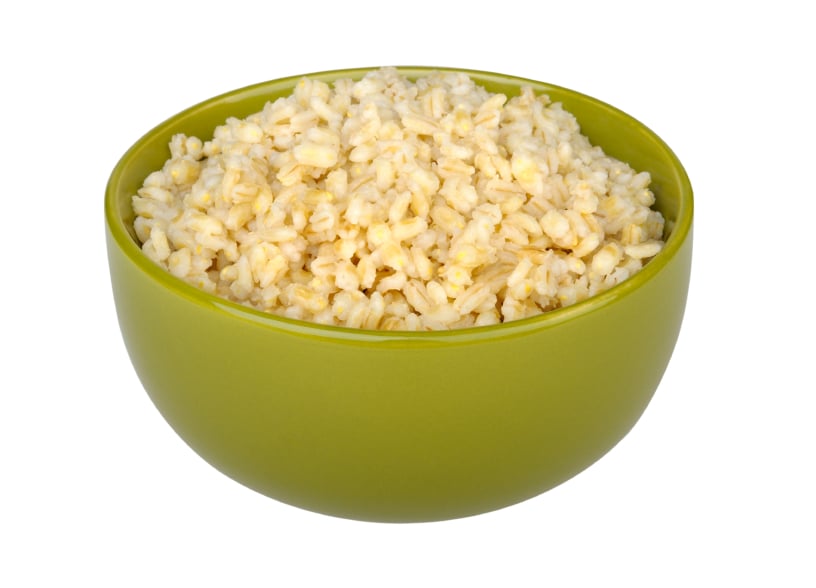 2. Barley Porridge
WebMD explains that barley contains fiber, vitamins, carbohydrates, protein, and fatty oils; can help lower your cholesterol and blood pressure; and may prevent certain types of cancers. If you find yourself regularly preparing Serious Eats' recipe, which yields 2 servings, feel free to add some variety by using a different whole grain, such as oats or spelt, in place of the barley.
Ingredients:
2 cups cooked barley

½ cup milk

2 teaspoons brown sugar

¼ teaspoon cinnamon

2 tablespoons chopped toasted walnuts

Heavy cream

Fresh fruit, for serving
Directions: Combine barley, milk, brown sugar, and cinnamon in a medium saucepan over medium heat. Cook, stirring occasionally, until milk has almost been all absorbed, about 15 minutes. Divide barley between two bowls. Top with chopped walnuts, a generous drizzle of heavy cream, and chopped fresh fruit, if desired.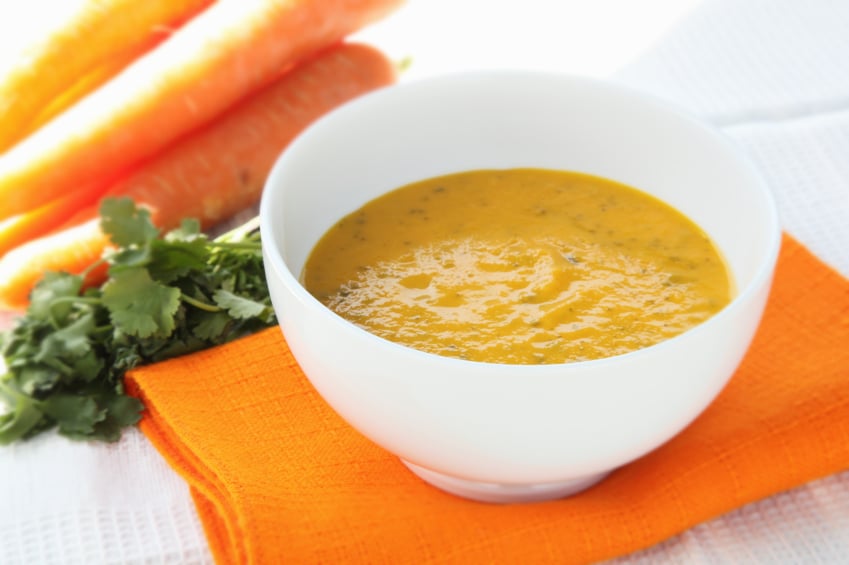 3. Carrot Soup
Prevention explains that the New Nordic Diet emphasizes fresh fruits and vegetables — it's important to incorporate them in your meals whenever possible. For a lunch dish that abides by the diet plan's rules, prepare Cooks.com's Carrot Cider Soup, which consists of carrots, onions, apples, seasonings, apple cider, and whole milk.
Ingredients:
1 bunch carrots (8 to 10), roughly chopped
½ onion, roughly chopped
1 cooking apple, peeled, cored, and chopped
¼ teaspoon ground cumin
½ cup apple cider
½ cup whole milk or light cream
Salt and pepper, to taste
Directions: Cook carrots and onions in enough water to cover, until soft. Add apple and continue cooking until apple is tender. Transfer this mixture to a blender or food processor and puree. Return to saucepan. Add cumin, cider, milk, and seasonings to taste. Heat until hot, not boiling, and add more cider if you want a thinner soup.
4. Chicken in Bouillon
Looking for a Nordic Diet dish to enjoy for dinner? Medindia recommends preparing Chicken in Bouillon, which consists of sautéed chicken thighs, whole grains, vegetables, and a sweet-and-sour sauce called gastrique. The recipe yields 4 servings.
Ingredients:
4 to 6 chicken legs, both upper and lower thigh
2 tablespoons cold-pressed rapeseed oil
2 finely chopped shallots
2 teaspoons fennel seeds
⅘ cup cold-pressed apple juice
2½ cups chicken stock or water
About 2 cups wheat grains (polished barley, spelt, or rye can also be used)
2⅖ cups green asparagus, cut into 3 to 4 pieces each
2⅖ cups goutweed, spinach, or kale
Salt and pepper
Gastrique
4⅕ cups balsamic apple or plum vinegar
⅘ cup sugar
Directions: To prepare the gastrique, in a heavy-bottom saucepan, caramelize the sugar. Add the vinegar and cook until caramel is dissolved and syrup consistency is obtained. Transfer the syrup to a bottle and refrigerate. To prepare the chicken, sauté the chicken thighs in the oil until they turn golden.
Add the shallots, fennel seeds, and apple juice and let it boil for a couple of minutes. Add the stock, bring to a boil, and simmer for about half an hour. In another pan, add rinsed wheat grains and simmer for 10 minutes. Add the asparagus. Add salt, pepper, and gastrique to taste and simmer for another 10 minutes. Roughly chop the goutweed, spinach, or kale, and add to the dish just before serving.
5. Steamed Cauliflower With Curried Shrimp Sauce
In About.com's recipe, which yields 4 to 6 servings, steamed cauliflower is tossed in a spicy shrimp sauce, creating a warm dinner dish that's filled with satisfying flavors. According to Livestrong, cauliflower is a good source of potassium, vitamin C, and glucosinolates, which activate the body's detoxification system.
Ingredients:
24-ounce bag cauliflower florets (or 1 cauliflower, cleaned and separated into florets)
2 tablespoons olive oil
2 cloves minced garlic
1 cup mixed sweet peppers, finely chopped
1 pound pre-cooked shrimp or small bay shrimp
1 teaspoon curry powder
1 tablespoon butter
3 tablespoons flour
½ cup vegetable broth or fish stock
⅔ cup low-fat milk
1 tablespoon finely chopped fresh dill
¼ cup toasted pine nuts
Directions: Steam cauliflower florets in the microwave or on the stove until tender. Meanwhile, sauté garlic and peppers in a large frying pan over medium heat until the peppers begin to soften. Stir in the shrimp and curry powder; remove from heat. Melt the butter over medium heat in a large saucepot, then whisk in the flour to make a roux; heat just until the roux is a light golden color.
Gradually stir in vegetable broth and milk, whisking continually to incorporate. Heat sauce until it begins to bubble, stirring constantly. Mix in the curried shrimp mixture, lower heat to medium-low, and cook until shrimp are heated through, about 5 minutes. Gently toss steamed cauliflower and shrimp sauce together, garnish with toasted pine nuts and chopped dill, and serve.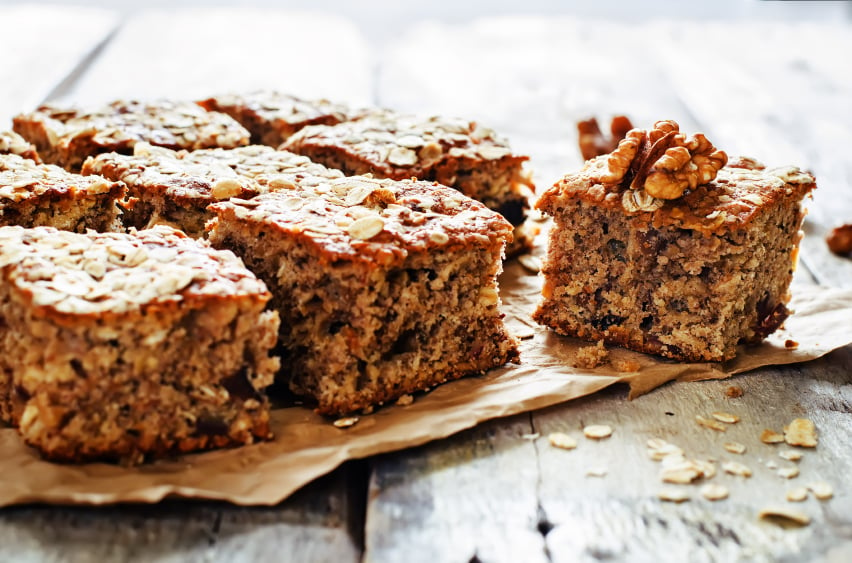 6. Walnut Cake
When following the New Nordic Diet, you're welcome to enjoy dessert in moderation — just remember to practice portion control. Bon Appétit's recipe for Walnut Cake, which consists of ingredients such as walnuts, almond flour, yogurt, and raw sugar, yields 18 to 24 servings.
Ingredients:
1

cup

(2 sticks) unsalted butter, room temperature, plus more for pan

6

tablespoons

raw sugar, divided

7

cups

walnut halves

¾

cup

all-purpose flour

1½

cups

almond flour or almond meal

¾

cup

granulated sugar

6

large eggs

¾

cup

heavy cream

½

cup

plain whole-milk yogurt

1

teaspoon

kosher salt

1

vanilla bean, split lengthwise

Whipped cream
Directions: Preheat oven to 350 degrees Fahrenheit. Butter a 13-by-9-by-2-inch metal or glass baking dish; sprinkle bottom evenly with 3 tablespoons raw sugar. Set aside. Pulse walnuts in a food processor until coarsely chopped. Set 2 cups aside. Add all-purpose flour to processor and pulse until walnuts are very finely ground, 1 to 2 minutes.
Add almond flour; pulse to blend. Set aside. Using an electric mixer, beat 1 cup butter and granulated sugar in a large bowl until light and fluffy, 2 to 3 minutes. Add eggs, cream, yogurt, and salt. Scrape in seeds from vanilla bean. Beat until well combined, 1 to 2 minutes. Add ground walnut mixture and beat just to blend.
Gently fold in chopped walnuts, being careful not to overmix. Pour batter into prepared dish; smooth top. Sprinkle with remaining 3 tablespoons raw sugar. Bake until cooked through and a tester inserted into center comes out clean, 50 to 55 minutes. Let cool in pan on a wire rack. Serve with whipped cream.
More from Life Cheat Sheet:
Want more great content like this? Sign up here to receive the best of Cheat Sheet delivered daily. No spam; just tailored content straight to your inbox.