6 Easy Recipes For Your Griddle That Don't Involve Pancakes
Is your griddle sitting around, waiting for the next time you want bacon and eggs or pancakes? All that flat space is prime real estate! Think of your griddle as the biggest pan in your house; it's just like the flat-top in a restaurant kitchen, and they use that for just about everything. Give your griddle a workout with these recipes.
1. Crab Cakes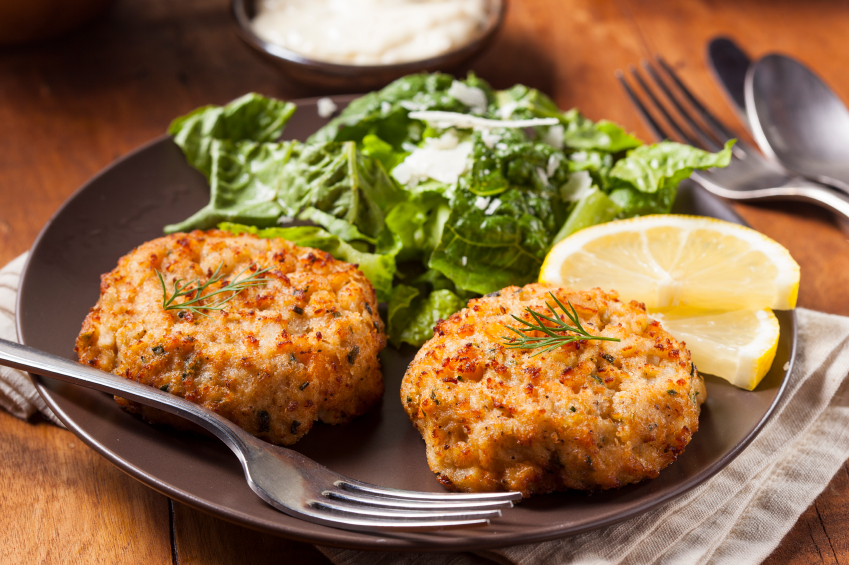 One of the biggest problems with cooking in batches is that by the time you finish the last batch, the first batch is either cold or a little dried out from the oven. This recipe for classic Maryland crab cakes from Fine Cooking makes 8 cakes, which is impossible to cook in one pan on the stovetop. Instead of sad crab cakes, cook them all at the same time on your griddle and have dinner ready in a snap, without running your oven.
Ingredients:
1 pound jumbo lump or backfin lump crabmeat, fresh or pasteurized
1 large egg
¼ cup mayonnaise
1½ teaspoons Dijon mustard
1½ teaspoons Old Bay seasoning
1 teaspoon fresh lemon juice
½ teaspoon Worcestershire sauce
Kosher salt
1¼ cups fresh breadcrumbs from soft white sandwich bread, toasted and crumbled
1 tablespoon chopped fresh flat-leaf parsley
2 tablespoons unsalted butter
1 tablespoon olive oil
Lemon wedges for serving
Directions: Drain the crabmeat, if necessary, and pick through it for shells. Put the crab in a medium mixing bowl and set aside.
In a small bowl, whisk the egg, mayonnaise, mustard, Old Bay seasoning, lemon juice, Worcestershire sauce, and ¼ teaspoon salt. Scrape the mixture over the crab and mix gently until well combined. Gently break up the lumps with your fingers but do not overmix.
Sprinkle the breadcrumbs and the parsley over the mixture, and mix them in thoroughly but gently. Avoid breaking up or mashing the mixture. Cover with plastic wrap and refrigerate for 1 to 3 hours.
Shape the crab mixture into 8 cakes about 1-inch thick. Brush the griddle with the butter and olive oil over medium heat. When the butter begins to froth, add the cakes to the griddle. Cook until dark golden brown on the underside, about 4 minutes. Flip the cakes, reduce the heat to medium-low, and continue cooking until the other side is well browned, 4 to 5 minutes. Serve with lemon wedges on the side for squeezing over the cakes.
2. Naan
If you don't have a tandoor or a pizza stone, it can be difficult to cook naan. You can only cook one at a time in a pan, and you're going to be standing there flipping naan for ages. Cooking it on the griddle will save time and hassle while still offering that great spotted browning you get with a hot surface. Though naan can often have a long list of ingredients, this one from Plan to Eat is short and sweet.
Ingredients:
1 packet active yeast, or 2¼ teaspoons
½ cup yogurt
¼ cup warm water
2 tablespoons olive oil
1 teaspoon sea salt
2 teaspoons honey
2 cups all-purpose flour
Directions: Combine warm but not hot — less than 105 degrees Fahrenheit — water and active yeast in a large mixing bowl and allow to proof for 5 to 10 minutes, or until bubbles begin to form. If the yeast doesn't look like it's doing things, toss it and try again with a new packet. Mix in yogurt, olive oil, and honey. Add flour and salt and mix with a wooden spoon until the dough comes together.
Begin kneading in the bowl or on a floured work surface, adding flour as needed to keep the dough from sticking. The dough should not be dry, but it also should not cling to your hands. Knead for about 7 minutes. If you have a stand mixer with a dough hook, use this instead and cut the kneading time to 4 minutes.
Oil the bowl and toss the dough around to coat. Cover and place in a warm spot to rise until doubled in size, about 45 minutes to 1 hour.
When dough has risen, punch it down. Begin heating the griddle to high heat. Divide your dough into 6 to 8 dough balls. On a floured work surface, roll dough into a rectangle as thin as possible without tearing.
Cook 2 to 3 minutes on the first side, until it bubbles up. Flip and cook the second side for 2 to 3 minutes. Remove to a platter and brush with butter or drizzle with olive oil.
3. Scallion Meatballs with Soy-Ginger Glaze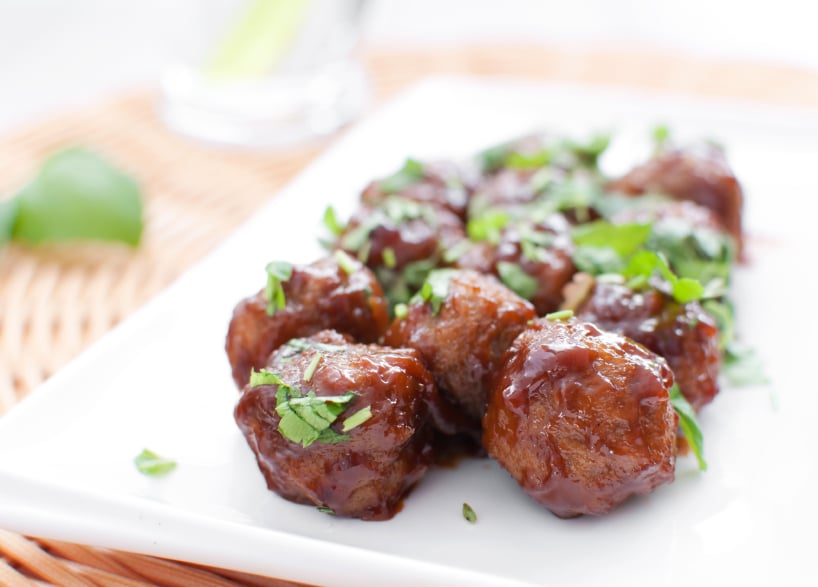 The trouble with cooking many little meatballs for, say, a party is that if you cook them too close together, they'll stew or steam and not get crispy. Luckily, cooking them on a larger surface like a griddle means you don't have to cook in four batches to get perfectly crispy meatballs! And, using a leaner meat like the turkey in this recipe from Smitten Kitchen means you won't have to worry about the oil runoff you'd get if you were using beef.
Ingredients:
Sauce
½ cup dark brown sugar
½ cup water
½ cup soy sauce, preferably Japanese or reduced sodium
½ cup mirin, a sweet rice wine, or ½ cup sake with ¼ cup sugar
¼ cup peeled, chopped ginger
1 teaspoon ground coriander
4 whole black peppercorns
Meatballs
1 pound ground turkey
4 large or 6 small scallions, finely chopped
Half bunch cilantro, finely chopped
1 large egg
2 tablespoons sesame oil, preferably toasted sesame oil
2 tablespoons soy sauce
Freshly ground black pepper
Vegetable oil
Directions: Start making the sauce first. Bring sugar and water to a boil in a small saucepan over medium-high heat, stirring until sugar dissolves completely. Reduce heat to a medium-low and add soy sauce, mirin, ginger, coriander and peppercorns. Simmer, stirring occasionally, until reduced by half, about 30 minutes, though it may take you longer to really get a glaze that will stick to the meatballs. Once it has reduced, strain through a sieve.
To make the meatballs, mix turkey, scallions, cilantro, egg, sesame oil, soy sauce, and several grindings of black pepper in a bowl. Roll tablespoon-size knobs of the mixture into balls. To help keep the meat from sticking to your hands and deforming the balls, wet your hands first.
Heat your griddle to medium-high heat and brush with vegetable oil. Place meatballs on the griddle and cook, turning, until browned all over and cooked inside, about 8 minutes. Arrange on a platter, spoon a little sauce over each meatball, and serve with toothpicks.
4. Tortillas From Scratch
There's something irreplaceable about homemade corn tortillas. Once you start making them from scratch, it can be almost impossible to go back to store-bought. One of the most time consuming parts of making tortillas is having to cook them one at a time — not a problem with a griddle! You'll be able to make these tortillas from The New York Times in no time.
Ingredients:
1½ cups masa harina
¼ teaspoon salt
2 tablespoons vegetable oil, lard, or butter
1 cup hot water, more as needed
Flour, for kneading
Directions: Combine the masa and salt in a bowl; stir in the oil. Slowly stream in the water while mixing with your hand or a wooden spoon until the dough comes together into a ball.
Turn the dough onto a lightly floured surface, and knead until it is smooth and elastic — just a minute or two. Wrap in plastic, and let it rest at room temperature for at least 30 minutes or up to a few hours.
Break off pieces of the dough into 12 to 16 pieces, and lightly flour them. Put them between 2 sheets of plastic wrap, and either press them in a tortilla press, roll them out with a rolling pin, or press them with your hands to a diameter of 4 to 6 inches. Begin to cook the tortillas as you finish pressing or rolling them.
Heat your griddle to medium-high heat. Cook the tortillas until brown spots begin to appear on the bottom, about a minute. Flip and cook the other side the same way. If you're doing more than one batch, wrap the cooked tortillas in a towel to keep them warm before serving.
5. Philly Cheesesteak Sandwiches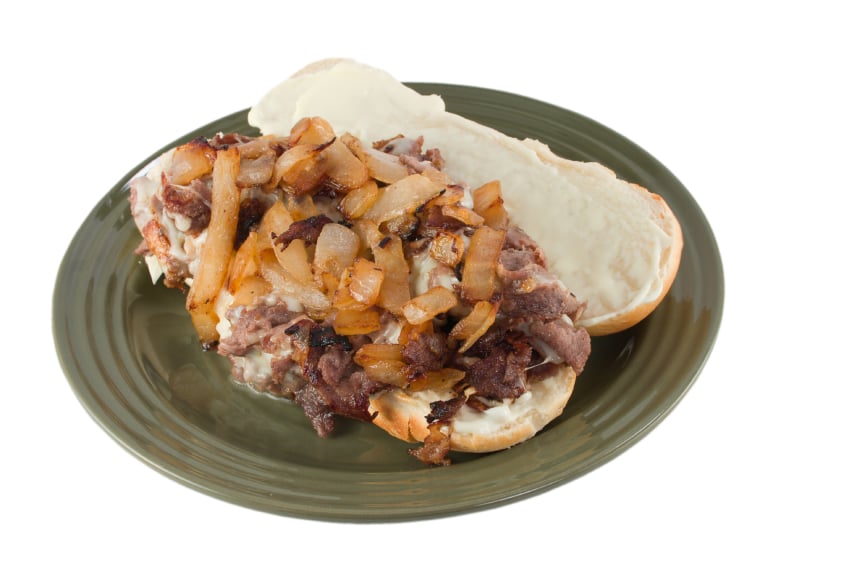 The trick to a cheesesteak is getting really thin beef. If you are a master with amazing knife skills, grab a flank steak, throw it in the freezer for 30 minutes, and slice away. If you can't produce paper-thin sheets of meat like the rest of us mortals, cheat and get some roast beef from the deli.
The awesome thing about preparing a cheesesteak like this one from Kitchme on the griddle is that you can do everything in one space and feel like a pro: The meat gets done in one section, the onions and peppers fry up in another, and the bread toasts in another section. It's truly just like a restaurant flattop.
Ingredients:
1 loaf Italian bread, or French bread, or 2 large hoagie or sub rolls
½ pound deli roast beef , very rare, sliced wafer thin
1 white onion, thinly sliced
1 green bell pepper, thinly sliced
2 teaspoons garlic, minced
½ pound provolone cheese, thinly sliced
Extra-virgin olive oil, for grilling
Salt
Black pepper
Directions: Heat the griddle over medium-high heat. When hot, brush the bottom with oil.
Add onions and bell peppers and cook, stirring occasionally, until they begin to soften and take on some color, about 7 minutes.
Add garlic, salt, and pepper, and cook for about 30 seconds. Push the mixture off to the side of the griddle and add the meat to an empty space on the heat. In the last third of the griddle, split the bread and place it face-down to toast. Cook the meat, continuously flipping it over and slightly chopping it into smaller pieces with a spatula until the meat is no longer pink, about 2 minutes.
Mix the meat and vegetables together and top with cheese. Once melted, assemble the two sandwiches.
6. Arepas con Pollo Adobado
Arepas are like stuffed cornbread sandwiches from Colombia and Venezuela. They can be filled with anything: carnitas, vegetables, cheese, or this shredded, spiced chicken from The Latin Kitchen. The particular flour used is important to the outcome of the arepas. Unlike tortillas, which uses masa harina, arepa flour is cooked, dehydrated cornmeal called masarepa. It's available at Latin markets or online.
Ingredients:
Arepas
2 cups corn flour for arepas (such as Masarepa or Harina P.A.N.)
2 cups warm water
½ cup ricotta cheese
Chicken Filling
2 tablespoons vegetable oil
4 ounces diced onion
1½ cups cooked shredded chicken
2 teaspoons paprika
1 teaspoon ground turmeric
1 clove garlic, minced
½ teaspoon oregano
½ teaspoon kosher salt, or to taste
Chopped cilantro
Directions: To make the arepas, mix together corn flour, water and ricotta cheese. Stir well, and then knead with your hands to form a cohesive dough.
Heat a griddle over medium heat on the stove. Divide the dough into 8 equal portions, and then pat into thick, round cakes. Place the cakes on the griddle, and cook on each side for about 7 minutes, until they are golden and crisp on the outer surface. Remove from the griddle and store in a clean towel to keep warm.
Drizzle a bit of oil on the griddle and add the onions. Saute until translucent, about 1 minute, and then add the chicken and spices. Stir to combine and cook until chicken is thoroughly heated through, about 3 minutes.
Carefully split the arepa with a sharp knife and fill with the chicken mixture. Garnish with chopped cilantro.
More from Culture Cheat Sheet: