6 of the Best Amusement Parks for a Fun-Filled Family Vacation
The approaching summer months mean it's time to start planning a vacation. Not just any vacation, though. You have to strike a balance between entertaining the kids and having some fun yourself, and that can be pretty difficult to achieve. You can please both parties by going with an amusement park. According to the International Association of Amusement Parks and Attractions, there are over 400 to choose from in the U.S. While that's great for options, it's pretty daunting for people who don't stay current on all of the latest and greatest choices.
We've done the heavy lifting, and found some of the best options out there. These 6 choices are sure to make everyone in your family happy. Start planning now, and you'll have a summer vacation to remember.
1. Legoland California (Carlsbad, Calif.)
Families with smaller children will delight in this amusement park built around one of the most popular children's toys. Nearly all the rides are designed with a younger crowd in mind. According to Parents, only 2 of the rides require youngsters to be at least 42 inches tall so even small children can get in on the fun. There's even a water park if you happen to travel during the peak heat of summer. What makes this theme park really stand out, though, is the non-ride entertainment.
There is no shortage of opportunities to build with the toy blocks, or simply marvel in some of the creations. Tips for Family Trips said Miniland USA is one of the most surprisingly delightful attractions at the park. It includes miniaturized recreations of seven different areas in the U.S. constructed from 20 million legos. Kids will marvel, but it's also one of the most fun parts of the visit for adults. The park also includes an aquarium, which is perfect for animal lovers in the group.
While it's definitely a family-friendly trip, older kids aren't going to be too impressed. Save this vacation for the under-12 crowd.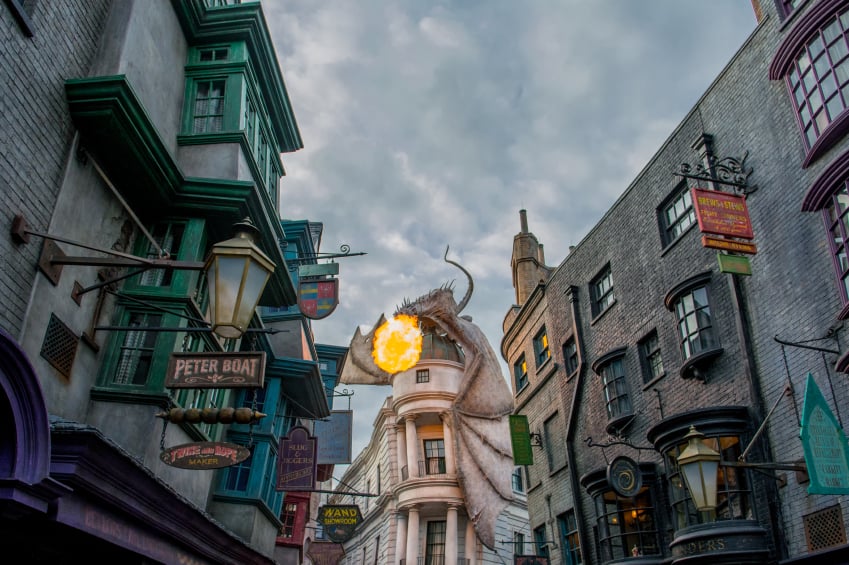 2. Universal's Islands of Adventure (Orlando, Fla.)
Kids of all ages will find something to love at this diverse amusement park that encompasses attractions dedicated to Dr. Seuss, Spider Man, and more. The Wizarding World of Harry Potter has been hugely popular since its opening thanks to its mass appeal. Younger kids will really feel as though they're in a magical world when they get fitted for a wand at Ollivanders and ride the Hogwarts Express, while the older kids will enjoy the high-speed Dragon Challenge roller coaster. The grown ups in the group will be pleasantly surprised by the dining offerings.
It's not all about the magic, though. Travel Channel picked the theme park as one of their favorites, and pointed out the abundance of other rides and 3D experiences. The hardest part is picking where to start. Fortunately, Family Vacation Critic has a list of their favorite attractions to help you plan your trip.
3. Busch Gardens Williamsburg (Williamsburg, Va.)
If you're looking to escape the sticky, dingy theme parks of your youth, this Travel Channel top pick is definitely one you'll want to consider. According to Virginia is for Lovers, this park is still the reigning champion of the National Amusement Park Historical Association's most beautiful theme park award. But unlike most amusement parks, the European-themed setting aims for aesthetics and blends the attractions into the stunning backdrop. That doesn't mean the rides aren't up to snuff, though.
New this year is Tempesto, a super speedy roller coaster that boasts a 154-foot loop. And there are plenty of other high-flying rides for those who can't get enough. For parents who want something a bit tamer, consider the variety of stage shows or Curse of DarKastle, a moving attraction that offers more than a few spooks.
They really play up the multi-cultural vibe, featuring regional foods, landmarks, and themed entertainment, which is great for adults in the group. Also fun for the over-21 crowd? The annual food and wine festival.
4. Diggerland USA (West Berlin, N.J.)
Many little boys go through a phase where all they care about is trucks and other vehicles related to construction. This park was built with them in mind, and it's about time. Diggerland USA opened its doors just a year ago as the first construction-themed amusement park in the country. According to Family Vacation Critic, it's a 14-acre expanse that lets kids get their hands on some machinery, play arcade games, and even rock climb.
One of Fodor's Travel Guide's top picks for families, this park is fun for nearly every age. For those who prefer to watch, there's a machinery acrobatic show operated by the park's stuntmen. Red Tricycle offers a pretty comprehensive guide to what you'll find to help you start planning a trip today.
5. Cedar Point (Sandusky, Ohio)
Self proclaimed "Roller Coaster Capital of The World," Cedar Point just about lives up to its name, though it was recently knocked from the top position as the world's best amusement park. Still, 2nd place isn't bad when you consider all this park has to offer. It's the ultimate destination for roller-coaster junkies, so it's a great option for families with teenagers.
These rides are serious. According to Northern Virginia Magazine, four of the roller coasters are over 200 feet tall, and one goes from 0 to 120 miles per hour in just 4 seconds. If the weather's particularly steamy, cool off in the water park. There are plenty of wet rides that are just as wild, but there's also a lazy river for parents hoping to relax. Food definitely isn't this destination's strongest suit, though, so consider leaving the gates to score some good grub.
6. Disney's Magic Kingdom (Orlando, Fla.)
It might seem like a cliché, but Disney has it down when it comes to family vacations. This particular park is the original of the four that make up Walt Disney World, and the Los Angeles Times reported it's still the most popular. Of course, teens will want to go for the dozens of rides, but the entire family will enjoy everything from fireworks to street parties. According to Family Vacation Critic, it's also the best place for youngsters to meet up with their favorite characters.
While wait times can sometimes be a bummer, parents reported the park now lets guests pick out three rides they want to gain fast access to up to 60 days before their trip. That means less waiting, and a lot more time to see everything you can. Visit the park's website to start planning your family trip.
More from Life Cheat Sheet:
Want more great content like this? Sign up here to receive the best of Cheat Sheet delivered daily. No spam; just tailored content straight to your inbox.