6 of the Best Places to Go Camping This Summer
Taking a summer trip is meant to be a relaxing break, but it can be anything but when you start to tally up what it will cost you. The price of accommodations alone is pretty staggering. According to Hotels.com, the average nightly cost for a one-night stay in the U.S. during the first half of 2014 was $137. And that's just one night in one room. Families are often looking for week-long stays, and a minimum of two bedrooms. But what if you could skip those accommodations completely? It's possible if you consider going a more rugged route.
Camping might just be the best bargain vacation there is. You won't have to pay for silly services like unnecessary towel washing or mints on your pillow. Plus, you'll likely be cooking most, or even all, of your own meals instead of dining at fancy restaurants. It's also a good option for families, because kids can be loud and run around without the risk of breaking something fragile. Picking a spot might seem overwhelming, but we've come up with six great sites. Each one offers something a little different, so you're bound to find something you'll enjoy. So take a few extra days off and enjoy the fresh air.
1. Ingalls Homestead (De Smet, South Dakota)
South Dakota might not be at the top of your vacation list, but it's one of the best destinations for folks who enjoy the outdoors. Fox News chose this particular spot as one of their 9 favorite campsites in the U.S. partly because of its history. The name isn't just for show; this site is the location popularized by Laura Ingalls Wilder's Little House on the Prairie series. Though they're classified as children's books, the series came about after an initial autobiography was rejected. Visitors will find many of the details from the stories true to what they experience with everything from visits to the one room schoolhouse to chores like hay twisting.
As for outdoor accommodations, there are a few choices. You can bring an RV or pitch a tent, but our choice is staying in a covered wagon. At $50 a night, it's a great deal and can sleep up to five people. And it's a great learning opportunity for kids. They'll find out loads about American history without even realizing it.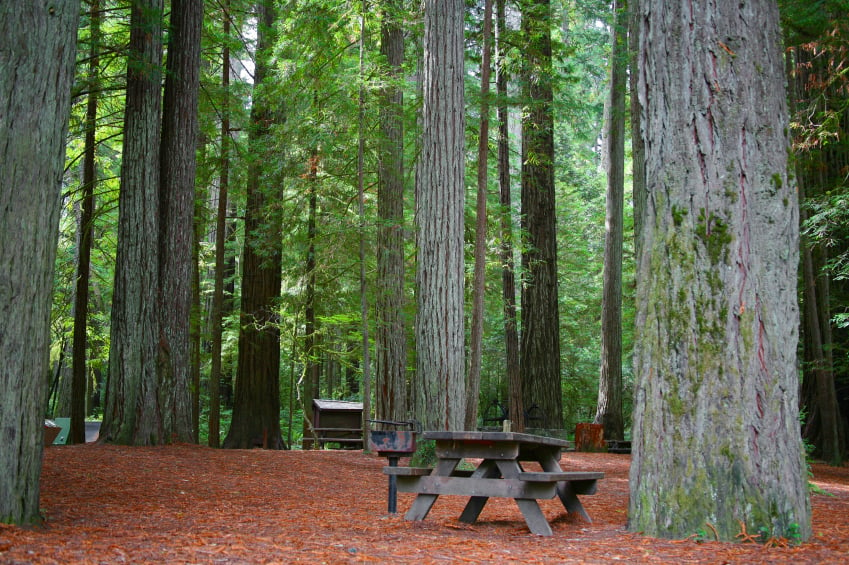 2. Jedediah Smith State Park Campground (Northern California)
If you find yourself within striking distance of California's famed redwood forests, this is a must-see destination. While many think to visit these woods for a day-long trip, it's one of the most gorgeous places to set up a tent. Though most of the forest is densely packed with vegetation, this campsite is specifically carved out for visitors. There are a number of different campsites, but Travel and Leisure recommended site 3 for its spaciousness.
The site abounds with opportunities to hike, fish, or even ride a horse. With so much forestry, it's likely you'll see your fair share of wildlife as well. That brings up an important point that the park likes to remind all visitors of: food disposal. Everyone who visits is required to watch a short video on the importance of cleaning up after all meals. It also offers some storage tips.
3. Rock Island State Park (Rock Island, Tennessee)
With scenic waterfalls along The Caney Fork River Gorge, Rock Island State Park is one of the prettiest areas to get some fresh air. Fodor's chose this site as one of its top picks for year-round camping, but it's particularly wonderful during the summer. Activities include swimming, hiking, and fishing, but the real draw is kayaking. You'll want to familiarize yourself with the area before setting out on your own, though, because some of the rapids can be dangerous.
Staying in one of the upscale cabins is a nice option for those who don't want to totally rough it, but staying at the campsite is a fraction of the cost. You'll likely enjoy a visit just about any time, but the park hosts a whole schedule of events that you might want to consider incorporating into your trip.
4. Boston Harbor Islands National Recreation Area (Boston)
Boston is a a destination in and of itself, but it would be a mistake to miss out on this collection of islands just off the coast. A combination of outdoor activities and opportunities to visit historical sites helped solidify this location as one of The Huffington Post's best campsites in the U.S. Visitors can choose among four different islands for camping. No tent? Stay in a yurt, an enclosed structure furnished with bunk beds that can sleep up to six people.
An ideal location for hiking, running, and kayaking, these islands offer some cool activities you won't find at other campsites. Visit the oldest light station in America at Boston Light on Little Brewster Island or travel to Fort Warren on Georges Island. For more ideas and reviews, head to TripAdvisor.
5. Mount Sneffels Wilderness (Telluride, Colorado)
Ski bums hit up just about every peak in Colorado during the winter months, but they clear out once the snow melts away. That's good news for those who prefer the peace and quiet of summertime camping. Though there are many areas to set up a site, Backpacker Magazine suggested heading for the Blue Lakes because of the relative seclusion and fantastic views. Those views get even better once the wildflowers are on full display around Yankee Boy Basin in July. It's a complete dream for hikers. Runners might want to hold off on a visit until August to compete in the marathon or half marathon.
Although beautiful, this is not a destination for first-time campers or small children. Some of the hikes are extremely challenging and the United States Department of Agriculture Forest Service called the area "rugged and relatively seldom explored." But for fit families with older kids, this is a can't-miss spot.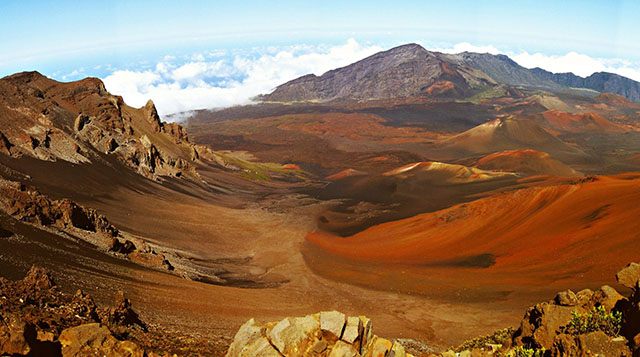 6. Haleakala National Park (Kula, Hawaii)
Not many people with a limited budget have Hawaii in mind for their vacation plans, but it's more realistic to an island paradise if you camp instead of opting for a fancy hotel. One of the best sites is Maui's dormant volcano, Haleakala. Frommer's recommended this trip as a great choice for hikers, as that's the main attraction here. While experienced folks can probably cover the the 11-mile trail both directions in one day, many like to break it into pieces and pitch a tent to explore for a couple of days.
As beautiful as the location is, it requires plenty of advanced planning. There's a lengthy list of rules and procedures that you'll need to check out before showing up. The most important thing to note is that there are no stores or restaurants, so you'll have to pack meals with you. But once you wrap you head around any limitations, you'll be rewarded by some pretty unreal views. For more information on planning a trip, visit the National Park Service.
More from Life Cheat Sheet:
Want more great content like this? Sign up here to receive the best of Cheat Sheet delivered daily. No spam; just tailored content straight to your inbox.