6 Outrageous Burgers Worth Traveling to Try
In its purest form, a hamburger is a simple creation: a patty of ground meat between buns. Yet to aficionados and foodies alike, a burger can be so much more. Taking into account novelty, quality, and proportions, we've developed a list of six summer burgers worth traveling for. Be warned: This list will make you very, very hungry.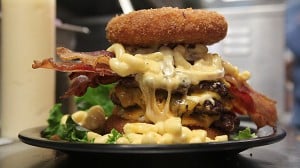 At Zombie Burger + Drink Lab, there is no shortage of wacky, extreme concoctions — a Reese's Puff Cereal Shake and a burger made out of bratwurst, to name a few. One of the restaurant's most popular burgers, though, takes the cake for being the wackiest: breaded and deep-fried macaroni and cheese served atop an all-beef burger, topped (also!) with cheddar cheese, regular macaroni and cheese, bacon, mayonnaise, and caramelized and raw onion.  If you're thinking that this burger might be a cheese overload, then you're probably right. Its name is The Walking Ched, after all.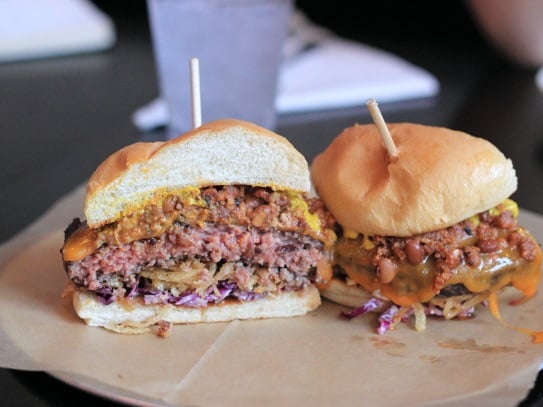 2. The Dirty South (Carolina), Chuck's: Raleigh, North Carolina
If this burger is meant to be a dig at the restaurant's southern competitor, then South Carolina should be pleased with the "insult." Though this burger strays far from traditional, purists would have a hard time saying no. Consider its lineup: meat ground from smoked pork shoulder and topped with Sea Island red pea chili, cheddar, crispy tobacco onions, roasted tomato malt vinegar coleslaw, and yellow mustard.
3. The Diablo Burger, Fred's Texas Café: Fort Worth, Texas
All burgers at Fred's are understatedly delicious (most are called "Fredburgers") and have signature touches of "Outlaw Chef" Terry Chandler, who honed his culinary skills on Zapata Ranch in southern Colorado, the Weisshaar Ranch of South Dakota, and some of the more legendary working cattle operations.  But for those interested in serious hots, there's only one option to pursue on Fred's menu: The Diablo Burger. Made from 100 percent pure Texas ground beef, the burger comes with chipotle chiles, grilled onions, melted Swiss cheese, pickles, lettuce, tomato, and mustard. It may look pretty, but looks can be deceiving: It is seriously, seriously hot.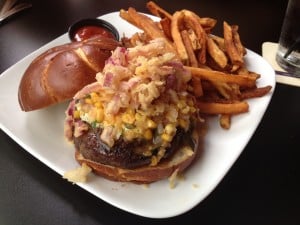 4. The Goatsnake, Kuma's Corner: Chicago, Illinois
Around the Midwest, Kuma's is an institution — and a worthy one, at that. The flagship location (there are now two) is located in Chicago's Avondale neighborhood, and it's a must-do for anyone in the Windy City. One thing that's immediately apparent upon entering Kuma's is the décor.
The bar's owners have a love for meat and heavy metal (its ethos is: "Support your community. Eat beef. Bang your head") and it shows. With burger names like Black Sabbath, Iron Maiden, Pantera, Mastodon, and the Led Zeppelin, there is no wrong choice at Kuma's. Though the house burger (bacon, sharp cheddar, fried egg, lettuce, and tomato) is a favorite, we're partial to the Goatsnake: herbed goat cheese, poblano corn relish, Cholula lemon vinaigrette, and buttermilk breaded frizzled red onion. Now that rocks.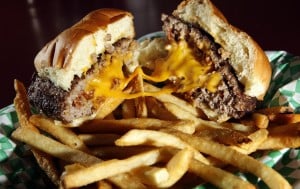 5. The Juicy Lucy, 5-8 Club: Minneapolis, Minnesota
The 5-8 Club has been open since 1928, initially operating as a speakeasy that illegally served beer and liquor to its patrons. Some decades later, one of the last remaining speakeasies in Minneapolis is known for something else: The Juicy Lucy. While some historians quibble over whether the JL was invented at the 5-8 Club or nearby Matt's Bar, one thing is certain: It tastes amazing. Try this mouthwatering half-pound burger stuffed with cheddar cheese, but be careful not to burn your mouth.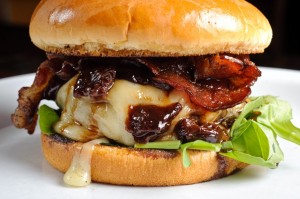 6. The Woodstock, Burger Up: Nashville, Tennessee
Burger Up is an establishment that just does it right on all levels, from its appetizers (fried pickle chips, Sweetwater cheddar pimiento cheese) to its desserts (Krispy Kreme donut pudding) to its emphasis on community and conscious consumption of local products. It's no surprise then, that the burgers here are phenomenal. Go for the Woodstock, a burger made with Triple L ranch beef and topped with Benton's bacon, Tennessee Sweetwater white cheddar, and Jack Daniels maple ketchup. It will ruin every BBQ burger you try and eat from here on out.
More From Wall St. Cheat Sheet: