6 Oven-Free Dinners for Warm-Weather Cooking, No Salads Included
There's no doubt about it: Your oven is an essential part of your kitchen, but in the summer, it can just make everything too hot. Heat doesn't stand in the way of hunger, though, and when it is too hot to contemplate using your oven and too hot to even consider standing outside with a fiery grill, you need some kind of solution — and that answer can't always be salad or cold soups. To keep everyone fed and happy without causing too much heat in the kitchen here are six recipes to make for dinner when summer strikes.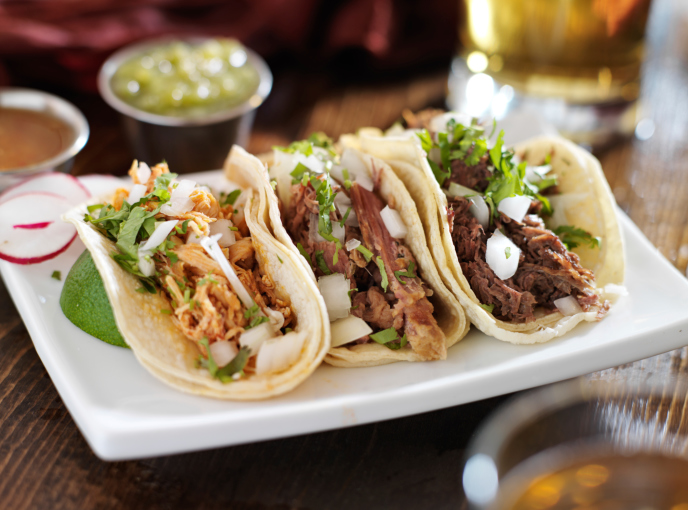 1. Crock Pot Buffalo Chicken
Dinner that cooks itself without an oven is easy when you have a crockpot. Buffalo chicken is a particularly great option because you can put it in lettuce wraps, tortillas, make sandwiches, or dish it out as is. A Family Feast's recipe will serve eight.
Ingredients:
nonstick cooking spray
1 medium onion, sliced thick
1 pound skinless boneless chicken breast
1 pound skinless boneless chicken thighs
1 cup plus 2 tablespoons Frank's original hot sauce
1 stick butter
1 teaspoon ground cumin
Directions: In a large slow cooker, spray the bottom and sides of the insert. Add sliced onion and top with chicken in single layer. In a microwave-safe bowl or saucepan, melt butter. Add 1 cup of hot sauce and cumin, and stir to combine. Pour over chicken. Cover and set on high for four hours.
When done, remove chicken and shred with two forks and place in bowl. Stir liquid from pot and add ¼ cup to shredded chicken. Add two tablespoons (or to taste) of Frank's hot sauce and mix well.
2. Pan-Fried Pork Chops
Pan-fried pork chops can be cooked in as little as 10 minutes, keeping the amount of time you spend hanging out over a hot stove to a minimum. This Food.com  recipe serves four, and you'll want to watch the chops closely because cooking time can vary by stove, skillet, and how thick your pork chops are.
Ingredients:
½ cup all-purpose flour
¼ cup cornstarch
½ teaspoon garlic salt
4 center-cut pork chops, approximately ¾ inch thick
vegetable oil (for frying)
Directions: Mix flour, cornstarch, and garlic salt. Sprinkle pork chops with salt and pepper. Dredge chops in flour mixture and shake off excess. Pour enough oil into large skillet to reach depth of ½ to 1 inch. Heat oil to 350 degrees Fahrenheit. Fry chops in oil until golden, about 5 minutes per side.
3. "Baked" Ziti
You won't be actually baking this baked ziti from The Crock Pot Guys. In fact, you won't even be boiling water for the ziti noodles. Instead, everything is put in your crock pot, allowing you to get out of the kitchen and keep cool while dinner "bakes."
Ingredients:
1 chopped yellow onion
½ teaspoon salt
½ teaspoon pepper
2 (25-ounce) jars marinara sauce (or preferred red pasta sauce)
15 ounces ricotta cheese
2 cups shredded mozzarella, divided
1 egg
1 cup grated parmesan cheese, divided
1 (16-ounce) box of ziti
10 fresh basil leaves, chopped
Directions: Spray the inside of your pot with nonstick spray. Mix your ricotta, 1 beaten egg, ½ cup Parmesan cheese, 1 cup mozzarella, salt, and pepper, and set aside in a bowl. Place half of the uncooked noodles in the pot. Evenly sprinkle half of the chopped onion on to the noodles. Pour about 3 cups of pasta sauce over the noodles. Make sure the noodles and the sauce are mixed well and even in the pot.
Take half of the cheese mixture and layer in the pot. Use a spoon and drop cheese balls, evenly placed, in the pot. Repeat the noodle, onion, spaghetti sauce, and cheese layers. Evenly pour the rest (should be 1.5 cups) of the sauce on top. Cover and cook on low for 4 hours.
Sprinkle 1 cup of mozzarella cheese and ½ cup of Parmesan cheese over the top. Evenly sprinkle and mix the fresh basil on top. Cover and cook for another 10-15 minutes until the cheese is melted.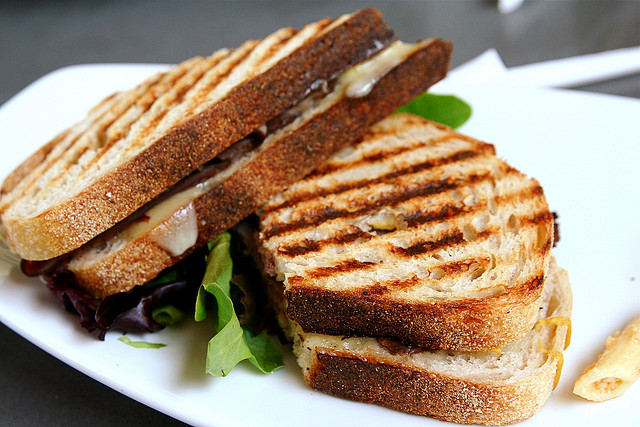 4. Beef-Pesto Panini
Betty Crocker's panini recipe will have you rethinking how you do roast beef sandwiches at home. Sure, you could just slap a sandwich together, but crispy bread and melted cheese mixing with basil pesto will be much more satisfying in the end. You can also make this recipe with deli chicken instead.
Ingredients:
8 slices Italian bread, ½ inch thick
2 tablespoons butter or margarine, softened
¼ cup basil pesto
½ pound thinly sliced cooked deli roast beef
4 slices (1 ounce each) mozzarella cheese
pasta sauce, warmed, if desired
Directions: Spread 1 side of each bread slice with butter. Spread 1 tablespoon pesto on unbuttered side of 4 bread slices; place buttered sides down in 12-inch skillet or grill pan. Top with beef, cheese and remaining bread slices, buttered sides up. Cook over medium heat for 4-5 minutes, turning once, until bread is crisp and cheese is melted. Serve with pasta sauce.
5. Chicken Enchilada Skillet Pasta
You'll have to spend a little more time at the stove, but Budget Bytes' skillet pasta is a filling dinner that won't break the bank. It serves six and comes in right around $1 per serving. You'll have dinner ready in about 30 minutes, 20 of which are spent cooking.
Ingredients:
2 tablespoons vegetable oil
1 medium yellow onion
2 cloves garlic
1 pound chicken breast
1 cup enchilada sauce
½ cup sour cream
12 ounces uncooked pasta
1 cup shredded Monterey Jack cheese
2-3 whole green onions
Directions: Dice the onion and mince the garlic. Cook both in a large skillet over medium heat with vegetable oil until soft and transparent, around 5 minutes. Meanwhile, slice the chicken into thin strips. Add the chicken to the skillet and cook until no longer pink, about 5-7 minutes.
Make the enchilada sauce or warm up canned enchilada sauce. Whisk in the sour cream. Set aside. Shred the Monterey Jack cheese (if not shredded already) and slice the green onions.
Cook the pasta according to the package directions and then drain well in a colander. Combine the pasta, sauce, and chicken mixture either in the skillet or in the pasta cooking pot. Taste to see if you want more salt or other seasonings. Sprinkle with shredded cheese and sliced green onions. Serve warm.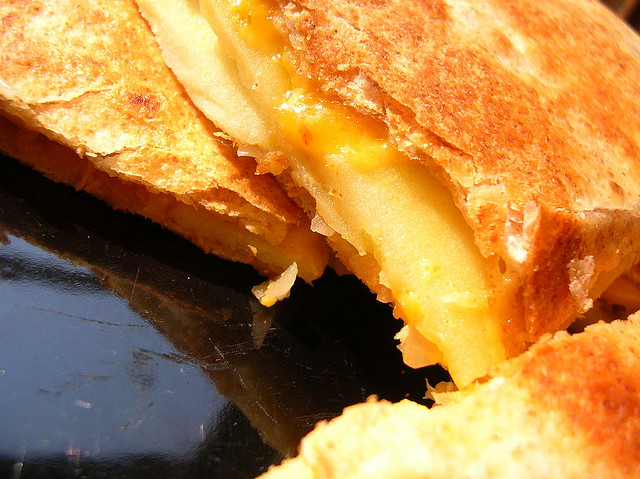 6. Smoked Cheddar and Apple Quesadilla
There are a lot of quesadilla recipes out there that call for turning on the oven, but that is not how the Neelys have prepared these cheesy apple quesadillas in their recipe for the Food Network. It serves four and you can skip the bacon for a vegetarian dish.
Ingredients:
8 (7½-inch) whole-wheat tortillas
2 cups grated smoked cheddar
2 cups baby spinach
8 slices bacon, cooked and crumbled
2 Granny Smith apples, cored and thinly sliced
nonstick cooking spray, for cooking
sour cream, for serving
Directions: Sprinkle 1 tortilla with some cheese, a small handful of baby spinach, bacon, and sliced apples. Press another tortilla on top to make a quesadilla. Heat a nonstick skillet over medium-high heat and spray with nonstick spray. Cook the quesadilla on each side for 2-3 minutes until golden. Repeat with the remaining tortillas and fillings. Slice into wedges and serve with sour cream.
More From Wall St. Cheat Sheet: