6 Portable Potluck Dishes to Bring to a Labor Day Party
You don't want to show up to your Labor Day party empty-handed. However, bringing food with you often results in your dish becoming soggy, cold, or smashed, which is the last thing you want after you've taken the time to prepare it. Luckily, there are plenty of recipes out there that are easily transportable. Make one of these 6 portable potluck recipes for your Labor Day party to ensure you're delivering food that's fresh, hot, and tasty.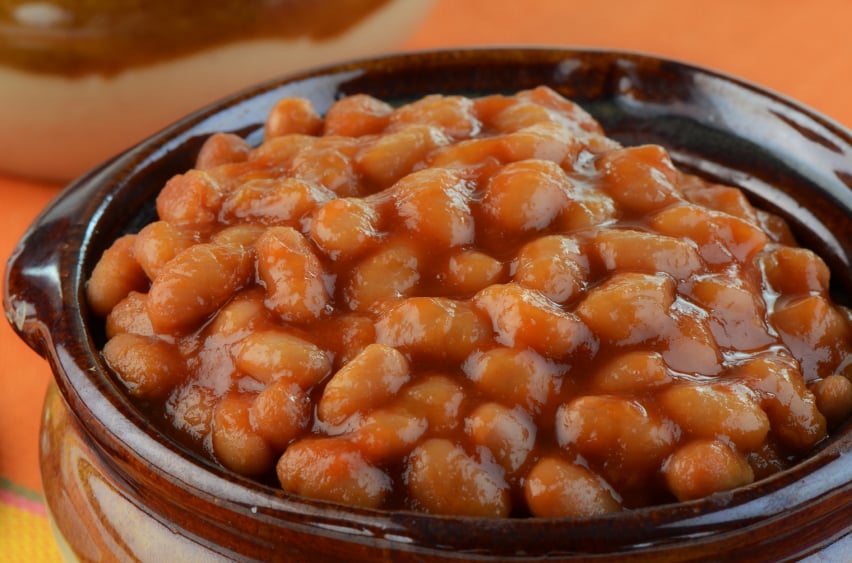 1. Potluck Baked Beans
There's a reason baked beans can often be found at parties and get-togethers: it's easy to prepare and super low maintenance. Be sure to bake this Taste of Home recipe, which yields 12 servings, in a baking dish that comes with a cover, so you can easily cover it and go when it's time to leave for the party. Short on time? As long as you've received the go-ahead from your host, mix the ingredients together, and pop the dish in the oven once you arrive.
Ingredients:
4 bacon strips, chopped
1 medium onion, chopped
1 can (28 ounces) baked beans
1 can (16 ounces) kidney beans, rinsed and drained
1 can (15 ounces) pinto beans, rinsed and drained
½ cup packed brown sugar
⅓ cup ketchup
2 teaspoons Worcestershire sauce
Directions: In a large skillet, sauté the bacon and onion over medium heat until bacon is crisp; drain. In a large bowl, combine the beans, brown sugar, ketchup, Worcestershire sauce, and bacon mixture. Pour into a shallow 2-quart baking dish coated with cooking spray. Bake at 350 degrees Fahrenheit for 30-35 minutes or until heated through.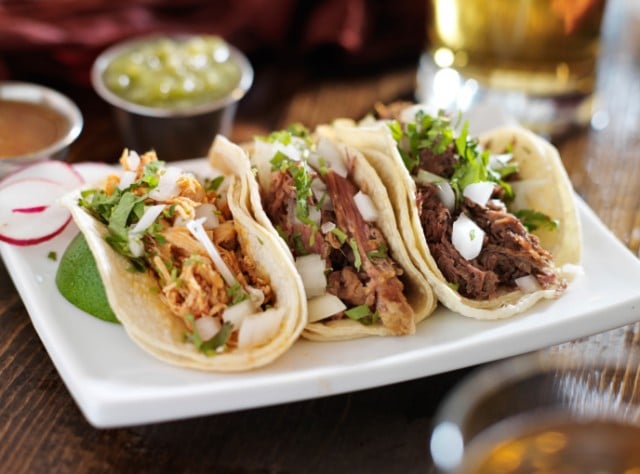 2. Cherry Coke Beef Carnitas
You can serve this dish straight out of the slow cooker, making it a perfect portable potluck dish. This She Knows recipe can be prepared ahead of time, or you can let it cook while you're at the party. The beef is nice and tender, while the cherry Coke adds a sweet, tangy sauce. Guests can easily scoop this dish onto tasty tortillas for the perfect potluck meal.
Ingredients:
2 ½ to 3 pounds beef roast
Salt and pepper
1 (12 ounce) can cherry Coke
1 cup beef broth
1 garlic clove, chopped
Directions: Season the beef roast generously with salt and pepper. Place the roast in the slow cooker. add the cherry Coke, beef broth, and garlic, and cook on low for 6 to 7 hours. Remove the roast from the slow cooker, and shred it using 2 forks to pull the meat apart. Place the meat back into the juice in the slow cooker, toss until it's coated, and serve.
3. Easy Apple Kielbasa Crockpot Dish
This Recipe 4 Living dish is guaranteed to be a crowd pleaser! It's easily transportable and can even be prepared the night before. Simply warm it up when you arrive at your get-together.
Ingredients:
2 apples, cored and sliced in ¼-inch slices
1 medium size head of cabbage, sliced into small wedges
2 medium potatoes, peeled and sliced into ¼-inch slices
2 large links kielbasa, sliced into ½-inch pieces
1 cup water
1 teaspoon sugar
½ teaspoon olive oil
Salt and pepper to taste
Directions: Layer ingredients in crockpot starting with cabbage wedges, kielbasa, apples, then potatoes. Whisk together water, sugar, olive oil, salt, and pepper. Pour over layers into crockpot. Cook in slow cooker on low for 6 hours. 

4. Soba Noodle Salad
Nutty soba noodles, crunchy veggies, and moist chicken create a potluck dish everyone will be dying to taste. The best part? You can make this dish ahead of time, and store it in the fridge. When it's time to head to your get-together, bring this iVillage dish along with, letting it set out for at least 30 minutes. Who knew bringing food could be so easy?
Ingredients:
9 ounces soba noodles or spaghetti
1 teaspoon sesame oil
1 cooked chicken breast, shredded
½ red pepper, thinly sliced
Scallions, thinly sliced
¼ pound snow peas, thinly sliced
¼ cup chopped cilantro
1 tablespoon toasted sesame seeds for garnish (optional)
Salt to taste
Dressing
3 tablespoons freshly squeezed lime juice
1 tablespoon sugar
1 tablespoon chili-garlic sauce
½ teaspoon salt
2 tablespoons canola oil
1 tablespoon sesame oil
Directions: Bring a large pot of salted water to a boil. Cook the soba according to the package directions. Drain and rinse with cold water. Toss with the teaspoon of sesame oil. Pat dry with paper towels and transfer to a large bowl. To make the dressing, whisk together all of the dressing ingredients. Add the chicken, red pepper, scallions, snow peas, and cilantro to the soba noodles. Toss gently with the dressing. Taste for seasoning, adding salt if necessary. Garnish with sesame seeds, if desired. If making ahead and storing in the refrigerator, remove the salad from the fridge at least 30 minutes before serving, if possible.
5. Tomato Pesto Potluck Pie
Mr. Food's recipe will be a Labor Day party success! This easy potluck pie is filled with tasty Italian ingredients, including cheese, sun-dried tomatoes, pesto, and almonds. This recipe gives you two great options: prepare the ingredients ahead of time and pop in the oven once you arrive, or bake it before you leave for the party. Either way, this dish is potluck perfection.
Ingredients:
1 rolled refrigerated pie crust
1 (8-ounce) package cream cheese, softened
½ cup ricotta cheese
2 eggs
¼ grated Parmesan cheese
 ⅓ cup sliced sun-dried tomatoes
1 tablespoon prepared pesto
¼ cup sliced almonds
Directions: Preheat oven to 350 degrees Fahrenheit. Unroll pie crust and place in a 9-inch pie plate; flute edges. In a large bowl, combine cream cheese and ricotta cheese. Blend well with an electric mixer on high speed. Add eggs, one at a time, and beat well with the electric mixer after each addition. Stir in Parmesan cheese, sun-dried tomatoes, and pesto; pour into crust. Sprinkle with sliced almonds. Bake 35 to 40 minutes or until a knife inserted in center comes out clean. Allow to cool to room temperature and cut into wedges to serve.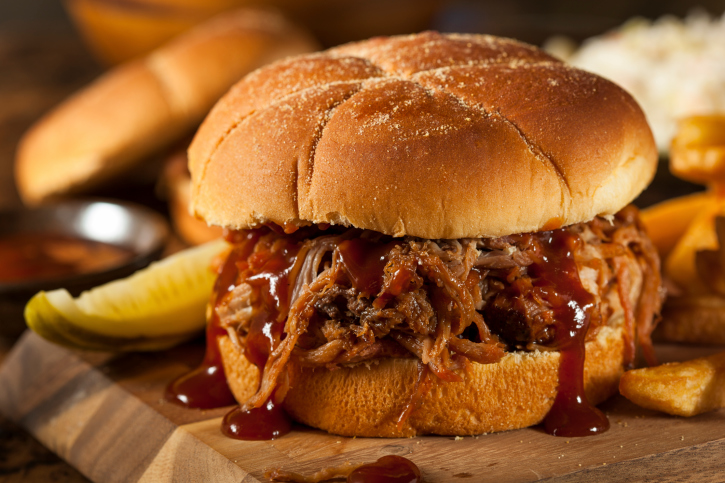 6. Pulled Pork With Caramelized Onions
If you're responsible for bringing a meat-filled dish, EatingWell's pulled pork recipe is a must. The slow cooker makes this an effortless dish to prepare and can easily be warmed up once you get to your Labor Day bash. The recipe yields 8 servings.
Ingredients:
1 tablespoon extra-virgin olive oil
3 large onions, thinly sliced
⅓ cup raw cane sugar
4 cloves garlic, minced
1 teaspoon dried oregano
1 teaspoon freshly ground pepper
½ teaspoon salt
⅓ cup cider vinegar
1 cup chili sauce
1-1 ⅔ teaspoons minced chipotle chile in adobo sauce
3 pounds boneless pork shoulder or blade (butt) roast, trimmed
Directions: Heat oil in a large skillet over medium-high heat. Add onions and cook, stirring occasionally, until they begin to soften, 3 to 6 minutes. Add sugar and continue to cook, stirring constantly, until the onions are golden brown, 6 to 8 minutes more. Add garlic, oregano, pepper, and salt and cook, stirring, for 1 minute. Add vinegar and bring to a boil.
Cook until mostly evaporated, 30 seconds to 1 minute. Remove from the heat and stir in chili sauce and chipotle to taste. Place pork in a 4-quart slow cooker and cover with the sauce. Cover and cook until the pork is almost falling apart, about 4 hours on high or 8 hours on low. Transfer the pork to a cutting board and shred using two forks. Stir back into the sauce.
More From Life Cheat Sheet:
Want more great content like this? Sign up here to receive the best of Cheat Sheet delivered daily. No spam; just tailored content straight to your inbox.