6 Protein Pancake Recipes Perfect for Weekday Mornings
Everyone wants to indulge on a decadent morning meal every now and then, but what many don't realize is that breakfast favorites like pancakes don't have to be reserved for slow Saturday mornings. Not every pancake needs to be slathered in butter and cooked slowly on the griddle — there are also a number of quick, healthy pancake recipes circulating around the web that won't take you more than 5 minutes to prepare and are actually good for you.
Cold cereal, oatmeal, and yogurt get boring after a while. If you're in the market for a morning meal change-up, check out these six recipes for healthy pancakes that pack a protein punch. There's definitely a time and place for delicacies like buttermilk and chocolate chip pancakes, but just in case your weekday mornings are a little too hectic, and your waistline doesn't allow for daily decadent meals, we're showing you six ways to have your healthy pancakes and eat them too.
1. Protein Oat Pancake
The first pancake recipe we're highlighting for you today, provided by STUFT Mama, is Protein Oat Pancakes. Two breakfast favorites for the price of one? Sign us up.
As you can tell from their name, these protein oat pancakes are a remix on traditional breakfast cakes in that they are made up of oatmeal, rather than flour, and they're packed with protein thanks to the egg substitute that keeps them together. The protein and fiber in these babies promise to fill you up, keep you satiated, and give you a protein punch in the morning, plus they're a great post-workout meal, as well as a pre-work one. Serve these pancakes up with cinnamon, syrup, or butter, and you won't believe how delicious a healthy mid-week morning meal can really taste.
Ingredients:
1/2 cup egg substitute
a little vanilla soymilk (or other nondairy milk)
splash of vanilla
cinnamon to taste
pinch of salt
sweetener of choice (I used a Splenda packet for mine and a little regular sugar for the boys)
2 tablespoons oats
Directions:
Combine all ingredients in a bowl and mix thoroughly. Pour into nonstick pan sprayed with cooking spray. Cook evenly on both sides and serve.
2. Applesauce Pancakes
Next up are Applesauce Pancakes from Health.com. Time to eat your pancakes and get your fruit servings in, too. This recipe healthifies traditional pancakes by subbing a serving of applesauce in where the fat source usually goes. That's why you need a 1/4 cup of applesauce for this pancakes, along with two tablespoons of toasted wheat germ to really take these pancakes' nutritional profile up a notch. Though this recipe won't yield your typical buttery pancakes, it still gives you a tasty, albeit healthy, product, and it's a breakfast you can feel good about eating in the morning.
Ingredients:
1 cup all-purpose flour
1 teaspoon baking soda
1/8 teaspoon salt
2 tablespoons toasted wheat germ
1 cup nonfat buttermilk
1/4 cup unsweetened applesauce
2 teaspoons vegetable oil
1 large egg, lightly beaten
Cooking spray
Sugar-free maple syrup (optional)
Fresh fruit slices (optional)
Directions:
Combine first four ingredients in a medium bowl; make a well in center of mixture. Combine buttermilk and next three ingredients. Add buttermilk mixture to dry ingredients, stirring just until dry ingredients are moistened. Heat a nonstick griddle or nonstick skillet coated with cooking spray over medium heat. For each pancake, pour 1/4 cup batter onto hot griddle, spreading to a 5-inch circle. Cook pancakes until tops are covered with bubbles and edges look cooked; turn pancakes, and cook other side.
Serve with maple syrup and fresh fruit, if desired.
3. Healthy Blueberry Pancake
Here's another pancake recipe remix provided by Katie from Honeystuck.com. This recipe calls for egg whites, a banana, two tablespoons of flour, some vanilla extract, and of course, blueberries, and it yields one fat, fluffy pancake that is surprisingly satiating thanks to the protein from the egg whites. You'll be surprised how much you enjoy this breakfast that is effectively held together by its substitute fat source, an overripe banana, and after one bite of this pancake, you may never go back to oatmeal again.
Ingredients:
1 ripe banana, mashed
2 egg whites
1/4 teaspoon vanilla extract
2 tablespoons flour (rice flour, oat flour, any flour)
sprinkle of cinnamon
1/4 cup fruit of choice (blueberries, strawberries, apples, etc.)
Directions:
Mix together the mashed banana, egg whites and vanilla extract. Add the dry ingredients and stir to combine. Stir in your fruit. Warm a skillet over medium heat and spray with nonstick cooking oil. Pour batter in and cooke for 2 to 3 minutes on each side or until lightly browned.
4. Sweet Potato Pancakes
Sweet Potato Pancakes from Weelicious are coming in at the No. 4 spot on our list, and these highlight another way hot cakes can easily be made a little healthier. As we've heard time and time again, sweet potatoes are packed with vitamins A and C, beta carotene, and fiber. Thus, when you throw them in your pancakes and throw out some of your fat sources, you instantly have a healthy breakfast you feel good about serving midweek. No matter what the season, try your hand at these Sweet Potato Pancakes and prepare for your weekly breakfast routine to get a little bit sweeter.
Ingredients:
1 cup white whole wheat flour
2 teaspoons baking powder
1/2 teaspoon ground cinnamon
1/4 teaspoon ground nutmeg
1/2 teaspoon salt
1 large egg
1 1/4 cups milk
1 tablespoon brown sugar
1 tablespoon vegetable oil
1 cup sweet potato puree
Directions:
In a bowl, whisk together the flour, baking powder, cinnamon, nutmeg, and salt. In a separate bowl, whisk together the remaining ingredients. Gradually add the dry ingredients to the wet ingredients and stir until just combined. Heat a large skillet or griddle over medium heat and lightly coat with butter or oil. Pour about 1 tablespoon of the pancake mixture onto the griddle, making as many pancakes as will fit and cook for 2 minutes. Flip the pancakes and cook for one minute longer.
5. Protein Pancakes
We're zeroing in on another protein-packed recipe with a formula for Protein Pancakes from MuscleandFitness.com, which promises that these pancakes "contain slow-digesting carbs, plenty of fiber, and a hefty dose of protein, making them diet-friendly and at the same time a good breakfast for those looking to bulk up cleanly."
Whether you're interesting in building muscle, or just want to clean up your diet, these pancakes are the perfect way to start yourself out on the right foot in the morning. Grab your protein powder and get going. These cakes are about to be hot off the griddle.
Ingredients:
1 Cup Oats (or other grain)
2 Whole Eggs
5 Egg Whites
2 Scoops Protein Powder
1 Banana (sliced)
1 Cup Berries
2 tbsp Peanut Butter
Dash Cinnamon (to taste)
2 tbsp Coconut Oil
Directions:
Cook the oats as directed. Add the eggs and egg whites and beat. Toss in protein, banana, berries, and peanut butter and stir. Shake some cinnamon over the mixture; add sweetener if you prefer. Place a pan on high heat and add coconut oil. Spoon in the mixture a little at a time to make silver dollar-size pancakes. Flip when bubbles appear on the surface.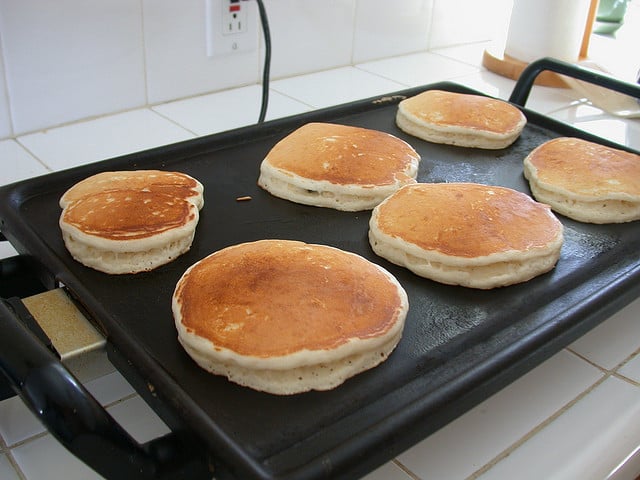 6. Greek Yogurt Protein Pancakes
Last but not least: Greek Yogurt Protein Pancakes from PB Fingers. Nothing like mixing two breakfast favorites into one. This incredibly easy recipe for weekday pancakes only requires three ingredients, and they're ones which are already likely in your pantry, keeping you from having to make yet another trip to the store. Throw some oats, egg whites, and greek yogurt into a blender, put your mixture on a griddle, and wait for the pancake to sizzle. Morning meals really can be delicious and nutritious.
Ingredients:
3/4 cup old fashioned oats
2 egg whites
1 6-ounce container Chobani Greek Yogurt
Directions:
Blend ingredients in an immersion blender. Cook on griddle. Serve with toppings of choice.
More From Wall St. Cheat Sheet: