6 Recipes For Perfectly Baked Soft Pretzels From Scratch
Whether it's from a New York City street vendor, a food stall at a baseball park, an elaborately costumed Oktoberfest peddler, or off a menu at a hip restaurant, soft pretzels are iconic and loved by all. There are ultimately two different styles of soft pretzel: quick and buttery with little to no crust and long-risen, deeply browned pretzels.
The deep browning and characteristic exterior of a soft pretzel is achieved with a high pH (basic) bath before cooking. Traditionally, this is done with lye — which is available from Amazon — because it very effectively gels the exterior starches and provides a better environment for the Maillard Reaction, which is what gives you that deep browning. As anyone who has seen Fight Club knows, though, lye is caustic and you need to be very careful when handling lye solutions. For those who don't want to risk it, try giving your pretzels a baking soda bath, described below.
Plain, salted, artisan, or sweet, pretzels are a delicious and fun project. Pick one of these six recipes to experiment with and get twisting!
1. Soft Pretzels Dipped in Baking Soda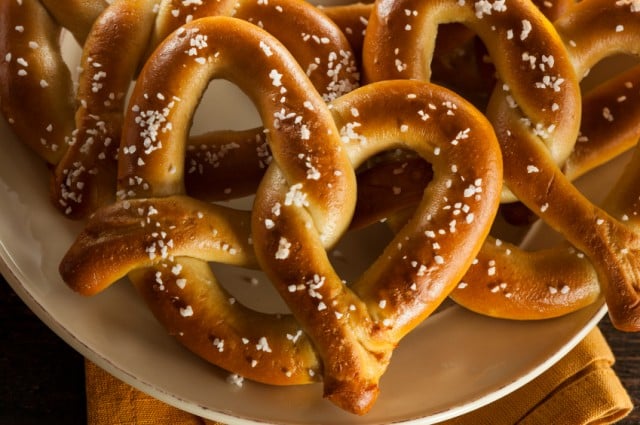 For a starter recipe leading up to full-on pretzel obsession (found on the next page), these soft pretzels from Chowhound only take about 30 minutes to rise and use a baking soda bath for an alkaline finish as close as you'll get to "real" pretzels without food-grade lye. For those serious about their dark brown, crackled crust pretzels but also serious about not having caustic lye solutions, this is the starter recipe for you.
Ingredients:
1 cup warm water, 105 to 115 degrees Fahrenheit
1 packet active dry yeast measuring 2¼ teaspoons
Vegetable oil
2¾ cups bread flour
1 tablespoon granulated sugar
1 teaspoon kosher salt, plus more for sprinkling
6 cups water
¼ cup baking soda
See recipe directions at Chowhound. 
2. Soft Pretzels Dipped in Lye
These soft pretzels are the real deal. The dough is allowed a long rise, which develops much more flavor as the yeast eats through the sugars in the wheat. Michael Ruhlman, a bread baker aficionado, uses his pretzel recipe and Bouchon Bakery's Matt McDonald's lye dip practice to give the pretzels that distinct pretzel look, feel, and taste that truly only comes with a lye bath. When working with lye, you should wear gloves and goggles. Do not let the solution touch your skin, and work with a nonreactive container; we recommend food-grade plastic for the bath and stainless steel for baking (not aluminum!).
Ingredients:
20 ounces flour; about 4 cups
12 ounces water
1½ teaspoons dry yeast
2 teaspoons kosher salt
4 teaspoons food-grade lye
1 quart warm water
Vegetable oil or spray
Very coarse sea salt or kosher salt as needed
See recipe directions at Michael Ruhlman's site. 
3. Easy 30-Minute Soft Pretzels
These pretzels are great for when you need a really fast pretzel fix. The gluten structure isn't allowed to totally develop, so they have a tight crumb more like a slice of sandwich bread than the chewier traditional pretzel, but they're ready in 30 minutes and made with healthy whole-wheat flour — and that just can't be beaten. Without the alkaline bath, they stay soft on the outside. These pretzels from Sally's Baking Addiction are great with coarse salt, but don't hesitate to skip the salt, brush the baked pretzels with melted butter, and coat in cinnamon sugar.
Ingredients:
1½ cups warm water
1 packet instant yeast
1 teaspoon salt
1 tablespoon granulated sugar
2 cups all-purpose flour + more for the counter surface to knead
2 cups whole wheat flour
1 large egg, beaten
Coarse sea salt for sprinkling or melted butter and cinnamon sugar
See recipe directions at Sally's Baking Addiction. 
4. Everything Bagel Soft Pretzels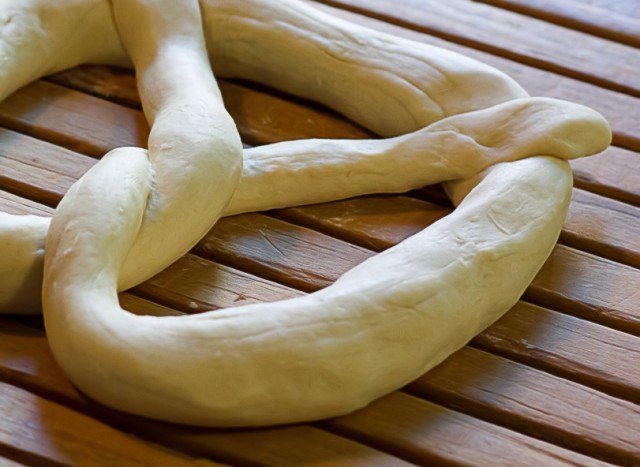 Now that you're familiar with the basics of pretzel making, it's time to expand into the wonderful world of flavored pretzels. These from A Cozy Kitchen are made with a home-mixed everything bagel topping, which leaves you with all the goodness of an everything bagel and all the fun of a soft pretzel. These use a baking soda bath, but if you're feeling brave, use the lye bath alternative from page 2.
Ingredients:
Everything Topping
2 teaspoons white sesame seeds
2 teaspoons black sesame seeds
2 teaspoons poppy seeds
2 teaspoons garlic flakes
2 teaspoons onion flakes
1 teaspoon large flaked sea salt, such as Maldon
Pretzels 
1½ cups water
2 tablespoons honey
2 teaspoons fine sea salt
1 scant tablespoon active dry yeast
4½ cups all-purpose flour
2 teaspoons vegetable or olive oil
4 tablespoons unsalted butter
8 cups water
½ cup baking soda
1 large egg yolk beaten with 1 tablespoon of milk
See recipe directions at A Cozy Kitchen. 
5. Mustard Soft Pretzels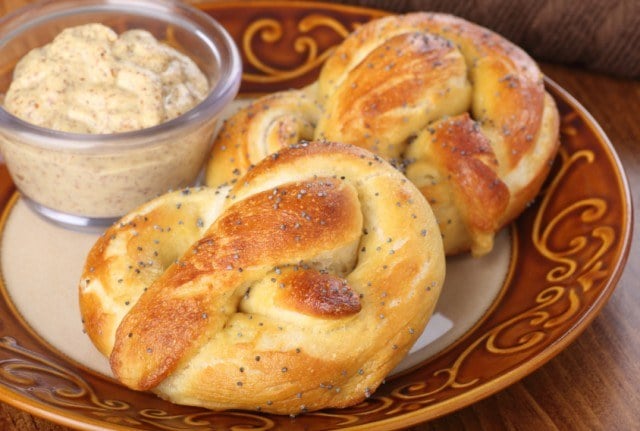 Everyone knows that a great mustard is the ultimate soft pretzel accoutrement (OK, beside maybe beer cheese dip), so why not put mustard in your pretzels? This recipe from Serious Eats enriches the dough with malt powder and mustard seeds. The seeds add a nice pop and crunch, but if you really like the taste of mustard, try adding at least a tablespoon of mustard powder in addition to the grainy mustard to the flour before mixing the dough. If you can't find malt powder — not malted milk powder — but you can get your hands on malt syrup, use 3 tablespoons of syrup and cut the water in the recipe by 3 tablespoons to compensate.
Ingredients:
3 cups all-purpose flour, plus more if needed
3 tablespoons malt powder
1½ teaspoons kosher salt or flaky or coarse sea salt, plus more for sprinkling
1 cup warm water
2 teaspoons active dry yeast
3 tablespoons grainy mustard
3 tablespoons baking soda
1 large egg yolk
1½ teaspoons water
See recipe directions at Serious Eats. 
6. Pumpkin Cinnamon Sugar Soft Pretzels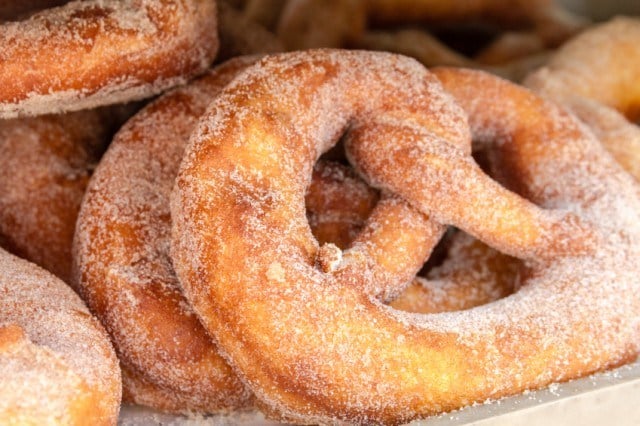 These pretzels from Hungry Hungry Highness are made with a pumpkin enriched pretzel dough, coated in cinnamon sugar, and served with a cream cheese dipping sauce. They're very subtly spiced with pumpkin pie spices, but it's a background flavor here. These pretzels are seriously soft with almost no chewiness, which really works in a sweet dessert pretzel like this.
Ingredients:
Pretzels
1½ cups warm water
1 tablespoon active dry yeast
2 tablespoons brown sugar
½ cup pumpkin puree
4 cups flour
½ teaspoon salt
1 teaspoon pumpkin pie spice
2 cups hot water
2 teaspoon baking soda
Topping
3 tablespoons butter, melted
5 tablespoons sugar
1 teaspoon pumpkin pie spice
Dipping Sauce
3 ounces cream cheese, room temperature
1½ cups powdered sugar
2 tablespoons milk
2 teaspoons vanilla
See recipe directions at Hungry Hungry Highness. 
More from Culture Cheat Sheet: