6 Recipes Using Cherries and Almonds Together in Perfect Harmony
There are some foods that are just made to be together. Peanut butter and jelly, maple and bacon, basil and tomatoes. Another pair that we love is cherries and almonds, a dynamic duo that people often associate without even realizing it. Think about the last time you had cherry pie: chances are, that elusive flavor balancing the acidity of the sour cherries was a dash of almond extract. In fact, most almond extract is actually made from cherry pits or other fruits in the drupe family because they taste more like almonds than actual bitter almonds do. It makes it easy, almost a no-brainer, to pair the two together.
In these 6 recipes, the dynamic duo shines in both sweet  and savory applications. If you're in need of a good hack for a cherry pitter before diving headfirst into these dishes, grab a glass longneck bottle and a chopstick, and watch this Mad Genius Tips video from Food & Wine.
1. Cherry Almond Coconut Quinoa Porridge
This stellar and super easy breakfast brings together fiber- and protein-packed almonds and quinoa with the creaminess of coconut or almond milk and the sweet pop of dried cherries. Though Jennifer Farley of Savory Simple uses already cooked quinoa for simplicity (a perfect application for leftover grains), feel free to cook the quinoa in more coconut or almond milk. Use more liquid than you think you'll need, as the cherries plump and soak up all of that almond and coconut flavor. It you don't like quinoa, try this with brown rice, millet, or steel-cut oats to make a breakfast that will keep you running all day long.
Ingredients:
¾ cup cooked quinoa
½ cup almond milk
1 teaspoon coconut oil, melted
3 tablespoons dried cherries
1 tablespoon toasted slivered almonds
1 tablespoon unsweetened coconut
½ tablespoon hemp hearts or roasted flax seeds
¼ teaspoon cinnamon
Directions: Combine all ingredients in a saucepan. Heat on medium low, stirring, until the porridge is warm.
2. Crispy Cherry Almond Bars With Marshmallows
Let's go ahead and call these what they are: adult Rice Krispies! The addition of cherries and almonds add a lovely pop of color and balance to a sweet treat that can be a little too, well, sweet. These bars from Midwest Living also use dried cherries, which take the mess out of pitting fresh ones, and bake better in a dessert that should be kept on the dry side. Let these cool thoroughly before you try to cut them — the easiest way to keep your knife from getting too sticky is to put the bars in the fridge to firm up and then wipe your knife clean with hot water between every cut. If you don't want to go buy both chocolate and original rice cereals, just buy your favorite one and use 6 cups!
Ingredients:
3 tablespoons butter
1 (10-ounce) package regular marshmallows
½ cup dried tart cherries, snipped
½ cup toasted slivered almonds
3 cups crisp rice cereal
3 cups chocolate-flavored crisp rice cereal
Directions: In a large saucepan, melt butter over low heat. Add the marshmallows; stir and heat until melted. Stir in cherries and almonds. Fold in the cereals.
Turn mixture into a buttered 13-by-9-inch pan. Press evenly into pan using lightly buttered hands. Cool. Cut into bars. Makes 24 bars.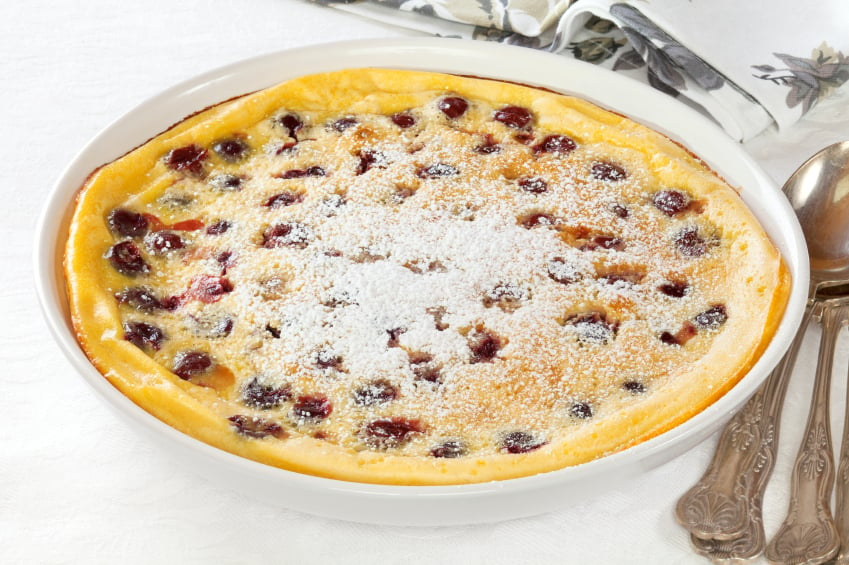 3. Cherry Almond Clafoutis
This traditional French dessert is a quarter the work of  a cherry pie with just as much wow factor. Rather than being cakey like a buckle, it's a deliciously custard-like batter that is both tender and luscious at the same time. The trick is to not overcook the clafoutis, which can detract from that custard-like texture. This dessert from Bon Appétit via Epicurious has you grind and steep your own almonds to make homemade almond milk. You could sub in store bought, but the flavor won't be the same. Just set it to steep before you begin pitting cherries and it will seem like nothing!
Ingredients:
½ cup whole almonds
1¼ cups whole milk
1 tablespoon plus ½ cup sugar
8 ounces dark sweet cherries, pitted, halved; about 2 cups
3 large eggs, room temperature
½ teaspoon almond extract
Pinch of salt
¼ cup all purpose flour
Powdered sugar
Directions: Blend almonds in processor until ground but not pasty. Transfer to small saucepan; add milk and bring to simmer. Remove from heat; let steep 30 minutes. Pour through fine strainer, pressing on solids to extract as much liquid as possible. Discard solids in strainer.
Preheat oven to 375 degrees Fahrenheit. Butter 10-inch-diameter glass pie dish; sprinkle with 1 tablespoon sugar. Scatter cherries evenly over bottom of dish.
Using electric mixer, beat eggs, almond extract, salt, and remaining ½ cup sugar in medium bowl until well blended. Add strained almond milk and beat to blend. Sift flour into egg mixture and beat until smooth. Pour mixture over cherries. Bake until set and knife inserted into center comes out clean, about 30 minutes. Cool completely.
Can be made 6 hours ahead. Let stand at room temperature. Lightly dust clafouti with powdered sugar and serve.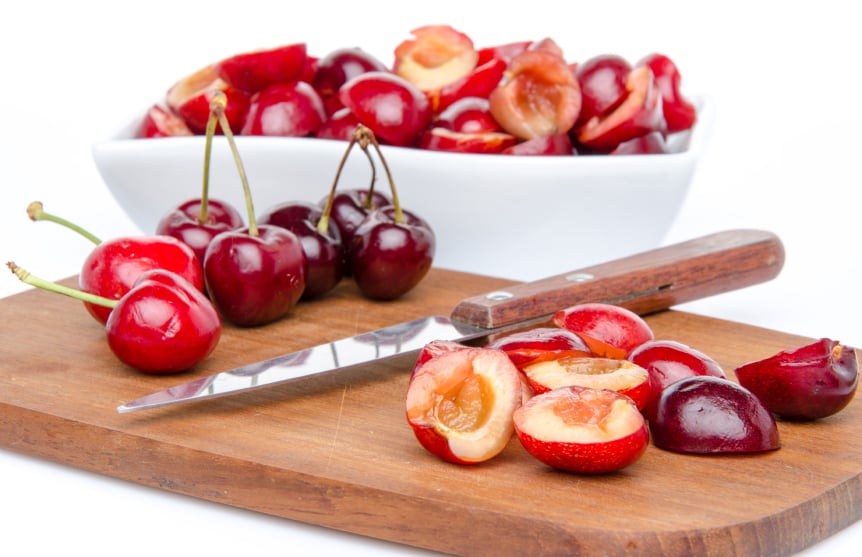 4. Almond-Crusted Warm Goat Cheese Spinach Salad With Cherries
There's nothing wrong with this salad from Iowa Girl Eats. The warm goat cheese ever so slightly wilts the spinach, softening some of the tannic bite it can sometimes have, while the almonds add the right kind of crunch. The sweetness of the cherries, which add a lovely juiciness to the salad, is balanced against the deep flavor of the reduced balsamic vinegar the salad is dressed with. To make this an even more filling meal, add a grilled, sliced chicken breast on top.
Ingredients:
1 cup balsamic vinegar
9 ounces baby spinach, torn
20 cherries, pitted and halved
5 ounces chevre goat cheese
Extra-virgin olive oil
Handful sliced almonds
Directions: Simmer balsamic vinegar in a pan over medium-high heat and reduce until it reaches the consistency of thin maple syrup. Remove from heat and set aside.
Preheat oven to 400 degrees Fahrenheit and line a baking sheet with parchment paper. Slice goat cheese into 6 slices and line up on the baking sheet. Brush tops of goat cheese with olive oil and top with sliced almonds. Bake for 6 to 8 minutes, or until goat cheese is warm and softened.
Divide spinach between 2 plates. Top with cherries, warm goat cheese, and balsamic reduction.
5. Roasted Cherry Soup With Crushed Sugared Almonds and Mascarpone
There are two types of soup people in the world: Those who like chilled fruit soups and those who can't quite wrap their heads around the idea of a cold, sweet, fruity soup. This recipe from Fine Cooking may be just the thing that convinces the doubters to jump on board the dessert soup train. It's a perfect, light, not-too-sweet soup that really emphasizes the deep flavor of roasted fresh cherries.
Ingredients:
Soup
4 cups dark red cherries, about 2 pounds, pitted
5 tablespoons sugar, more or less depending on the sweetness of the cherries
2 teaspoons olive oil
Salt
¾ cup cold water
2 teaspoons cornstarch
⅓ cup freshly squeezed orange juice
Grated zest of 1 lemon
Garnish
½ cup whole almonds, roughly chopped in the food processor
2 teaspoon butter, melted
1 tablespoon sugar
2 pinches of kosher salt, or to taste
4 tablespoons mascarpone cheese, room temperature
2 tablespoons light cream
Directions: Preheat the oven to 375 degrees Fahrenheit. Place pitted cherries on a baking sheet. Sprinkle with 1 tablespoon of the sugar, the oil, and 1 to 2 pinches salt. Mix well and roast for about 20 minutes. Reduce the oven temperature to 250 degrees Fahrenheit to toast the almonds.
In a small saucepan over medium-high heat, combine the cold water with the cornstarch and the remaining 4 tablespoons sugar. Bring to a simmer and let simmer a few minutes until slightly thickened.
Place the roasted cherries in a blender with all their juices. Add the orange juice, lemon zest, and about ⅔ of the cornstarch mixture. Blend until almost creamy, leaving a little texture. Taste and adjust the thickness with additional water or orange juice if needed. The mixture should be a bit thinner than pancake batter. Chill until ready to serve.
While it's chilling, make the garnish. To prepare the almonds, place them on a sheet pan with the butter and sugar and mix well. Sprinkle with a few pinches of salt. Bake until nicely roasted and crunchy, 10 to 12 minutes, being careful to not let them burn.
In a small bowl, whisk together the mascarpone with light cream. Add additional cream if needed to create a thick but pourable consistency.
To serve, spoon the soup into small bowls. Add a nice swirl of the mascarpone mixture. Sprinkle with a generous topping of the crushed almonds.
6. Cherry-, Almond-, and Wild Rice-Stuffed Pork Loin
Cherries, almonds, and pork are a fine combination. The slight sweetness of the cherries do wonders for the pork, and the almonds add a nice crunch to the texture. This dish from KCET Food was developed by Joy the Baker as a guest recipe, so it's going to be both delicious and easy to follow. The end result is absolutely stunning, and perfect for holidays or special dinners.
Ingredients:
2 tablespoons olive oil
1 small yellow onion, diced
6 ounces Italian sausage, removed from casing
2 cloves garlic, minced
¼ cup chopped parsley
1 tablespoon chopped fresh thyme
1 tablespoon chopped fresh rosemary
⅓ cup coarsely chopped dried cherries
½ cup coarsely chopped roasted almonds
1 cup cooked wild rice
Salt and pepper to taste
2½ pound boneless pork loin, filleted
Kitchen twine for wrapping
Salt and pepper for topping
Directions: Start by making the stuffing. In a medium saucepan over medium heat, warm olive oil. Add onions and sauté until translucent, about 3 to 5 minutes. Add sausage and garlic, and cook until browned and cooked through. Remove from heat and add parsley, thyme, rosemary, dried cherries, and almonds. Stir in wild rice and add salt and pepper to taste.
Preheat oven to 350 degrees Fahrenheit. Spread out filleted pork loin on a clean work surface. Top pork loin with prepared stuffing from edge to edge. Starting from the short side, roll the pork loin and stuffing into a spiral.
Tie the roll together with heavy-duty kitchen string in the center and at the two ends of the roast to prevent it from unrolling in the oven. Place roast on a rack in a shallow roasting pan and sprinkle generously with salt and pepper. Insert an oven-safe meat thermometer in to the center of the roast and cook for 1 hour. Reduce heat to 325 degrees Fahrenheit and continue to cook for another 45 to 60 minutes. Remove roast from the oven once the meat thermometer reaches 160 degrees Fahrenheit. Allow meat to rest in the pan, loosely covered with foil for 20 to 30 minutes.
Remove from the pan and cut twine away from the roast. Slice and serve.
More from Life Cheat Sheet:
Want more great content like this? Sign up here to receive the best of Cheat Sheet delivered daily. No spam; just tailored content straight to your inbox.