6 Recipes That Are a Twist on Your Favorite Dish
Switch up the key ingredient in some of your go-to dishes and you might discover a new favorite meal. When you start thinking outside the box, you can create a meal that keeps everyone around the dinner table on their toes. You don't need to be a vegetarian to enjoy a portobello mushroom sandwich, and no one can deny how tempting banana bread french toast sounds. So what are you waiting for? Start making serious changes to your recipes right now with these six dishes.
1. Banana Bread French Toast
French toast is a great use for stale bread, but a recipe calling for stale bread doesn't sound nearly as enticing as one calling for banana bread. Make a batch of favorite banana bread, and then follow Cheeky Kitchen's recipe for banana bread french toast with buttermilk syrup from Betty Crocker.
Ingredients:
Buttermilk Syrup
1½ cups sugar
1 teaspoon baking soda
¾ cups buttermilk
⅓ cup butter
1 tablespoon vanilla
French Toast
1 loaf banana bread
2 eggs
¼ cup milk
1 cup fresh berries (to garnish, if desired)
Directions: To make buttermilk syrup, in 2-quart saucepan, stir syrup ingredients until well blended. Heat to boiling. Cook 7 minutes, stirring constantly. Remove from heat; beat in vanilla with whisk. Keep warm.
Heat nonstick skillet or griddle over medium heat. Cut banana bread into 1-inch-thick slices. In shallow dish or pan, beat eggs and milk until well mixed. Coat bread slices on both sides with egg mixture; place in hot skillet. Cook until golden brown on each side. Serve with buttermilk syrup and garnish with berries. Enjoy!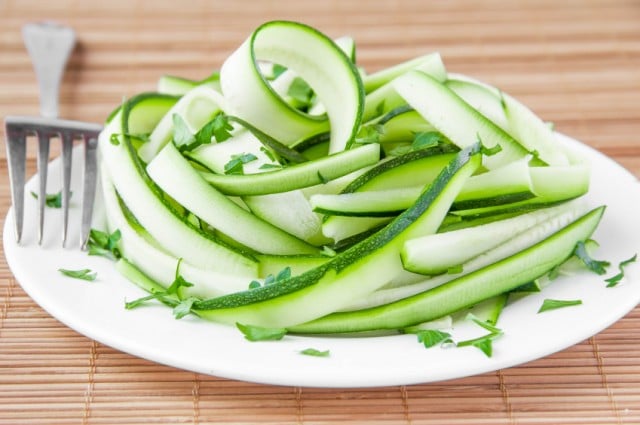 2. Zucchini Pesto Pasta
Get ready for "zoodles" because zucchini noodles will be replacing your pasta to go with this homemade arugula pesto sauce from ABC. This dish is only the beginning of the pasta-less possibilities, and you can create other faux noodles from carrots, cucumbers, and squash.
Ingredients:
3 zucchini (cut to resemble noodles)
1½ cup arugula
1½ cups basil leaves
⅓ cup walnuts
2 garlic cloves (smashed)
½ cup grated parmesan cheese
olive oil
salt
freshly cracked black pepper
toasted breadcrumbs, if desired
Directions: Place the arugula, basil, walnuts, garlic, and cheese in a food processor and begin pulse. Slowly drizzle in Olive Oil and pulse until the mixture resembles a coarse paste. Season with salt and pepper to taste.
Heat a large skillet over medium-high with a few tablespoons of olive oil. Add the zucchini and toss to coat in oil. Add a few tablespoons of pesto and toss with the zucchini. Once the zucchini begins to take on color, transfer to a platter and top with the toasted breadcrumbs to taste. Serve warm or room temperature.
3. Portobello "Philly Cheese Steak" Sandwich
On meatless Monday when you are really, really craving a Philly cheesesteak, make it with portobello mushrooms using Eating Well's recipe. The meaty mushroom will leave even the most carnivorous satisfied; it yields four servings.
Ingredients:
2 teaspoons extra-virgin olive oil
1 medium onion, sliced
4 large portobello mushrooms, stems and gills removed, sliced
1 large red bell pepper, thinly sliced
2 tablespoons minced fresh oregano, or 2 teaspoons dried
½ teaspoon freshly ground pepper
1 tablespoon all-purpose flour
¼ cup vegetable broth, or reduced-sodium chicken broth
1 tablespoon reduced-sodium soy sauce
3 ounces thinly sliced reduced-fat provolone cheese
4 whole-wheat buns, split and toasted
Directions: Heat oil in a large nonstick skillet over medium-high heat. Add onion and cook, stirring often, until soft and beginning to brown, 2 to 3 minutes. Add mushrooms, bell pepper, oregano and pepper and cook, stirring often, until the vegetables are wilted and soft, about 7 minutes.
Reduce heat to low; sprinkle the vegetables with flour and stir to coat. Stir in broth and soy sauce; bring to a simmer. Remove from the heat, lay cheese slices on top of the vegetables, cover and let stand until melted, 1 to 2 minutes.
Divide the mixture into four portions with a spatula, leaving the melted cheese layer on top. Scoop a portion onto each toasted bun and serve immediately.
4. Pulled Squash Barbecue Sandwich
A vegetarian take on pulled pork sandwiches is waiting anyone willing to try Kitchen Treaty's recipe for barbecued pulled squash. It sounds strange, but it is the concept behind a popular sandwich in Charleston, Butcher & Bee's barbecue pulled squash sandwich.
Ingredients:
1 (3-pound) spaghetti squash, cooked (view the how-to)
5 whole-wheat hamburger buns (or other rolls of your choice), toasted
Barbecue Sauce
2 teaspoons olive oil
3 cloves garlic, minced
2 cups ketchup
3 tablespoons brown sugar
2 tablespoons soy sauce
2 tablespoons vegetarian Worcestershire sauce
2 tablespoons cider vinegar
liberal pinch of red pepper flakes (or more to taste)
Directions: In a small saucepan, warm the olive oil on medium heat. Add the minced garlic and saute for about a minute or until aromatic. Add the ketchup, brown sugar, soy sauce, Worcestershire sauce, cider vinegar, and red pepper flakes. Stir frequently over medium heat until mixture boils. Turn heat to low and simmer for about five minutes.
Scrape the spaghetti squash into a large bowl. Stir in ⅔ cup of the barbecue sauce. Toast the rolls then lay them open on individual plates and spoon the barbecue pulled spaghetti squash onto each. Reserve the remaining barbecue sauce for later, and serve sandwiches immediately.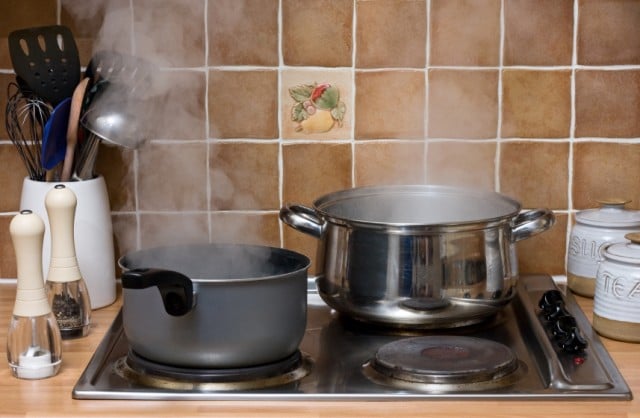 5. Herbed Polenta Fries
Gourmet via Epicurious is bringing you not only a potato-alternative for french fries, but one that doesn't involve any frying as well. Serve them alongside one of the vegetarian sandwiches to round out a meal.
Ingredients:
olive oil for brushing
3¼ cups cold water
1 cup polenta (not quick-cooking)
1 teaspoon chopped sage
1 teaspoon chopped rosemary
½ cup grated Parmigiano-Reggiano
2 tablespoons unsalted butter, cut into bits
Directions: Brush an 8-inch square baking dish with oil.
Combine water, polenta, herbs, and ¾ teaspoon salt in a heavy medium saucepan and bring to a boil over medium heat, whisking. Reduce heat to medium-low and cook, stirring constantly with a long-handled wooden spoon, until polenta begins to pull away from side of pan, 15 to 20 minutes. Stir in cheese and butter until incorporated, then transfer polenta to baking dish, spreading evenly with a dampened rubber spatula. Chill, uncovered, until set, about 45 minutes.
Preheat broiler. Line a baking sheet with foil and brush with oil. Unmold polenta, then cut into 16 (about 4- by 1-inch) sticks. Brush tops with oil and space evenly on baking sheet. Broil about 4 inches from heat until golden, 15 to 20 minutes.
6. Almond Butter Cups
You already enjoy spreading almond butter on bread as a replacement for peanut butter, so why not try it in your sweets too? Reese's has nothing on the dark chocolate almond butter cups from Sprouted Kitchen.
Ingredients:
7 ounces dark chocolate (not to exceed 70 percent)
½ cup natural almond butter
2 tablespoons honey
1 tablespoon powdered sugar
½ teaspoon vanilla extract
¼ teaspoon fine grain salt
sea salt flakes for topping
Directions: Place liners in a mini muffin tin. Break apart the chocolate bar and melt in a double boiler or microwave. Stir to make sure it is perfectly smooth. Spoon about a teaspoon of the chocolate into the lined muffin wells. Tilt and twist it around so the chocolate coats the side of the liner and rest it back in the tin. Repeat with remaining papers.
Mix the almond butter, honey, powdered sugar, vanilla, and salt together until smooth to make the filling. Scoop out a teaspoon of the almond butter filling and gently roll it into a ball between your palms. Give it a press down and center it on top of the thin chocolate puddle. Repeat. Spoon about a teaspoon of chocolate on top of each almond butter ball to cover completely. You may need to add a few drops more to get the chocolate to level above the bump of the almond butter. Sprinkle a teensy pinch of flaked sea salt on each one and chill in the fridge to set.
The cups can be kept in a covered container at room temperature or fridge.
More from Life Cheat Sheet: